Juicing gives us the opportunity to increase our daily fruit and vegetable intake, boost our vitamin levels, support our immune system, and help us with weight loss.
Yeah, you read that right!
Not only does juicing gives us all the amazing benefits of eating a whole plate of fruits and veggies, but it can help you jump start weight loss.
If you want to learn about the weight loss-related benefits of juicing, or if you're just looking for weight loss-friendly juicing recipes, you're in the right place.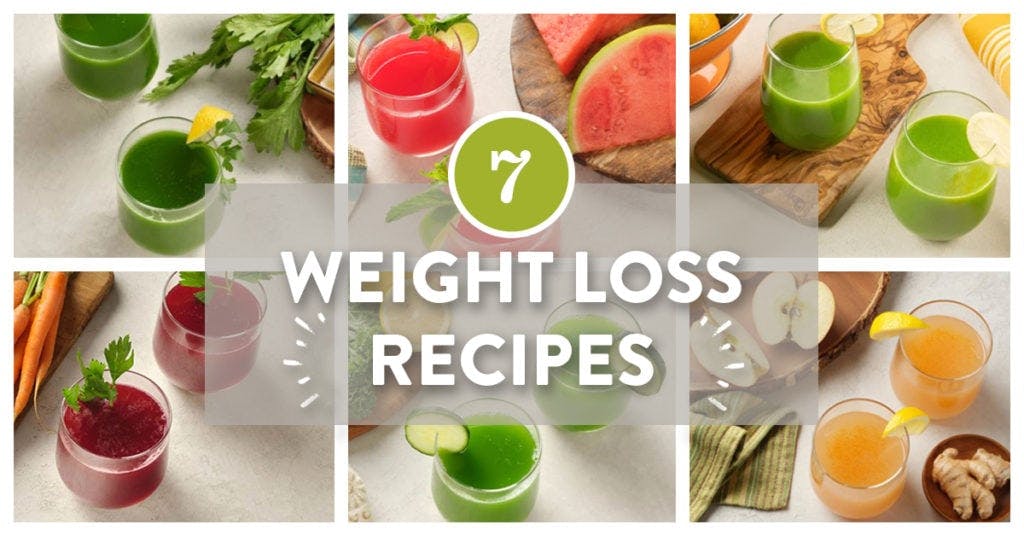 Juicing Recipes for Weight Loss
Click any of these healthy recipe titles to jump to the recipe itself:
You'll notice that a majority of these recipes are vegetable-based. Since vegetables are low-calorie and have minimal amounts of sugar, they're the perfect ingredient for any healthy juice recipe. When talking about recipes for weight loss, we tend to stray away from those that are heavily fruit-based. Fruit has a natural form of sugar, which has the potential to slow down weight loss if consumed regularly. This doesn't mean that you can't eat fruit ever again. On the contrary, fruit is often included in a healthy diet. It's just important to stay mindful of the amount of sugar that you're consuming on a daily basis.
Now, let's get into the recipes for weight loss!
Note: If you're interested in trying a juice cleanse for weight loss, get the free How to do a Juice Cleanse ebook right here!