How long does juice last?
When speaking to clients, we get a lot of these juice shelf life questions.
We try not to give a definite answer because the truth is it depends on a lot of factors and it's very complicated.
In this post I will attempt to explain the basics of what affects shelf life in raw cold-pressed juice. But first, I'll answer the question directly.
[Disclaimer: by "shelf life" we are referring to color and taste and make no claims of health or safety. Laws and regulations about shelf life can vary by region, so make sure to follow government guidance in your area. Our website terms of use are posted here.]
What is the Shelf Life of Cold-Pressed Juice?
You should probably be able to get 3-5 days of shelf life from your raw cold-pressed juice (assuming you follow the guidelines below). That said, it can last as little as zero days if any of the guidelines aren't followed or other factors cause the juice to go bad.
Note: This How to Write a Juice Business Plan PDF is a step-by-step guide to helping you write a business plan for your juice business. Download it for free!

Using Good Produce
Starting with fresh, clean produce is the most important factor in making sure you are serving juice that will last a few days in a refrigerator. If you use rotting produce or produce that has been cut far in advance, it will have already started to oxidize and will greatly reduce shelf life. Make sure you are buying produce from a trusted source, and that you follow health department regulations about cleaning the produce.
Using the Right Equipment
Many times when people are complaining that their juice separates quickly or turns weird colors, it's because they aren't using a real juice press. Only a real juice press like a Goodnature juicer will give you that smooth, consistent juice that will last several days.
Juice made on any other technology—including a masticating "slow juicer", an auger juicer, or a centrifugal juicer—will give you chunky, foamy juice that separates quickly and turns brown. Check out our article on types of juicers for more info.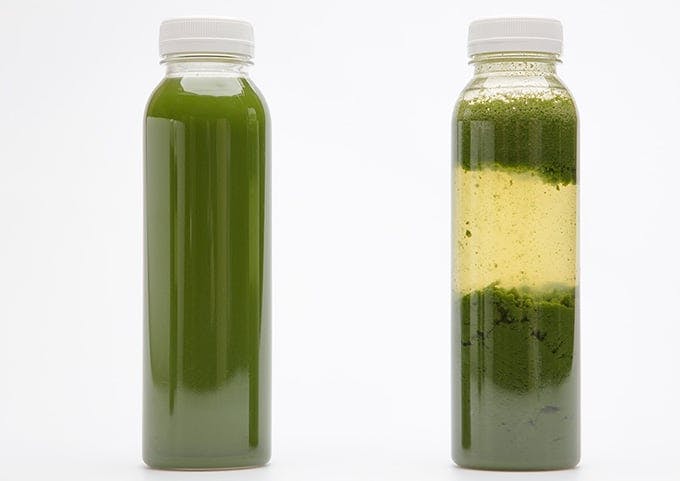 Temperature Abuse
You must keep the entire juicing process cold. The FDA recommends at or below 41° F (5° C). If you have a refrigerated kitchen that is ideal, but if not, make sure your produce goes from the refrigerator and is made into juice as quickly as possible, and placed back into the refrigerator. You can also use a blast chiller to bring the product down to correct temperature quickly. If you are delivering the cold-pressed juice, you need to keep it at the correct temperature throughout the entire supply chain. Keeping the product cold will improve color, taste, and extend shelf life. You can learn more about this in my article Keeping Juice Fresh – Time and Temperature Abuse
Acidity
Juice with a low PH (high acidity) will generally last longer than juice with high PH. For example, lemon juice (which has a low PH) will have a much longer shelf life than carrot juice. You should generally try adding acidic juice to your recipes when possible to improve the shelf life. Have you ever wondered why so many cold-press recipes contain lemon? Now you know! Here is a list of various fruits and veggies and their acidity: http://www.pickyourown.org/ph_of_foods.htm.
Preservation Methods
In cold-pressed juice, the most common form of preservation is called HPP, High Pressure Processing. This is a process in which the plastic bottles of juice are sent through a high pressure chamber, with the purpose of killing living microbes and extending shelf life. This process can extend the shelf life by about 30-60 days on some varieties of juice, but not all.
It's important to realize that that some companies refer to HPP as "cold-pressure." Sound a lot like "cold-pressed", right? This was done intentionally to confuse consumers into buying juice that's not actually cold-pressed.
So, be careful when reading a label. Just because something's "cold-pressured" does not means it's "cold-pressed." Read more in my article The Truth About HPP Juice.
Note: Whether you're starting a juice bar, a juice delivery service, or a wholesale juice business, this How to Write a Juice Business Plan guide explores the key elements of a successful juice business plan, along with industry tips, resources, and downloadable content to help you write it. Get it for free!

Comments
Hey charlie, my name is jaivik and i am 21 years old. i have a question and please if you can answer, it would be very helpful. I am planning to open a fruit juice business. I am researching on how can i make fruit juice in a natural and organic way without adding any artificial flavours or preservatives but also increasing the shelf life of the juice for upto 12 months without damaging its taste and flavour.
Dec 1, 2023
Charlie Wettlaufer
Hello, unfortunately it's not possible to extend shelf life to 12 months without heat pasteurization.
Dec 1, 2023
i am thinking to start juice business in bottles with long shelf life.how can i do that
Oct 19, 2023
Robin Frey
Hi Chaitanya, raw juice shelf life is regulated by your local health department. In order to keep juice on the shelf for longer, you would have to pasteurize it. One of our team members will email you to help answer any more questions you have.
Oct 19, 2023
I would like to start a juice business how can I do that
Oct 8, 2023
Robin Frey
Hi Kwame, someone from our team will email you!
Oct 8, 2023
Hi, im planning to produce calamansi juice in PET bottle for business purposes, is it ok if i'll add preservative like sodium benzoate as preservative? If ok, what will be the ratio in mixing? How long will be the shelf life?
Aug 24, 2023
Robin Frey
Hi Arnol, our juicers make cold pressed juice that is prized for its nutrient value and freshness and is typically served in its raw form. We do not offer advice on man-made additives such as sodium benzoate. If you would like more information on how to preserve raw juice naturally, our chef and business consultant, Ari, would be happy to discuss with you. You can contact him here: https://www.goodnature.com/consulting-request
Aug 24, 2023
I recently started juicing business and would like any advice on do's and don'ts and any recommended juicer or blender's that may be good for a start up juice business. Thanks
Jun 12, 2023
How long does the juice last if not opened. Mine is 14 yrs old. I have 2 cases
Apr 5, 2023
Robin Frey
I personally would not drink any juice that is over 7 days old, however it sounds like what you have there has been pasteurized. There should be an expiration date on the bottle somewhere. In my opinion I do not think it would be very nutritious after sitting that long (and possibly not safe to consume).
Apr 5, 2023
I want to start a juice business from home in NC. I need assistance with how to start an online store.
Mar 6, 2023
Robin Frey
Of course! One of team members will email you soon!
Mar 6, 2023
Hello..please am starting a natural drink business and would like to know how to preserve it naturally
Feb 11, 2023
Robin Frey
Hi Verby, we discuss all the ways to maximize shelf life in this article. One of our team members will email you to help answer any specific questions you may have.
Feb 11, 2023
hi management looking cold pressed machines for my juice, also want to bottle with 9-month shelf life, please advise. regards
Jul 18, 2022
Robin Frey
Hi Bipin, One of our team members will email you soon, thanks!
Jul 18, 2022
SIR I WANT TO MAKE COLD JUICE FOR MY COMPANY PL GUIDE ME OFR IT.
Apr 15, 2022
Robin Frey
One of our team members will be in touch, thank you!
Apr 15, 2022
Sir can u teach me how to build a good juice bottle
Apr 7, 2022
Robin Frey
One of our team members will reach out, thanks!
Apr 7, 2022
I have pressed 10 gallons of Barbara Grape Juice to infuse with THC and CBD extracts. How long can I keep this wine juice in a open chest refrigerator. Thanks!
Mar 23, 2022
Robin Frey
Raw cold pressed juice is allowed by health departments and local inspection agencies at most seven day shelf life, we recommend going with around a 4-5 days due to after that the color and flavor will begin to change depending on the pH, sugar levels etc.
Mar 23, 2022
I recently started juicing and would like any advice on do's and don'ts and any recommended juicer or blender's that may be good for a start up juice business. Thanks
Mar 16, 2022
Robin Frey
Hi Donna, You can find answers tips and advice on starting a juice business here: https://www.goodnature.com/blog/20-must-read-articles-if-youre-starting-a-juice-business/ One of our team members will reach out to help answer any specific questions you might have!
Mar 16, 2022
Hi Great article though one question? A friend of mine producing in Switzerland ginger juice said that he cooks it at 75 degrees for 20 minutes so that it will prevent mold build up etc Is this true ? Tuck you for your reply Best regards Philip
Mar 16, 2022
Charlie Wettlaufer
Cooking things does prevent spoilage, but most of our customers use our machines to make raw, uncooked juice.
Mar 16, 2022
Hi, Want to start business of fruit Juices , Can you help me this in India
Mar 5, 2022
Robin Frey
One of our team members will email you shortly!
Mar 7, 2022
How can I make my Cold pressed juices have a longer shelf life?
Jul 11, 2021
Robin Frey
Hi Dawn, Cold pressed juice made with our equipment will typically last 3-5 days in the refrigerator, sometimes up to 7 days, depending on the recipe and other factors. Your local health department most likely has the rule that raw juice cannot be sold past 7 days. If you wish to extend the shelf life of raw juice past 7 days, you would have to perform some type of pasteurization process, and the juice will no longer be considered raw. If you have more questions, Ari our chef and business consultant would be happy to help. You can reach him here: https://www.goodnature.com/cold-pressed-juice-consulting/
Jul 13, 2021
Thank You so much for your enlightenment. Spot On answer. Exactly what I needed to understand.
Jul 7, 2021
How can some store bought cold pressed juice have a 30 day shelf life??
Jun 27, 2021
Charlie Wettlaufer
If it has a long shelf life it has been pasteurizer or process with HPP. It's not raw.
Jun 27, 2021
Hi The article is very useful, I wanted to to know if i am making a vegetable juice Beet, Carrot and ginger Will adding lemon increase the shelf life of the juice? If yes how juice to be added? And how much will be the shelf life?
May 16, 2021
Robin Frey
Hi Ditto, Adding lemon will potentially increase shelf life, Ari will also reach out to answer any questions you have regarding, thanks!
May 20, 2021
Greetings Thank you for your time to go through my comment. I would like to request your excellent company for a help in extending the shelf life of cold pressed juice as I'm trying to keep it natural and without adding if sugar. Hoping to hear from you have a wonderful day and do take care, stay safe.
Apr 29, 2021
Robin Frey
Hi Tek, There are several methods that can be used to extend shelf life without adding sugar, one of the most popular methods is HPP, you can read more about it here: https://www.goodnature.com/blog/what-is-hpp/
Apr 29, 2021
This is a very useful article. I would like to know one more thing, what does the manufacturer do with the cold pressed juices not sold within the manufacturing dates?
Apr 27, 2021
Robin Frey
Hi Ditto, Thanks! Glad you found it helpful. I would imagine any juices not sold by the expiration date would be disposed of and not consumed, let me know if that does not answer your question, thanks!
Apr 29, 2021
Love this! Is there a law requiring a expiration date on juices? I can never find anything about this.
Mar 8, 2021
Robin Frey
Hi Audrey, Great question! Laws and regulations about shelf life can vary by region, so make sure to follow government guidance in your area. You can learn more about navigating your local health department in this article here: https://www.goodnature.com/blog/7-tips-navigating-health-department/
Mar 10, 2021
Like to know more about the journey and challenges. I too am contemplating a venture into cold press juice.
Dec 4, 2020
Robin Frey
Hi Alex! Glad to hear you are considering a cold press juice venture! Watching our videos from the speakers at JuiceCon is a great place to learn more about the journey and challenges of starting and running a juice business. You can find them on our YouTube channel here: https://www.youtube.com/playlist?list=PLP2J5IwNnGTL2_YremFWuOPXFxaiRC_0U
Dec 8, 2020
Thx for the good work friends, I would like to know, which additives do I add on my juice for it to have long life, and in which quantities ? Long shelf life like 6months on market for example, will be glad to hear from you
Nov 10, 2020
Robin Frey
Hi Ouma, In order to get a long shelf life like 6 months, you would need some form of pasteurization. Some juice companies elect to go with High Pressure Processing (HPP). You can read more about that here: https://www.goodnature.com/blog/what-is-hpp/
Nov 12, 2020
Hi Charlie, Thanks for all your articles, they provide a good starting point for getting to know all about and around juices! I was wondering if you have any experience with freezing juices? We are starting a juice bar and in an ideal world I would like to sell raw juices just like that. But a product that goes bad in 3 days is not that good for your profit. And especially with multiple day cleanses and people ordering from across the country I was looking into preservation techniques. Pasteurization is non-option, HPP is an enormous cost so that brougt me to freezing. A lot of companies claim that it is better than HPP but I am not sure. What do you think? Is there any scientific evidence?
Sep 2, 2020
Charlie Wettlaufer
Check out this discussion on the community forums: https://community.goodnature.com/t/freezing-juice-how-do-you-feel-about-it/36/3
Sep 10, 2020
Outstanding post, I think blog owners should learn a lot from this web blog its really user genial. So much superb information on here 😄.
Aug 2, 2020
Thank you so much for your response ! - I have seen cold press juice companies use cayenne pepper, and I assumed that it may also be powder ? Does that also apply to spices ? -for a start up business in the juicing industry, would your recommend the M-1 or mini x ? Thank you !
Mar 31, 2020
Charlie Wettlaufer
Yes cayenne pepper is often added as a powder. The pepper vegetable itself can also be pressed. Spices can be added to juice. I recommend picking up a copy of The Juicing Companion book. For juicing startup, if you're going to be primarily selling bottled juice the X-1 Mini is better. If your just selling made-to-order than the M-1 is better.
Mar 31, 2020
Hello Charlie ! I had a couple of questions. I am trying to open up a Cold press juicing company and this articles have helped 1000x.! - In the picture above, when the juice separates, does that mean it is no longer drinkable ? - let's say if I want to add maca powder to a cold press juice, would you recommend that? Or would I have to actually Use the plant itself? I know this question may be absurd but I wasn't quite sure if adding powders is okay? Or recommendable -I wanted to know if you knew the shell-life of a juice that has Apple cider vinegar as one of the ingredients and also lemon? Would you recommend ACV as an ingredient? -Thank you so much! Definitely going to Purchase the mini 1
Mar 31, 2020
Charlie Wettlaufer
Hi Jailene! You can still drink separated juice. If you are using a Goodnature press, any separation can be eliminated by simply shaking the juice. Usually powders are added to smoothies (not juice). Juice is normally just the water pressed out of fruit and vegetables, but if you find a way to add powder that still has a good texture that's totally fine! Vinegar and lemon have a long shelf life. If your juice contains those ingredients you could expect a longer shelf life than other juices. You would have to do your own testing but if probably 1-2 weeks would be fine.
Mar 31, 2020
I have started making juices and bottled them up with screwcap lids. Will this extend the shelf life or not? Or is it still generally a 3 day shelf life?
Mar 20, 2020
Robin Frey
Hi Daniel, How were you storing your juices previously? If your juice was exposed to oxygen in the air, then yes, capping them should help as oxygen will degrade juice. General speaking though, I don't believe the type of lid used will have an effect on shelf life. If you are able to put into action the topics explained in this article, you should be getting 3-5 days from juices. Let us know how you make out! 1. Using good produce - if it's not fresh and on it's way out, it won't last long in a juice either 2. Using the right equipment - if you're not using a true juice press, you will probably only get up to three days max 3. Temperature - make sure you keep everything cold 4. Acidity - if you are doing a all veggie juice, add citrus like lemon or lime Happy Juicing 😄
Mar 24, 2020
Are there any dangers of drinking freshly made juice that has started to ferment (get fizzy)?
Jul 20, 2019
Charlie Wettlaufer
Yes, be careful with juice that's beyond it's shelf life. Should probably not drink it.
Jul 20, 2019
Hi, I would like to ask is there something we can do to extend our cold-pressed juice's shelf life for about 15-30 days? Thank you for your attention.
Jun 10, 2019
Charlie Wettlaufer
There is nothing natural that can do this for you other than pasteurization, HPP, or some other preservation method.
Jun 13, 2019
I was diagnosed with Colon cancer in June 2017. I have a Breville Juicer and wanted to know if it's safe to do 1. Carrot Juice 2. Spinach, Kale, Celery Juice & Apple Juice for two nights in the fridge filled to the top with added lemon to keep longer. I don't have time in the mornings. Do you have any suggestions? I was diagnosed with Colon Cancer in 2017 and need to keep Cancer away if I can. Heard carrots is cancer fighting.
May 29, 2019
Charlie Wettlaufer
Hi Betty, we don't claim to be experts on the cancer fighting effects of juice so I hesitate to give any advice. Definitely check out the Gerson therapy books!
Jun 4, 2019
Hi everyone!very informative discussion like open forum! me, working on gooseberries juicing procedures recently
Mar 22, 2019
Thankyou so much for this useful information!!! You are amazing! I even read the comments for more clarity!!!! I feel confident in my new endeavor.
Mar 15, 2019
Great article! I got couple of questions: Do you recommend doing Gentle Pasteurization (also known as Flash Pasteurization) on cold press juices? How does HPP differ from it, in terms of not harming the healthy nutrients in the juices and making the shelf life longer? Does it really differ if you keep the juice in a glass bottle or plastic bottle in terms of taste and quality? (I know that on HPP glass bottles cannot be used). How much apple/carrot do you need to juice one liter? If you use cold presser? I would be very thankfull if you could provide me these information. Regards, David
Sep 13, 2018
Charlie Wettlaufer
David, Usually cold-pressed juiceries don't like to use heat (flash pasteurization) as it is believed to cook the juice and kill some of the enzymes and nutrients. Glass vs plastic is an age-old debate, and many believe plastic to be harmful. I'm not a scientist so I can't say for sure, but I try to drink from glass when possible. You need about 3-4 lbs of apples or carrots to make 1 liter of juice (depends on how juicy the produce is).
Sep 14, 2018
i have 4 kinds of cold pressed juices I use the X-1 what is the longest shelf life of a cold pressed juice please go to my resturant website happy+hale Durham Nc to see my juices thank you
Aug 1, 2018
Charlie Wettlaufer
Since all of your recipes have citrus in them, they should last at least 2-3 days if kept cold and following the advice in this article.
Aug 2, 2018
But. I f the apple juice is fermented because it ha s be en Le ft in the fridge, is it bad? I tasted one cold pressed apple juice that I left in the fridge for a few weeks. It's sweet but really good and quite fizzy
Jul 25, 2018
Charlie Wettlaufer
Definitely should not drink fizzy apple juice!
Jul 31, 2018
Hi Charlie, I have been a working professional all my life but have this sudden zeal for entrepreneurship all of a sudden. I am smitten by the fresh juice business as it is healthy and we do not have organised suppliers in the neighborhoods. Only option is to buy frozen supplies of Tropicana (pepsico) or some such product. I want to look at setting up cold press facilities in the neighborhoods of Delhi. Of course the city sees 4 weathers and temperatures move from 5 ded celsious to 47 deg celsius in summers. I am not sure of what the costing is and how much juice can you get from one KG of citrus fruit like oranges. Can you guide me, firstly is neighborhood selling, via small facilities , packaged in glass bottles with soem branding is a good idea. If yes, what are critical things to plan first etc.
Jun 22, 2018
Charlie Wettlaufer
Anup- sorry to hear there is no fresh juice in your area. You can change that! To answer your questions: 1) You can get about 600 ml of juice out of 1 kg or fruit and vegetable, but it varies depending on the variety. For example you can get much more out of cucumbers, but much less out of spinach. 2) You can start small in your home with an X1 Mini, and make bottles of juice and deliver locally. This is a great way to start. You can advertise on facebook or via word of mouth. Once you grow big enough to move into a proper facility, you will already have the customers to support the extra cost.
Jun 23, 2018
Hi Charlie, I would like your thoughts on storing freshly made juice in kegs and using a co2 system? So we can get a little more life out the juice? and what is your thoughts on storing juice in stainless steel? which is what I assume the innards of a keg is..Any thoughts would be greatly appreciated! Micah-Tonic Juicery
Jun 8, 2018
Charlie Wettlaufer
I actually just met someone doing this. He claims it extends the shelf life, but I can't confirm 100% if that's true. I think storing juice in stainless is totally fine, as all the tanks in juice factories are stainless. If you are attempting to actually sell kegs of juice, there are issues with the juice settling out. The kegs need to be shaken quite often. I don't recommend this unless it's a juice recipe that doesn't settle. It usually is more common to sell teas and kombucha this way.
Jun 10, 2018
I left my cold pressed Green juice out on the counter in a bottle overnight. Is it still okay to drink the next day or is it rotten at this point?
Mar 9, 2018
Charlie Wettlaufer
It's not safe to drink raw juice that has been left at room temperature.
Mar 9, 2018
I just bought and drank a delicious glass bottle of cold pressed organic juice from 7-11. It as a 7 select brand and cost $2.99 for a 14 ounce bottle. A great value. Too good? The expiration date was 9/2019. About 17 months from today. How is this possible? It was cold pressed and on organic and stated it should be drunk with 3 days of opening. Was the expiration date for it being frozen? Really confused. Read more about this http://corp.7-eleven.com/corp-press-releases/01-08-2018-7-eleven-juices-up-vault-with-first-usda-organic-cold-pressed-offerings Is this a cheaper option than juicing at home?
Feb 27, 2018
Charlie Wettlaufer
The term "cold-press" is not regulated, and therefore anyone can claim their juice is cold-pressed. The 7-11 juice is hot-filled into the bottle. You can tell because of the pop-cap. The reason the cap on that bottles "pops" when you open it is because the liquid is put into the bottle hot, and when it cools it contracts and sucks the cap down. In other words, the juice is heated before it goes into the bottle and that's why there is a long shelf life. I really hate that these brands are destroying the term cold-pressed.
Feb 27, 2018
Hi! I am using a cold press juicer every morning making veg juice and bringing it to work where I don't have a fridge. By the time I drink the juice at lunch is it going rancid? It still tastes delicious until the end of the day...is it dangerous to drink left out of the fridge for that long? Much love! G
Feb 20, 2018
Charlie Wettlaufer
You should be careful about drinking raw juice that has been unrefrigerated for 3-4 hours or more. This is about how long it takes for harmful bacteria (like salmonella) to populate enough to make someone sick, even if only trace amounts are detectable in the original produce. If you're using clean, safe produce it's probably OK, but better to be on the same side and only drink juice that's been kept cold. Be careful!
Feb 20, 2018
I just recently had a bottle of carrot and orange juice from a grocery store today and it said it was unpasteurized. The date on the bottle said sell by the 29th and since it was the 26th i assumed that was okay however after drinking it, i realized it said it was prepared on the 22nd, is this safe since if it doesn't go under HPP?
Dec 28, 2017
Charlie Wettlaufer
Did it have any other ingredients in it? raw carrot juice alone usually goes bad very quickly. If it's been HPP'd, they can still say it's unpasteurized, as HPP is considered a separate process and is not actually required to even be on the label. Many juice brands use HPP but don't label it as such. I hate the fact that it happens, but it does.
Dec 29, 2017
Hi. Thank you for such great information. Can you tell me if it's ok to freeze fresh pressed juice. Will it lose it's nutritional value? Thanks
Nov 12, 2017
Charlie Wettlaufer
Freezing is generally considered OK, but I'm not too sure about the specifics. If you find anything out let us know!
Nov 15, 2017
in my country we do not have the hpp technology, which they think of irradiate the bottled juices so as not to pasteurize hot. thanks a lot.
Nov 9, 2017
Hi! You noted in your article that slow juicers and masticater juicers are not true cold pressed juicers. It was my understanding that a slow juicer = cold pressed because unlike a centifugal juicer, it does not heat up and kill the enzymes of the veggies and fruit as it's processed. Are the slow juicers that claim to be cold pressed out on the market now not worth it? And, the slow juicer I recently bought ( Hurom AA slow juicer) How long can I keep the juice in the fridge before it's bad? I thought I had a " cold pressed juicer " so I was hoping 2-3 days but if it's not a true cold press, should I be drinking them immediately? sorry... lots of questions but thank you if you can help! Love going to my local juice shop but was getting so expensive so I decided to get a high end one and do it myself... now I'm not sure??
Apr 2, 2019
Which brand off machine would you suggest using to make cold pressed juice
Sep 28, 2017
Charlie Wettlaufer
Goodnature!
Sep 30, 2017
Hi, thanks for all the responses; very helpful. I live in Nigeria also but west. I run a budding hibiscus juice production biz using the regular boiling/steeping means of extraction with sodium benzoate as a preservative for a shelf life of 3weeks . Now am upgrading to cold pressed extraction due to the obvious health benefits. From my research the HPP seems to be a more valid method for preserving it for up to 4weeks which I would love to go with but affordability is on the high side and such equipments am not aware are available here yet. Is there a DIY method for cold pressed juice preservation for commercial quantity or can I locally manufacture with easily available materials an HPP machinery, that will give me the 3-4weeks preservation? Or can I settle for sodium benzoate and potassium sorbate? Thanks a lot. This is gonna be highly appreciated as I have stopped even my former means of extraction until I complete the cold pressed extract up to preservation right before I continue production.
Sep 7, 2017
Charlie Wettlaufer
Nne, unfortunately HPP is not possible as DYI as the equipment is huge, expensive and hard to maintain. I think you should consider just making raw juice. If you need the extended shelf life I would advise against using additives, as these go against the concept of cold-pressed juice. Using heat pasteurization is better than additives (in my opinion), although the juice will be lacking in some of the nutrition that raw juice contains, and shouldn't be labeled as "cold-pressed."
Sep 13, 2017
Hi Nne.. glad to have found you here.. please I live in lagos and I'm also interested in starting a hibiscus sabdariffa extract drink (zobo) buisness.. please i would apreciate it if I could contact you to get a better understanding of the buisness.. Thank you for your understanding..
Jan 9, 2018
hi, i live in nigeria in the very hot north east and intend on starting a ginger juice business starting small and building up. ginger juice is quite popular but production and supply is fairly inconsistent and eratic, and at most times the ginger goes off very quickly due to the heat. i intend to increase shelf life etc. all my recipes have a high element of acidity but want to increase shelf life even more by pasteurising, however upon reading a lot of articles now pasteurizing is putting me off. can i heat treat the juices in the bottles by steaming? i have extensive catering experience, and am still furthering my education in food , i own a farm and want to start producing my own cheese and charcueterie and fruit juices any advise. thanks richard
Aug 20, 2017
Charlie Wettlaufer
If you use steam, that is still heating the juice, which is pasteurization. If you don't want to use heat you can look into if there are any HPP facilities near you that will process your juice for you.
Aug 21, 2017
Hi Charlie I would like to know how much shelf life do you think in a combination of a probiotic drink and lemon juice with water? Thank you so much!
Jul 17, 2017
Charlie Wettlaufer
What type of probiotic drink? Whats in it?
Jul 19, 2017
Thanks for the info. This is off the subject a bit, but I have a meeting in the early morning with the Health Dept. so I'm hoping I get a solution before then.. The health dept. that I am having to "work" with (I wish it was "play") is saying that I mustn't bottle the juice otherwise I'll need to register with the state, even though I will only be selling the juice out of my store front (juice bar). They suggested I use plastic cups. No thanks. Apologies for being off the subject.
Jul 12, 2017
any suggestions on wording from me to them, or information to allow me to bottle without registering?
Jul 12, 2017
Hey, After pressing the juice how do you get the pectin (and their benefits) through the filters?
Apr 15, 2017
Charlie Wettlaufer
Some of the pectin makes it through the bags, but not all of it. I'm not sure exactly how much.
Apr 20, 2017
One question, Is HPP necessary for even 3-4 days shelf life? Also what should be the refrigerator temperature to keep the juice for than a day. My fresh juice starts to smell and taste bitter after 24hr.
Mar 10, 2017
Charlie Wettlaufer
If your juice is going bad within one day I would guess you are either not keeping it cold, using bad produce, or you are using a centrifugal or "slow" juicer. Any of these issues will cause a short shelf life. Using a real juice press like the X1, you will normally get 3-4 days shelf life without using HPP or any other preservation methods. The juice should be kept at lower than 45 degrees.
Mar 10, 2017
Hi Charlie, Very useful. Thank you! I own a cold press juice store in Madrid (Spain). All our ingredients are raw, organic, excellent quality. We love juicing! We work with 3-4 day shelf life. After Reading your article, is there any recipe that you have tried, and would recommend to have a 5 day shelf life? this is for me to try personally, not for the shop. If you ever come to Madrid, please let me know, we would love to show you OX Organice Experience, and hear you opinion. Thanks!
Feb 28, 2017
Charlie Wettlaufer
Tine, you will have to experiment with your specific recipes. Produce and juice varies a lot depending on the region and season etc. you should try adding more citrus (lemon / orange) and see if the shelf life increases. I may be in Spain later this year i would love to stop by!
Mar 1, 2017
Hi, Very usefularticle.does adding refined sugar to cold pressed juice decrease the shelf life? If so can you give me other sweetener options
Feb 22, 2017
Charlie Wettlaufer
Vena, I'm not sure if adding sugar decreases shelf life since people don't usually add sugar to cold-pressed juice, it is quite sweet if you use some nice natural fruit like apple. If you must add sweetener, you could look at adding honey or agave syrup since it is more natural.
Feb 22, 2017
Great article. I thought I knew the answer to this question, but am now questioning myself. Can you define shelf life? Do you mean how long the bottle is "on the shelf" (i.e. in the refrigerator unopened), or do you mean length of time in the fridge after it's been opened? Thanks!
Jan 1, 2017
Charlie Wettlaufer
Hi Melissa, good question! We mean how long it will last in a refrigerator before being opened.
Jan 5, 2017
Great article - thanks for sharing. One question... Isn't one of the benefits of green juice that it is highly alkaline? With that being the case, wouldn't adding a lemon or lime (to preserve shelf-life) increase the juice's acidity and thus take away some of the benefit? Is this simply a "trade-off" of storing juice? Thanks.
Nov 16, 2016
Ari Sexner
Great question, Balancing the pH of your body is one of many benefits adding cold press green juice to your diet. We have reached out to a few nutritionists and have asked the same question. Lemon being added to juice sparingly will actually help support your organs and break down processed food offerings, Even having your kidney produce more alkaline to balance your bodies pH. One even referred to it as an internal toothbrush for your system.
Nov 17, 2016
Kenneth......Kenjuicers & Smoothies-Mombasa,Kenya.
I like this wonderful article its amazing for me as a starter who's just beginning. Thanks a lot.
Nov 14, 2016
Thank you for the great comments. I have a question. What about the oh of water? We know water is generally neutral, but alkaline water is the next health him if. Can the water make the body more alkaline or no? Thank you.
Jul 14, 2017