What do successful juice brands like Suja, Sol-ti, JRINK, and Naked all have in common? They all started in someone's home kitchen!
If you don't feel ready to take the risk of spending hundreds of thousands of dollars and signing a commercial lease, starting a juice business from home is a great way to start and can get you to a point where you feel comfortable making the investment for a real store front or commercial kitchen.
Here are the topics we will cover that will help answer your questions on how to start a juice business at home:

Some Advice From the Pros
From Shizu Okusa, Founder of JRINK and Apothekary:
Two reasons why starting from home can be a good idea:
Financial security: Get a good sense (ie MVP = minimum viable product) of whether your business is viable without having to invest or raise money to build out an entire kitchen.
Emotional certainty: Starting a business is never easy. By starting at home you'll build some confidence that your product has traction before going "all in".
And some general advice she would give to someone going through the process:
"Google it: Don't blatantly copy anyone's recipe, but get a head start by googling juice recipes so you have an idea where to start. Sometimes just doing it (especially at home!) is half the battle of starting. So much information is available nowadays – don't waste your time on things that are already out there and focus on how you'll innovate differently / differentiate from your competitors. Chances are it won't be your recipe that will be your differentiator – more so sales strategy, brand, speed to market, etc. What makes you unique. "
From Devon Brent, Founder of Healthy Roots
Some advice to people starting from home:
"Life certainly is full of surprises – if you would have told me that in just a few short years our brand would go from operating out of my parents basement and selling at local farmers markets to now having a 6,000 sq ft. fully automated production facility with the capacity to produce up to 65,000 bottles of fresh juice per day I would have said you're absolutely crazy. But the wild thing is if you're willing to put in the work, face your fears, and chase your dreams anything is possible. So start now. Start today. Whether it's in your kitchen or in your parents basement – we all have to start somewhere!"
Disclaimer
Before we get into the step-by-step process, it's worth pointing out that it may not be totally legal under FDA regulations to run a raw juice business from home. Many people have done it successfully and continue to do so, but just be aware that the FDA may tell you to stop and make you move to a real commercial kitchen at some point.
There are "cottage laws" in some areas that may allow you to run a fully-approved commercial juice business from home, but you will have to do your research to find out for sure what the regulations are in your area.
Now that that's out of the way, on to the fun stuff!

Recipes
Before you start selling juice, make sure you have a handful of recipes that are tried and enjoyed by your closest friends and family. Ari Sexner, juice business consultant recommends starting with a small menu of 5-8 core recipes.
This gives you enough to offer a full juice cleanse package, but not so much that your menu is hard to manage. Starting with too many options is burdensome and is difficult to manage. Ari also recommends having two wellness shot recipes. They are a great add-on and very popular.
Pro Tip: In nearly every cold-pressed juice business, their best selling recipe is a sweet green juice! Usually a recipe with apple juice as a base.

Feeling stuck on creating recipes? Pick up a copy of The Juicing Companion, the only juicing book that is meant to help you create your own unique recipes.
Cost of Goods Calculations
You will need to make sure your recipes are not only delicious, but also make you money. That means keeping the food cost down to about 25% of the final price. Other costs (bottle, cap, label) can add another 5% – 15%, bringing your total COGS to 40%.
Example: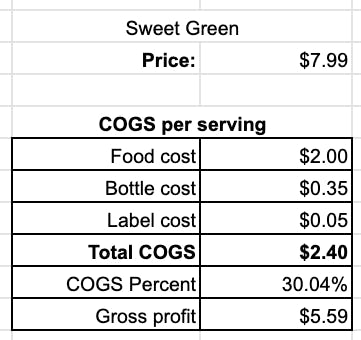 In the above example, the Cost of Goods is about 30%. A business can make a profit at this margin. Even if you can justify a COGS of 50% – 60% running a business from home, you will not be able to run a profitable business this way if you ever move into a commercial kitchen and hire staff. A juice priced at $10 – $12 is fairly common if it's organic in a glass bottle, which allows a COGS of about $3-$4 at a comfortable margin.

Commercial Juicer
Equipment will be the biggest investment you will make for your business. Most importantly, you need to invest in a commercial juicer. If you choose to purchase a juicer that is not rated for commercial (continuous) use, you will run the risk of  having to spend the same or even more money with multiple machines, replacement parts and labor costs, not to mention the hassle of downtime, being frustrated and having to convert your recipes and processes once you do make the upgrade to a commercial machine. When evaluating a juicer make sure it checks all of these boxes:
It's a genuine juice press. Juice made in an actual press tastes better, lasts longer, and will give you higher yield than other juice technologies. To be clear – some equipment brands that claim to be a "cold-press" aren't actually a press. All the following are not real juice presses: Masticating juicers, "Slow" juicers, twin-gear / double auger juicers, centrifugal juicers. A real press must have a moving platen that presses the produce between two plates. For more information, check out our article Types of Juicers. 
It's NSF certified. In the US, all food service equipment used to make commercial food and beverage products (including juice) must be NSF certified. The last thing you want is for the health department to tell you you can't make juice because the equipment isn't NSF certified. Pro Tip: If you are evaluating a product and it says "conforms to NSF standards", that may not mean the machine is actually NSF certified and contains the NSF mark that health inspectors look for. Make sure the equipment is legitimately NSF certified. If in doubt, check the NSF website.
It can grow with your business. If you're investing thousands of dollars into a machine, make sure it can scale with your business. What this means essentially, is that you should make sure the machine is built to withstand continuous use and can last for years. Most juicers over-heat if they are used for a long time. Juicers that overheat or break down after long periods of use are not a good choice.
The most suitable entry-level commercial machine that contains all of the above features is the Goodnature M-1 commercial cold-press juicer. The Goodnature M-1 is the only juice press built for commercial use that's small enough to fit on your home counter. The M-1 is built for juice bars and other real food and beverage businesses, so it will withstand any level of use you can throw at it in your home juice business.

Other Equipment
You will also want to pick up the following equipment:
Portion scale. A digital kitchen scale that is used to weigh ingredients for recipes is a necessity. When making juice commercially, it's not realistic to measure ingredients by whole fruit. For example, a recipe that contains "1 apple" or "3 medium carrots" will yield very different results depending on the size of the produce. So you will want to convert all of your recipes to weights. E.g. "8 oz. red apple" or "200 grams carrot". We recommend a scale like this one: Digital Portion Scale
A set of "cambro" containers. Having a nice set of containers to store juice, produce, and other things is great. You will find yourself using them for many things throughout a juice production cycle. I recommend a few of these with lids: 6″ Deep Cambro Pans. And some of these: 2 qt Round Storage Containers 
A good knife! With a nice, sharp knife you can easily chop produce, peel citrus, and work efficiently. If you have a bunch of old, dull knives at home, now is the time to get one nice chef knife. A good 6 inch – 8 inch knife will do the trick.
Cutting boards and other small-wares. Get some large spoons, spatulas, a strainer, and some measuring cups.
The great news is that all of these items can move with you when you're ready to move into a commercial retail space. For more information checkout out our free juice bar design PDF.

Taking Orders
If you feel you're ready to start taking orders, you will actually need a way to do that. The best way is through an online store. These days, there are plenty of options for launching an online store. Shopify is the most used and probably has the smallest lift to get going. To learn more about starting an online juice store, read my articles on How to Sell Juice Online and Choosing an eCommerce Platform for Your Juice Business.
In order to make a good impression you will need some nice content. Spend a few hundred dollars and pay a professional photographer / food stylist to photograph your juices for you. It is well worth it and will generate sales for you. The last thing you want is for a customer to get all the way to your website then think "this doesn't look very professional, I'm not going to buy juice from them."
Production Schedule
Most home juice businesses don't generally stock juice. They take orders ahead of time and make the juice available the next day, or at a regular schedule. For example, any orders taken Mon – Wed will be available or delivered on Thursday, and any orders placed Thur – Sun will be available or delivered on Monday.
This method is generally acceptable if you're using a Goodnature juice press, since the juice usually lasts 3-5 days if following our shelf life guidelines for cold pressed juice. So, customers who receive the juice on Monday can consume it Mon – Wed, then get their next batch on Thursday.
Producing on a schedule like this allows you to plan your production ahead of time without needing to estimate how much produce you have to buy and how much juice you have to make. It will reduce waste and decrease your production costs.
Bottles and Packaging
Glass vs plastic bottles are an ongoing debate, and most people agree that glass bottles are preferred, both for environmental reasons and for aesthetics – glass bottles definitely feel more premium and some even insist that juice tastes better out of a glass bottle (it does keep it colder which might be the actual reason for this). I've written about the decision more extensively in my article Plastic vs Glass Bottles.
As for size, most companies have moved from 16oz bottles to 12 oz. The lower price point is more attractive to customers, and most people don't necessarily want to consume a whole 16 ounces of juice. For more on this, check out my article here: Why Juices are Getting Smaller
Juice shots are also a growing trend, and are a great way for customers to have access to high quality raw juice without spending $8-$12. A 2oz – 4oz juice shot is also a great add-on to a juice sale.
Delivery
If you plan on offering delivery, make sure to only accept sales in a certain area or you can find yourself quickly becoming a full time driver! In dense urban areas, you can find a lot of customers in a small area so delivery makes a lot of sense. In more rural areas, you might want to stick to pickup only. Or pickup and direct shipping.
Final Thoughts
Starting a business can be both the scariest and the most rewarding thing you can do in your life. It's not an easy decision, but we at Goodnature try to make the process as seamless as possible. Have questions? Give us a call today. Our number can be found in the footer of our website, or you can contact us here.
Come over to our Goodnature Juicing Facebook Group to join the discussion!
Resources and Where to Go for Help
Thinking about Starting a Juice Business From Home?
We can help, contact us for a free consultation!