If you want to boost your immune system in a tasty way, this juice recipe is for you.
We asked our in-house chef Ari to come up with a recipe that implemented high-in-Vitamin C produce like oranges and pineapple. The result of his work is this Orange Juice Citrus Cooler, every major ingredient of which is rich in Vitamin C.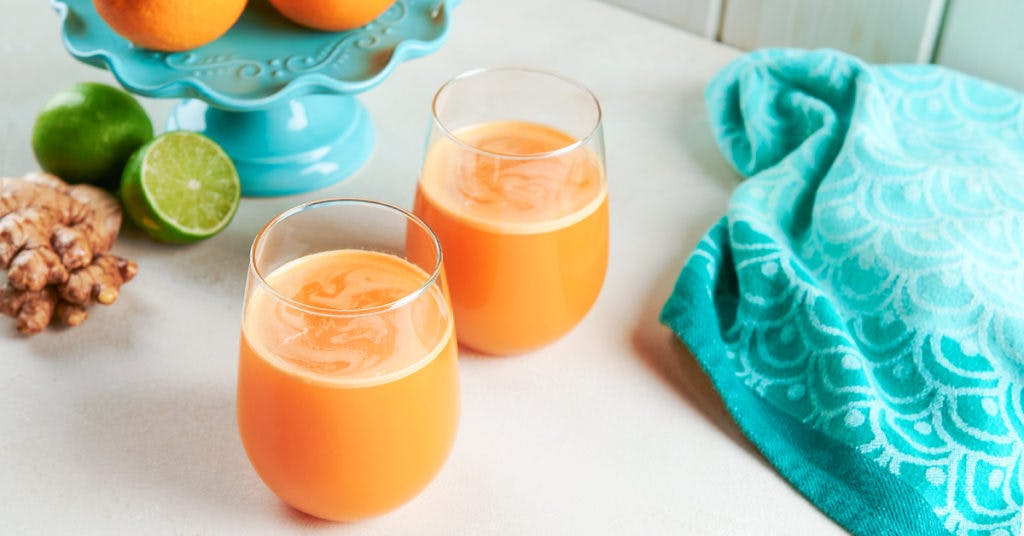 Why We Love This Vitamin C-Heavy Juice Recipe
The OJ Citrus Fruit Cooler has it all: good looks, yummy flavor and powerful health benefits.
Sweet, but not too sweet.  Some people shy away from drinking orange juice and pineapple juice because of the sugar, but what they may not be taking into account is how consuming it actually affects the body. Even though oranges are sweet, they are low on the glycemic index (GI), which means it has a low effect on blood sugar and insulin levels. Pineapples are fairly high in sugar and a relatively higher glycemic index, however, because they are about 86% water, the glycemic load is actually quite low when you consume the serving size used in this recipe. 
Fruity, but with a hint of veggie and a little kick (from the ginger). If that doesn't make you thirsty for this immune boosting treat, maybe this close up will: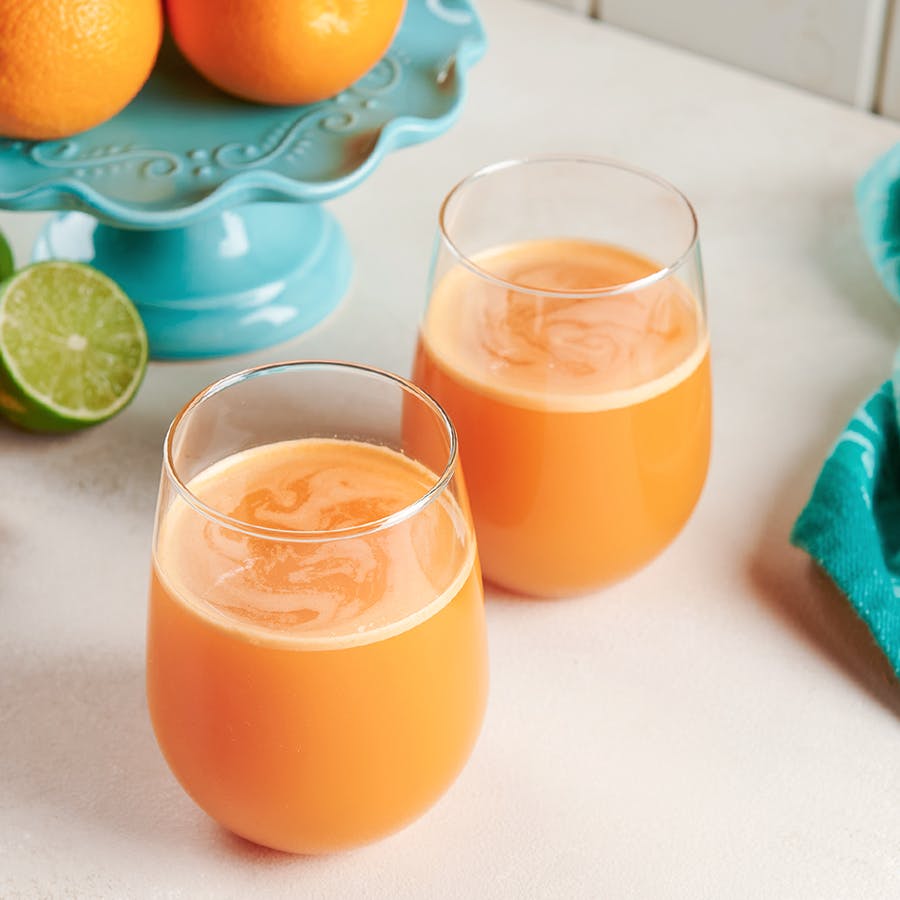 Now, let's go over 5 of the major health benefits.
1. Supports Immune System
This juice is packed with vitamins and minerals that boost your immune system. Every ingredient, except ginger, is rich in vitamin C. There's also some Vitamin A (in the form of beta-carotene), potassium and magnesium. All of which support a healthy immune system.
2. Anti-Inflammatory
All ingredients have anti-inflammatory properties that can help fight diseases that are linked to chronic inflammation like rheumatoid arthritis,  dermatitis, inflammatory bowel disease (IBD), diabetes, psoriasis, asthma, and Crohn's disease, among others.
3. Improves Digestion
Pineapple, ginger and lime are all known to improve digestive health for different reasons: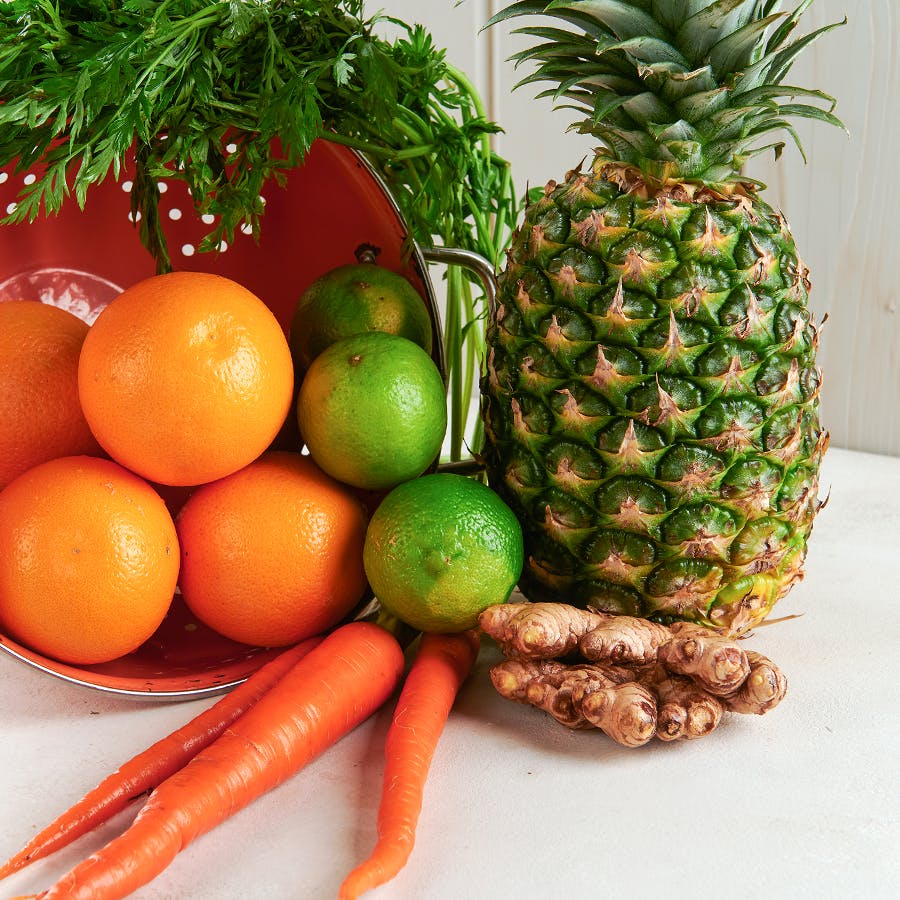 Related article: 7 Easy Juice Recipes for Weight Loss
4. Increases Energy
Orange is listed as one of Healthline's 27 Foods That Can Give You More Energy. That's driven by it's abundance of vitamin C, B9-folate and antioxidants. The potassium and complex carbohydrates in carrots are also great for increasing energy, as is the vitamin B6 in ginger.
5. Can Lower Cholesterol, Blood Sugar and Blood Pressure Levels
Once again, orange is the hero here. It can help lower all three. Carrot can also help lower cholesterol.

Other Fruits & Veggies with High Vitamin C Levels
This fresh juice recipe is a vitamin C powerhouse. But, for your reference, we also wanted to include a list of other produce that are known to be immune boosters thanks to their high vitamin C content. Here are some of the most popular (source):
Chili peppers and bell peppers
Plums, cherries and guavas
Leafy greens and herbs like parsley, mustard spinach, kale and thyme
Kiwis and strawberries (see: Strawberry Kiwi Juice recipe)
Brussels sprouts
Citrus fruits like lemons/lemon juice and grapefruit
Papayas and persimmons
Cantaloupe
(Note: Vitamin C isn't only great for your immune system. It is also one of many antioxidants that can help block some of the damage caused by free radicals. Learn more about the power of vitamin C here.)
You may also like:

Equipment note: We used the M-1 commercial juice press to make this juice recipe, but you can use pretty much any type of juicer. Just keep in mind that the quality will always be higher when using a juice press.Learn more about the industry-leading commercial juicers we use to make our recipes.