Summer is approaching, so we're sharing one of our favorite homemade lemonade-like recipes to help you beat the heat!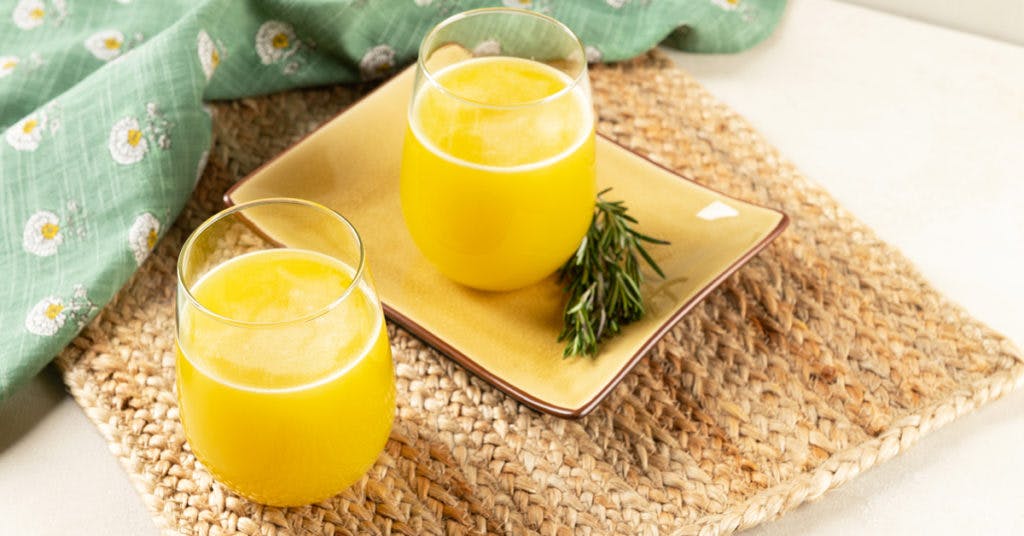 But this isn't your conventional lemonade recipe made with cold water, lemon juice and simple syrup/sugar. Rather, this Rosemary Lemonade is a juicer-made creation from the mind of our brilliant chef, Ari Sexner.

Unlike most online lemonade recipes, you won't need a small saucepan, strainer or even ice cubes. All you need is fresh produce, a bit of honey and your trusty juicer.
Why We Love This Homemade Rosemary Lemonade Recipe
Sweet, fruity and bold, this summer drink is the perfect antidote for a warm day.
Here's what Chef Ari had to say about it:
The inspiration for this juice was actually from a cocktail I had at a Spanish restaurant. It sounded kind of odd but was amazing, it was a mix of a light beer and strong lemonade, with a few drops of rosemary oil.

The rosemary really fortified the pairing and knew I wanted to work on developing a non-alcoholic, juice bar-friendly version. Since rosemary is actually pretty good for boosting the immune system, I figured it would work well with not only some produce items high in vitamin C, but also a little bit of local honey. If you prefer agave or maple syrup, either of those can be substituted to replace the honey.
Taste is just one piece of the puzzle. This recipe was also constructed based on the health benefits of these fresh ingredients.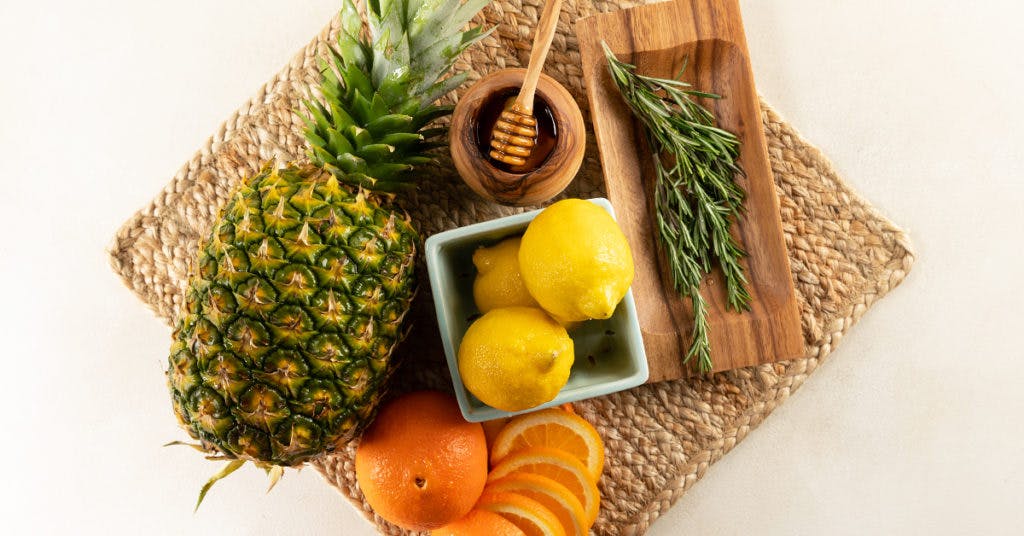 Let's run through some of the notable benefits provided by each ingredient (you will notice a lot of overlap, magnifying the positive effects):
Pineapple: High in Vitamin C and Manganese. Reduces inflammation. Antioxidant rich. Supports immune health. Improves digestion. Increases energy.
Orange: High in Vitamin C and B9-Folate. Supports immune health. Reduces inflammation. Antioxidant rich. Can help lower blood pressure, blood sugar and cholesterol. Promotes heart and skin health.
Lemon: High in Vitamin C. Lemon juice is a natural antibiotic. Reduces inflammation. Antioxidant rich. Supports immune health. Helps digestion.
Rosemary: High in Vitamin C and A. Antibacterial and antiseptic properties. Helps with memory. Liver detoxifier.
Honey: Supports immune health. Increases energy. Promotes sleep. Antioxidant rich.
Now, it's time to clip a few sprigs off of your rosemary bush and dive into the recipe.
You may also like: Refreshing Watermelon Lime Juice