If you're looking to experience the powerful benefits of beets, this is the recipe you've been looking for! Beet juice is known for it's ability to lower blood pressure, improve stamina, maintain healthy weight and may even help prevent cancer! Chef Ari also incorporated other fruit and veggies to enhance the health benefits and to balance the flavors of this juice shot.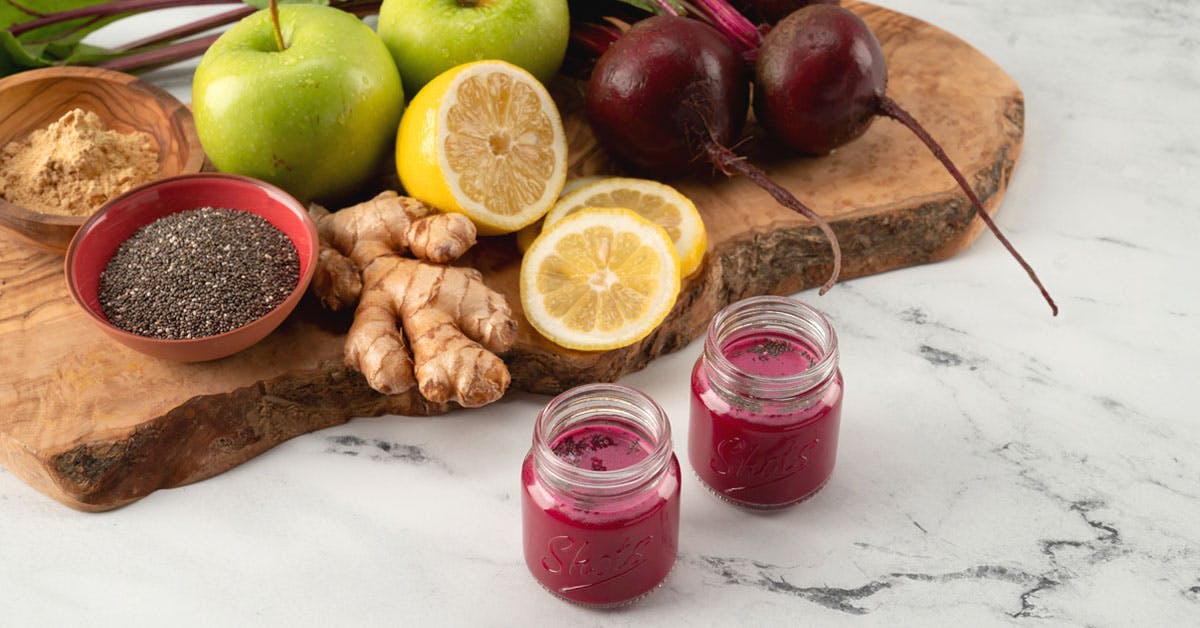 What We Love About this Beet Juice Recipe
Sometimes it's tough to incorporate beets into juices. There are a few challenges, with one being the earthy, gritty taste of beets. Beet juice is not everyone's cup of tea, so having a flavor-balanced recipe made by an experienced chef is a plus! Another area of concern is what beets can do to the texture of a juice, Chef Ari explains:
"When juicing with beets you need to be slightly cautious, if you add a touch too much beet, it can turn the blend into syrup. Being that this is an energy shot, I wanted to max out how much beet we could use without it becoming thick and syrupy. The green apple I added not only mellows out the sweetness of the beet, but gives an acidity along with the lemon, balancing it out. Typically I would worry about the color when mixing maca powder with a juice but with a shot, especially with beet being the base, it works well without much discoloration. The chia seeds give it a bit of texture as well as the added health benefits."

This energy boosting juice shot won't hinder your weight loss goals either, at only 45 calories per 4 oz shot (or 135 calories for the full 12 oz), you can easily add this into your daily routine.
Drink this first thing on an empty stomach for a little energetic kickstart to your metabolism in the morning.
Related: 7 Easy Juice Recipes for Weight Loss
You can even incorporate this healthy ginger shot into your juice cleanse. Download my free eBook on how to do a juice cleanse for tips and recipes!

Beet Apple Juice Shot Benefits
Inflammation reducer. Ginger, lemon, chia, maca, beet and apple are full of compounds that have powerful anti-inflammatory effects. Beets are also rich in nitrates, which remove harmful compounds from your bloodstream.
Boosts the immune system. This juice shot contains loads of antioxidants and vitamins that can enhance the immune system, plus fight harmful bacteria and viruses.
Super effective at lowering blood pressure. Fresh ginger juice lowers blood pressure by dilating the blood vessels and thinning the blood. The natural nitrates in beets are converted to nitric oxide by your digestive system and this compound relaxes and widens blood vessels, lowering blood pressure.