Also known as detox shots, wellness shots, booster shots,  immunity shots, or bombs, these small portions of nutrient dense juice pack a huge punch of vitamins and antioxidants in a small 4 oz shot with only 25 calories!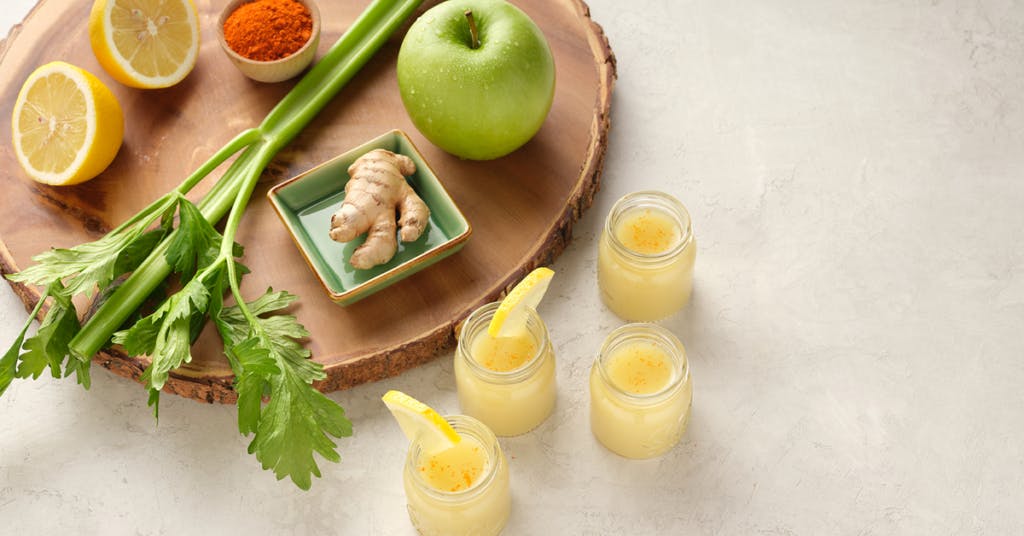 Why Lemon and Ginger?
These mini wellness concoctions typically consist of lemon and ginger, with or without a few added ingredients. Lemon and ginger are known for their high concentration of anti-inflammatory and antioxidant properties. This powerhouse team assists in promoting numerous health benefits including:
Boosting the body's immune system
Relief of symptoms from arthritis and other inflammatory illnesses
Balancing the body's PH
Neutralizing free radicals that turn healthy cells into sick or cancerous cells
Support of digestive health, settles upset stomach
Detoxification, cleansing the liver and colon of built up waste and toxins
Regulating blood pressure
Clearing skin and reducing premature aging
Improving eye care & brain function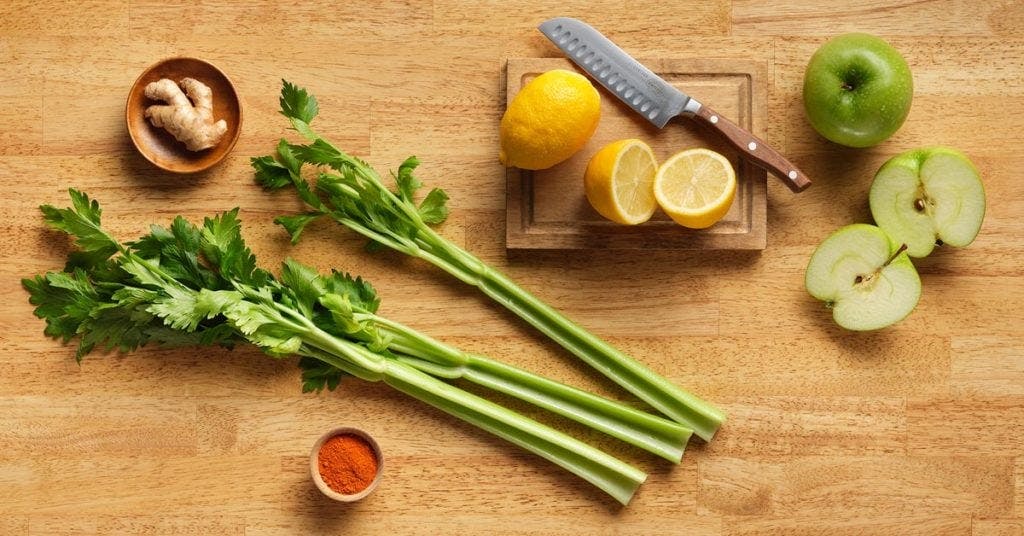 Why We Love This Recipe
The celery helps to balance the ginger and lemon while supporting weight loss and boosting the metabolism. At only 25 calories per 4 oz shot, you can easily add this into your daily routine even if you are watching your calorie count. Adding the cayenne not only gives this shot an extra flavor kick, it also gives your metabolism a kick too!
Related: 7 Easy Juice Recipes for Weight Loss
This Is a Menu-Must if Selling Juice
Some of you may already have them on your menu, but for those of you who do not, listen up! Because—number one—they make a great add-on product to any juice purchase, as they are small and relatively inexpensive compared to a bottle of juice, and—number two—they are fun and really good for you. Your customers will love them!  Usually sold for $3 – $7 depending on size and ingredients (conventional /organic), they can be kept near the register for easy grab-and-go, much like grocery stores do with candy and water.
Note: 7 tasty and healthy juice recipes are yours when you get the free How to do a Juice Cleanse ebook! If you're interested in doing a juice cleanse, this book is a valuable resource for you. But even if you're not planning a cleanse anytime soon, the recipes alone make it worth grabbing.