Many love pomegranates for their natural acidity and tart flavor.
This pom juice blend highlights those fresh pomegranate juice flavors, which are complemented by other in-season produce.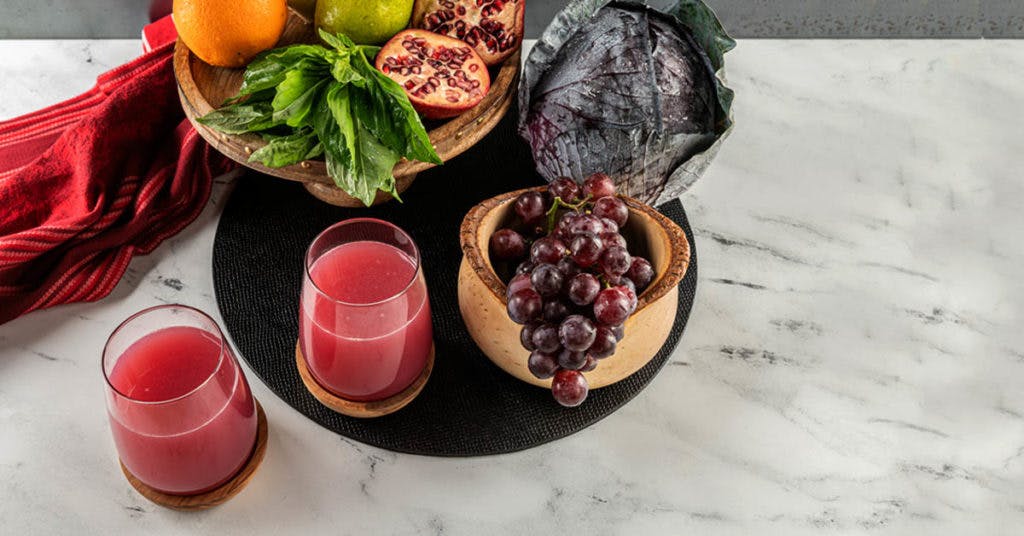 Cabbage, orange juice, pear and pomegranate are paired with fragrant fennel and basil for a uniquely sweet, bright and rich flavor. 
Read on to learn why we love this recipe, plus how to deseed a pomegranate in preparation for homemade pomegranate juice.
But first, a quick look at the long history of pomegranates.

History of the Pomegranate
Pomegranate fruits are a pretty-looking fruit with a long history. Native to Asia, pomegranate trees have been cultivated throughout Asia and the Mediterranean since ancient times. They can be seen in ancient Egyptian art and mythology, and are even mentioned in the Old Testament of the Bible!
Many will remember the Greek myth of Persephone and Hades. Hades used this delicious fruit to lure the beautiful Persephone into the underworld. This led to the Greeks referring to them as the "fruit of the dead", and there are many statues from this era depicting Persephone with pomegranates. 
Pom trees were introduced to California by the Spanish in the 1700s, and have gradually increased in popularity. 
Nowadays, pomegranates are commonplace at the grocery store. They are the main ingredient in traditional grenadine, and can even be found pre-seeded for easier use! However, these packages tend to be expensive. Read on to learn the easiest way to deseed a pom!

How to Deseed a Pomegranate 
Deseeding a pom can be intimidating, but the method outlined below will help you extract all of those sweet pomegranate seeds without making a red-stained mess! 
There are other popular strategies, some using a rolling pin or the back of a spoon, but the method below is the quickest with the least amount of mess! 
First, select your pom. You'll want a large pomegranate that is ruby red, and has ridges, rather than being smooth and round. 
Next, you'll need a large mixing bowl, a knife, a cutting board, and either a strainer or a cheesecloth. A cheesecloth may become stained by this process, so a strainer is preferred. 
Slice off the top and bottom of the pom so that you can see some seeds. Next, take your knife and cut about a 1/4 inch into the fruit along the vertical ridges. Do this along each of the ridges.
Place your pom into a large bowl filled with cool water. Then gently pull apart your pomegranate along those cut ridges.
From here, simply use your hands to gently remove the white pith from the pomegranate seeds until they have all sunk to the bottom of the bowl. The pith will float to the top, and is easily removed from the surface.
Once you have disposed of the pith, pour your bowl of seeds and water through a fine-mesh strainer or cheesecloth, and voila! Your pomegranate arils are ready to go. 
Need a visual? Check out this video for a how-to!
Now that you know how to deseed, let's learn more about the flavor of this homemade pomegranate juice.

Why We Love This Pomegranate Juice Recipe
This juice combines a lot of produce that are not usually included in fresh juice blends. Cabbage, grapes, pears and pomegranates are fall staples that pair wonderfully and deserve to be highlighted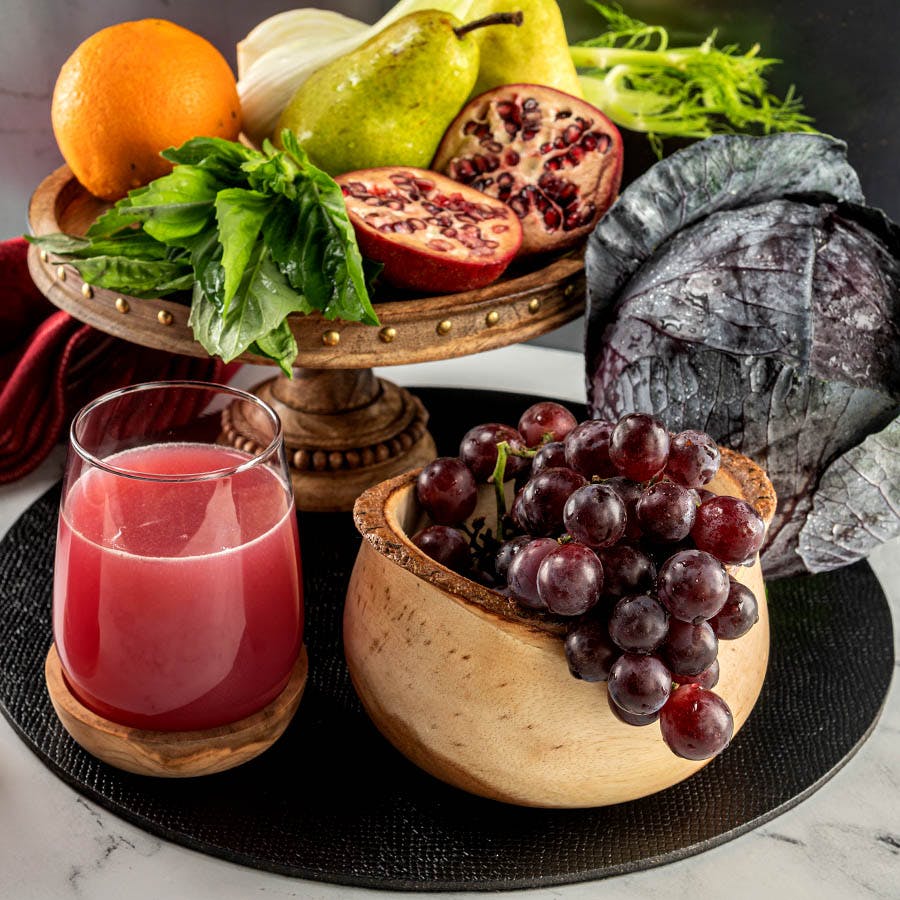 Here's what the creator of this juice, expert chef Ari Sexner, had to say about it:
"This juice is a combination of a few blends we've made before with similar seasonal produce. This blend will have a rich red-purple color, with many layers of flavor. The fennel and basil really provide a unique aftertaste that pairs well with the orange pear, grapes and cabbage."
As good as this juice tastes, its health benefits are even more impressive.
The Health Benefits of This Pomegranate Juice Blend
Pomegranates became a popular superfood in the last couple of decades due to their antioxidant properties. They are even more antioxidant-rich than blueberries!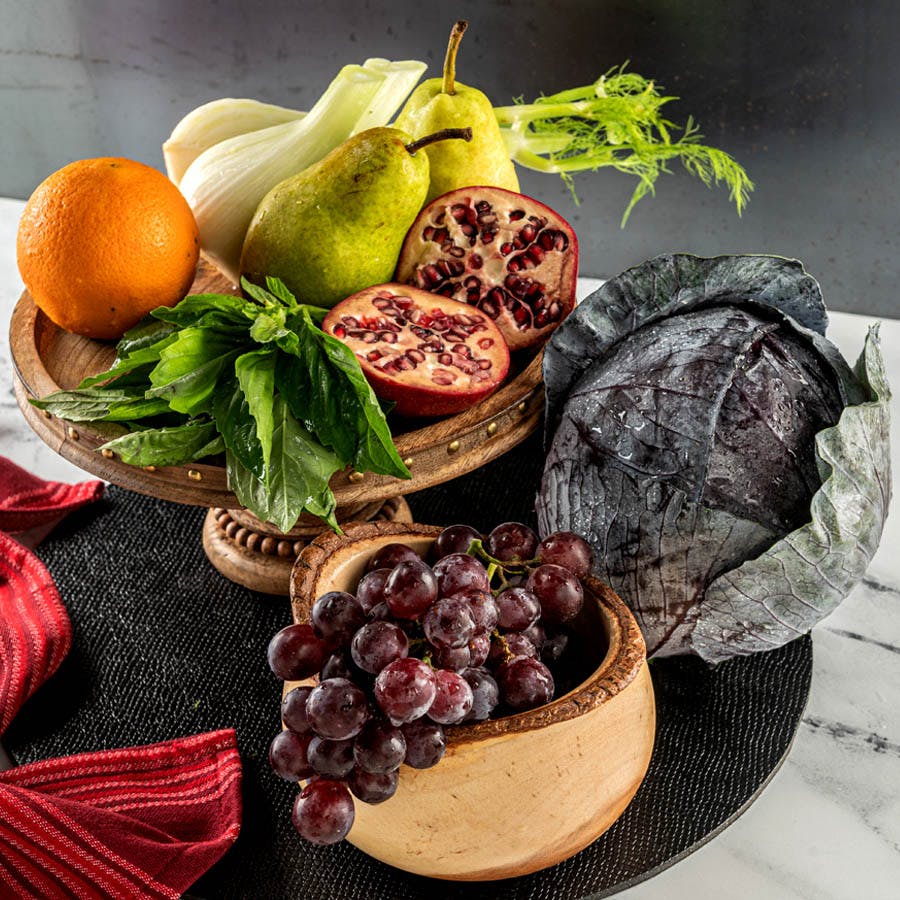 Other benefits of this gluten-free recipe include:
Great for Overall Wellness. Pomegranate is a known antioxidant, which fights damage from free radicals in the body.  Poms are also high in potassium and calcium, which are vital minerals. 
Nutrient-Dense. Fennel, poms, and oranges are high in vitamin C, and basil is a great source of vitamin K, manganese, vitamin A and more! 
Lowers Cholesterol. Studies have shown that basil and cabbage are great for heart health. Cabbage in particular has been shown to lower LDL cholesterol. 
Great for heart health. Pomegranate juice is arguably the most heart-healthy juice.
Reduces inflammation. Pom juice is a powerful anti-inflammatory thanks to its high concentration of antioxidants.
Equipment note: We used the M-1 commercial cold press juicer to make this juice shot recipe, but you can use pretty much any type of juicer (masticating, centrifugal, etc.). Just keep in mind that the quality will always be higher when using a juice press.Learn more about the industry-leading commercial cold press juicers we use to make our recipes.