If you're looking for a natural way to lower your cholesterol levels, then look no further than fresh juices. High cholesterol levels can lead to serious health problems, such as heart disease and stroke.
While avoiding cholesterol-laden foods like meat, dairy, and eggs can lower serum cholesterol levels, you can also incorporate certain fruits and vegetables into your diet to help to keep your cholesterol levels in check. 
Juicing is a great way to get all the nutrients you need in one delicious drink. Not only are fresh juices packed with vitamins and minerals, but they also contain antioxidants and fiber that can help to reduce cholesterol levels. 
In this article, we'll explore some of the best fruits and vegetables to juice for high cholesterol, as well as some tasty recipes to get you started. So, grab your juicer and let's get juicing!
I must warn you, the list of ingredients for fresh or cold-press juices to help with high cholesterol is endless, so you won't run out of ideas to keep you juicing if you encounter this health problem.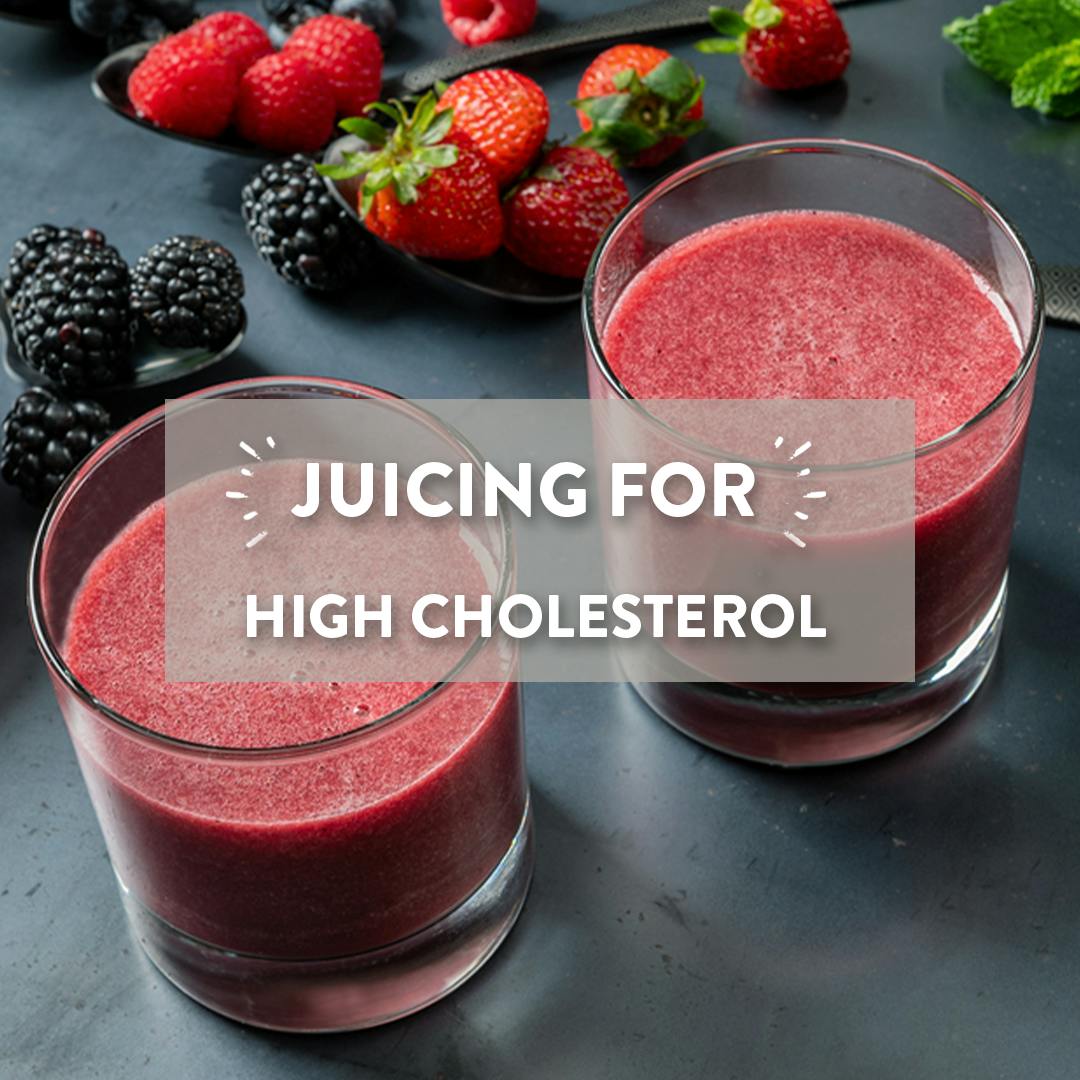 5 Juicing Recipes That Can Help With High Cholesterol
Scroll past the recipes for a list of popular juicing ingredients that contain the vitamins, minerals and antioxidants that help with high cholesterol. That list can be helpful if you're interested in coming up with your own unique recipes!
Note: Speaking of coming up with your own recipes, there's no better resource for that than The Juicing Companion.
Written by chef and juice business consultant Ari Sexner, The Juicing Companion has a page for nearly every ingredient you can think of. Each ingredient page has suggested flavor pairings, nutritional info, and recipe ideas to get you started.
It's not just a recipe book -- it's an idea book! Order your copy of The Juicing Companion here.