Blueberries, blackberries, raspberries and strawberries, oh my!
This "berry" delicious juice is an antioxidant powerhouse. Our chef-made creation combines an all-star lineup of berries with watermelon, pomegranate and mint.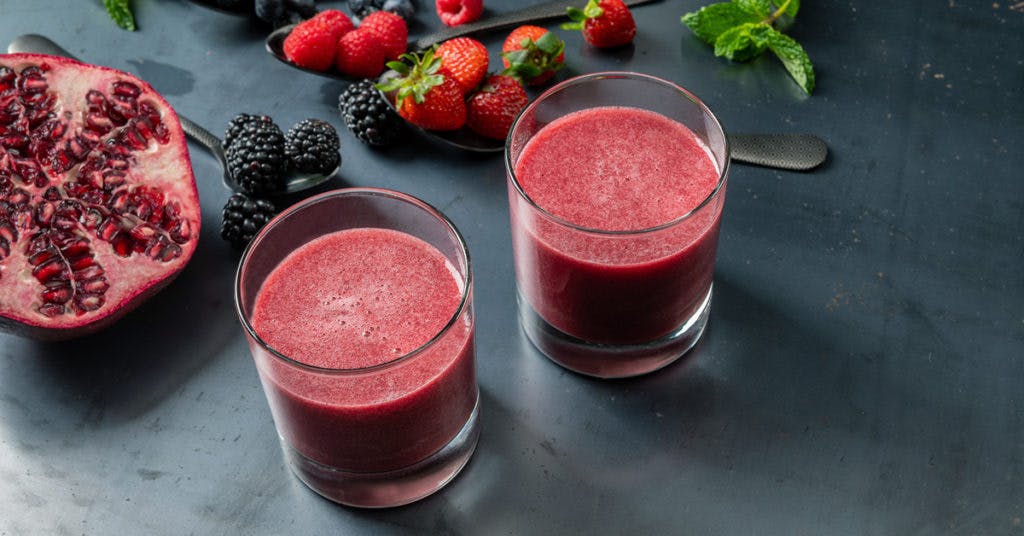 The result: a sweet yet bold glass of berry juice with a unique, amazing texture that you will want to make again and again.
Read on to learn why we love this berry juice recipe.
Why We Love This Berry Juice Recipe
First of all, the natural flavor of this juice will blow you away. Seriously, you've never tasted a fruit juice like this one. One sip puts us in an ethereal headspace, even on a weeknight before a busy day.
You may also like: Pumpkin Pie Almond Milk Recipe
Despite no veggies, this juice is a nutritional powerhouse. Let's run through the health benefits:
High in vitamins and minerals that your body needs. Vitamin C (ascorbic acid), in particular, is found in every primary ingredient. That's great for your immune system!
Can help lower cholesterol. Both blueberries and strawberries are known for lowering cholesterol. 
Helps maintain strong bones, as well as heart, muscle and nerve health. That's thanks to all of the calcium in (mainly) the raspberries and blackberries. Did you know blackberries are one of the top 10 fruits highest in calcium?
Reduces inflammation. Berries and watermelon have solid anti-inflammatory properties.
High in antioxidants. Antioxidants are important because they protect your body from free radicals and help fight disease. Did you know that blueberries have one of the highest levels of antioxidants?
Can help lower blood sugar and pressure. More "berry" amazing benefits. 
Plus, there's no added sweetener. All of the sweetness comes from the natural flavors of strawberry juice, blackberry juice, blueberry juice, raspberry juice, pomegranate juice and watermelon juice. What's more, compared to other fruits, each delicious ingredient is relatively low in (natural) sugar!
Additionally, the vast majority of dietary fiber from the pureed fruit (which is non-digestible and cannot be absorbed by the body) is filtered out in one of the steps of this recipe.  Ending with the obvious: there's no gluten (people ask).
New to making and using purees? Learn more about adding purees (like cashew cream) to nut milks and fruit purees to juices in our article here: How To Add Pureed Fruit To Your Fresh Juice Recipes
Note: Want to come up with your own unique, tasty juice recipes you can show off? Then you need to get The Juicing Companion!
Written by chef and juice business consultant Ari Sexner, The Juicing Companion has a page for nearly every ingredient you can think of. Each ingredient page has suggested flavor pairings, nutritional info, and recipe ideas to get you started.
It's not just a recipe book -- it's an idea book! Order your copy of The Juicing Companion here.