Quick Overview
Before we get into the details, I think it's important to give a quick overview of our three most popular cold-press juicers:
M-1: The Goodnature M-1 is our smallest available commercial juice press, that is meant for making a single serving of juice per press (about 16 – 20 ounces) in under 3 minutes.  Capable of producing 20 servings per hour, you can expect 10-15 per hour if you include prep and cleanup.
X-1 Mini: The Goodnature X-1 Mini is the next step up, capable of producing 3-4 servings per press (40-60 ounces). Capable of producing up to 60-70 bottles of juice per hour, you can expect about 20-40 per hour including prep and cleanup.
X-1: The Goodnature X-1 is a beast of a machine that makes 2-3 gallons per press. Capable of producing hundreds of bottles of juice per hour, you can expect about 80 – 100 per hour in a normal juicing operation.
All three products make what is known as the world's best juice. Goodnature machines are genuine juice presses with a moving plate – meaning you get the most pure, clean, nutritious juice you can possibly make. Since Goodnature juicers remove almost all of the indigestible fiber, your body can absorb the nutrients quickly and efficiently without over-working. Check out the Goodnature Difference to learn more.
Pro tip: Some manufacturers of other types of juicers – like masticating or "auger" juicers advertise them as "cold-press juicers" when there is no actual press contained in the machine. Only a true press can be a "cold-press".
M-1 vs X-1 Mini
If you're looking at the smaller end of our range, you will be deciding between the M-1 and the X-1 Mini. The easiest way to narrow down the options is to ask yourself what is the primary purpose of your business. If your primary business is selling  bottled cold-pressed juice, then you should most certainly be looking to invest in the X-1 Mini or maybe even the X-1 if you can find the funding and the space for it.
The M-1 is meant for making juice one glass at a time. It can produce about 16-20 ounces of juice per press depending on the recipe. Great features such as the ReadyGrind Kit make switching between recipes super fast and easy with minimal rinsing or cleanup. This machine really is a pleasure to use.
The M-1 is great for:
Juice bars buying one or multiple units to offer custom cold-pressed juice on-demand
Juice bars that have a larger machine in the kitchen, and want something smaller for front-of-house
Restaurants and cafes adding juice to their menu
Bars that want to offer fresh cocktails with high quality ingredients
People starting a juice delivery business from home, and plan on upgrading to a larger machine later
The X-1 Mini is great for:
Juice bars producing bottled cold-pressed juice
Juice delivery companies
Restaurants or bars with a high demand for juice
Our products are loved and get great reviews by almost all of our customers. Nearly the only time we hear something negative is when someone decides to buy a machine too small for their needs.
The M-1 makes one glass of juice at a time, so that naturally limits the production to about 15-20 per hour. If you need to make more than that or don't want to spend so much time making juice, you must absolutely use something larger and be looking to compare the X-1 Mini and X-1.
X-1 Mini vs X-1
If juice is your primary business, you need to be looking to invest in either the X-1 Mini or X-1 juice press. Both of these machines are built to the be the heart of a successful juice company.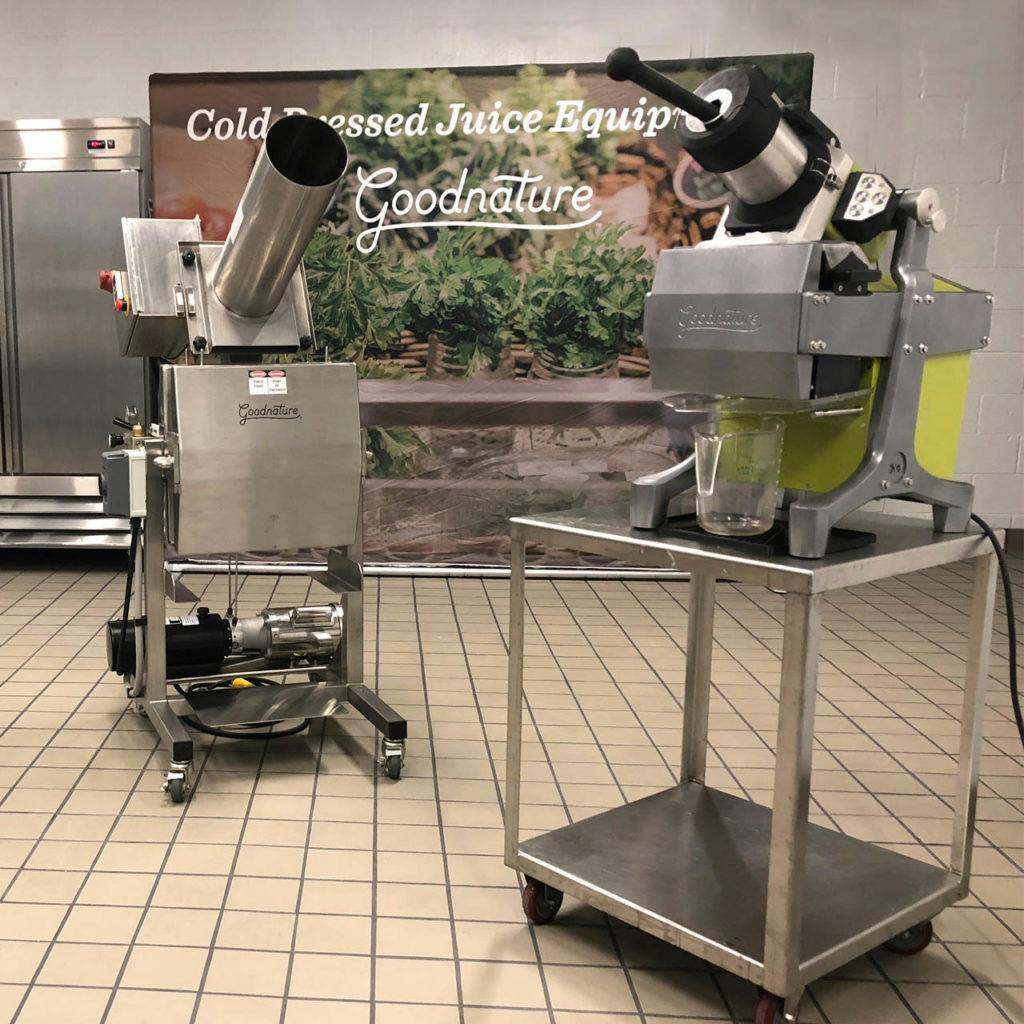 X-1 Mini
The Mini is the most popular machine for a juice bar producing bottled cold-pressed juice, and is versatile enough to make juice on-demand as well.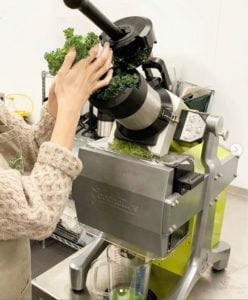 Bottled juice
The X-1 Mini is a great machine for most small juice producers. The most popular use case for the Mini is to produce bottles of juice for a refrigerator or for delivery. This is the machine we recommend for clients wishing to make 50 – 200 bottles of juice per day. At that volume, the X-1 Mini can efficiently produce what you need at a regular work pace.
The Mini is capable of producing much more juice than this, but it's highly dependent on the recipes and how fast the user is working. We've seen in normal work environments with a mix of recipes about 20-30 bottles per hour production. If you are making pure apple juice and working as fast as you can, you could realistically double this output or more.
Made-to-order juice
The X-1 Mini can also be used for made-to-order / on-demand juice if the work-space is set up properly. There are two speeds on the machine, the faster speed being for single servings of juice. A single juice can go from raw produce to juice in about two minutes.
Since the machine will sometimes need to be rinsed between recipes, it's best if the machine is located on a counter that is made of stainless steel and has a drain built in so the machine can be rinsed in place without worrying about making a mess on the counter top. If the space cannot be washed down, the X-1 Mini is probably not the best choice for made-to-order juice.

X-1
The X-1 use case is simple: Best used for companies that want to make a lot of juice quickly, with minimal preparation and labor time.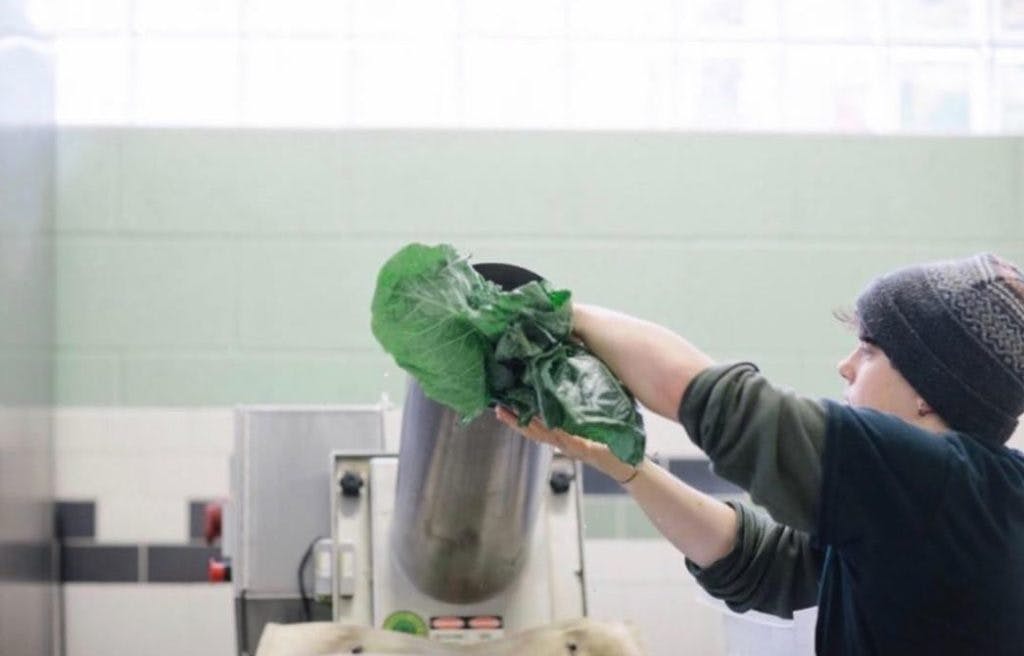 If you are planning a wholesale business or any other type of juice business that will be producing 150 – 800 bottles of juice per day, this machine could be the best fit for you. Compared to the Mini, the X-1 is big, loud, and messy, but oh boy—does it make juice!  The X-1 is capable of producing much more juice than 800 bottles of juice per day, but in a normal work environment we have seen about 80-100 bottles per hour as a realistic production rate.
The ideal environment for using the X-1 is a commercial kitchen that has a floor drain so the machine can be washed down in-place. Many users don't have a floor drain and are still able to utilize the machine efficiently, but the cleaning process takes a bit more time. If you don't have a back-of-house kitchen, the X-1 isn't really an option for you. It's too loud to use in a cafe environment where customers are trying to enjoy their juice or coffee.

Using Multiple Machines
Lots of our customers use multiple Goodnature models. If you have a large machine like the X-1, a smaller one like the X-1 Mini or M-1 makes a great machine to fill in the cooler when a certain recipe runs out, or for testing new recipes. Or as mentioned earlier, if you have a large machine in the kitchen for the bottled juice, the M-1 makes a great machine for on-demand juice in front-of-house.
Please comment below if you have any questions!