Apples are a juicing staple. They have great yield (meaning you get a lot of juice per apple) and loads of health benefits.
Most importantly, apple juice tastes amazing. There's a reason its so many people's favorite juice!
This apple juice recipe was formulated by expert chef Ari Sexner. The simple yet brilliant blend of red and green apples (along with an optional squeeze of lemon) will leave you wanting more.
Don't have a juicer? Check out this recipe (you'll need a strainer and a blender).
Why We Love This Fresh Apple Juice Recipe
It's hard to imagine a better tasting apple juice.
Chef Ari has tested countless different combinations of red and green apples over the years. You now get to leverage his years of experience by simply following his golden ratio of apple juice: 2 (in season) red apples for every 1 green apple.
The result is the perfect balance of sweetness and tartness. Exactly what you want from apple juice.

Juicing note: A squeeze of lemon helps preserve the juice and adds to the flavor profile. If you're drinking this juice right away, feel free to leave the lemon out. If you plan on storing the juice in the fridge, however, we highly recommend including that squeeze of lemon. It will make your juice taste fresher for longer.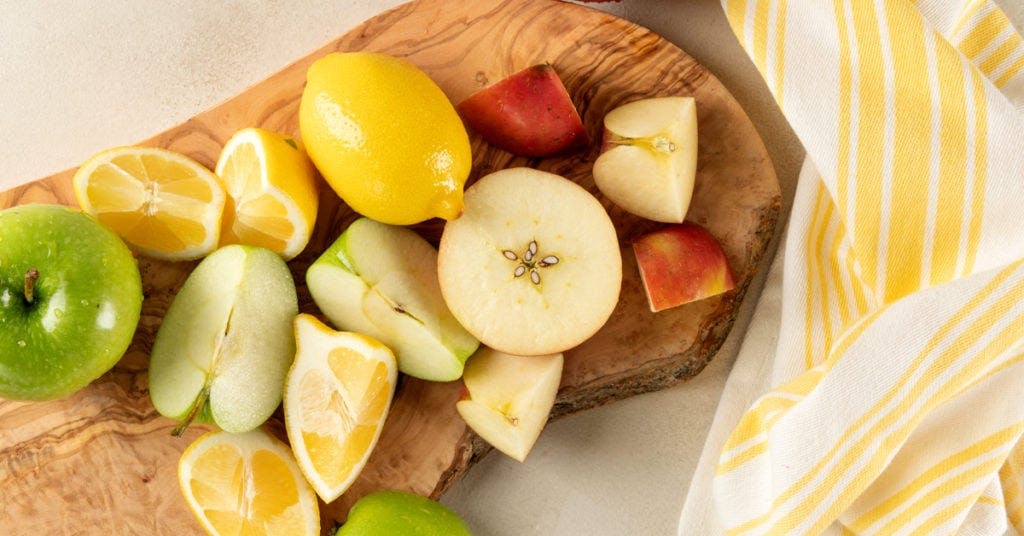 The Health Benefits of Apple Juice
There are a number of amazing health benefits that come with drinking fresh, homemade apple juice. These include:
Great for heart health. Apple juice is high in potassium, which is crucial for heart health. 
High in vitamins and minerals. One glass of this fruit juice has the immune system-boosting vitamin C, bone-building calcium, and more.
Can help lower cholesterol levels. A classic benefit of apples in general.
Rich in antioxidants. There are a ton of antioxidant compounds in apples.
Hydrating. Apple juice is great for replacing those lost electrolytes after a long day or night.
Note: Looking for a serious detox? Try our Toxin Ninja (Lemon Cayenne Ginger Juice Shot).

What Type of Apples Should You Use?
For the red apple, we suggest choosing whatever type of apple is currently in season. Honeycrisp, Fuji, Comic Red, Gala, Red Delicious, or even Pink Lady will work, as long as they are in season. Feel free to experiment with different types of red apples until you find the best one for you.
For the green, we recommend Granny Smith apples. Granny Smiths are easy to find year-round, plus they have a nice tartness that pairs well with any red apple. Again, feel free to experiment if you happen upon another type of green apple.
Related recipe: Ginger Carrot Apple Juice
Want More?
Try one of these healthy recipes: