Cold and flu season is coming, and this juice is an incredible tool for your health and taste buds.
This Balinese blend has a long history as a health tonic. Full of anti-inflammatory fresh turmeric root and fresh ginger, this Jamu Juice recipe is fantastic for your immune system.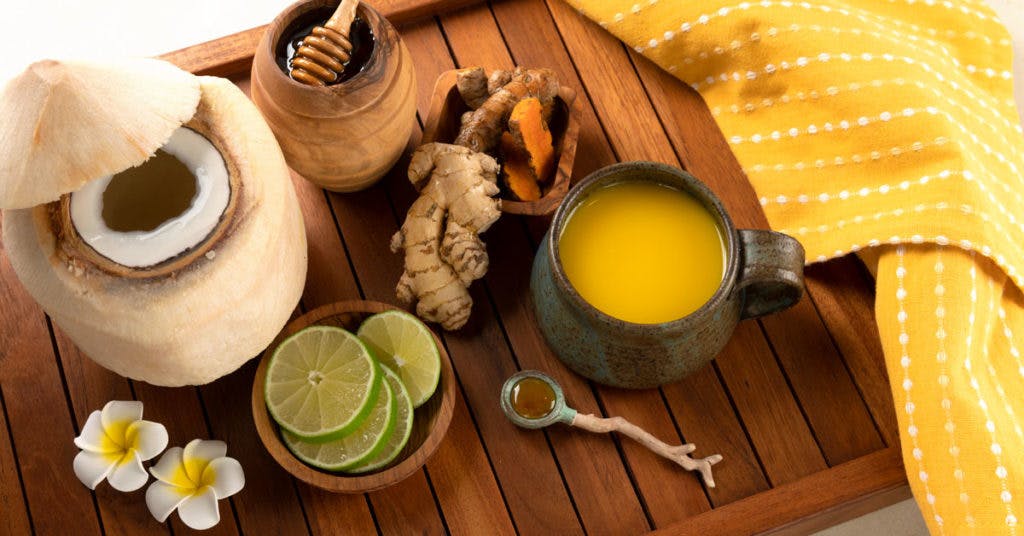 Typically served chilled, this powerful elixir can also be heated and sipped on like a tea. It has warming and earthy flavor that gives you all the benefits of turmeric in a delicious healthy drink.
Many Indonesian jamu recipes contain tamarind paste for a sour kick. Our chef Ari has created a recipe with lime juice instead, which may be easier to source at your local grocery store.
The History of Jamu Juice
Jamu juice become popular on social media recently due to its striking color and Bali's growing popularity with Westerners. However, what may seem like a fad to some has been an integral part of a rich culture for thousands of years.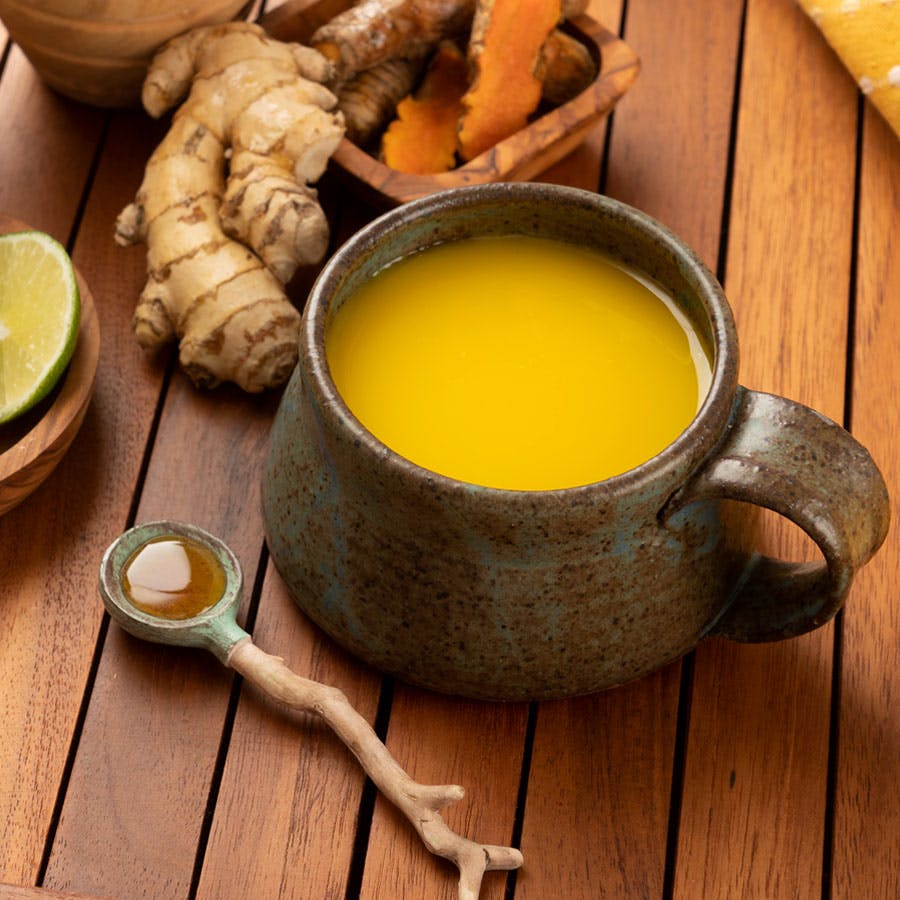 Bali culture is rooted in nature. Balinese people have curated and used the natural ingredients around them to support their health and wellness for a millennia. Healers and herbalists continue to use their ancestral knowledge to master traditional medicine, even as Western practices have become more pervasive.
Sadly, fewer young people in Bali are in touch with this understanding and knowledge of traditional plant medicine. However, many Balinese are working hard to keep these traditions alive and well.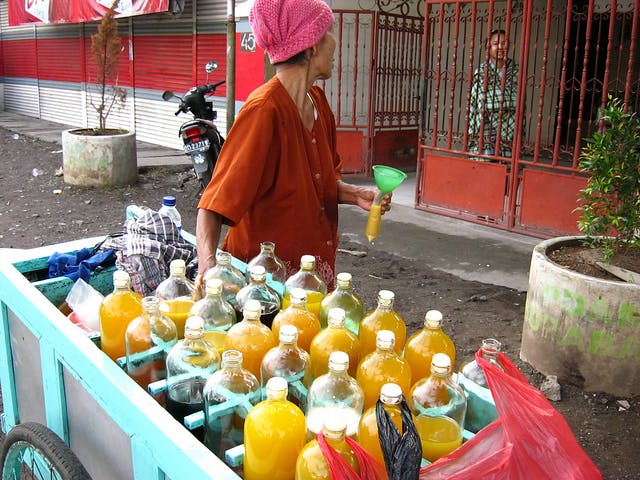 In Bali, turmeric jamu is often seen on the menu of restaurants and sold in local markets. It is distinctive in its bright gold color, and serve chilled to compliment its intense flavor profile. The word "jamu" itself is just a term for Indonesian medicinal tonics or juices, made from local natural ingredients. Different regions have different blends of ingredients. Jamu can contain different fruits, seeds, roots, barks and flowers, and can be used for all sorts of illnesses.
Expert chef Ari consulted with nutritionists to craft his own blend of Jamu Juice derived from these amazing traditions. Its zesty and earthy flavor is sure to knock your socks off and keep you coming back for more. 

Why We Love This Jamu Juice Recipe
Turmeric and fresh ginger can be strong flavors in a juice. Even though this is a medicinal juice blend, chef Ari was able to achieve a great balance of sweetness and spice in this recipe.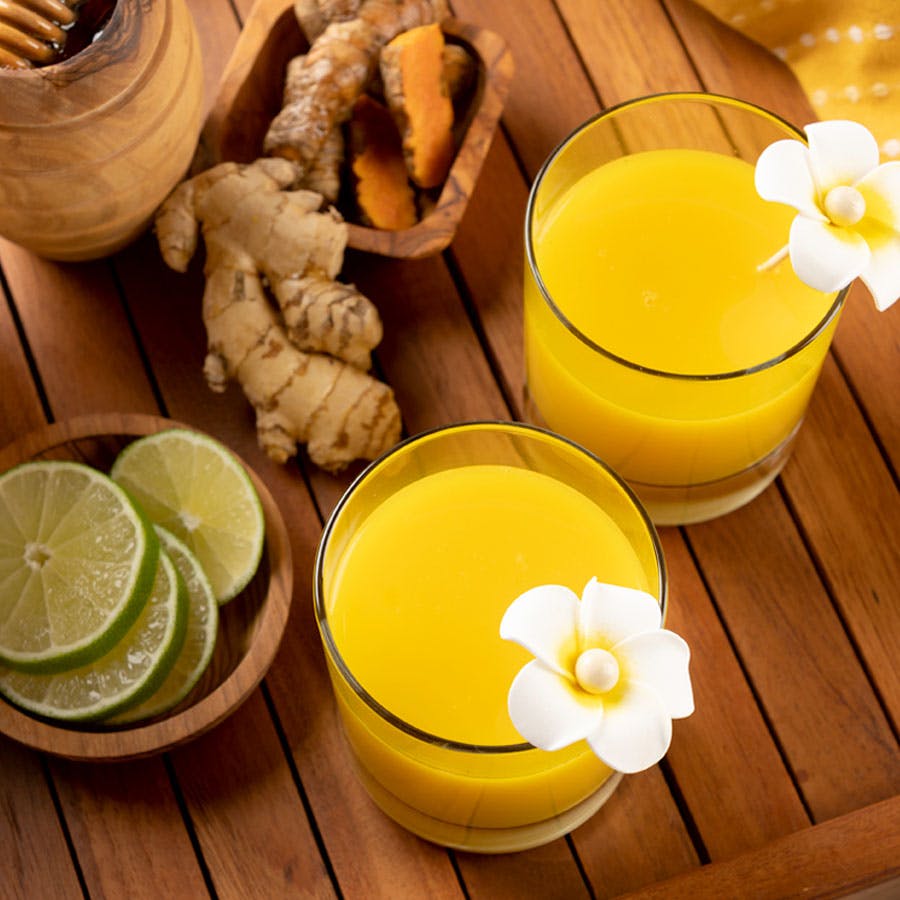 Here's what chef Ari had to say about his creation:
"Jamu juice originated on the island Bali, in Indonesia, as a medicinal tonic that features turmeric as its star ingredient. I have spoken with many certified nutritionists and juice enthusiasts, and most of them agree, turmeric is one of the best produce choices to juice for its health benefits.

Jamu juice can be made many different ways. This recipe will work great on its own or as a base and can be modified by adding tamarind, or various other spices."
As good as this juice tastes, its health benefits are even more impressive.        

Major Health Benefits of Jamu Juice
Great for Overall Wellness. Fresh ginger roots and fresh turmeric are known antioxidants full of Vitamin C with a long history in traditional Asian medicine. 
Anti-inflammatory Properties. Curcumin, the compound that makes turmeric bright yellow, is a powerful anti-inflammatory substance. 
Fights Viruses. Studies show that curcumin is a promising prophylactic (disease preventer) and therapeutic candidate for COVID-19.
Lowers Cholesterol. Studies have shown that turmeric can lower your total cholesterol and support your heart health.