Watch the video for an overview of general cleaning and follow the guide below for step-by-step general cleaning and deep cleaning processes.
Disassembly and Cleaning the Parts
Turn the power switch to the OFF position.
Remove the ReadyGrind™ Kit by twisting counterclockwise and lifting up and off.
Simply rinse out or if finished juicing, disassemble and wash.
Remove Press Kit, lift up and out.
Simply rinse out or if finished juicing, disassemble and wash.
Remove the Drip Tray and wash.
Wipe down the machine with a wet cloth then wipe dry. Sanitize machine and all parts according to your localhealth department's regulations. Do not spray machine.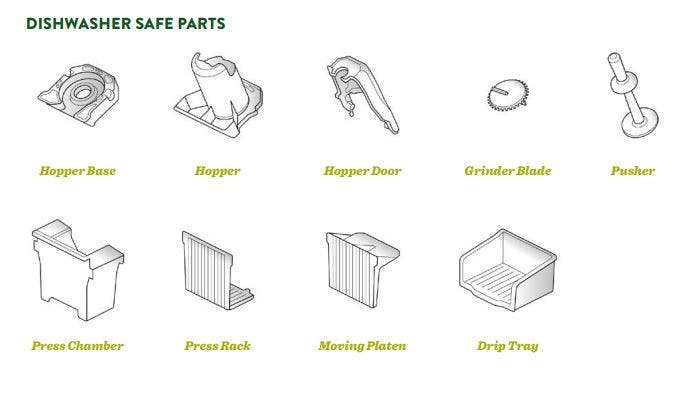 NOTICE: Cleaning with a high power jet may cause damage to the machine.
Follow manufacturer's instructions for use of chemicals for cleaning and sanitizing food contact surfaces and verify that they are approved by your local health authority.
Wash, rinse, and sanitize all food contact surfaces of cold press juicer:
After each use.
Any time contamination occurs or is suspected.
At a minimum of once every four hours while the machine is in use.
Wash, rinse, and sanitize food contact surfaces in adherence to local health regulations. We recommend the following procedure:
Wash surface with detergent solution.
Rinse surface with clean water.
Sanitize surface using a sanitizing solution mixed at a concentration specified on the manufacturer's label.
Place wet items in a manner to allow air drying.
To Deep Clean
Depending on your cleaning procedures and produce build up over time, you might need to detail the equipment to remove build-up.
For all the removable parts, (Hopper, Hopper Base, Hopper Door, Grinder Blade, Pusher, Press Chamber, Press Rack, Moving Platen and Drip Tray), we recommend soaking in a solution of 3 oz of Lime-B-Gone per gallon of hot water (manufacturer's recommendation for utensil cleaning) for a maximum of one hour.
Rinse and scrub with a cleaning brush to remove any remaining residue.
For more detailed information on cleaning processes, refer to the M-1 Owner's Manual. For product and ordering information, visit the M-1 product page. To order new parts and press bags, visit the M-1 parts page.