This article was updated on June 6, 2022 (originally published August 22, 2019).
Offering real pressed juice on-demand has been attempted many times, but I've never seen a juice bar successfully pull it off until now. The issue in the past has been that the process required to do it and the equipment available had been prohibitive.
The video below details Virtue's made-to-order process, and was created for JuiceCon 2019 by the Virtue Juice team.

The equipment
A press that can work quickly enough to support a line of customers was essential to the development of their juicing program.  In 2018 we released the X-1 Mini Pro. The Mini is primarily intended to be used by juice bars making bottles of cold-pressed juice in batches, but we anticipated it would be used by some to make single servings of juice—hence the reason for the "single" speed on the press, which presses in half the time as the "batch" speed.
The reason for two speeds is that a large amount of produce must be pressed slowly to achieve a high yield, while a small amount can be pressed faster.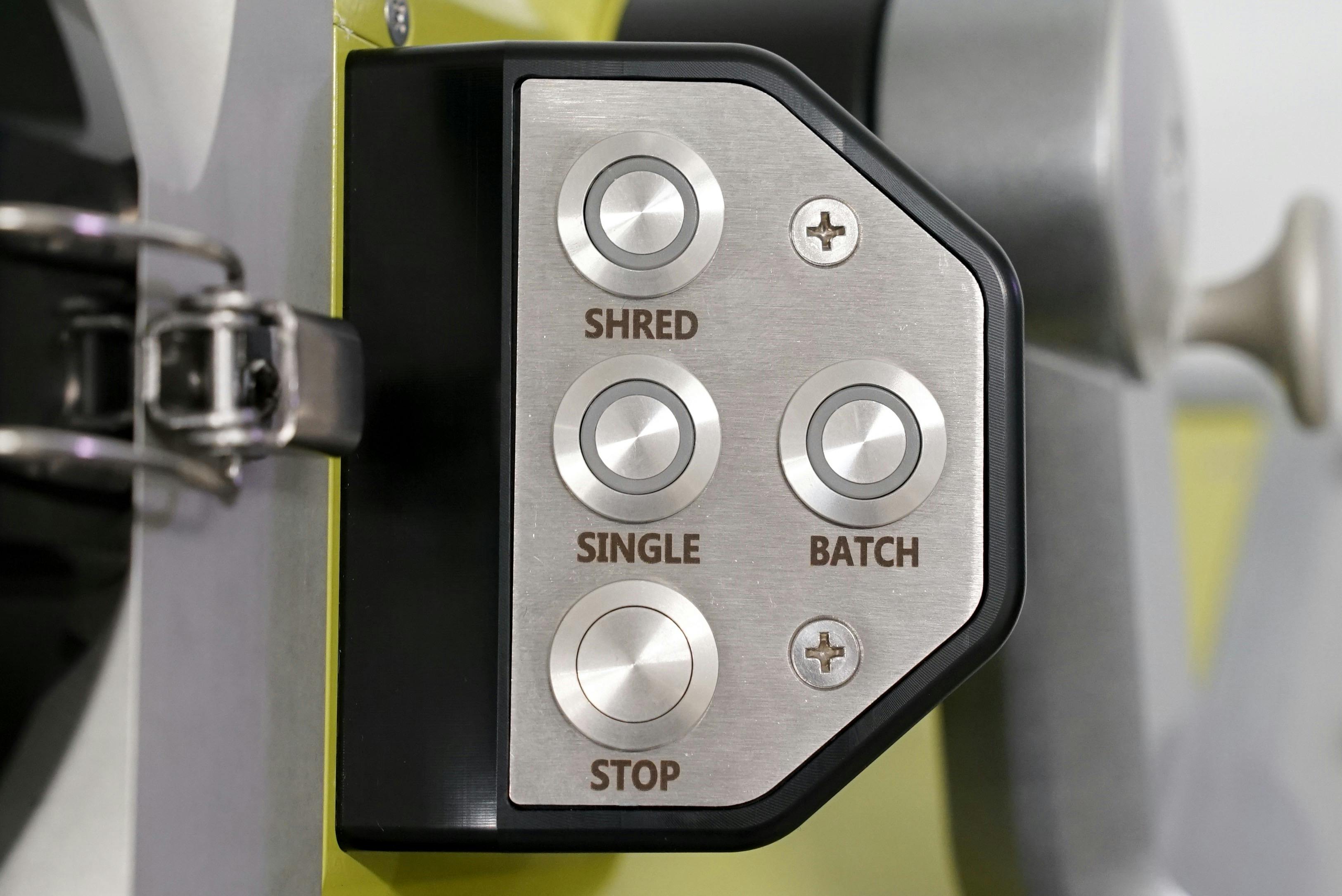 The back story
Tom came to visit our Buffalo headquarters in 2018 to discuss the idea of offering on-demand pressed juice successfully in a juice bar. I shared with him a hand sketch of what I thought it would take to make it work, created by my friend Kenny Lao. The concept is basically a custom counter that allows the machines to be washed down right in place—drastically reducing the cleaning time between recipes.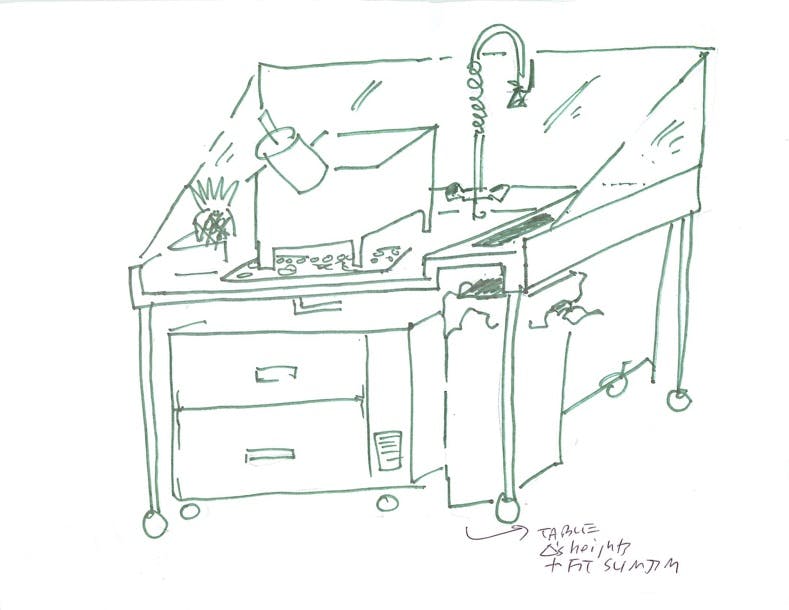 I warned Tom that it's much more complicated than just buying a juice machine, and it would take a lot of planning and experimentation. Having a background in enterprise technology sales, Tom is the type of person that enjoys taking on a challenge. After he left Buffalo, Tom started working out the details with his team.

The concept comes to life
Six months later they had a fully functional, custom fabricated juicing station. The end result is quite a bit different than the initial sketch, but the concept is the same.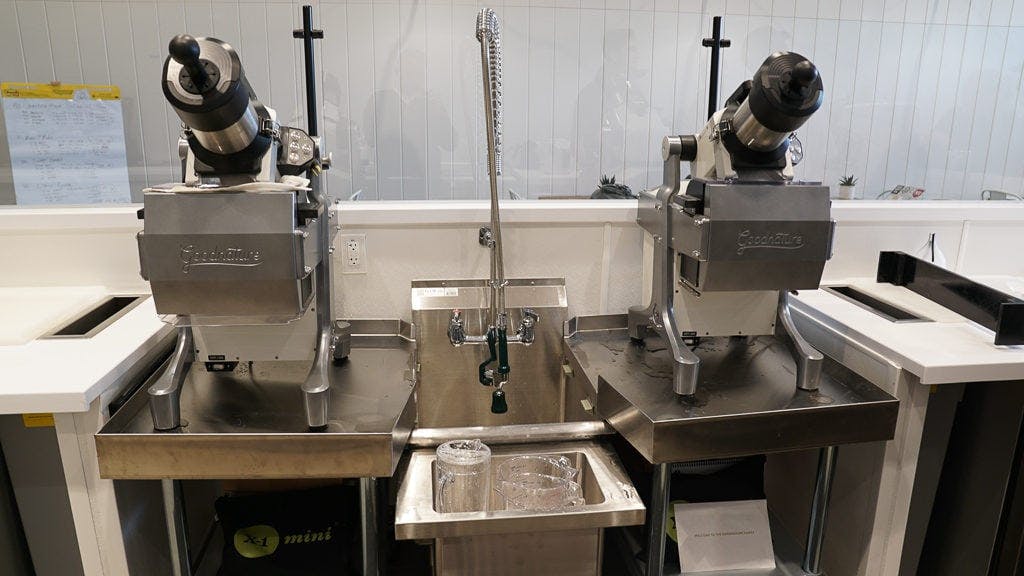 This unique system allows the juice maker to simply pour water through the machine to rinse it, only taking a few seconds before making the next juice. The water drains into the sink in the middle. The sink can also be used to wash machine parts or juice pitchers without carrying anything to the back.
Optimizing the wait time
The customer's total wait time from order to receiving their glass of juice is currently around 3-4 minutes, including prepping produce, making juice, and cleaning the machine. Considering the average wait time at Starbucks is 4.5 minutes, they are within the industry standard for a coffee shop. The actual time juicing on the juice machine is only about two minutes, so the total wait time depends on how efficiently the rest of the process is performed.
When the staff doesn't  have orders to fill, they put the X-1 Minis to work making bottles of juice to stock their grab-and-go refrigerator. "We've learned that the more juice we have in the fridge, the more we sell." Having grab-and-go juice allows customers to order a fresh juice, and also take a few to go.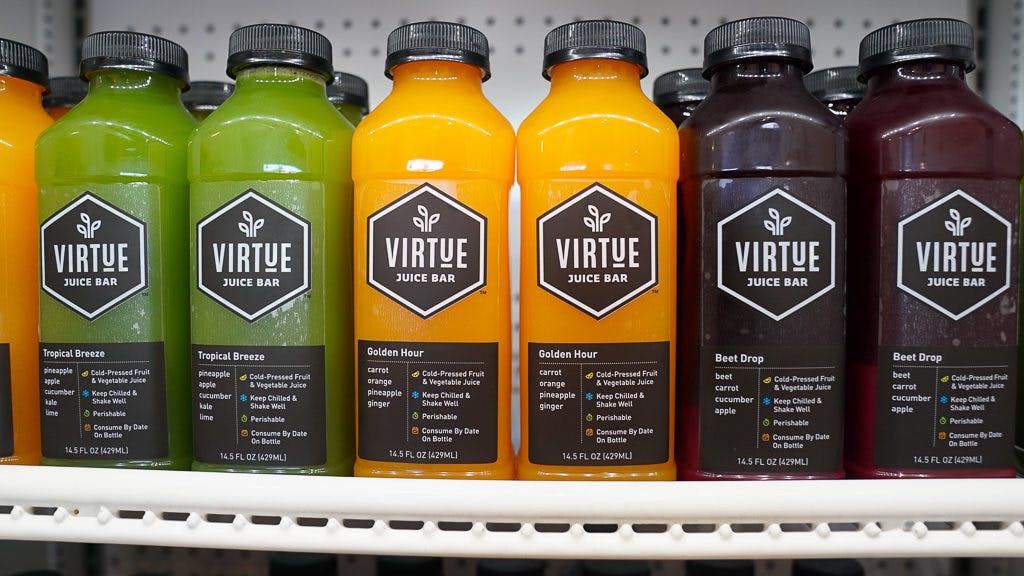 Differentiating factors
Since opening their doors in April of this year, Virtue has been busy with a non-stop flow of customers. Many people in the local area have abandoned the (in my opinion) obsolete "Jamba Juice" type juice bars, and upgraded to Virtue as their juice bar of choice. They like that the products are all organic, and that the store generally feels fresh, clean, and there's plenty of space to sit and hang out.
Most importantly, customers simply like the juice better. Tom explained "When someone orders a Virtue juice for the first time, we explain to them that what they're about to taste is going to be different than what they normally get at a juice bar. It's going to taste smoother and more vibrant than juice made using other methods like a centrifugal or slow juicer."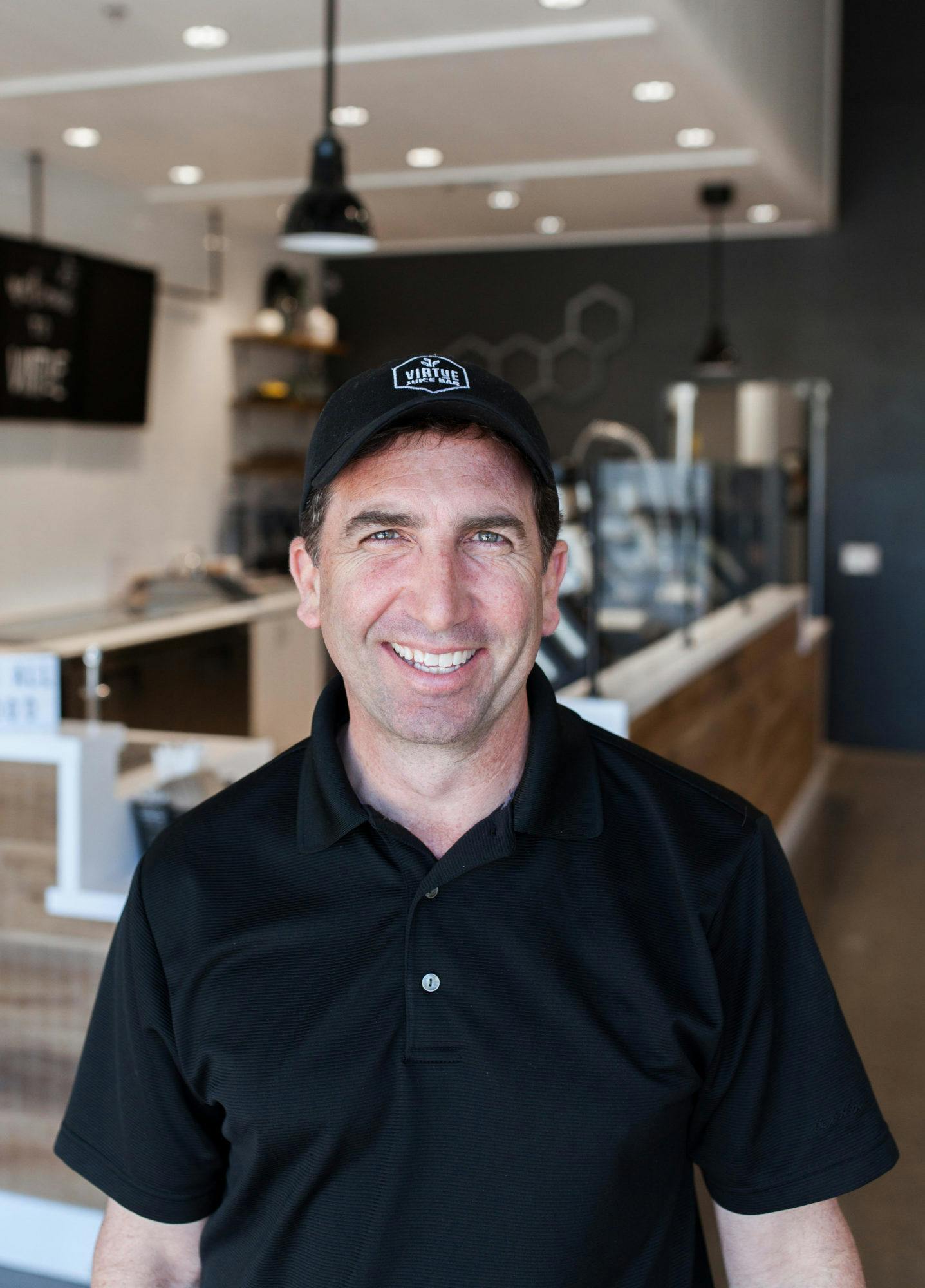 After the first sip of truly fresh pressed juice, customers simply can't imagine going back to "conventional" juice. In the past, customers would have to choose between fresh juice or cold-pressed. Now they can have both. After seeing the success of Virtue, I now believe more than ever that made-to-order, custom cold-pressed juice is going to be the next big movement in juicing. It's simply better than anything else out there.
Want to learn how to offer made-to-order pressed juice at your juice bar plus other industry processes? Attend the next JuiceCon!  At the 2019 JuiceCon, Tom presented a step-by-step guide complete with best practices based on what he's learned from first hand experience, and was available to answer questions throughout the weekend.
Comments
We also cold press our juice on demand - we've been doing it for over a year now. We have two M-1 juicers on our bar. We are Blend Natural, located in Pittston, PA.
Aug 4, 2022
Robin Frey
That's awesome! We follow you on Instagram and love the photos you post of your team with your Goodnature juicers!!!
Aug 4, 2022
The notion that eating a lot of fruit, or that drinking pressed juices will overload your system with sugar is flawed. If you eat an orange you get natural fructose, and it's not in high amounts. The enzymes and other antioxidants and phytonutrients allow it to be properly absorbed. Also, the juices that many of us buy at the store (Simply Orange) are high pressure processed which is non thermal pasteurization. Residual enzymes are in the 20-60% range immediately after processing and it's doubtful that these numbers hold up more than a few days. @ Norm
Jul 4, 2022
Looking to open a juicing business
Jun 29, 2022
Robin Frey
Hi Christine, One of our team members will email shortly, thanks!
Jun 29, 2022
Rajendran Rajendran narayasamy
Excellent service
Jun 18, 2022
I'm looking forward to it Charlie 😄
Aug 29, 2019
Focusing on health, first? And then they sell sugary juices that cause the customer an insulin spike! Interesting. But hey, it's business and there, - Bucks first 😉
Aug 26, 2019
Charlie Wettlaufer
It sounds like you're saying raw fruit and vegetables are unhealthy...
Aug 26, 2019
We cold press our juices to order also! We have been doing this for 2.5 years. Someday I hope to have the mini X-1
Aug 25, 2019
Charlie Wettlaufer
Interesting! What type of juice press are you using?
Aug 26, 2019
I am a Norwalk juicer owner. Can your machine's shredder compare to Norwalk instant, no heat pulp? The juice is literally gushing out of Norwalk pulp before it's even pressed. I understand in commercial settings, veggies are usually pre-prepped and stored in plastic often the night before. When you say "on demand" are you starting with unpeeled, uncut material at each instant? Thanks
Aug 24, 2019
Charlie Wettlaufer
Laurence- 1) Yes you can compare our shredder to a norwalk but our patented Herbivore grinder technology actually works better on some produce like leafy greens, achieving a higher yield. 2) By on-demand we mean the machine works quickly and efficiently enough to make a glass of juice as the customer orders it. You can put in most produce without peeling or prepping, however to run a truly efficient juicing operation we recommend doing some preparation before hand. As you can see in this article, Virtue cuts large produce into smaller chunks, peels their lemons, etc. This allows them to quickly get through a long line of customers.
Aug 24, 2019