When you think of Los Angeles, what comes to your mind?
For us, it's movies, celebrities, local food, art, and of course fresh juice! Regardless if you've lived in Los Angeles your whole life or if you're just visiting, you will find a ton of amazing juice shops and cafes in this city.
If you're looking for a the best juice shops, juice bars, and juice cleanses around LA, this is a great place to start your search! 
Best Juice Bars in Los Angeles
Beverly Hills Juice
8382 Beverly Blvd, Los Angeles, CA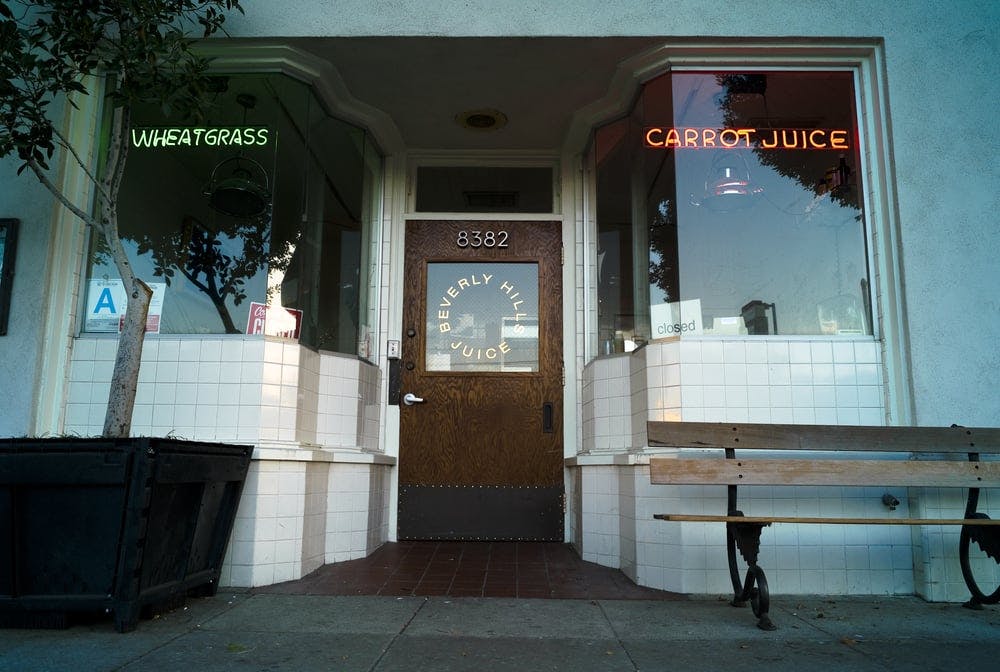 Beverly Hills Juice has been a staple in the LA community for over forty years.
In 1975, David Otto decided to open his doors to the Los Angeles public to share his juicing creations. With a handful of cold-pressed juice options along with unique smoothies options, Beverly Hills Juice seems like a historic and perfect place to visit while you're in the Beverly Hills area. 
Enjoy one of their Banana Manna shakes that are blended with your choice of fresh juice, frozen bananas, almonds or sunflower seeds creating a smooth and delicious shake!
The Punchbowl 
4645 Melbourne Ave, Los Angeles, CA 
The Punchbowl is a quaint, small pressed juicery that's hidden between Vermont and Melbourne Ave. They offer an array of fresh juices, wellness shots, smoothies, milk, vegan goodies, and more! All of their ingredients are 100% organic, raw, and vegan. Next time you're on Melbourne Ave, stop into The Punchbowl for a unique treat. Their version of a Turmeric Wellness Shot sounds amazing right about now. 
Press Brothers Juicery
5913 Franklin Ave, Los Angeles, CA
Grand Central Market, 317 S. Broadway, Los Angeles, CA
The Jones brothers started their juicing journey on their family's farm in Kansas where their mother was deeply interested in making her own fresh juice for her family. The brothers eventually made their way to Los Angeles, where they rummaged through local farmers markets to find the best organic produce for their juice creations.
In 2014, the brothers opened their first brick and mortar store to share their favorite juice concoctions with the public. Since then, The Press Brothers have experimented with different juice recipes and expanded their menu.
The Press Brothers have a large menu compared to other juice bars in the greater Los Angeles area, offering acai bowls, smoothies, sandwiches, salads, fresh juice, wellness shots (along with a wellness bar), and more! They even offer vegan coconut milk ice cream and fresh charcoal lemonade. Count us in!
Howling Juice
5879 Washington Blvd Unit B, Culver City, CA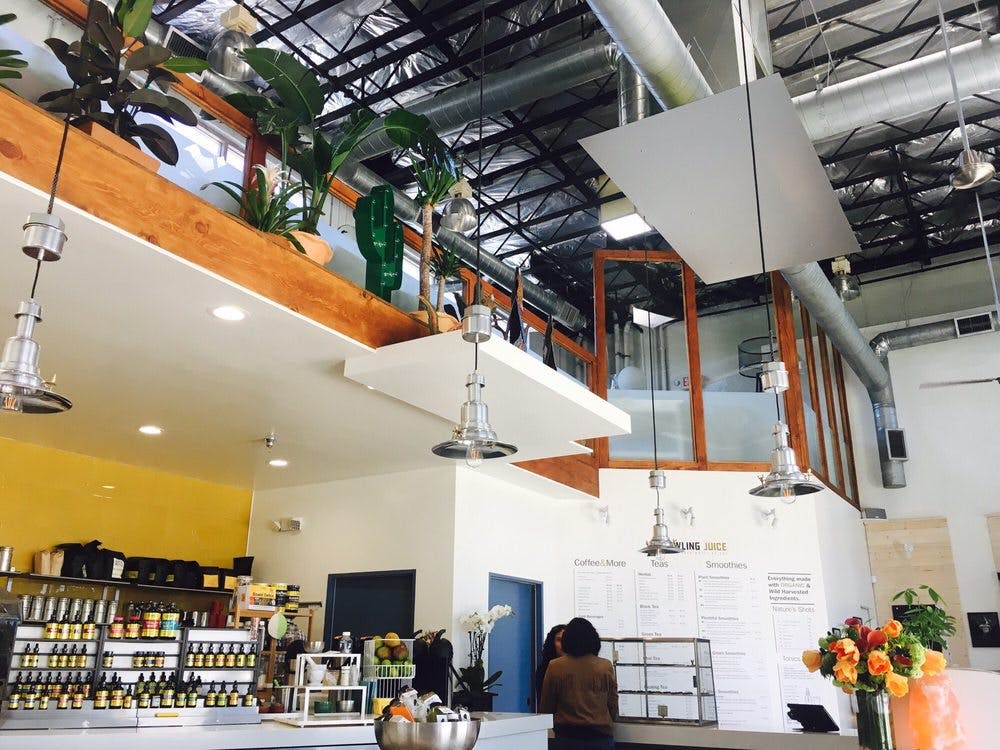 Although this juice bar isn't in the heart of Los Angeles, they are still worth the visit! Howling Juice is an LA-native, sister-owned company that is dedicated to providing the Los Angeles area community with fresh organic juice and smoothies. A few of their noteworthy juice flavors are Sweet Nature, Immunity, and Citrus Charge.
Not only do they serve juice, smoothies, coffee, plant based milk, and other vegan goodies, but they're working on building out their very own in-house boutique as well. 
Kreation Organic Juicery
Offering eleven locations around Los Angeles, CA 
With so many locations around the Greater Los Angeles area, you're bound to find a Kreation Organic Juicery near you! This unique pressed juicery offers fresh juices, mylks, wellness shots, vegan and gluten-free snacks, and plenty more.
The next time you're in the LA area, stop in and treat yourself to something delicious from Kreation Organic Juicery including their wide assortment of green juices, weight-loss juices, and detox juices to choose from! Trust us, these aren't your run-of-the-mill kale juices. 
Best Juice Cleanses in Los Angeles 
Made with Love Wellness Co.
12450 W Washington Blvd, Los Angeles, CA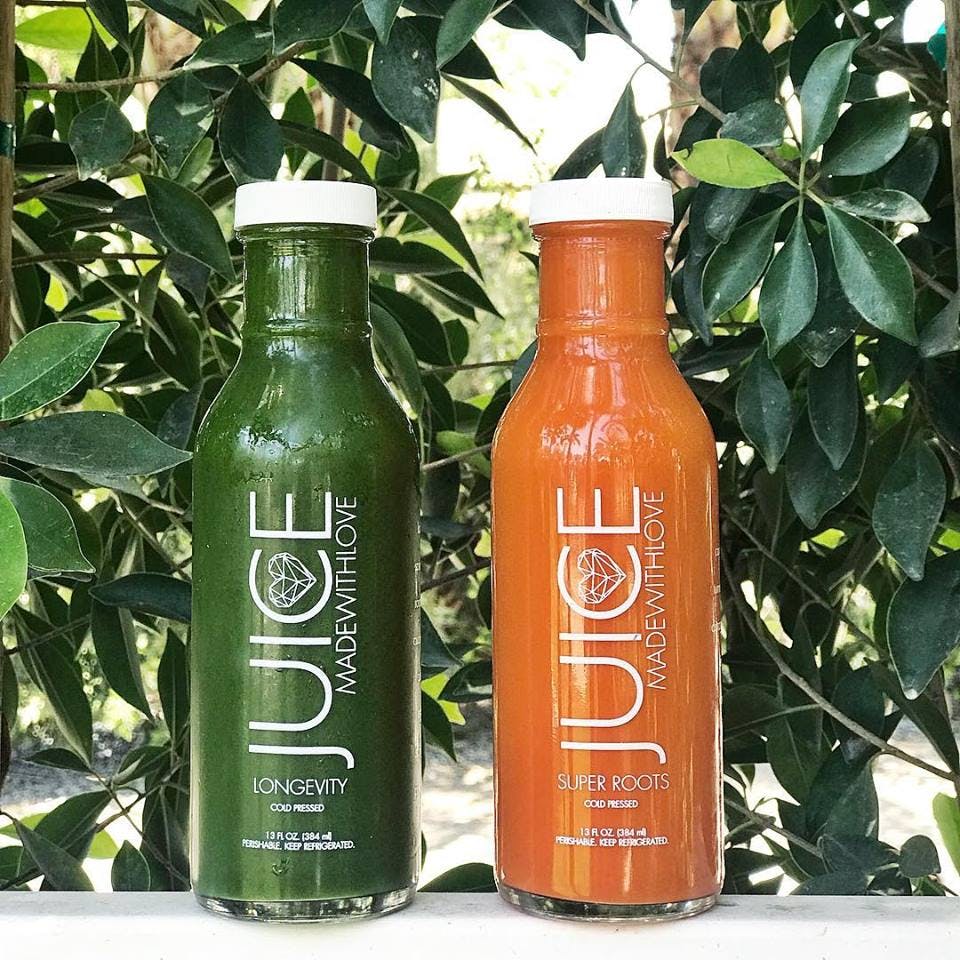 Brooke Rewa had the idea of opening her own juice bar, Made with Love Wellness, after battling food-related health issues. To combat these health issues, she began experimenting with her own fresh juice and almond milk in her home. After feeling better, she soon realized that she wanted to share these amazing creations with her friends and family, hence the birth of Made with Love Wellness.
This amazing juice bar offers a large selection of juices, mylk, wellness shots, beauty products, and more. They also provide three different juice cleanses including the Renew, Superfood, and Deep Green cleanse. To learn more about the benefits of juice cleanses, read our blog here! 
Glowing Juices
1557 Echo Park Ave, Los Angeles, CA 
Have you been looking for an all-vegan juice bar and organic produce market? Well, then Glowing Juices is the place for you! They have a huge variety of fresh juices and smoothies that include flavors like Sensual Vibes, Metal Detox, Mother Nature, and more. They also offer a wide range of juice cleanses based on the 7 chakras – you have the option to choose from a 1-day, 3-day, or 5-day cleanse! 
Juice Budz
4341 Van Nuys Blvd,  Sherman Oaks, CA
22235 Sherman Way, Canoga Park, CA 
Juice Budz serves 100% fresh juice right in their shop or straight to your door. You can choose from their selection of custom-made juice kits and juice cleanses to satisfy all of your needs. Pick from the Beauty Kit, Detox Kit, Immunity Kit, and more. They also offer three different cleanse kits including the Beginner, Moderate, and Pro depending on your experience with juice cleanses. 
The Juice Parlor
5658 Cahuenga Rd, North Hollywood, CA 
This amazing juice shop located in North Hollywood lets you choose from smoothies, fresh juices, acai bowls, wellness shots, and a hot food menu to get you through the day. They also provide several different juice cleanse packages along with a Juice Cleanse 101 guide and insightful FAQ to help you through every leg of your journey. 
Are you into making your own fresh juice, or are you thinking about starting your very own juice shop? Browse Goodnature's juicing resources including custom juice consulting and blog packed full of free recipes!
With hundreds of juice shops around Los Angeles, we're sure we missed a few. What are some of your favorite juice businesses around Los Angeles? Let us know in the comments!