Diabetes shouldn't hold you back from the powerful benefits of fresh juice.
That's why today we're sharing our favorite diabetic juice recipes! Click any of the following juices to jump straight to the recipe:
Before diving in to the recipes, let's talk about the "no-go" fruits for diabetics.
Juices & Fruits That Diabetics Should Avoid
Since most fruit juices include high amounts of fruit (which contain sugar), they're not ideal for diabetics who needs to maintain steady blood glucose levels. As a result, diabetics should stay away from fruit juices with a high glycemic index or high sugar content.
Diabetics really need to avoid the highest sugar fruits, such as:
Fresh veggies, on the other hand, tend to have a low glycemic index. This means that fresh veggie juices are perfect for those with type 1 and type 2 diabetes.
Note: We always recommend consulting with your doctor and keeping a close eye on your blood sugar levels when changing your diet. If you're clear to start juicing, you're in for a bunch of amazing benefits. Juicing makes it easy to increase your daily vitamin intake and improve your overall health.
Try switching out your fruit juice for fresh vegetable juice, or fruit juice that has low sugar and contains nutrient-packed fruits and veggies. An article you may find useful is our list of the best vegetables for juicing.
Instead, Try These!
These fruits and veggies are low in sugar and perfect for a diabetic's juicer:
Berries. Strawberries, blueberries, blackberries, and raspberries
Leafy greens. Spinach, chard, cabbage, Brussels sprouts, collard greens, romaine, and kale
Low sugar vegetables. Carrots, cucumber, red pepper, tomatoes and celery
Low sugar fruit. Kiwi, avocado, and grapefruit
Although these fruits and veggies have a low glycemic index, you should always keep a close eye on your blood sugar levels!
Let's get into the fun part: recipes!
Note: If you need to read up on how to prepare different types of product for juicing, check out this article on produce preparation.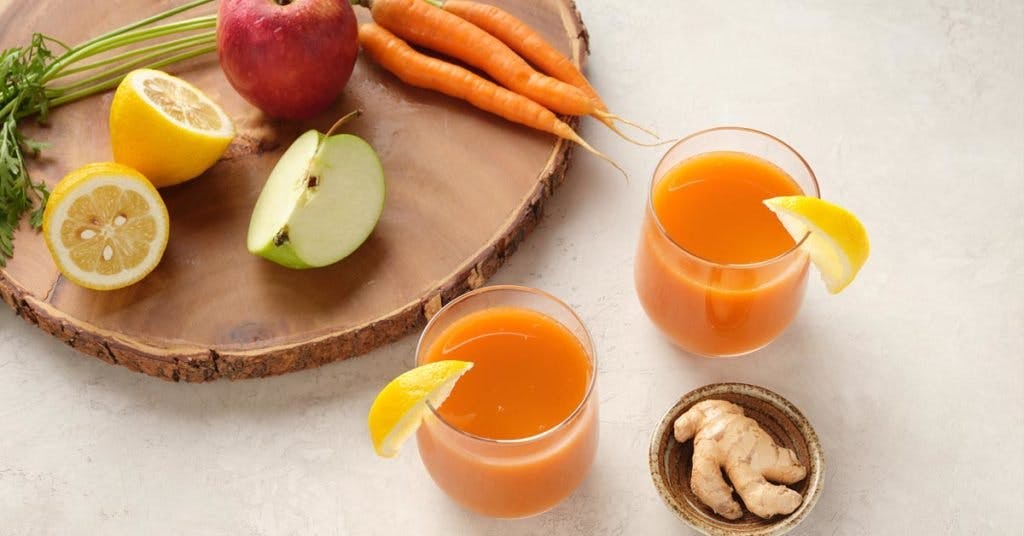 Carrot Juice Recipe for Diabetics
Yield: 24oz – may vary depending on the produce. 
26.4 oz Carrot
7.7 oz Red Apple
7.7 oz Green Apple
0.7 oz Lemon
0.7 oz Ginger 
This healthy juice recipe is easy to make and has a great carrot base that blends well with apples, lemon, and ginger. Not only is this recipe delicious, but it will also aid you in your digestive health, blood pressure regulation, immune system strength, decreases the risk of heart disease, improves vision, and more!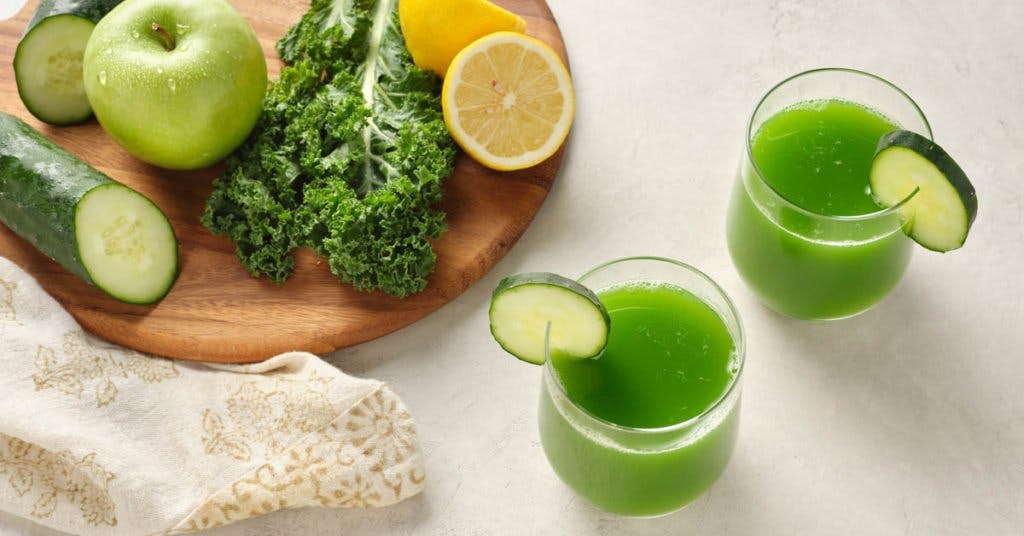 Yield: 24oz – may vary depending on the produce. 
20 oz Cucumber
15.4 oz Green Apple
6 oz Kale
2.4 oz Lemon 
This hydrating juice is perfect for any time of the year. Sit back, relax, and drink in the fresh goodness.
Side note: Did you know that cucumbers have been a source of nutrition for thousands of years? Native Americans and Ancient Romans all believed in the hydrating and rejuvenating properties of cucumbers – now you know!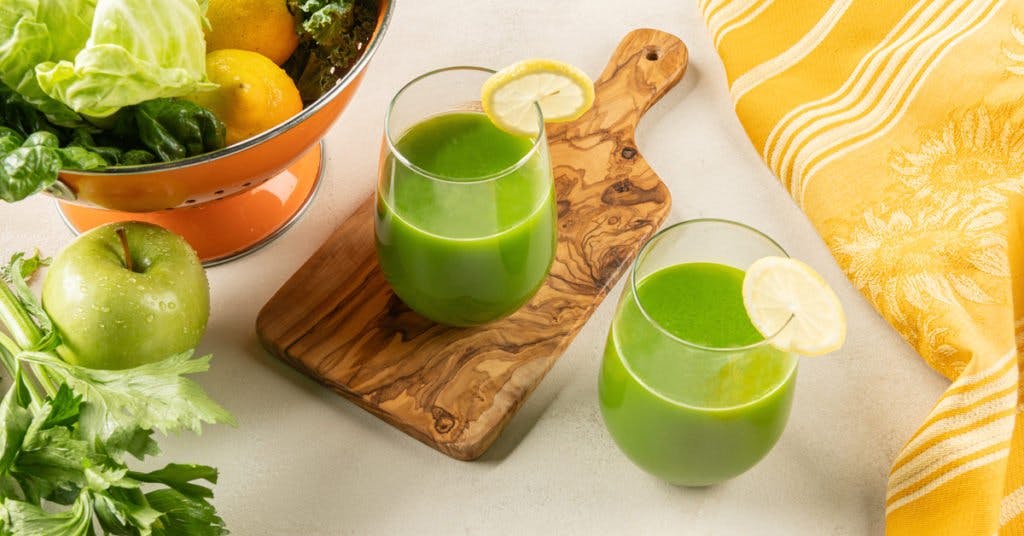 Cabbage Green Juice Recipe for Diabetics
Yield: 24oz – may vary depending on the produce. 
4.62 oz Chard
3.64 oz Kale
2.44 oz Green Cabbage
15.82 oz Green Apple
2.66 oz Celery
3.56 oz Lemon 
Have you ever thought about drinking cabbage juice? Probably not until now! This recipe is the perfect green juice for you to enjoy any time of day – plus full of the wonderful benefits of green cabbage. Some of these include Vitamin K, Vitamin C, Fiber, aids in digestion, promotes detox in the body, and so much more!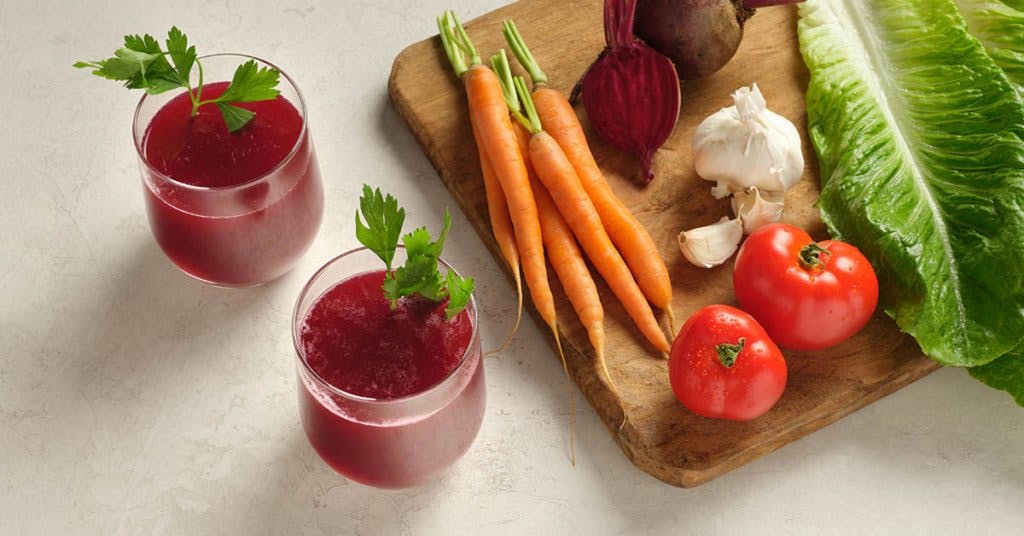 Homemade V-8 Juice Recipe for Diabetics
Yield: 24oz – may vary depending on the produce. 
0.22 oz Red Beet
6.44 oz Carrot
4.42 oz Celery
1.42 oz Romaine
0.72 oz Parsley
1.26 oz Spinach
22.92 oz Tomato
0.28 oz Watercress
0.16 oz Garlic
Salt to taste!
We truly love this homemade spin on the classic beverage, V-8! Now, you can make your very own version of this delicious juice right from your home. When you combine all the ingredients, they become a nutrient power-house ready to keep you coming back for more! 
What Are Your Favorite Low-Sugar Juices?
Let us know in the comments below!
Having diabetes shouldn't stop you from experimenting with juicing! The key is staying away from juices that contain high levels of sugar — that's why these great recipes are a wonderful place to start.
As always, we encourage everyone to take the time to experiment with juicing in their own homes. You never know — you may stumble upon your new favorite recipe.
If you want to browse more chef-made juices you can make at home, check out our juicing recipes here!