When we asked Chef Ari to create a unique, hydrating watermelon juice ideal for hot summer weekends, we were pleasantly surprised with this delicious recipe.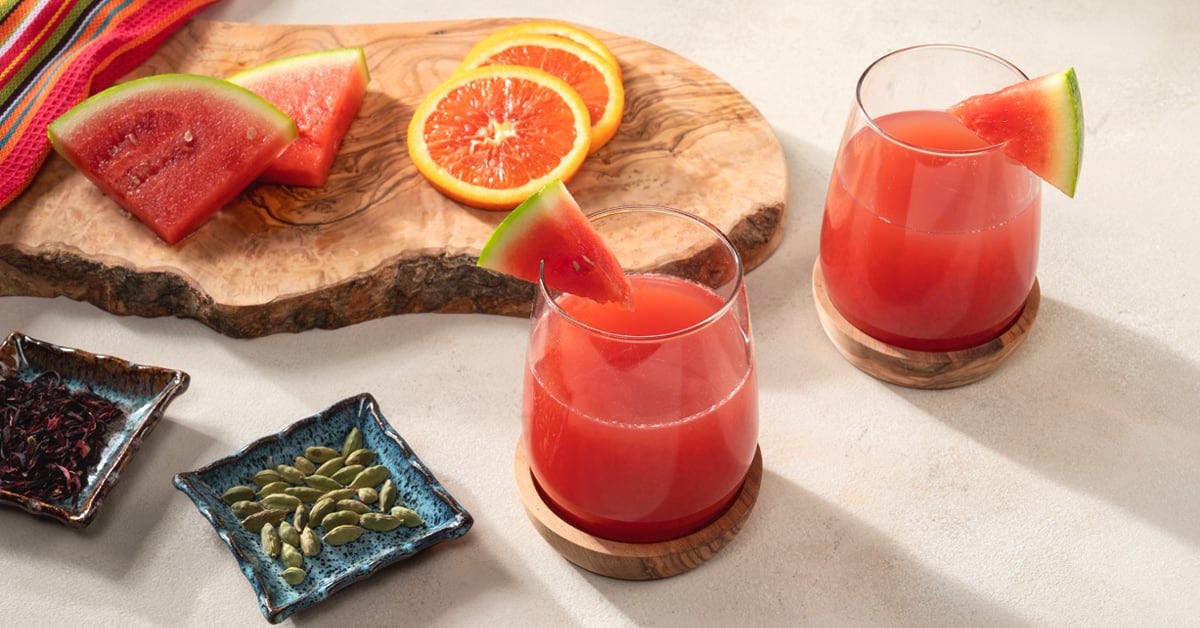 Watermelon is an amazing fruit that is really good for you, is super hydrating, and low in calories! Not only will it help you stay hydrated, but it will also fortify your body with valuable antioxidants and vitamins.
Why We Love This Watermelon Juice Recipe
Our chef-made recipe takes into account using seasonal fruit for the best tasting watermelon juice. What makes this recipe stand apart from all the other watermelon juice recipes out there is the pairing of orange for the citrus element, hibiscus for the pop of color, and cardamom for light herbal spiciness.
Chef Ari explains his thought process for creating this phenomenal recipe:
"For this blend we wanted to feature a seasonal item, watermelon, and build the recipe around this.

Typically I like to add a touch of beet to watermelon juice to make it vibrant, for this I wanted to switch it up a little and instead add some red vibrancy by mixing in some hibiscus.

I also opted out of the traditional pairing of lemon or limes for the citrus element and went with orange. Orange will be able to provide a lot of vitamin C along with the hibiscus but also add some slight sweet citrus that will provide a unique take on a classic. Cardamom was then added into the mix which provides a slight herbal spice that pairs well with all the ingredients and ties in the tea element.

While the flavor will definitely be enough to make this your new favorite summer juice, the health benefits are pretty incredible too.
Health Benefits of This Watermelon Juice
Great for workouts. Watermelon and orange are high in potassium, an essential mineral electrolyte that rehydrates and can help prevent cramps after working out.
Packed with antioxidants. Watermelon contains a very high amount of the powerful antioxidant lycopene (even more than tomatoes) which can provide protection from the sun, improve heart health, and lower risk of certain types of cancer.

Promotes healthy skin. This juice is a great source of vitamins A, B6, and C which all help to keep the skin soft, smooth, and supple.
Lowers high blood pressure. Watermelon contains an amino acid that the body converts to produce nitric oxide, a gas that relaxes the blood vessels and increases the flexibility of arteries, thereby aiding the flow of blood, which lowers high blood pressure.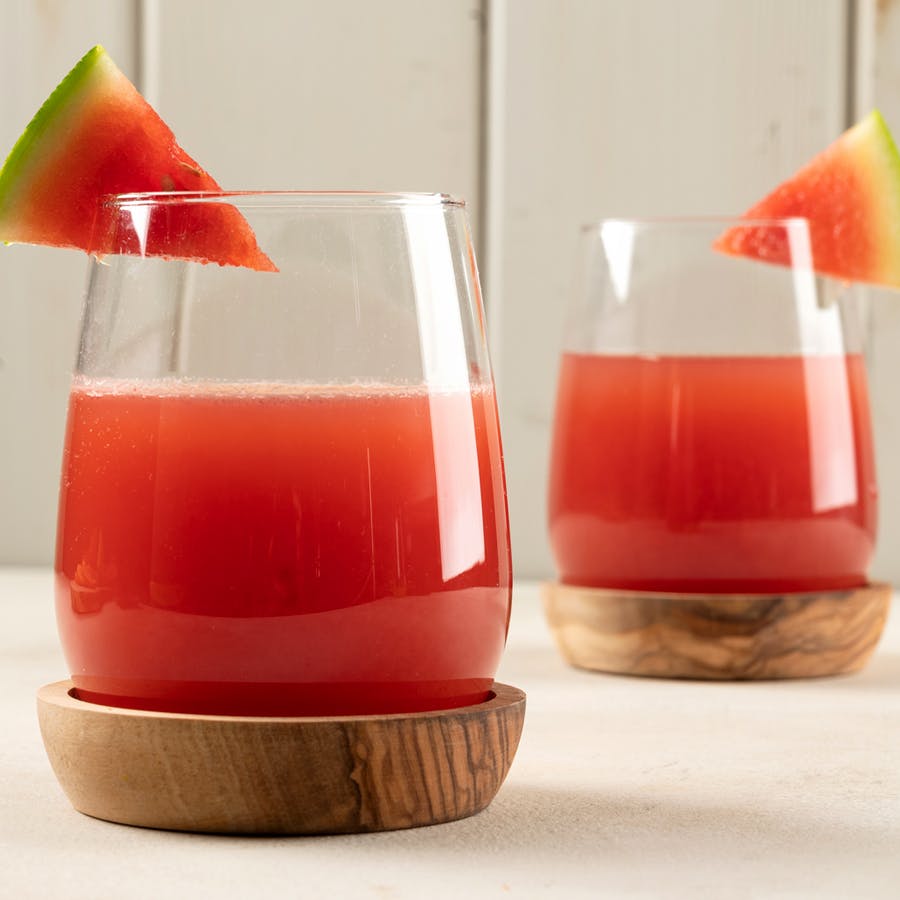 How To Pick A Ripe Watermelon
While in-season is better, watermelon can be the perfect year-round sweet and juicy treat. How do you pick the best one? Check out our tips here: How to Pick a Ripe Watermelon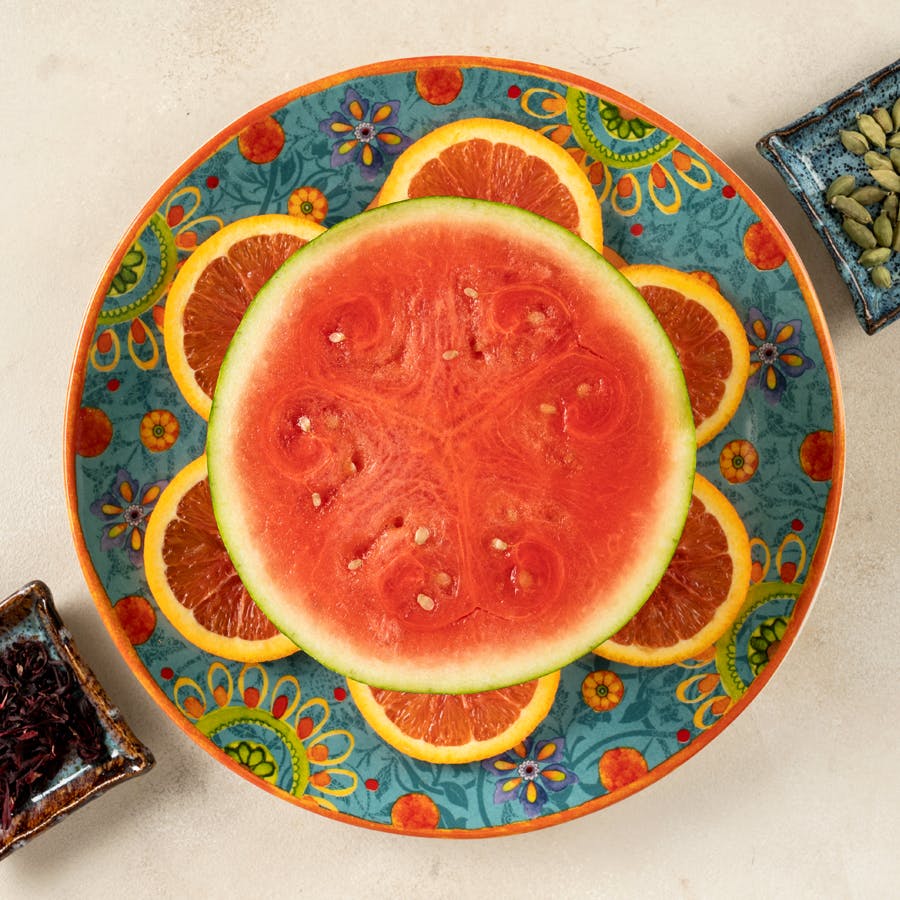 How Long Does Watermelon Juice Last?
Watermelon can last up to 5-7 days in the refrigerator dependent on a few factors which include using fresh produce, the right equipment, and keeping everything cold during the juicing process. You can read more about it here: Understanding Shelf Life of Cold-Pressed Juice