Watermelon Juice with Orange and Hibiscus
Seasonal fruit stars in this unique watermelon juice recipe featuring an unusual pairing of orange and hibiscus, perfect for those hot summer weekends.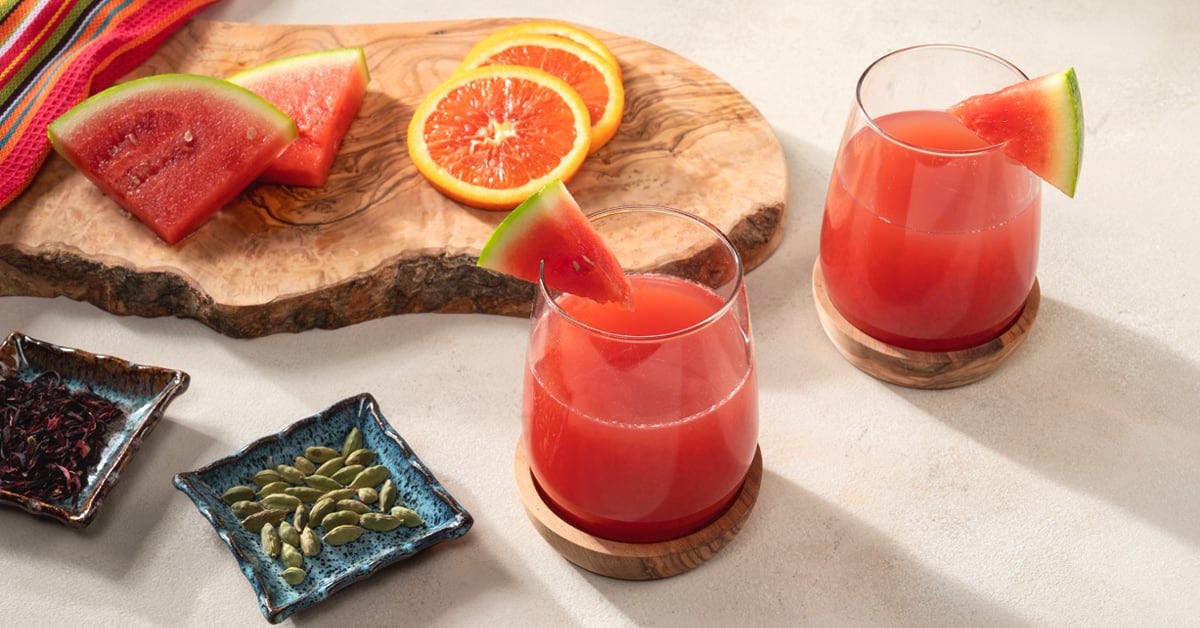 Ingredients
| | | | |
| --- | --- | --- | --- |
| watermelon (peeled) | 12 oz | 340 g | 2 1/4 cups watermelon |
| orange (peeled) | 1.75 oz | 50 g | 1/2 small orange |
| hibiscus (dried) | 0.03 oz | 0.9 g | 1 teaspoon hibiscus |
| cardamom | 0.01 oz | 0.3 g | small pinch ground |
| water | 1.3 oz | 37 g | 2 1/2 tablespoons water |
Directions
Heat water to just under boiling, add hibiscus and place in the fridge until cooled down to room temperature.

Drain the hibiscus flowers from the tea (you can make this ahead of time and store in the refrigerator).

Wash the produce and prep by peeling the watermelon and orange, then weigh.

Grind the watermelon and orange, then press.

Add the juice to the strained tea, grate a small pinch of cardamom (or use ready ground), and mix all together.
Pro tips
Ripe watermelons are higher in nutrients than ones that are not ripe. Learn how to pick a ripe watermelon in this article: How to Pick a Ripe Watermelon

Watermelon and orange are mushy fruit, so take care not to overfill the press to avoid overflow.

If you don't have access to fresh cardamom, use a small pinch of ready ground per serving.

A slice of red beet can be substituted for the dried hibiscus if you don't have any on hand.