That's right: sweet potato pie juice.
Taking inspiration from a Thanksgiving dessert favorite — sweet potato pie — our in-house chef has created a healthy juice recipe that tastes like dessert in a glass.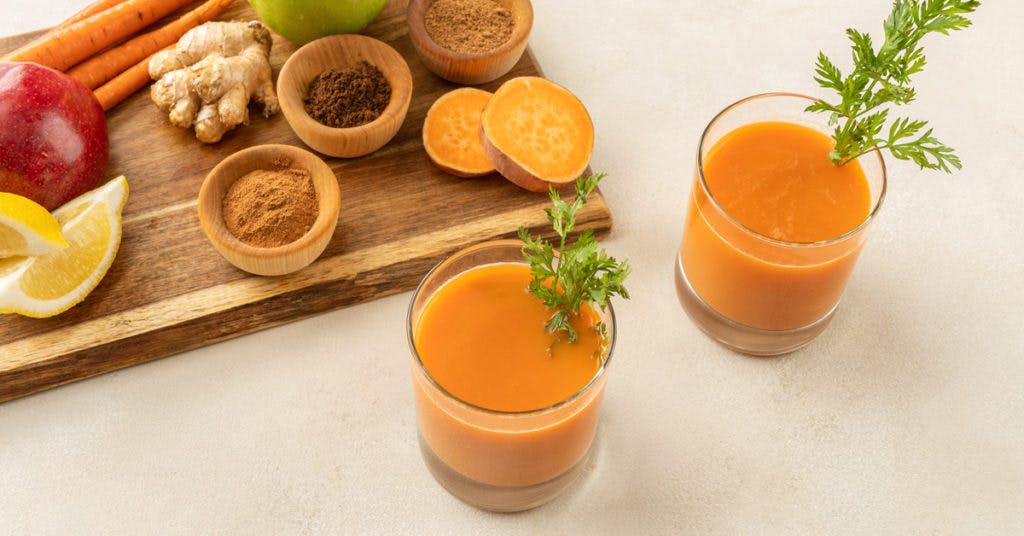 Stash your pie tin away, break out your juicer, and prepare for one of the tastiest juices you've ever tried.
Before we get into the ingredients and instructions, let's run through the health benefits.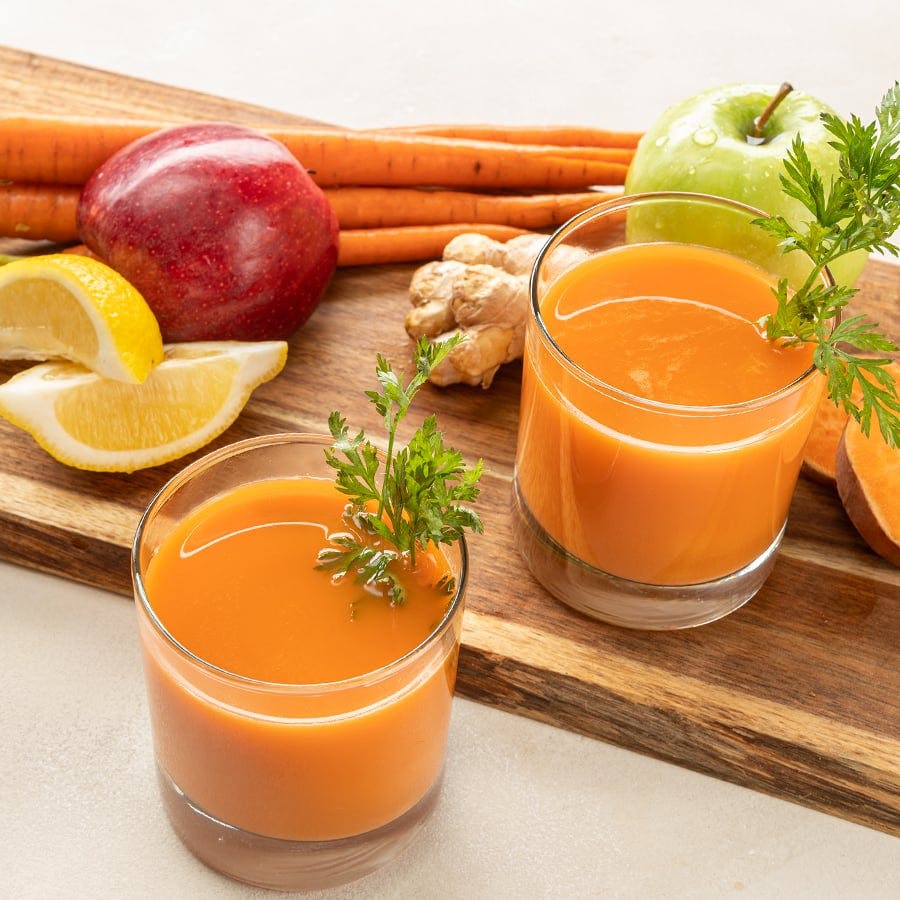 Health Benefits of Sweet Potato Juice
Starting with the obvious: this sweet potato carrot juice is vegan, gluten-free, and dairy free.
Every ingredient in this juice is packed with health benefits. But let's focus just on sweet potatoes for a moment.
Here are 8 health benefits of drinking juice from raw sweet potatoes:
Amazing source of beta-carotene (which converts to vitamin A in your body).
Good source of vitamin C, vitamins B5 and B6, copper, and manganese.
One cup of sweet potatoes has more potassium than a banana.
Includes iron, niacin, phosphorus, and vitamins B1 and B2.
Great for regulating blood sugar.
Sweet potatoes have cancer fighting properties.
Promotes healthy hair and skin.
Aids with adrenal gland protection.
(See more sweet potato nutrition facts here.)
Though they are the star, sweet potatoes are just one of the juicing ingredients. Benefits from the other ingredients include:
Carrot juice: Boosts immune system, promotes stronger vision and brain function, and helps lower cholesterol.
Apple: Supports hydration, good source of vitamin C, vitamin K, potassium, and more.
Ground cinnamon: Loaded with antioxidants, has anti-inflammatory properties, lowers blood sugar, and helps fight infections.
Fresh ginger juice: Improves digestion, relieves pain, controls high blood pressure, and promotes healthy skin and hair growth.
Lemon: Supports hydration, good source of vitamin C, promotes healthy skin, aids digestion, and supports weight loss.
Nutmeg and clove: Contains powerful antioxidants, anti-inflammatory properties, antibacterial properties, and contains important nutrients.
(Note that these are not exhaustive lists.)