Looking to add a kick to your daily juice? Want to prepare a fresh pressed base for a Cinco de Mayo pineapple margarita recipe? Or are you just interested in trying a new cold-pressed juice?
Whatever your reason for landing here, this recipe has got you covered.
Expert chef Ari Sexner elevated the classic pairing of fresh pineapple and mint leaves by adding the spiciness of Serrano pepper for a twist on the typical Mexican flavors.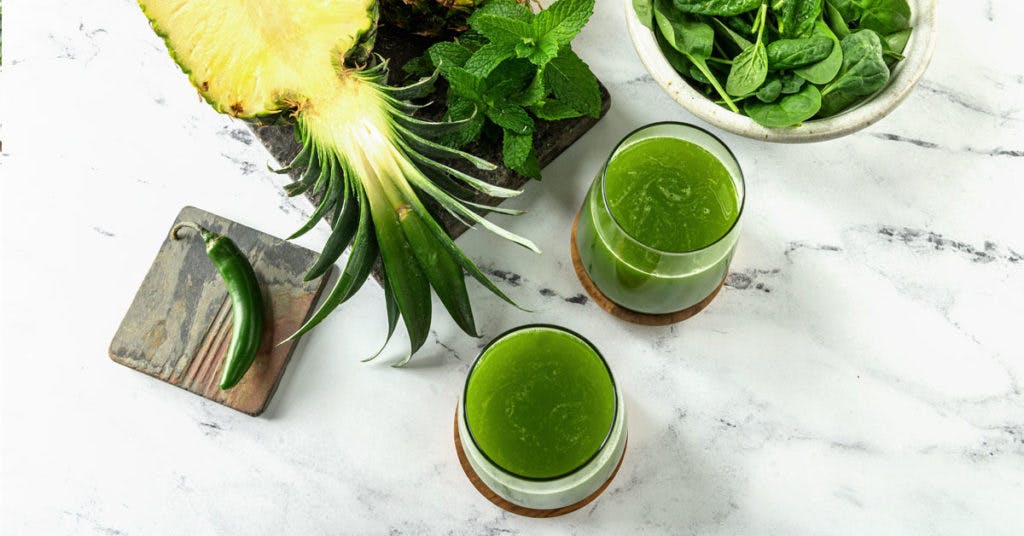 This refreshing juice is a great way to start your day, giving you a serious dose of vitamins of minerals. Also, this blend serves as a great base for cocktail recipes (check out some recommendations for that in the cocktail section below). 
Break out your juice press (and maybe your cocktail shaker) and get ready to enjoy a delicate, fruity, and spicy juice that will keep you coming back for more. 
Looking for cocktail recipes? Find them here: Amazing Cold-Pressed Cocktails

Why We Love This Spicy Pineapple Juice Recipe
Sweet pineapple, refreshing mint and the spicy flavor of pepper are combined in this blend for a well balanced punch of flavor. 
This juice can also easily be turned into a spicy pineapple margarita by adding your preferred spirit, whether it be mezcal, or tequila blanco and triple sec liqueur. Just don't forget to garnish with a lime wedge!
Regardless of whether you're making this juice as listed or as a spicy cocktail, you'll be blown away at the delicious flavor chef Ari has developed.  Here's what he had to say about his creation:                                 
"This is a variation of the classic pineapple and mint flavor pairing. We add a bit of heat from the Serrano pepper so it works great as a starter for a cleanse. To level up the vitamins and nutrients, we add spinach which also gives the juice a vibrant green color."
You're likely sold on the flavor, but you may not realize how healthy this juice is for you too!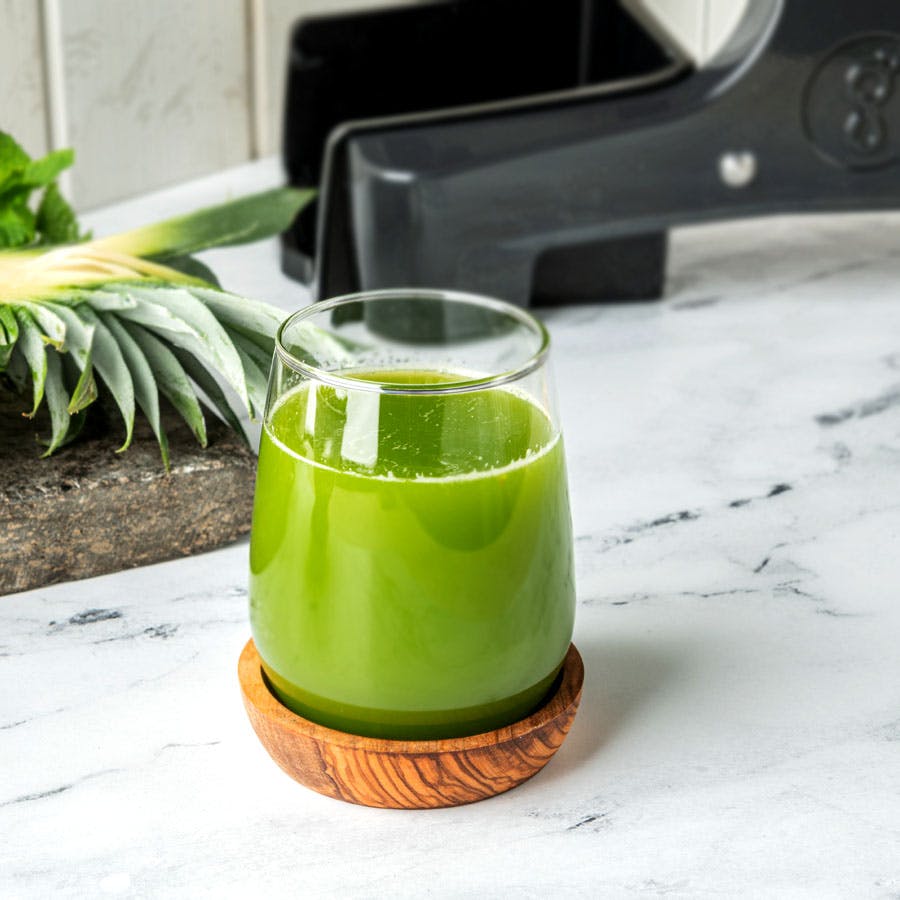 Health Benefits of This Spicy Pineapple Juice
The benefits of this tasty juice include:
Great For Your Immune System
Pineapple is full of vitamin C, with one serving giving you a whopping 131% of your daily recommended intake!
Very Nutrient-Dense
Spinach, which gives this juice its vibrant green color, is one of the most nutrient-dense foods around. You'll get a great dose of potassium and calcium here, so don't leave it out (even if you are making a pineapple cocktail!) 
Heart-Healthy
Pineapple, spinach, pepper and mint all have anti-oxidant properties and have been shown to lower cholesterol.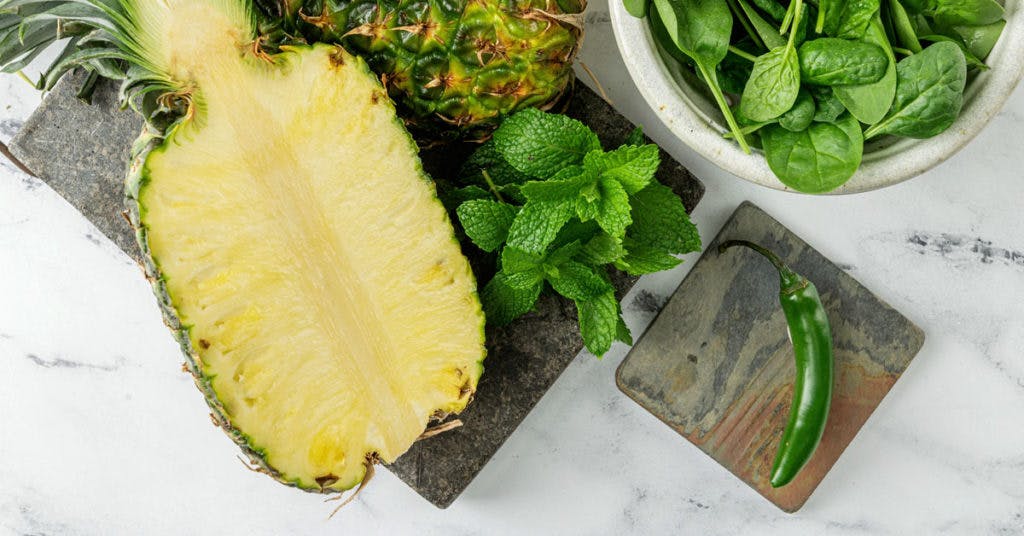 Now, let's talk specifics when it comes to using this juice as a cocktail base.
How to Turn This Juice Into a Spicy Pineapple Margarita 
As previously mentioned, this juice works great as a base for your favorite pineapple cocktail. Mezcal or silver tequila can be added with this juice in a cocktail shaker, and voila, your margarita is ready to go. 
If you don't have a juicer or press, muddle the mint and pepper in your cocktail shaker before adding pineapple juice and your alcohol of choice. In this situation, it may be best to leave out the spinach (but you are missing out on some great nutrition!). If you don't have any triple sec liqueur, or are in need of a sweetener, consider adding a little agave, simple syrup, or orange juice to your taste. 
To make this a well-rounded recipe, don't neglect garnishes! Consider getting some pineapple wedges or jalapeño slices to garnish the rim.
Want to really take your cocktail presentation to the next level? Wet the rim of your glass with a lime wedge and dip it in a small plate of Tajin seasoning for an extra kick.
How to Pick a Ripe Pineapple
How do you find a perfectly ripe pineapple? It's actually pretty simple. Use these 5 tips to pick a ripe pineapple next time you go to the market: How to Pick a Ripe Pineapple