What happens when you ask our chef Ari to create a vibrant and flavorful pear juice? This mouthwatering juice you will not want to put down. Sweet pear is impeccably balanced by tart green apple and the earthy sweetness of carrot, making this the perfect pear juice recipe.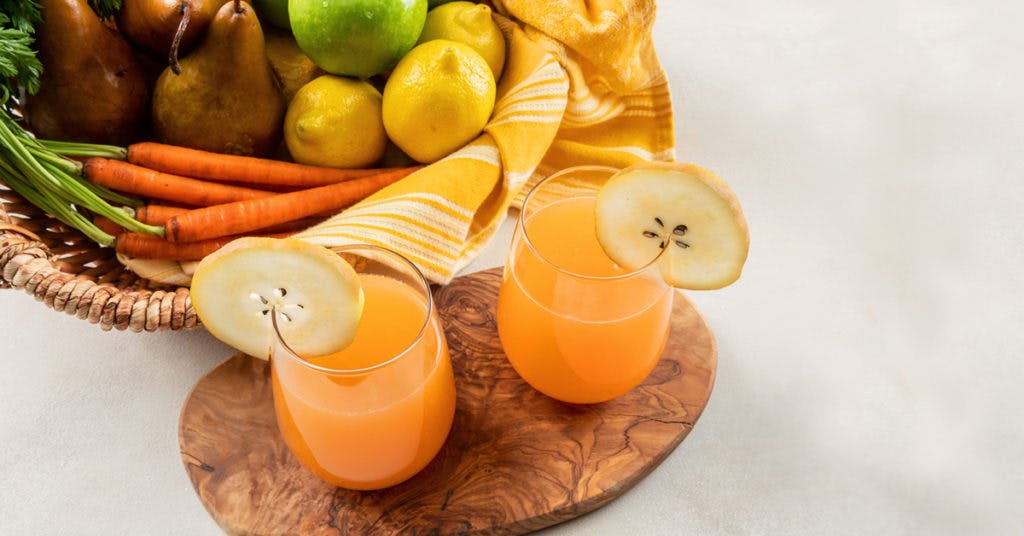 Why We Love This Homemade Pear Juice Recipe
Here at Goodnature, we don't publish juicing recipes unless they taste amazing. This recipe is no exception.
The finished juice has a sweet, ever-so-slightly spicy (hints of cinnamon and nutmeg) flavor from the bosc pears. Green apple adds a bit of tartness and the only veggie (carrot) brings in a more earthy sweetness. You won't taste the lemon much (there's only a little), but it helps brings the flavors together and keep the juice fresh for longer.
Now, let's talk health benefits. Here are some notable ones:
Rich in vitamins, minerals and antioxidants your body needs. The list for this juice includes vitamin C, vitamin A, vitamin K and potassium.
Strengthens immune system. Every ingredient has vitamin C, and lemon juice is a natural antibiotic.
Reduces inflammation. All ingredients are known to have anti-inflammatory properties.
Can lower blood sugar, blood pressure, and cholesterol levels. Thank the apple, carrot and pear for that!
Safe for chronic kidney disease (CKD) due to low phosphorus levels. Phosphorus can build up in people with CKD and cause calcium to be pulled from their bones, making them weak.
The recipe is also vegan and free of all common allergens like gluten, nuts, and dairy.
Note: Want to come up with your own juice recipes based on your favorite ingredients? There's no better resource for that than The Juicing Companion!
Written by chef and juice business consultant Ari Sexner, The Juicing Companion has a page for nearly every ingredient you can think of. Each ingredient page has suggested flavor pairings, nutritional info, and recipe ideas to get you started.
It's not just a recipe book -- it's an idea book! Order your copy of The Juicing Companion here.

Pro Tip:  Not sure what to do with that leftover pulp from juicing? Try these 11 Creative Ways to Use Leftover Juice Pulp. They're all rich in dietary fiber, and there's a special recipe for any furry friends that live in your house!
Your Shopping List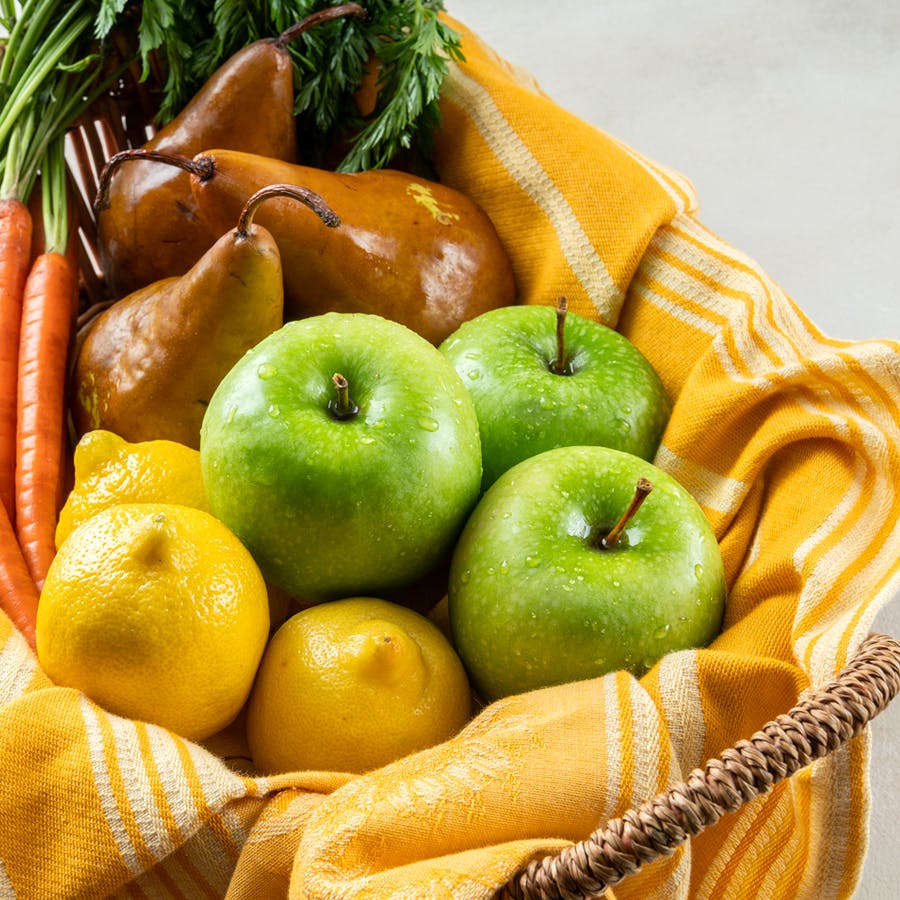 This might be an orange juice, but you won't need any oranges!
Here is what you'll need to grab at the grocery store to make one serving of this pear juice recipe:
1 ripe apple (green)
2 ripe pears (bosc)
3 carrots
1 lemon (you'll only need a small slice)
If you're planning to make more than 1 serving, simply multiply the list above by the number of servings you plan to make. Keep in mind that you'll only need 1 lemon per 8 servings of juice.
You may also like: The Best Healthy Green Juice Recipe
Note: Seriously, The Juicing Companion book is a juice enthusiast's best friend. Grab your copy now and start making tasty recipes you and your family/friends will love!