Ready for a unique and refreshing drink that you won't want to put down?
This lemon mint juice recipe is inspired by the popular Indian beverage pudina juice (aka pudina sharbat). It's absolutely perfect for hot summer days.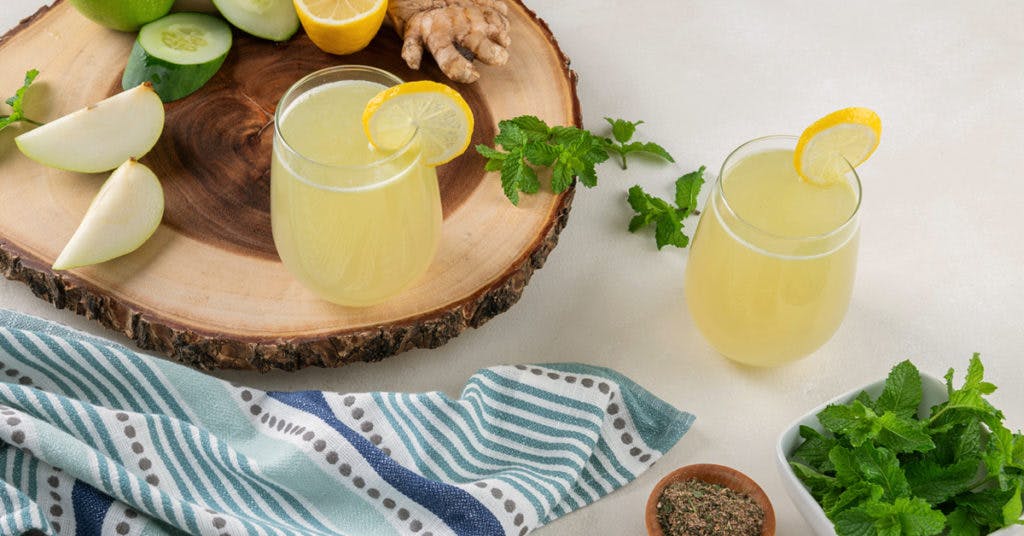 Pudina means 'mint' in Hindi (the official language of India). Fresh mint leaves are a treasured ingredient over there, being used in everything from curry to rice to drinks.
Traditional lemon mint juice recipes are pretty simple. The ingredients usually include fresh mint leaves, fresh lemon juice, water, sugar, and maybe some spices.
Our resident chef's variation of lemon mint juice is a fair bit different. We're betting you'll be a big fan of the result.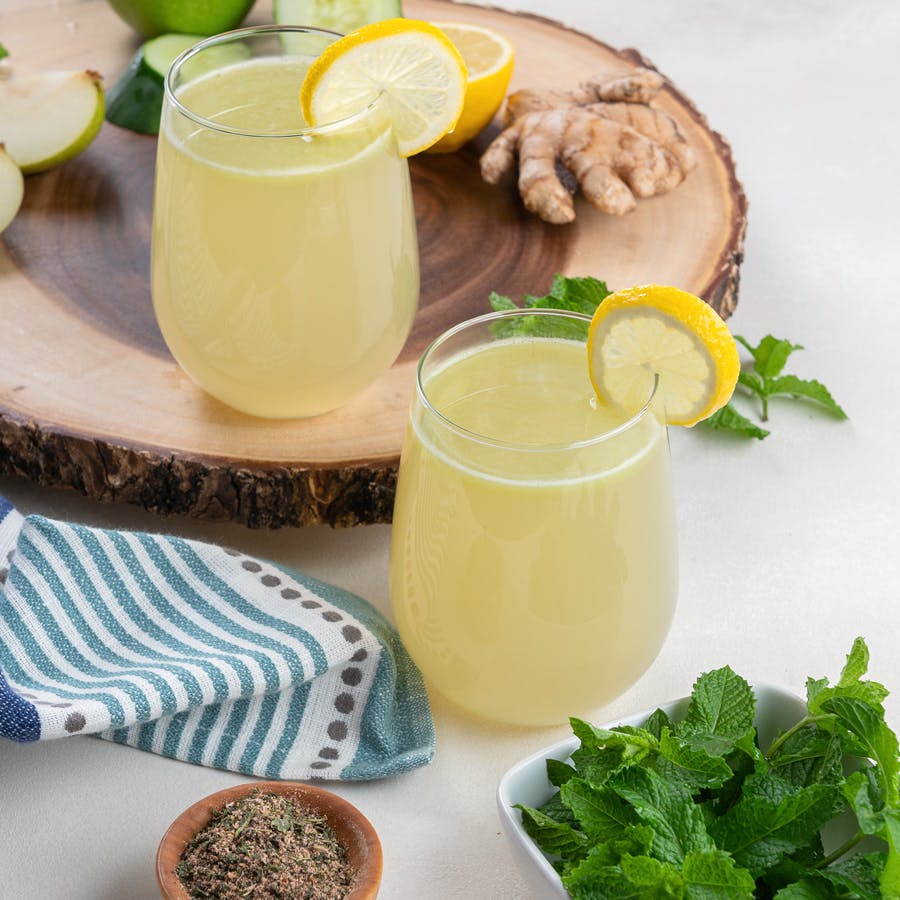 Not Just A Mint Lemonade Recipe
Mint lemonade is tasty enough. But the Indian and Middle Eastern spices included in this recipe really make for a memorable summer drink. Not only that, but our chef decided to ditch the conventional water and sugar, making it a very healthy version.
Here's a quick summary of this variation compared to traditional mint lemonade/lemon mint juice recipes:
Pear, apple, and cucumber replaces the water. Talk about a taste upgrade!
Pear and apple are natural sweeteners that replace the sugar. Your body will thank you.
Our chef's unique Chaat Masala spice blend, plus a bit of ginger, spices up the drink.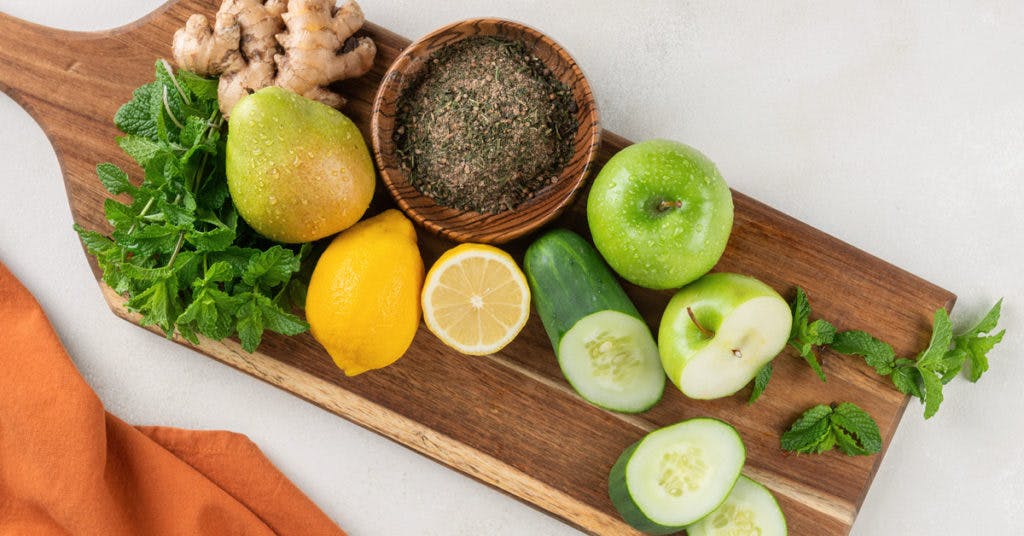 Sound good? Ready to get started? Then click here to jump to the step-by-step instructions for the recipe. Keep in mind you will need to make our Chaat Masala spice blend first.
Read on for health benefits and more.

Health Benefits of This Lemon Mint Juice Recipe
Starting with the obvious: this refreshing drink recipe is gluten-free, vegan, and dairy free.
Now, let's go through each prevalent ingredient to cover every health benefit:
Mint. Rich in nutrients. Good for digestion and may improve IBS symptoms. May help relieve indigestion. Masks bad breath. Anti-inflammatory.
Pear. High in vitamin C and vitamin K. Highly nutritious, antioxidant rich, strengthens immune system, and helps prevent some forms of diabetes.
Apple. High in vitamin C and potassium. Anti-inflammatory, antioxidant rich, lowers blood sugar levels, and improves digestive tract.
Fresh Lemon Juice. High in vitamin C. Natural antibiotic, anti-inflammatory, promotes healthy skin and heart, and strengthens immune system.
Chaat Masala Spice Blend. Contains a significant amount of vitamin A, vitamin B, and vitamin C. Good source of iron and calcium. May help with digestive issues. Contains coriander, which may be effective for lowering blood pressure.
Speaking of Chaat Masala, you will have to make this delicious spice blend to include in your juice. Learn how to make Chaat Masala here.