Nothing says "I love you" like making this amazing juice recipe for your sweetie this Valentine's Day!
This recipe was inspired by the very popular cherry limeade drink at Sonic, but we think this one tastes even better, and since it's made from 100% cold pressed juice, it's better for you too.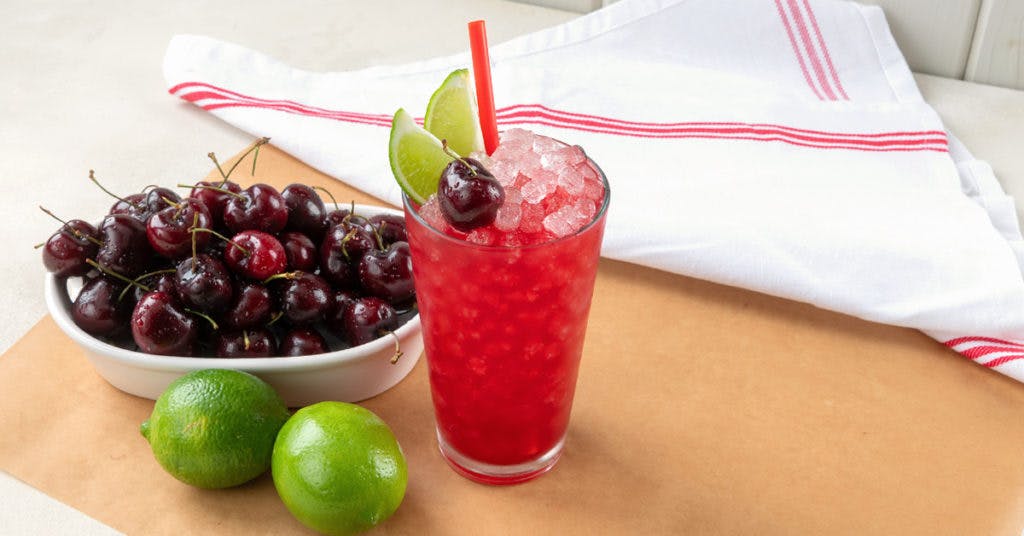 Admittedly, I am not a Sonic fan. I went to a Sonic drive-in for the first time recently to try their famous cherry limeade so I would have a frame of reference for this recipe.  I wasn't too impressed. The faint flavors of cherry and lime followed by an after taste of chemicals and stale ice had me wondering why anyone would ever crave this drink.

Maybe I just hit them on an off day or maybe I'm just used to the vibrant flavors you get from real, cold-pressed juice. At any rate, I knew Chef Ari was going to blow this one out of the water and I was so right.
Read on to learn more about why we love this homemade drink recipe.
Why We Love This Cherry Limeade Recipe
#1, the taste. This juice is really the juiciest juice I've had in awhile. Probably since I made our Crazy Good Cran-Apple Juice. You'll know what I mean when you taste this flavor popping recipe. It's a good one, definitely a keeper and one to bring out when the kids are around. You really should try it soon, like this month, in observance of National Cherry Month.
#2, it's really good for you. Our cherry limeade is made with real cherries, fresh limes, green apples, red apples, cucumbers and a little beet for color. You won't find any sugary Sprite (lemon-lime soda) or  "cherry flavor"/cherry syrup in this recipe.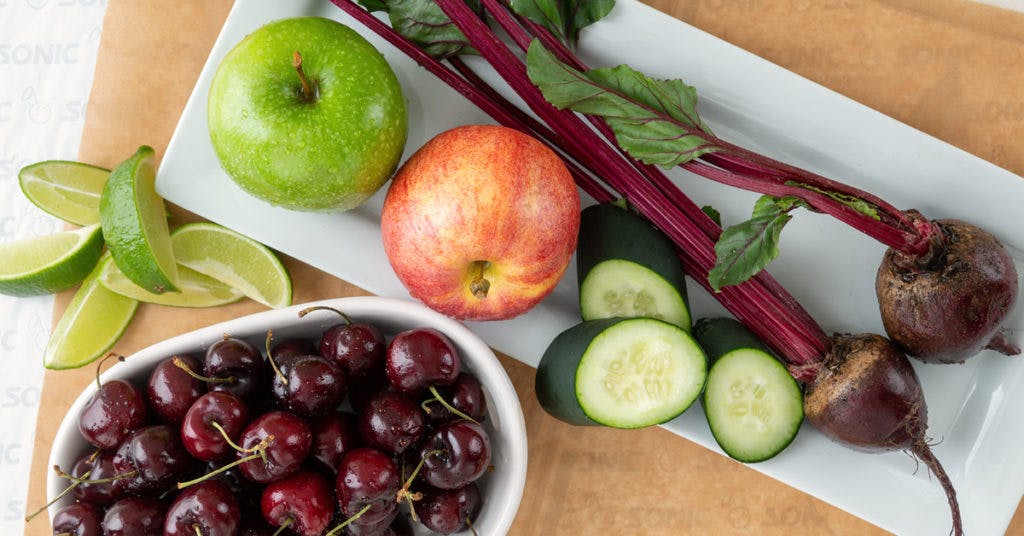 Health Benefits of Homemade Cherry Limeade
Let's go over some of the health benefits you can expect from the primary ingredients in our cherry limeade:
Supports immune system. There's loads of vitamin C and vitamin A in this recipe, which help protect your body against illness and infection.
Helps build and maintain strong bones, as well as heart, muscle and nerve health. That's thanks to the calcium found in apple juice, lime juice and cherry juice.
Rich in antioxidants your body needs.  Every main ingredients contains antioxidants (such as potassium).
Aids weight loss and improves digestion. You can browse more juice recipes that are great for weight loss here.
May help lower blood sugar and cholesterol levels. It's a two-for-one special. 
Reduces inflammation. Cherry and apple have particularly powerful anti-inflammatory properties.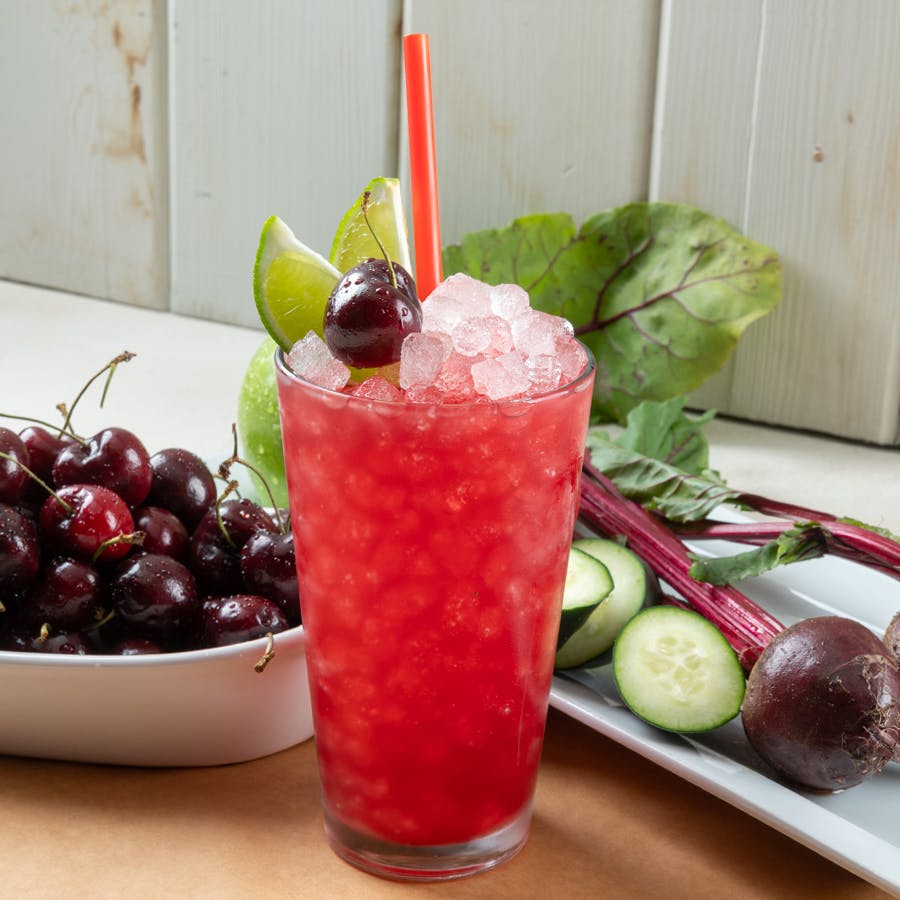 How To Make This Healthy, Homemade Cherry Limeade Recipe
The Juice. This juice is really easy to make with common fruits and veggies you probably already have on hand. I had to pick up some cherries at the grocery store, but the rest of the ingredients were already in my fridge: lime, apples, cucumbers and beet. Simple ingredients, simple steps. You can even use frozen pitted cherries (just thaw them out first). 
The Ice. I am told that nugget ice (similar to crushed ice) is a big part of what makes this drink special and is not optional. I do admit I love how crunchable it is. If you're making this recipe at home, you should be able to purchase nugget ice (aka sonic ice) from a local franchise fast food joint. I was able to purchase a 10 lb bag from my local Sonic for $2.27. When I make this juice again, I will probably just use plain ice (Sorry, Ari!).
If you have a restaurant, juice business, or you're just a crazy ice crunching fanatic, you can purchase an ice maker that makes this type of chewable ice, for a mere $500.
The Garnish. Optional, but really puts the finishing touches on this tasty juice. We used two lime wedges and opted for a real fresh cherry in lieu of the maraschino cherry that Sonic uses (no bleached, soaked in FD&C Red Dye #40 cherries here!).
Ready to give up your chemical romance with Sonic's cherry limeade and try our cold-pressed healthy version? Scroll down for the recipe!