Want a tasty breakfast smoothie that gives you energy, balances your mood, and leaves you feeling satisfied until lunch? Chef Ari created this coffee breakfast smoothie recipe that features granola and brain boosting adaptogens for the get up and go you need in the morning.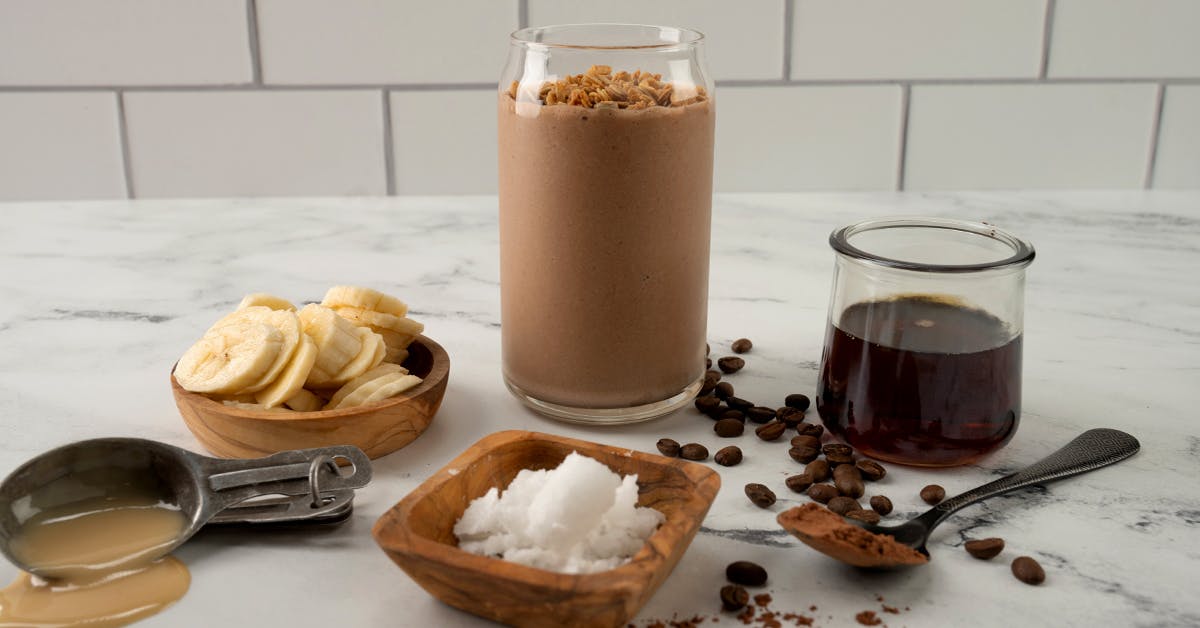 Why We Love This Breakfast Smoothie
I know this may not be the most simple of smoothie recipes, but it is the best coffee smoothie I have ever tried. It is totally worth the effort of sourcing the ingredients to make this for breakfast, especially if you love the taste of coffee.
Keeps you full and satisfied. When you're on the go, smoothies make a great breakfast option because they are quick and easy. When choosing a breakfast smoothie, you do want to make sure it has enough nutrients to hold you over until your next meal, and with the incorporation of granola and banana, this one certainly does that.
Gives you a boost of energy. Coffee and cacao powder are known for keeping you energized, and this smoothie has both!
Puts your brain in balance. A small dose of organic mushrooms and super herbs help to combat the negative effects of stress and anxiety, we love that this smoothie promotes well-being.
Reduces inflammation. This smoothie is chock full of ingredients that promote anti-inflammatory affects. From the banana to the adaptogens, this smoothie works overtime to keep inflammation at bay.

Frozen fruit smoothies make great breakfast choices. What's great about smoothies is you can add ingredients to fit your health and dietary goals. Like let's say you have a certain amount of protein you would like to consume in a day, you can just add some protein powder and chia seeds to your blender.
To incorporate into your juice bar menu, you can source many of the ingredients that make this recipe unique from the Goodnature Marketplace. Here is a list of the premium ingredients that we recommend for this recipe: