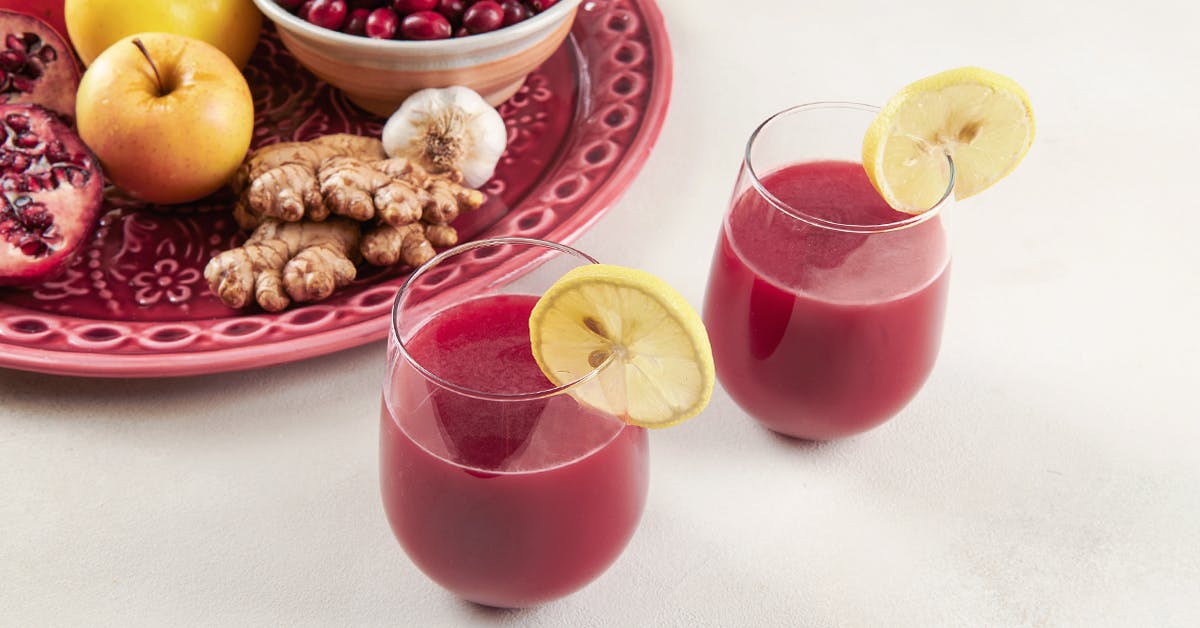 We hope you're ready for a tasty juice recipe for the Christmas season! This Christmas-themed juice is rich in antioxidants, which are a crucial part of a healthy diet.
"Savory and tart, garlic is present but enjoyable" – Tasting notes from Chef Gary.  This delicious and unique holiday juice recipe was created by Chef Gary FX LaMorte using his Goodnature X-1 Mini.
Why We Love This Antioxidant Blast Juice
(Besides the taste, of course.)
This juicing creation has loads of amazing health benefits!
Improves immune system. Basically every ingredient supports the immune system.
High in many vitamins and minerals. These include vitamin C, vitamin B6, manganese, magnesium and calcium. That's thanks to the apple juice, orange juice, and fresh ginger.
Some Potassium and Vitamin B9-Folate. Orange juice has the B9-folate, and several ingredients have potassium.
Lowers cholesterol, blood sugar levels and blood pressure.
Help prevent stomach disorders and UTIs.
Anti-inflammatory properties.
Can aid weight loss and digestion.
This fresh juice recipe also has no added sugar. It's also (obviously) vegan and gluten-free — what fresh cold pressed fruit juice isn't?

Related recipe: Classic Beet Juice with Greens and Orange
Additionally, 6 of the 7 ingredients are rich in antioxidants. What are antioxidants, you ask?
Antioxidants: Why Are They Important?
To quote the Mayo Clinic:
Antioxidants are substances that may protect your cells against free radicals, which may play a role in heart disease, cancer and other diseases. Free radicals are molecules produced when your body breaks down food or when you're exposed to tobacco smoke or radiation.

Antioxidants, such as vitamins C and E and carotenoids, may help protect cells from damage caused by free radicals. Other naturally occurring antioxidants include flavonoids, tannins, phenols and lignans. Plant-based foods are the best sources. These include fruits, vegetables, whole grains, nuts, seeds, herbs and spices, and even cocoa.

As a bonus, fruits, vegetables and whole grains high in antioxidants are also typically high in fiber, low in saturated fat and cholesterol, and good sources of vitamins and minerals. So enjoy the variety.
That's quite a powerful array of benefits!
Related recipe: Very Veggie Green Juice Recipe