Friday proved to be a sad day in the juicing industry as an iconic brand, Juice Served Here, became Juice Served…. somewhere else. Shutting down their business somewhat unexpectedly, the news came as a statement on the JSH website as well as an email sent out to their contact list. As one of our longer standing customers, it came as a shock to us at Goodnature as well.
Juice Served Here had what many considered the best branding in the beverage industry. Many things made their brand unique: Their simple-yet-powerful glass milk bottle with white cap, the numbered recipes displayed as square tiles in their stores, and nobody will ever forget the first time they saw one of their painted-black milk trucks hustling through LA en route to deliver a few cases of juice.
Truly "Never Conventional," as their slogan stated, due to their creative founder and CEO Alex Matthews who came into the beverage industry with roots in the fashion industry. Their branding quickly became so popular in California that it's been imitated (and sometimes even copied) all over the world in dozens of other juice companies. I even know of one brand that uses the slogan "Always Unconventional." Yikes.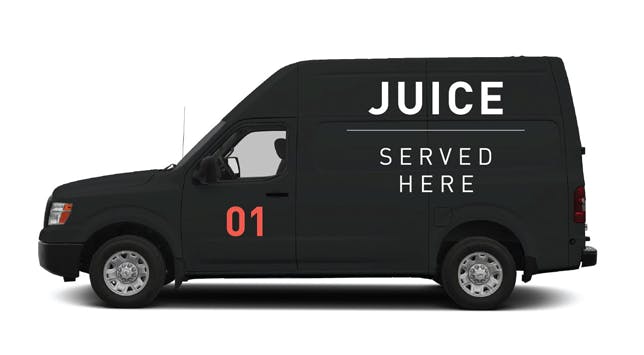 So what happened?
Nowhere in the statement does Matthews give a reason for the business not working out. The closest he comes to giving a reason is stating "In 2015, we noticed a shift in consumer habits in our stores, and within the juice category. The buzz for cleansing was fading. The desire to dine on juice for 3 days in a row was just not as popular as it was years prior." But then he goes on to explain that they "went to the dark side" and started distributing 15 oz plastic bottles of HPP juice to grocery stores and cafes, generating up to $10M in revenue. One would think that $10M in revenue would be enough to sustain a business, but there's no explanation given as to why they were eventually forced to close their doors. Not that you asked, but here's my analysis and personal opinion on what happened:
According to public documents on the SEC website, JSH raised over $10M from investors in 2014, which was right before they went on a brick and mortar spree and opened nine retail stores in twelve months in the Los Angeles area. These stores were big and beautiful, clean and white, and, as Matthews says in the statement, "thoughtfully presented." Along with all of these attributes comes another one—expensive. I can only imagine what the build-out costs were on these spaces. The first thought I had when walking into one of their bigger stores was "holy crap this must be expensive." In addition to build-out costs, they were now paying rent and labor costs in nine locations in Los Angeles.
As I wrote previously, without much food or fresh products the business model of selling bottles of raw juice out of a refrigerator is a difficult one to pull off in a profitable way. It can work in some places that have enough foot traffic from people willing to drop ten dollars on a 17 ounce glass bottle of juice, but will fail in most areas. This situation is reminiscent of the Organic Avenue bankruptcy in 2015, which ironically is the same year that JSH opened their nine locations. One has to wonder if the Organic Avenue bankruptcy happened earlier if JSH would have been able to raise that much financing.
Both of these company's stories go to show that there is huge risk in spending millions of dollars and quickly opening a bunch of brick and mortar stores. You may find out later that many of the locations are not profitable, siphoning all of the profit out of the profitable stores. Business is complicated, and just because something works in one or two locations doesn't mean it can scale in a meaningful way.
I believe that if they would have done things a bit differently they could have survived long enough to grow organically or be acquired. Hindsight is 20/20, and it's easy to sit on the outside and critique somebody else's business without knowing what really happened behind the scenes, but looking back now I believe the following suggestions may have saved the business:
Raise less money, grow at a slower rate. Adding so much overhead so quickly is a huge gamble for a retail business that deals in a raw product and is extremely hard to manage. In addition you now have investors that have given you millions of dollars and expect growth. This can force you into desperate situations such as going to "the dark side" and making decisions you never wanted to make.
Get away from such large servings of juice, as I've written about before. Seventeen ounce juices are ok for juice cleanses as a meal replacement, but most people would prefer to pay less for a smaller portion, and it can be more profitable for the business.
Switch to making juice in-store. Customers appreciate fresh, and managing inventory is much easier done on the store level. This creates other challenges like handling fresh produce in each store, but overall is better for the business. You can still make the juice in batches and store it in a cooler, but you can make batches of each recipe as needed instead of guessing how much juice your ten stores will sell in the next three days and being committed to selling it or throwing it away. This business model is easier than ever with the new Goodnature X-1 Mini.
If you have any other suggestions about how JSH could have changed their business for the better, let our readers know by commenting below.
What this means for the juice industry
Reading headlines about iconic companies like JSH going out of business instills a certain amount of FUD (fear, uncertainty, doubt) about the juice industry. The truth is, juice is still growing as a category and is available more places now that it ever has been before, and continues to become a part of more people's daily lives. Each company has its own challenges, and one company's success or failure does not affect the industry as a whole in a meaningful way.
There have been some major successes within the last few years to go along with the failures. The ones that come to top of mind are:
Coca-Cola purchased 30% of Suja for $90 Million in 2015, giving the company a $300M valuation. Holy cow! That's a serious valuation. As reported by BevNET, previous rounds of investment included celebrities Leonardo DiCaprio and Jared Leto for a $21.5M raise, and earlier rounds of $16.5M and $7.5M.
Clean Juice is the first 100% organic juice bar franchise, making all of their cold-pressed juice fresh in each store on a Goodnature X-1, instead of making it in a separate facility  and transporting it. They started franchising in 2016, and as of  today, they have awarded 87 franchises in 13 states across the US. Killing it.
Juice Press continues to expand with over 60 locations in NYC if you include their partnership with Equinox, and now stores in five other states, including their newest location opening in the Bellagio in Las Vegas.
If you have any others that should be on this list, let our readers know by commenting below.
We bid you a juicy farewell
Despite the eventual closing down of Juice Served Here, Matthews built something really great. For all we know they were days away from getting a new investment or being acquired by a larger company with more resources that could eventually turn it around and make it profitable. Everyone I've talked to in the juice industry is a little bit sad about the news. Juice Served Here will forever hold a place in our hearts, and I'm sure Matthews will bounce back with a great brand in beverage or another industry altogether. I would be surprised if he's not already working on something.
Comments
Charlie! What a nuanced and insightful post. A solid read. Having run my own juice business for many years in Europe, the ups and downs of outrageous fortune hold most wise men and women hostage. Big or small, every day is a journey in business, so i write this as a far-away interested observer of one of our industry's shooting stars; JSH. I've seen the trading environment change greatly over the last decade globally but what remains a constant for survival (from my POV) is the quality of offering and price. If the quality is high, customers will spend their money and keep coming back. Think I'm nuts? Take a look at the iPhone X! Insane pricing but for many it's an essential global digital appendage. Like, seriously. Think about it, who really needs a $1000 phone when you have the iPhone SE etc? Same with juice imo. Spending $10 for 17oz (glass?) bottles may skew high for some but simply offer a less-expensive variant - 4oz, 6oz., no? You're immediately giving your potential customers real choice and comparison and more importantly, less reasons to say, 'No', at point of sale. In any case, I digress. Your post analysing (what info is publicly available about JSH) convinces me that the final offering that my customers - retail and wholesale - purchase, is not just about the product my staff produce. It's as much about the journey of getting that juice in the cup/ bottle pour after pour. Scaling up is always a daunting prospect but by keeping yourself true to your core fundamentals, there should be a route to continued success. I say should, but as is life, there are no guarantees only hard work... 😉
Mar 14, 2018
Charlie Wettlaufer
Thank you for the feedback, I agree with a lot of your points. Keep up the good work
Mar 15, 2018
Good observations Charlie. I use to frequent their stores. Over time issues started to arise. 1. The hubris of one of the founders. I informed him of an incorrect telephone number published In Google My Business. he happened to be in the store. He acknowledged it but was oddly defensive. They use to stock organic goods from Cafe Gratitude and could not keep them in stock. So I would call. It took them a while to correct it. Think about how many sales they probably lost. Calls are KPIs typically with high intent. 2. Their branding was good but the marketing was not. They did not spend enough time on personas and have a holistic cross-channel strategy. They made a botched site migration to Shopify later which saw their organic traffic and SEO plunge. Not focusing on the customer experience and understanding what was important was a major mistake. 3. Aggressive Sales by employees. They tried to be nice about it but I had even eaten what I bought. Easy does it. That was a red flag. It became a problem and I would buy and leave. I use to stay. 4. They started expanding well beyond juice with sandwiches, water etc. Another red flag. 5. Expiring Juices. I use to come before closing due to my crazy schedule. I would watch them get rid of a lot of product. 6. Price. $10 is a lot for a juice. It was a factor only reinforced when at Joan's on 3rd, I quickly saw a customer put it back due to sticker shock. Your observation of a smaller size at lowe price point is probably accurate. They did not sell shots like KOR. That may have helped them. 7. Their locations were expensive. $4.71 a square foot on the low for 3rd street and as high as $78.00. 8. An employee leaked Info about using conventional produce. This made it into an online review and I think that was damaging. 9. Not Managing Inventory. This was a constant issue with them. You've got to have a process. That told me they were inefficient. How are you going to control costs and scale? Bottom line: Their business strategy was flawed. They could have survived and found a buyer. It's really a shame but this was avoidable.
Mar 10, 2018
As a former manager for one of their retail stores, it is truly sad to see them go. They had some formulations that you just can't find anywhere else! From what I could tell, they hired employees (at both the corporate and retail level) who were under qualified and over paid. Some corporate employees were friends of the owner and were hired into larger roles with no food service experience. They chose locations with high rent that were low food traffic. I was even instructed by upper management to hire only those with a certain "look". I was aware of financial problems for more than a year prior to their closing due to late payments to vendors and a couple paycheck issues. Anyone inside the company would of seen this coming for months. Don't get me wrong, I loved my job and the company. I hope that future juice companies can steer clear of the many internal issues JSH suffered from. It's so important to to have a competent, appreciated (and reasonably paid) team. This was the biggest problem at Juice Served Here
Feb 19, 2018
Charlie Wettlaufer
Thanks for the comment
Feb 19, 2018
They did not invest in automating their manufacturing process is my guess. My company was making 50k juices a month. We boot strapped everything and couldn't make it due to the labor intesiveness of the process and high cost of using all fresh ingredients. On top of that, Paying a premium on labor for your whole sale product plus the cost of trying to pay a store front rent primarily with cold press juices as a revenue driver is near impossible. Which is why the mini X-1's are the way to go if you have stores. Get a big one if you have multiple stores. If you have mass scale, get a filler/capped/labeler (or pre-labeled) and develop efficient methods to transport juice from juicer to batch tank to filler etc! Have fun!
Feb 4, 2018
Charlie Wettlaufer
I agree, automation is important when reaching a certain size, but only after you get to a point of creating several thousand bottles per day (as you said), as less than that it's usually more cost effective to hand pour and hand cap the bottles. Auto fillers create some waste, and are an expensive up-front investment.
Feb 5, 2018
Charlie, I wish I can invite you to Hong Kong / China and take a look at my Juice Bar and search our other locations where I can open new stores and put in Goodnature mini in multiple locations. I believe there's a future here, but minimising transport as u stated is the way to go I believe.
Dec 28, 2017
Sorry to hear they closed. Maybe they grew to big to fast? I wish them lots of luck in whatever they do in the future.
Dec 26, 2017
Thank you for taking time to address this news, Charlie. It's always sad to see companies like JSH close its doors. We wish them the best and appreciate the wealth of information they left behind as trailblazers in the industry. We could not agree more with your insights. Another philosophy we successfully practice at our shop is that as juice shop owners, we have the responsibility to educate consumers on the impact of their purchasing decisions. When big box stores catch on to the success of a new niche market, the consumer is lead to believe that low prices and convenience are the two only factors to consider when making a purchase. When in reality, quality always trumps quantity, especially when it comes to a nutritional product. The impact of consumer decisions in the juice industry extend from supporting local farmers to the health benefits they experience when drinking true cold-pressed goodness. Educating our "hive" has become a pivotal extension of our brand, from social media to in-store tours to one-on-one consultations. Knowledge is power and we have taken it upon ourselves to empower our tribe with the necessary information to make the best decision for themselves and their families. Bee well, Annie Parks, The Balanced Bee Founder
Dec 21, 2017
Charlie Wettlaufer
Great points. Companies like yours that take the time to educate customers are really important. Thank you
Dec 21, 2017
I was getting a bit sad reading this post at first..and then, after reading the part about how many 'good' things happened in your industry!! I'm just feeling so grateful and more positive now. Let's keep up the good vibes going around the globe. Much love from Korea.
Dec 20, 2017
Charlie Wettlaufer
Com som nida!
Dec 20, 2017
This news is sad. As co-owner of a small juice bar chain in Atlanta, we struggle every day with managing pars and knowing how much we will be selling on a given day. We are all organic so waste is painful. We produce in a kitchen facility and transport every night to the stores. I miss the smell of fresh juice so we started to do a daily juice on a small juicer, but it takes a long time. The good news is it sells out immediately and there is no waste. I have been looking at the X-1 mini for a while now. Based on what I am reading we may need to try it. We also sell in glass 17-ounce glass bottles. I am thinking we should move to smaller bottles again. Any and all insight and advice is welcome. Karen Spencer co-owner dtox juice Atlanta
Dec 20, 2017
Charlie Wettlaufer
Thank you for the comment Karen, I know what you mean about the smell of fresh juice! It's so good to walk in a place and get that familiar smell of lemon, ginger, and greens. It's hard to give any advice without knowing more about your business, but it sounds like you're on the right track. I would be happy to stop by next time I'm in town and have a chat.
Dec 20, 2017
I am owner operator of very small Juice bar in Atlanta area. Customers want the best juice done in seconds and in front of them, most do not know the difference or care about what juicing method is used. They want reasonably priced product made fresh. It is sad any company to go down, it also opens the door for others to learn from it and make necessary corrections to their business model. It is also somewhat disrespectful on your part to advertise and justify your new juicer X-1 mini while trying to be NICE to let everyone know about the closure of the JSH and advertising how some other handful of companies are doing better using another one of your product X1. I have been following your company and machines for few years now but never pulled a trigger buying one because of fear of unproven business model of selling just bottled juice in the stores. Have a Happy Holidays! Uday.
Dec 20, 2017
Charlie Wettlaufer
I agree that many people don't care whether the juice is cold-pressed or not, but I do think if you were to do a side-by-side comparison and taste test they would choose cold-pressed every time. The X-1 Mini gives companies the option of making cold-pressed juice front-of-house in a practical way, which is why I posted the link. It is a new product that enables a new business model. It's actually very relevant to the conversation.
Dec 20, 2017
Hello Charlie, I Applaud and Greatly Appreciate your and your family's Commitment to the Cold Pressed Juice Segment.... Numerous, some unsurmountable challeges exist for the Brick & Mortar Juice Shops. The HPP distributed Brands are experiencing countless challeges as well. As you are well aware, I have procured and directed purchase of many of your industry leading X1's Your JUICERS coupled with my unrelenting passion for legitamacy and my worldwide clients deep desires to Earn a Rightous and Engaging Livlihood have resulted in numerous profitable Juice Shops. Yet, I have been the KEY Advisor to numerous "Larger" Brick & Mortar + HPP Wholesales Juice Brands.
Dec 20, 2017
Charlie Wettlaufer
Thanks Mitch!
Dec 20, 2017
Although customers like 'seeing' the juice made, few have the time-tolerance to watch while their juice is made (much less wait while those in line ahead of them have juices made -- especially cold-pressed juices). Until there's a way to cold-press and clean a juice in under 60 seconds, all a cold-press juice machine does in a store is give consumers the implied promise that the juice was made at the store (which appeals to the consumer, but puts live cold-press juicing out of the time-tolerance of 80% of potential customers). Until then, the 5AM shift will juice and bottle, and consumers will stare at a really expensive piece of (mostly) idle machinery. Am I just stating the obvious? Also, did JSH never attempt to incorporate other-than-juice offerings? That'd just seem nuts. Is there a chance to get Mr. Matthews to do a serious post-mortem from system to marketing to choices to 'obvious' mistakes to avoid?
Dec 19, 2017
Charlie Wettlaufer
Steven, I agree that making cold-pressed juice quickly is a big problem. However, there's no reason a juice bar can't give customers a choice. Have both grab-and-go juice, or offer freshly made juice for an up-charge. Our new X-1 Mini Pro can make a single serving of cold-pressed juice in about 90 seconds. So although it's still more than the 60 seconds you mentioned, it's not as long as some people wait for a coffee drink or some other beverages. The truth is, you just can't press fruit and vegetables too fast or it ruins the juice. JSH did have some non-juice items on the menu but they were limited. I'll try reaching out to Alex once the dust settles. Thanks for the comment!
Dec 19, 2017
I was not really shock when Saw them growing so fast and wondered if they really watch the industry as a whole and also if the took customer surveys to see what they wanted. These are the people to really guide any business! What do you think about the company called Genius Juice? It seeems started slow and were growing.... then were gone from any Wholes foods or natural markets and now they are back again.I think they are struggling in this Market and really need some business direction.
Dec 19, 2017
Charlie Wettlaufer
I think I've had the Genius Juice coconut smoothie. Good stuff!
Dec 19, 2017
As an owner of a Mexico based juice bar chain JSH was always an inspiration, their branding was always at the top, their stores design where probably the best in the industry. It was a bit of a shock to hear the news that they where closing. Your points are valid and there could be many more reasons ( I have failed in retail before and its tough, but it only makes you better). But instead of speculating about the reasons of the closure I would like to thank Alex for helping the industry grow and wish him much success on whatever comes next. Daniel Navas Mora Mora
Dec 19, 2017
I was shocked and saddened to read this today. As a small juice company we are grateful everyday to open our doors - we have noticed a shift in the juicing industry though ourselves, a shift in the consumers demand - more and more people are looking for the very best for their health, they are educating themselves even more on the benefits of juicing and holistic healing - everyday our customers talk about how they demand organic, non-gmo, cold-pressed onsite and glass bottled, they are hip to companies that are using the HPP method and what that means. The customer is willing to pay for quality but you must deliver. When it comes to juicing I think the consumer also desires to shop local and small - they see the passion in the small juice business and that says a lot as well. We want to grow ourselves and offer more communities our product, it's just my husband and I we find this very helpful in what direction we should go in. thank you for this insight - kelly meeker founder of sejuiced
Dec 19, 2017
Charlie Wettlaufer
Thanks Kelly, keep doing what you're doing!
Dec 19, 2017
Charlie, I totally agree with your assessment. Some of my favorite stores are slow growth stores. They spend more time getting the system down before moving onto the next. I can also understand the fast growth model. I watched it in the coffee business as many brands wrestled with Starbucks for the top spot. Caribou Coffee being a prime example of the fast growth model. They actually were ahead of Starbucks for a while but after selling out the group did not have the burn to compete. Some of my favorite independent stores are: Hi-Vibe in Chicago Skyebird in Orlando Sip in Grand Rapids, MI The Cacao Tree in Royal Oak, MI Urge in Berkeley, MI Drought in Detroit, MI SOHO Juice Co in Tampa, FL Kreation in Socal All of the above (Except for Drought) offer other food options along with CPR juice which helps to support the bottom line and also widen the demographic. Also spreading in our area of Michigan is "The Real Juice Company" which is based in Chicago and growing in partnership with Whole Foods. Luckily, for each store that dies there is another one born. You cannot hold the juice down!!! Bill
Dec 19, 2017
Charlie Wettlaufer
Thanks bill, you really get around! Nice blog by the way. I'll post the link for you https://its-all-downhill.com/
Dec 19, 2017
There are about 29 million small business in America of which only 1/3 of them will survive 10 years. Creating a food chain with highly perishable skus, high price points, and a limited consumer base is about as risky as skydiving! Juice Served here did a lot of things correctly from the heart. From my own experience the devil is in all the details and being in this business is a daily intense struggle. There will be those who win and those who do not. They failed economically but they succeeded to bring awareness to the category. They made great music and made people happy for the time they were in business. It's all positive! Marcus Antebi founder of Juice Press
Dec 19, 2017
Charlie Wettlaufer
Thanks Marcus, I agree they brought a lot of awareness to the category, as does Juice Press
Dec 19, 2017
I was shocked, sad and a bit discouraged as I am just now starting my own business. Thanks for sharing our guesses, it made me understand more. You are making the process of starting my own company so much easier. Thanks a bunch!! 💗
Dec 18, 2017
Charlie Wettlaufer
Thank you for the comment! Good luck in your venture, let me know if you need anything
Dec 19, 2017