Friday proved to be a sad day in the juicing industry as an iconic brand, Juice Served Here, became Juice Served…. somewhere else. Shutting down their business somewhat unexpectedly, the news came as a statement on the JSH website as well as an email sent out to their contact list. As one of our longer standing customers, it came as a shock to us at Goodnature as well.
Juice Served Here had what many considered the best branding in the beverage industry. Many things made their brand unique: Their simple-yet-powerful glass milk bottle with white cap, the numbered recipes displayed as square tiles in their stores, and nobody will ever forget the first time they saw one of their painted-black milk trucks hustling through LA en route to deliver a few cases of juice.
Truly "Never Conventional," as their slogan stated, due to their creative founder and CEO Alex Matthews who came into the beverage industry with roots in the fashion industry. Their branding quickly became so popular in California that it's been imitated (and sometimes even copied) all over the world in dozens of other juice companies. I even know of one brand that uses the slogan "Always Unconventional." Yikes.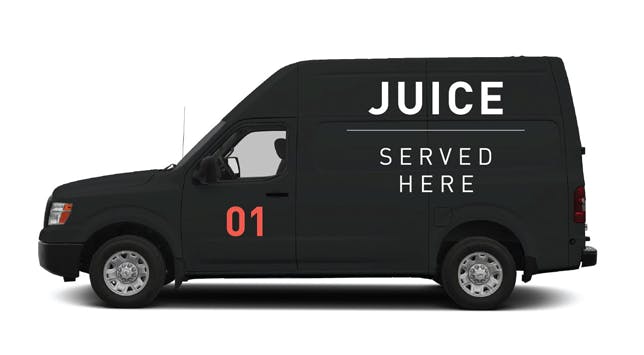 So what happened?
Nowhere in the statement does Matthews give a reason for the business not working out. The closest he comes to giving a reason is stating "In 2015, we noticed a shift in consumer habits in our stores, and within the juice category. The buzz for cleansing was fading. The desire to dine on juice for 3 days in a row was just not as popular as it was years prior." But then he goes on to explain that they "went to the dark side" and started distributing 15 oz plastic bottles of HPP juice to grocery stores and cafes, generating up to $10M in revenue. One would think that $10M in revenue would be enough to sustain a business, but there's no explanation given as to why they were eventually forced to close their doors. Not that you asked, but here's my analysis and personal opinion on what happened:
According to public documents on the SEC website, JSH raised over $10M from investors in 2014, which was right before they went on a brick and mortar spree and opened nine retail stores in twelve months in the Los Angeles area. These stores were big and beautiful, clean and white, and, as Matthews says in the statement, "thoughtfully presented." Along with all of these attributes comes another one—expensive. I can only imagine what the build-out costs were on these spaces. The first thought I had when walking into one of their bigger stores was "holy crap this must be expensive." In addition to build-out costs, they were now paying rent and labor costs in nine locations in Los Angeles.
As I wrote previously, without much food or fresh products the business model of selling bottles of raw juice out of a refrigerator is a difficult one to pull off in a profitable way. It can work in some places that have enough foot traffic from people willing to drop ten dollars on a 17 ounce glass bottle of juice, but will fail in most areas. This situation is reminiscent of the Organic Avenue bankruptcy in 2015, which ironically is the same year that JSH opened their nine locations. One has to wonder if the Organic Avenue bankruptcy happened earlier if JSH would have been able to raise that much financing.
Both of these company's stories go to show that there is huge risk in spending millions of dollars and quickly opening a bunch of brick and mortar stores. You may find out later that many of the locations are not profitable, siphoning all of the profit out of the profitable stores. Business is complicated, and just because something works in one or two locations doesn't mean it can scale in a meaningful way.
I believe that if they would have done things a bit differently they could have survived long enough to grow organically or be acquired. Hindsight is 20/20, and it's easy to sit on the outside and critique somebody else's business without knowing what really happened behind the scenes, but looking back now I believe the following suggestions may have saved the business:
Raise less money, grow at a slower rate. Adding so much overhead so quickly is a huge gamble for a retail business that deals in a raw product and is extremely hard to manage. In addition you now have investors that have given you millions of dollars and expect growth. This can force you into desperate situations such as going to "the dark side" and making decisions you never wanted to make.
Get away from such large servings of juice, as I've written about before. Seventeen ounce juices are ok for juice cleanses as a meal replacement, but most people would prefer to pay less for a smaller portion, and it can be more profitable for the business.
Switch to making juice in-store. Customers appreciate fresh, and managing inventory is much easier done on the store level. This creates other challenges like handling fresh produce in each store, but overall is better for the business. You can still make the juice in batches and store it in a cooler, but you can make batches of each recipe as needed instead of guessing how much juice your ten stores will sell in the next three days and being committed to selling it or throwing it away. This business model is easier than ever with the new Goodnature X-1 Mini.
If you have any other suggestions about how JSH could have changed their business for the better, let our readers know by commenting below.
What this means for the juice industry
Reading headlines about iconic companies like JSH going out of business instills a certain amount of FUD (fear, uncertainty, doubt) about the juice industry. The truth is, juice is still growing as a category and is available more places now that it ever has been before, and continues to become a part of more people's daily lives. Each company has its own challenges, and one company's success or failure does not affect the industry as a whole in a meaningful way.
There have been some major successes within the last few years to go along with the failures. The ones that come to top of mind are:
Coca-Cola purchased 30% of Suja for $90 Million in 2015, giving the company a $300M valuation. Holy cow! That's a serious valuation. As reported by BevNET, previous rounds of investment included celebrities Leonardo DiCaprio and Jared Leto for a $21.5M raise, and earlier rounds of $16.5M and $7.5M.
Clean Juice is the first 100% organic juice bar franchise, making all of their cold-pressed juice fresh in each store on a Goodnature X-1, instead of making it in a separate facility  and transporting it. They started franchising in 2016, and as of  today, they have awarded 87 franchises in 13 states across the US. Killing it.
Juice Press continues to expand with over 60 locations in NYC if you include their partnership with Equinox, and now stores in five other states, including their newest location opening in the Bellagio in Las Vegas.
If you have any others that should be on this list, let our readers know by commenting below.
We bid you a juicy farewell
Despite the eventual closing down of Juice Served Here, Matthews built something really great. For all we know they were days away from getting a new investment or being acquired by a larger company with more resources that could eventually turn it around and make it profitable. Everyone I've talked to in the juice industry is a little bit sad about the news. Juice Served Here will forever hold a place in our hearts, and I'm sure Matthews will bounce back with a great brand in beverage or another industry altogether. I would be surprised if he's not already working on something.