It's a warm day in Miami, the type where the sun feels good but not too hot, the perfect amount of ocean breeze. I'm laying on a reclining chair on the beach, head tilted back, enjoying the peaceful rumbling sound of the ocean in the distance. Like the Millennial I am I opened my phone to check Instagram…
I saw something that gave me a sinking feeling in my stomach. Our fellow juicepreneur Katie Raquel, owner of Katie's Coldpress in Monterey, California, was forced by the government to shut down her new juice bar that she opened on her local Army base, the Presidio. It was just three months earlier at JuiceCon 2018 that Katie announced she would be opening that very same juice bar, with much support from the audience.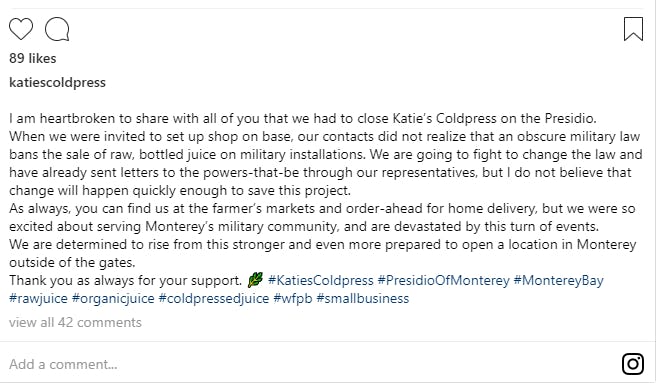 Not in my country…?
At first I thought there must be some mistake! Certainly our own US government wouldn't make it illegal for our service men and women to nourish their bodies with the water from fruit and vegetables! But then reality set in—this is America where we have the juxtaposition of being the largest consumers of raw juice in the world, yet also have the strictest regulations, banning it for wholesale distribution. And apparently, any distribution at all on a Navy base according to their Tri-Service Food Code.
Here is the language regarding juice in the food code:
3-202.110 Juice, treated* Commercially processed Pre-PACKAGED JUICE shall–
(A) Be obtained from a processor with a HACCP system as specified in 21 CFR Part 120 – HACCP Systems; N and
(B) Be obtained pasteurized or otherwise treated to attain a 5-log reduction of the most resistant microorganism of public health significance as specified in 21 CFR Part 120.24 – Process Controls.
So, there you have it. If you plan on bringing bottles of juice onto a military base, even if it's sold direct to the consumer, it must be pasteurized or HPP'd. This was a surprise even to the inspectors that approved the space, and to the excited troops and Commander who hosted a ribbon cutting ceremony for Katie. Word came down from the higher-ups that Katie must CEASE and DESIST immediately selling juice to the troops, for their own safety (oh, please).
Terrible? Yes. But surprising? Not really. The government has generally taken a strong stance against the distribution of raw juice in the US since 1996, immediately following the Odwalla E. coli outbreak.

1996 Odwalla E. Coli Outbreak
In 1996, a cluster of E. coli O157:H7 infections in the US (California, 26 cases; Colorado, 5 cases; Washington, 29 cases) and British Columbia, Canada (10 cases), were linked to the consumption of Odwalla juice containing raw apple juice as an ingredient. Twenty-five were hospitalized (mostly children) with at least five of them developing hemolytic uremic syndrome (HUS), a condition that affects the blood and blood vessels and can lead to kidney failure. This was a serious outbreak that made international news.
The FDA reacted, and within a few months put a new law into place that prevents juice brands from wholesaling raw juice. In the US, juice must now be processed to achieve a 5-log reduction in microbial count in order to sell wholesale. This means that juice must be either heat pasteurized or high pressure processed (HPP) or it can't be sold wholesale (the full juice HACCP guidelines can be found here).
Although the outbreak was very serious and a very unfortunate event, I believe the ban on raw juice is over-regulation. Here's why:
Outbreaks are an unavoidable part of distributed food. In 2018 alone there were three major outbreaks of E. Coli in Romaine lettuce and ground beef, with 290 cases reported by the Center for Disease Control. If the government were to outlaw food every time there was an outbreak, we would have nothing left to eat.
E. Coli existing in juice is a result of contamination, not a function of raw juice itself. Contamination is caused by using bad fruit that is already infected with E. Coli, usually as a result of fruit falling into animal feces and not being washed well, or using other unsafe food production practices. This was the case with Odwalla, as alleged by lawsuits brought against Odwalla.
Bill Marler, an attorney that represented some plaintiffs that sued Odwalla over the outbreak, posted some interesting documents on his blog. The below document shows that Odwalla failed a sanitation inspection by the Military, long before there were any laws against raw juice.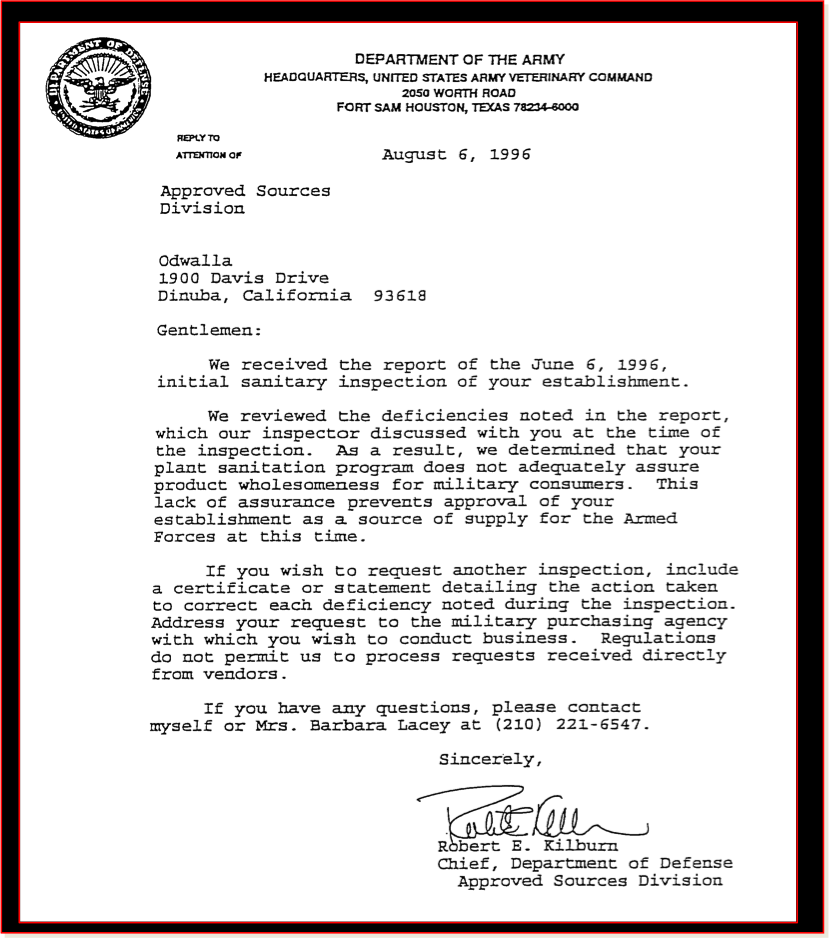 According to accounts cited by the New York Times, "the fast-growing company had significant flaws in its safety practices." In fact, on the very morning of the outbreak "production managers brushed aside warnings from a young company inspector that a batch of apples was too rotten to use."
I'm not trying to paint Odwalla in a bad light—this outbreak happened more than twenty years ago and nothing like this would happen today. My point is that if a juice maker uses rotten apples contaminated with E. Coli, of course the juice will indeed contain E. Coli, just as if you were to make a salad with lettuce contaminated with E. Coli, that salad will contain E. Coli.
I'm sure most people would agree that it would not be reasonable for the FDA to outlaw raw salad, so why have we accepted their regulation on raw juice? Shouldn't we, as consumers, make that choice for ourselves?
The current laws are prohibiting the thousands of small juice companies in America from thriving, while at the same time enabling big beverage companies to own the wholesale market. Small juiceries should be able to wholesale locally, as long as they aren't shipping juice further than can be safely managed. Local coffee shops could carry juice made by their neighbor today, instead of by Coca-cola three weeks ago.
What I propose would be a reasonably safe way to regulate the distribution of raw juice:
The production facility / juice bar producing the juice must be HACCP compliant and regularly inspected, with special attention to receiving and cleaning produce.
Juice may only be sold wholesale within a 30 mile radius of the production facility. This strict radius would allow the safe distribution and inventory management of raw juice, without worry that the juice is falling out of safe temperature during delivery.
Juice must be marked with a maximum of 5 day expiration.
Juice must be clearly labeled as raw, including the current raw warning labeling required by FDA. This allows the consumer to make the choice between raw or processed juice, at their discretion.
If we can come up with a more comprehensive guidance, we can work together and lobby the government for change. Last year at JuiceCon my brother Eric and I presented the formation of the Juice Makers Association, and at the next JuiceCon we will be opening the association up for membership. I believe the issue discussed above, plus working together on educating the public about juice will be the primary focus of the association, but this will ultimately be decided by the members of the JMA.
Please be part of the discussion.
Comment below, or come over to our Goodnature Juicing Facebook Group to join the discussion!