Reishi mushroom has been recognized as a medicinal mushroom for over 4,000 years and is considered a very powerful adaptogen.
Traditionally used for longevity, reishi mushroom has been known as "The Mushroom of Immortality". It is also commonly referred to as "The Spirit Mushroom", for its ability to calm the mind, relax the nervous system, and induce a state of relaxed focus.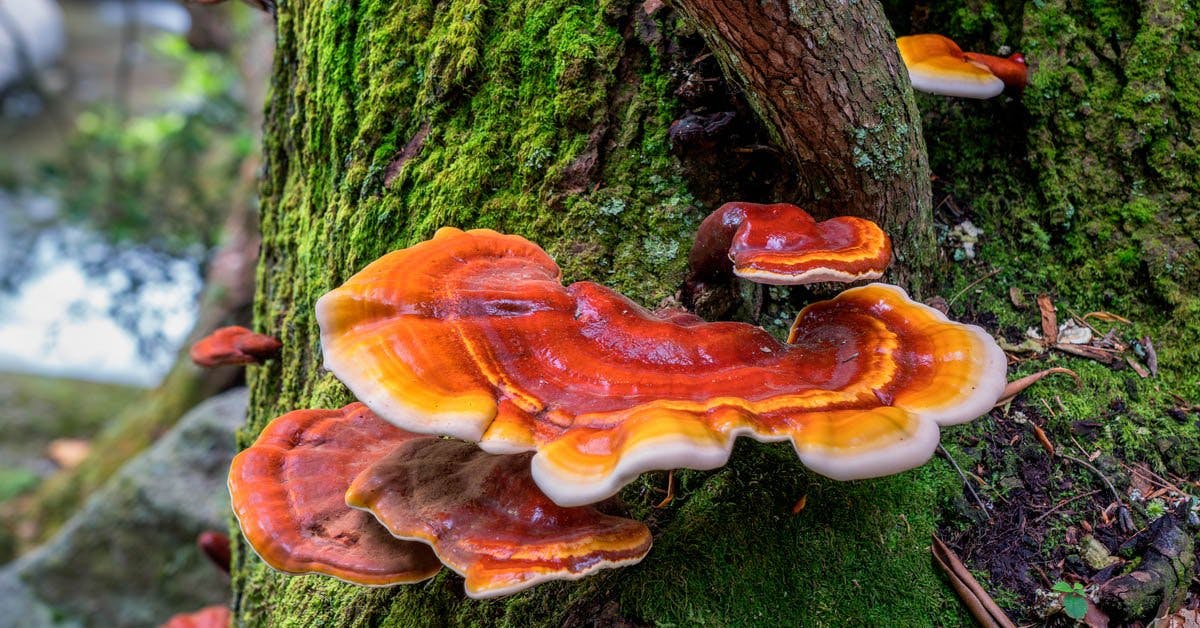 Use these links to jump to different sections of the article:
What Is Reishi Mushroom?
Reishi Mushroom (Ganoderma), is a polypore fungus that has reddish-brown, kidney-shaped caps that grow to 8 in (20 cm) or more in diameter. The Latin name Ganoderma means shiny skin, which accurately describes the reddish-brown caps of the reishi mushroom.
This red mushroom has a bitter taste and has a very tough texture, so it is typically extracted into tea or powder form.
Benefits of Reishi Mushroom
Asian cultures have used reishi mushroom for thousands of years. In Traditional Chinese medicine, reishi mushrooms are classified in a group of herbs known as Fu Zheng, which Chinese herbalists believe are the most powerful herbs for all-around strength, health, and longevity.1
Reishi mushrooms have been well researched and tested, mostly in China and Japan, where they have been used for centuries for their medicinal properties.1  There are two major beneficial components from reishi mushrooms that researchers have extracted and identified: beta-glucans and triterpenes. Reishi is typically dual extracted (water and alcohol) in order to draw out as many beneficial compounds as possible.
So, what are reishi mushrooms good for? There is a good reason why this mushroom is the most commonly used functional mushroom in the world, here is a short list of the benefits:
Balances Immune System
Beta-glucans, found in the reishi mushroom, help to balance the immune system by regulating immune cells so they can perform their job in the body.2
Anti-Aging
The beneficial compounds found in reishi mushroom have been found to combat oxidative stress, free radical accumulation, and loss of cognition, which are major contributors to aging.3 Studies have shown that extractions of the reishi mushroom extends the lifespan of mice.4
Reduces Stress + Anxiety
Reishi is known for its ability to balance mood by reducing stress and anxiety and acting as an antidepressant. In a study with cancer patients taking reishi mushroom powder, it was reported that they showed less anxiety and depression and had better quality of life.5
Sleep Aid
Taking reishi not only makes it easier to fall asleep, but also increases the quality of sleep.6  This is why a lot of people like to make reishi mushroom tea before bedtime.
These are just a few of the major benefits of taking a reishi mushroom supplement. There are many more medicinal benefits that help mitigate cancer, high blood pressure, heart disease, and more.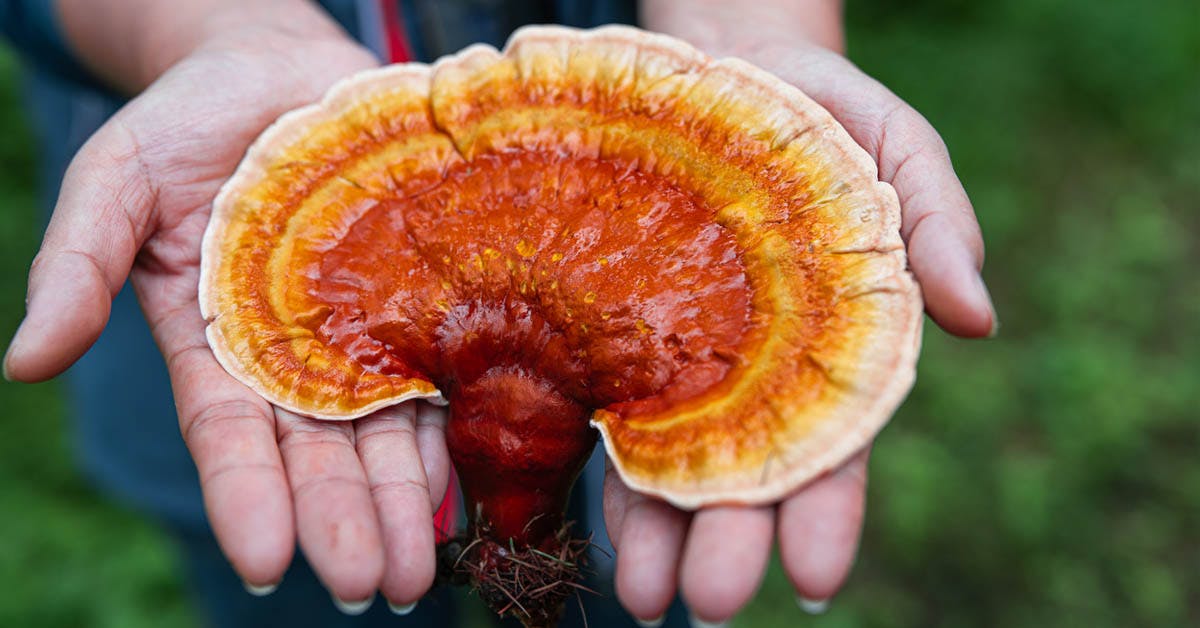 Where to Find Reishi Mushrooms
Although rare, you can find reishi mushrooms in the wild, growing on dead or decaying deciduous trees. There are no poisonous look-alikes, so this is a great mushroom to forage if you are new to hunting mushrooms.
If foraging in the forest for fungi isn't your thing – don't worry, reishi mushroom is one of the most popular medicinal mushrooms and is readily available in powder, capsule, and tea form. Have you tried GT's new Root Beer Mushroom Elixir?! This is my absolute favorite new way to get my reishi, it tastes so amazing!
Some of my other favorite sources for reishi mushroom are:
As an Amazon Associate, Goodnature earns from qualifying purchases, at no added cost to you.
How to Use Reishi Mushroom
Adding reishi to juice, smoothies, and grab-and-go foods are some of the best ways to incorporate this powerful mushroom into your daily regimen.  Reishi mushroom has a very earthy flavor profile and is best when paired with sweet or citrusy flavors, or even chocolatey flavors.
| | |
| --- | --- |
| Form | Works well with… |
| Powders | smoothies, smoothie bowls, plant-based milks, raw snack bars, baked goods, nut butters |
| Liquid extracts | juices, smoothies, plant-based milks, most applications |
| Whole | tea |
Side Effects of Reishi Mushroom
Research on the side effects of reishi mushroom is not very conclusive, and with contradictory results. Because there is limited safety data available, there are a few groups of people who probably should not take reishi.  These include those with blood disorders, low blood pressure, pregnant or breastfeeding, or will be undergoing surgery.
Before adding supplements to your diet, you should consult with your doctor to make sure it is safe for you to consume.

Reishi Mushroom Recipes
Restful Reishi Smoothie
This tasty smoothie pairs reishi with lavender for relaxation and restful sleep.
Yield: About one 12 oz serving
Ingredients:
Reishi powder – 0.05 oz (1/3 tsp)
Dried lavender – 0.001 oz (small pinch)
Black grapes – 4.5 oz (about 26 grapes, 3/4 cup)
Yogurt – 4 oz (Greek or thick plant-based yogurt)
Almond milk – 4 oz (about 1/2 cup)
Directions:
Pick the grapes from the stem and freeze them.
Add the frozen grapes, reishi powder, small pinch of lavender and almond milk to the blender and blend for about 1 minute.
Pour mixture into a glass, add the yogurt and mix until marbled.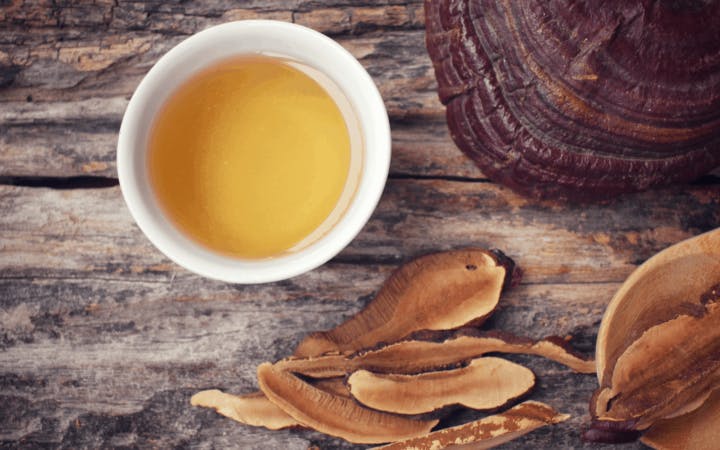 Reishi Tea
To brew reishi mushroom tea at home using fresh or dried reishi fruiting bodies:
Cut the mushrooms into strips or chunks.
Boil four cups of water for every 5 grams of dried or 25 to 30 grams of fresh reishi.
Add the reishi, reduce the heat and simmer for 2 hours.
Remove from heat and let the tea cool to room temperature.
Strain and store in the refrigerator for up to 7 days.
Dosage: Enjoy up to 8 ounces per day!

Other Articles in This Series
The World Of Adaptogens Blog Series
References:
"Reishi Mushroom ." Gale Encyclopedia of Alternative Medicine. . Retrieved February 28, 2022 from Encyclopedia.com: https://www.encyclopedia.com/medicine/encyclopedias-almanacs-transcripts-and-maps/reishi-mushroom
Mallard B, Leach DN, Wohlmuth H, Tiralongo J (2019) Synergistic immuno-modulatory activity in human macrophages of a medicinal mushroom formulation consisting of Reishi, Shiitake and Maitake. PLoS ONE 14(11): e0224740. https://doi.org/10.1371/journal.pone.0224740
Wang, J., Cao, B., Zhao, H., & Feng, J. (2017). Emerging Roles of Ganoderma Lucidum in Anti-Aging. Aging and disease, 8(6), 691–707. https://doi.org/10.14336/AD.2017.0410
Wu, Zimei & Zhang, Yan & Tan, Ningzhi & Zhao, Chunsheng & Yang, Jieying & Zhu, Jia-Shi. (2011). ReishiMax extends the lifespan of mice: A preliminary report.
Zhao, H., Zhang, Q., Zhao, L., Huang, X., Wang, J., & Kang, X. (2012). Spore Powder of Ganoderma lucidum Improves Cancer-Related Fatigue in Breast Cancer Patients Undergoing Endocrine Therapy: A Pilot Clinical Trial. Evidence-based complementary and alternative medicine : eCAM, 2012, 809614. https://doi.org/10.1155/2012/809614
Chu, Q. P., Wang, L. E., Cui, X. Y., Fu, H. Z., Lin, Z. B., Lin, S. Q., & Zhang, Y. H. (2007). Extract of Ganoderma lucidum potentiates pentobarbital-induced sleep via a GABAergic mechanism. Pharmacology, biochemistry, and behavior, 86(4), 693–698. https://doi.org/10.1016/j.pbb.2007.02.015
The information shared in this post is a combination of my personal experience, research, and knowledge as a certified holistic health coach, and is intended for educational purposes only. These statements have not been evaluated by the FDA and are not intended to diagnose, treat, cure, or prevent any disease or to be considered a substitute for professional medical advice.