UPDATE (Nov 22, 2021): I have received confirmation from Norwalk ownership that they have indeed closed down their business for good.
There's a rumor circulating that Norwalk has closed it's doors for good and has gone out of business. This was posted on the Pure Juicer and Norwalk Facebook group on October 13th: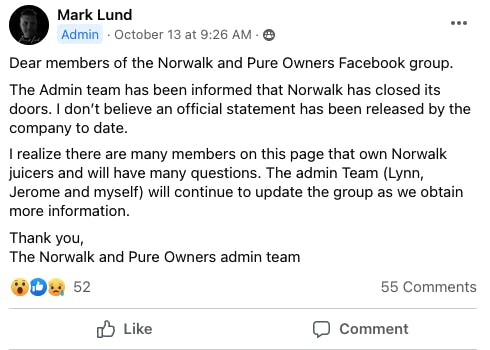 Also, their website, norwalkjuicers.com, has been down for three days: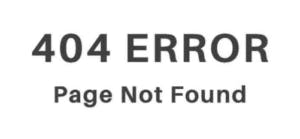 So, the story seems to check out (for now).
I have mixed feelings about this if it's true:
Sadness. Norwalk has been around for decades, and played a major role in both starting and growing the cold pressed juice industry. It was invented and popularized by Dr. Norman Walker, with his books promoting juicing dating back as far as 1936. Lots of Goodnature's customers started on Norwalks and eventually upgraded to Goodnature when they had the need for a commercial juicer (back when our smallest machine was the X-1). I wonder if Goodnature would even be around today if it weren't for Norwalk clearing the path and educating the public about true cold-pressed juice.
Frustration. Norwalk has done little to improve their product over the past 20 years. It's essentially the exact same machine it was in the 1990's. They allowed their new competitor, Pure Juicer, to steal the market from them without putting up much of a fight. In my opinion, the Pure Juicer is almost an exact replica of the Norwalk juicer. They made some minor improvements and have better marketing and customer service. These are things Norwalk could have done to save their company. Additionally, Pure Juicer is reported as being made in China, and Norwalk is made here in the US.Just to be clear: Pure Juicer has done a great job at supporting the market as well. I don't mean to diminish the fact that (I've heard) they provide great customer service and support, and build a decent product. I know how hard that is as a business owner myself.
There was a moment when I thought Norwalk had a chance. A couple of years ago I opened my email inbox to see a "New Product Announcement" from Norwalk. I wondered – "Is it something smaller? Bigger? Cheaper? More efficient? What is it??" And to my disappointment, it was actually not a new juice machine at all, but a set of stainless steel popsicle molds. That's what you guys have been working on? Pure juicer is taking your market away from you and you R and D a popsicle mold? I don't get it.
Either way, Norwalk will always hold a special place in my heart as an originator and leader in our space. Farewell.

Comments
Norman Walker was my great uncle, I met him maybe once as a little girl before he passed. Grew up on carrot juice because of him. His widow was robbed by her caretaker. They didnt have any kids, not sure who ended up with The Norwalk juicer business but it wasnt family, so maybe thats why they didnt fight to keep the company going
Jul 9, 2023
Good morning, I just learn that Norwalk closed and my juicer is not working. Any idea what company can fix it. Thanks
Oct 26, 2022
Robin Frey
I have heard that this company offers parts and service: https://www.redwingorganics.com/ Their phone number is 651-380-9919
Oct 26, 2022
I have a Norwalk juicer....any idea on where to obtain parts, or service? Thank you.
Aug 13, 2022
Robin Frey
Hi Lyssa, You might get some help by posting your question in the Norwalk FaceBook Group here: https://www.facebook.com/groups/188458877884926
Aug 15, 2022
I'm happy to have found your site. I'm a fairly longtime Norwalk owner; I bought my 275 from Harold Arnoldus some years back and I got to know his sister Carole (whose husband, Mike, also worked for the company). They were lovely people and I'd wanted to upgrade to a 290 but didn't have room at the time. By the time I decided to leave my tiny apartment, it was too late. I think Carole and Mike must've retired--they'd very cautiously expanded their manufacturing facility when the cold-pressed juice craze seemed firmly established but I guess they must've had problems. I was unhappily astonished when I attempted to load their site; another Arnoldus (maybe Harold's son?) was selling a refurbished 280 on eBay and told me that the company had been losing money for a while. I asked what happened to John--a really nice guy who'd run the factory for years and who appears in some of the Norwalk videos on YouTube--and was told he'd been fired, just like all the other employees. VERY sad--I still can't believe that the company just vaporized, especially given how long they'd been in business.
Jul 2, 2022
Hey there, I have a norwalk 280 that won't turn on. Can anyone advise on how I can troubleshoot the issue?
May 10, 2022
Robin Frey
Hi Howard, You might want to try posting your question in the Norwalk FaceBook group, as we only service our machines (Goodnature). Thanks!
May 13, 2022
I have a Norwalk juicer model 270 which I would like to sell (or alternatively to donate to a nonprofit organization focused on nutrition, cancer survival, etc.) Haven't used it in quite a while, but have never had a problem with it. If you are interested (or know anyone who is), please contact me at the email here.
Apr 15, 2022
I'd like to know how to get my Norwalk Cold Press 275 Juicer serviced. I've had it for about nine years and the press stopped moving.
Mar 26, 2022
Robin Frey
You might get some help by posting your question in the Norwalk FaceBook Group here: https://www.facebook.com/groups/188458877884926
Mar 28, 2022
Hello! As I am seeking a durable and quality juicer, I came across this article. Could you please recommend a quality juicer? Thank you
Mar 5, 2022
Robin Frey
Hi Jeanie, Yes, we manufacture true juice presses that make the highest quality of juice possible. You can find information on our smallest juicer here: https://www.goodnature.com/juice-presses/m1/
Mar 7, 2022
Hi, Are Norwalk Juicer parts available?
Jan 20, 2022
Robin Frey
Hi Warren, I heard this company is selling parts: http://severalgardens.com/
Jan 20, 2022
I purchased a new norwalk this year. the stem that holds the blade I think is off and now can't put the screen in for juicing. How do I find a way to have this repaired?
Dec 13, 2021
Robin Frey
Hi Mary-Louise, You might get some help by posting your question in the Norwalk FaceBook Group here: https://www.facebook.com/groups/188458877884926
Dec 14, 2021
sarei lieto di sapere con acquistare un estrattore norwalk juices coldpress 280 oppure qualcosa similare..... grazie
Dec 12, 2021
Robin Frey
Uno dei membri del nostro team ti contatterà a breve, grazie!
Dec 13, 2021
One month after they closed down , the belt in my Norwalk 275 belt broke. It is literally impossible to find a replacement. David from pure juicer runs a website called "Several Gardens" that sold Norwalk replacement parts. Ordered a belt from his website...no confirmation, no response to inquires about the order, no delivery. Called Gershon institute, and they directed me to David's "Serval Gardens" website telling me they had no other information. I'm stunned that Norwalk, given the probably thousands of customers it had, decided to not continue to make replacement parts available. Or how about even part schematics & description (i.e.,belt diameter, material, and length) such that replacement parts could be ordered from other companies? Perhaps this represents the attitude Norwalk had towards their customers, which might be described as "take them for granted". This, in addition to a compete lack of innovation in their products for decades, seems to reflect an overall "take it for granted" attitude. As Charlie wrote, both sad and frustrating at the same time.
Dec 5, 2021
Not sure why their website is down but if you call them at 800-643-8645 they will answer the phone. Farewell.
Nov 19, 2021
Charlie Wettlaufer
I have received confirmation from their ownership that they have closed down.
Nov 22, 2021
Do you know if there is a source of cloths?
Nov 16, 2021
Robin Frey
Hi Robb, As posted on the Norwalk and PURE Owners Facebook group, PURE Juicer cloths, bags, and liners are compatible with all Norwalk Juicers. Link to all items are here:https://purejuicer.com/collections/cloths_and_bags
Nov 17, 2021
Hi Very sad. Could of should of? We are an ole school Norwalk family They were not fighters or competitors -just an ole American co. producing some of the finest juicers. (All I can say thank you Norwalk for all those years supporting American jobs in Arkansas ❤️
Oct 30, 2021