UPDATE (Nov 22, 2021): I have received confirmation from Norwalk ownership that they have indeed closed down their business for good.
There's a rumor circulating that Norwalk has closed it's doors for good and has gone out of business. This was posted on the Pure Juicer and Norwalk Facebook group on October 13th: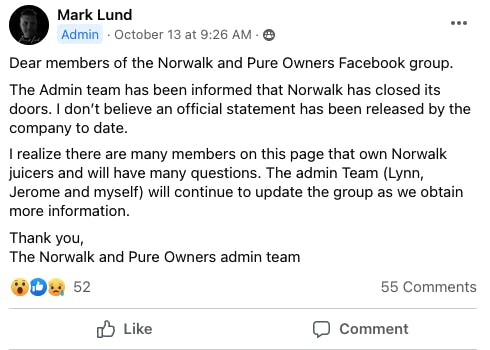 Also, their website, norwalkjuicers.com, has been down for three days: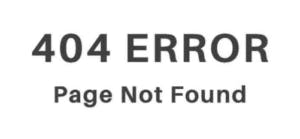 So, the story seems to check out (for now).
I have mixed feelings about this if it's true:
Sadness. Norwalk has been around for decades, and played a major role in both starting and growing the cold pressed juice industry. It was invented and popularized by Dr. Norman Walker, with his books promoting juicing dating back as far as 1936. Lots of Goodnature's customers started on Norwalks and eventually upgraded to Goodnature when they had the need for a commercial juicer (back when our smallest machine was the X-1). I wonder if Goodnature would even be around today if it weren't for Norwalk clearing the path and educating the public about true cold-pressed juice.
Frustration. Norwalk has done little to improve their product over the past 20 years. It's essentially the exact same machine it was in the 1990's. They allowed their new competitor, Pure Juicer, to steal the market from them without putting up much of a fight. In my opinion, the Pure Juicer is almost an exact replica of the Norwalk juicer. They made some minor improvements and have better marketing and customer service. These are things Norwalk could have done to save their company. Additionally, Pure Juicer is reported as being made in China, and Norwalk is made here in the US.Just to be clear: Pure Juicer has done a great job at supporting the market as well. I don't mean to diminish the fact that (I've heard) they provide great customer service and support, and build a decent product. I know how hard that is as a business owner myself.
There was a moment when I thought Norwalk had a chance. A couple of years ago I opened my email inbox to see a "New Product Announcement" from Norwalk. I wondered – "Is it something smaller? Bigger? Cheaper? More efficient? What is it??" And to my disappointment, it was actually not a new juice machine at all, but a set of stainless steel popsicle molds. That's what you guys have been working on? Pure juicer is taking your market away from you and you R and D a popsicle mold? I don't get it.
Either way, Norwalk will always hold a special place in my heart as an originator and leader in our space. Farewell.