Making your own cold-pressed nut oils is a great alternative to purchasing costly cold-pressed oils or even the less expensive "refined" oils. Refined oils use heat during pressing which often destroys the delicate nutty flavor. Using a cold-press to extract oil from nuts and seeds is easy and efficient.
Follow these 4 simple steps to make cold-pressed almond oil or walnut oil using the Goodnature Countertop CT7:
Using raw almonds or walnuts with the skins on, grind in food processor until it has the consistency of sand (see photo below). When grinding walnuts, take care not to over process, or the consistency will be that of butter and will not press well.
Roast nut pulp in oven at 375° for about 5 minutes or microwave for about 30 seconds at a time until it is warm and fragrant.
Press pulp at #3 speed.
Bottle and refrigerate any unused portion.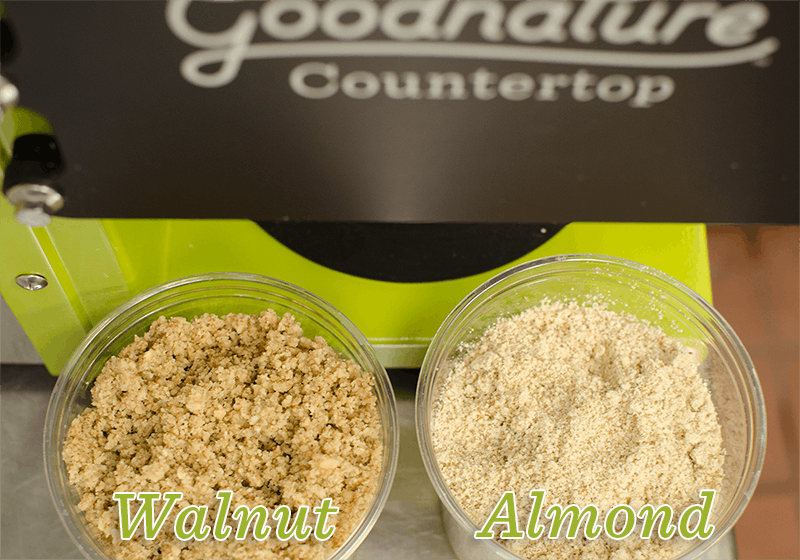 Here are some tips and uses for cold-pressed almond oil and walnut oil:
Almond oil and walnut oil lend rich, nutty flavors and delicate scents when used in cold dishes, salad dressings and when used as finishing oils. Drizzle over grilled, steamed or roasted foods and on cooked risottos or pastas - anywhere you want a subtle nutty flavor!
Both almond oil and walnut oil can be used in baking cakes, cookies and muffins to add a nutty flavor, as a (partial) replacement for another fat. Cold-pressed oils have a low smoke point, (the temperature at which an oil starts to get damaged, both in flavor and nutritional values), so they are not recommended for sautéing or cooking over high heat.
Almond oil and walnut oil are both naturally rich in the highly antioxidant Vitamin E which makes it great for nourishing dry skin. It is even said to help reduce fine lines and signs of aging when applied topically to the skin over an extended period of time. They are also used to moisturize and make hair silky and smooth.
Walnut oil is a great source of antioxidants and Omega fatty acids, making it one of the healthiest plant-based oils to add to your diet. It contains Omega-3 fatty acids, known for many health benefits, Omega-6 fatty acids which are important for skin and hair growth, and Omega-9s known to benefit the heart, the mind and mental well-being.
Walnut oil can be used as a medium when oil painting and also to clean brushes! It can be mixed into paints and is a natural alternative to linseed oil, stand oil, and caustic solvents.
Highly resistant to oxidation, walnut oil is great to smooth over your dry wooden utensils – it will help to protect the wood from splits and cracks.
Let us know your favorite uses for cold-pressed almond and walnut oils by commenting below!

Comments
Can you please explain step 3 - the pressing step? There is no detail here to what is the least understandable step for a novice. Please spend more time on the topic of this article than on all the other stuff that isn't relevant to the main point: HOW to make cold pressed nut oils. The content should focus on the title. Third grade essay writing.
May 21, 2023
Robin Frey
Hi Becky, you can find our article on how to make cold pressed nut oils here: https://www.goodnature.com/blog/make-cold-pressed-almond-oil-walnut-oil#
May 21, 2023
Hi there! How do you press the pulp? Can I use a cheesecloth, if I don't have a CT7?
Sep 11, 2022
Ari Sexner
Hello, you might, I would be a bit worried about using a single layer of cheesecloth though, I would at least fold it over to make it a bit stronger and finer for pressing and start out pressing slowly, But the bigger question is what equipment are you using for the pressing portion?
Sep 12, 2022
Have you a good tip for filtering the oil after pressing to make clear oil? I have been using the oil press attachment for the Sana 606 juicer ( made by Omega I believe ) and it is quite good but it takes several days for the oil to clear and sediment to settle at the bottom of the oil jug/jar Regards Jesper
Jan 25, 2020
Ari Sexner
Have you tried a centrifuge? It should displace the sediment.
Jan 25, 2020
Hello, what would be the best way to transform the almond oil you get to a sweet almond oil without adding sugar which would need to be diluted? I'm asking because I want to make this a skin care. Thank you in advance.
Jun 15, 2019
Ari Sexner
Not 100% familiar with the exact taste/benefit difference between sweet and non-sweet, but doing some research I have read it is just a different part in which the oil is extracted.
Jun 15, 2019
Hi.. what is the yield % of oils from nuts. Inparticular interested in sunflower seeds. Thx
Nov 3, 2018
Ari Sexner
Hello Adham, We did not actually perform a yield test on this. If I was to estimate I would say around 7-8%, It did taste great. We also only tried this on Almonds currently, if we do try this test again we will be sure to include sunflower seeds as well as take a yield test. Thanks
Nov 3, 2018
Aloha, I apologize for using this blog to ask this question. There was no place to comment on the "press weave bag cleaning and sanitizing" info. I am curious if there is any tricks of the trade for getting all the particles from lemons and ginger etc. out of the weave bags (X-1). It's one thing I don't look forward to after a satisfying juicing session. 😄 Much love and thanks for all the blogs and informative information. Very Appreciative and grateful for you all. -Namasté
Oct 5, 2018
Ari Sexner
Hello, Not a problem at all, If you are having issues with fibers getting stuck in the weave of the bag, I would move down to the tight weave bag and it should fix that issue and make it much easier to clean. We also have step by step instruction here about the sanitation aspect of cleaning the bags as well here, https://www.goodnature.com/blog/knowledgebase/tips-washing-sanitizing-press-bags/ Any other questions feel free to send me an email anytime to Aris@goodnature.com Thanks
Oct 5, 2018
Great idea. Can you also tell me if we can make nut oil from X1 machine? If yes then the same process is applied or not?
Jun 10, 2018
Charlie Wettlaufer
Yes, it's basically the same process.
Jun 10, 2018
Please share the cold-pressed method of extracting Almond oil.Thanks
May 15, 2018
Ari Sexner
Hello Syed, The method we used is described in the blog post on how to extract the oil.
May 15, 2018
Hello! Just a quick question - is there pulp leftover from pressing the oil out of these nuts? And if so, is that pulp edible? Thank you!
Feb 2, 2018
Ari Sexner
Hello Kassidy, Yes after the oil is extracted you are left with the pulp of the almonds, You can do quite a bit with this, like our recipe on the previous blog post for pesto, bake with it, turn it into almond flour. You have a lot of options. Thanks
Feb 2, 2018
Great idea! Thanks for sharing Ari! Would you know what is then the shelf life of the oil once pressed and directly bottled? Any recommandation on conservation? thanks
Jun 8, 2017
Ari Sexner
Hello Wendy, Glad you liked it, let me know if you try the process and how it turns out. Best advice for oils is to store them in a dark glass bottle if possible to avoid light, typically oils can be affected by bright lights for a long period of time. Thanks
Jun 8, 2017
How do I preserve fresh moringa juice to last for months, as a folio feed for plants ????
Jun 8, 2017
Ari Sexner
Hello George, I have not tried juicing moringa yet, but will try to locate some and try shortly, however, I would imagine you would need some extra step to have the juice last for a month, just to show no pathogens can be traced for that period of time. Thanks
Jun 8, 2017
Hi, Is it possible to cold press the oil from the seeds without heating it. For oil to be considered cold pressed the temperature in the extraction process must be below 49 deg celcius or 120 deg fahrenheit. Have you extracted oil from moringa seeds without grinding them? Moringa seeds are very small. Thank you. Meg
Jun 8, 2017
Ari Sexner
Hello Margaret, We have only run walnuts and almonds with this process currently, we have found that toasting the nut will bring the oils out and easier to extract, without toasting we barely got any oil out of the almonds and a little with the walnuts. With toasting, we got about 30% higher yield out of both. We have not done studies on the nutrients of the oils, however, the flavor and yield are much better when toasted, similar to toasting spices, they become much more flavorful with a stronger aroma as well. I personally have not tried the Moringa seeds with this process as of yet, but I will try to get some and let you know how it goes. Thanks
Jun 8, 2017