Making your own cold-pressed nut oils is a great alternative to purchasing costly cold-pressed oils or even the less expensive "refined" oils. Refined oils use heat during pressing which often destroys the delicate nutty flavor. Using a cold-press to extract oil from nuts and seeds is easy and efficient.
Follow these 4 simple steps to make cold-pressed almond oil or walnut oil using the Goodnature Countertop CT7:
Using raw almonds or walnuts with the skins on, grind in food processor until it has the consistency of sand (see photo below). When grinding walnuts, take care not to over process, or the consistency will be that of butter and will not press well.
Roast nut pulp in oven at 375° for about 5 minutes or microwave for about 30 seconds at a time until it is warm and fragrant.
Press pulp at #3 speed.
Bottle and refrigerate any unused portion.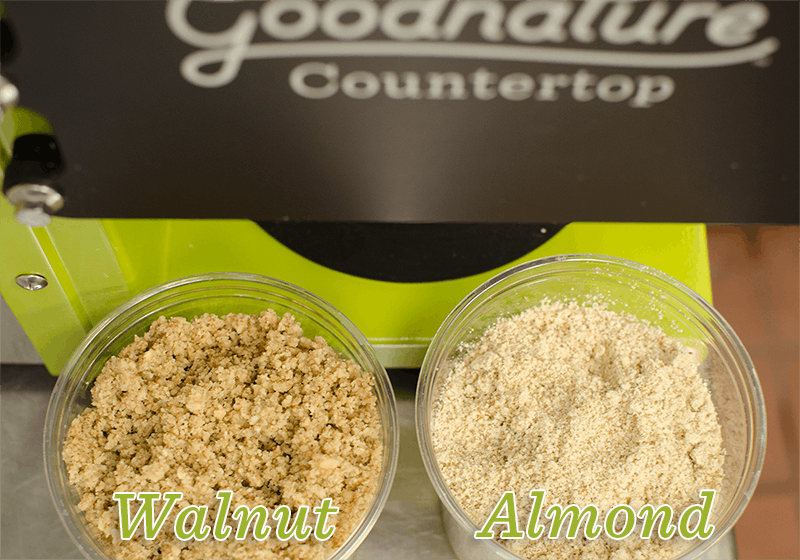 Here are some tips and uses for cold-pressed almond oil and walnut oil:
Almond oil and walnut oil lend rich, nutty flavors and delicate scents when used in cold dishes, salad dressings and when used as finishing oils. Drizzle over grilled, steamed or roasted foods and on cooked risottos or pastas - anywhere you want a subtle nutty flavor!
Both almond oil and walnut oil can be used in baking cakes, cookies and muffins to add a nutty flavor, as a (partial) replacement for another fat. Cold-pressed oils have a low smoke point, (the temperature at which an oil starts to get damaged, both in flavor and nutritional values), so they are not recommended for sautéing or cooking over high heat.
Almond oil and walnut oil are both naturally rich in the highly antioxidant Vitamin E which makes it great for nourishing dry skin. It is even said to help reduce fine lines and signs of aging when applied topically to the skin over an extended period of time. They are also used to moisturize and make hair silky and smooth.
Walnut oil is a great source of antioxidants and Omega fatty acids, making it one of the healthiest plant-based oils to add to your diet. It contains Omega-3 fatty acids, known for many health benefits, Omega-6 fatty acids which are important for skin and hair growth, and Omega-9s known to benefit the heart, the mind and mental well-being.
Walnut oil can be used as a medium when oil painting and also to clean brushes! It can be mixed into paints and is a natural alternative to linseed oil, stand oil, and caustic solvents.
Highly resistant to oxidation, walnut oil is great to smooth over your dry wooden utensils – it will help to protect the wood from splits and cracks.
Let us know your favorite uses for cold-pressed almond and walnut oils by commenting below!