With the release of the Goodnature M-1, operations are now able to produce a truly high quality pressed juice right in front of the guest when ordered. This will be the next trend in juicing, setting the early adopters apart from the competition. Many customers waiting for their M-1's on order have been inquiring about how to best utilize the machine in this type of setting.
For the customers already making juice on-demand on another type of juicer – usually a "screen extractor" type like a centrifugal or masticating juicer – switching to Goodnature is a no-brainer. The taste and mouth-feel of real Goodnature pressed juice is far better than juice made using any of the other methods available. Customers will notice the difference and talk about it.

Bottled Juice vs Made-to-Order (MTO) Juice
Personally, I recommend offering bottled juice and a customized made-to-order section of the menu. This will allow customers to purchase a fresh juice and stock up on the bottles as well.
So, how to actually pull off customized juice in a busy juice bar? In this post I want to give you some ideas, and possible things to consider that might work or might not. This is my personal insight put together from experience working in, managing and building juice operations, but by no means the only way, or the only "right" way to do it. So, let's get started.

Guided Options
The concept of guided options is basically allowing your customers to build a customized juice by choosing from a pre-set base recipe, then adding items. For example, choosing a "Green Base" made of cucumber and celery, then adding lemon, ginger, cilantro, and kale.
Guided options are a great way to go about MTO juice for a few reasons:
Guided options allow you to properly estimate and put a range on your food costs. If you weren't offering guided options, and someone built their customizable juice with entirely one or two very low yielding, high cost produce items, you can end up selling 3 pounds of produce for one portion and being way off from your target food cost. Imagine "I want 16 ounces of straight kale juice". 😢
Reason Two, remember when you first started juicing? You just put items together that you like, but may not have considered the end result. "I like tomatoes, I also like apples, so I'll take a tomato apple juice!" You want to make it easy for people to order juice they will like. Guided options will give them (and you) more confidence that they will like what they order.
Using pre-set bases allows you to better estimate how much of each type of produce to order since it's not a free-for-all on the ingredients in the juice. In the end, you will have less waste which will greatly increase your profit margin.
Easier ordering for the customer and faster transaction times. You want to try to reduce the wait-time at the counter as much as possible, and limiting options is a great way to do that.
Below is an example of an MTO guided juice menu:
Bases: Pick 1
| | |
| --- | --- |
| Green Base (Cucumber/Celery) | Red Base (Beet/Green Apple) |
| Orange Base (Pineapple/Carrot) | Cider Base (Green and Red Apple) |
Add-Ons: Pick up to 3
| | |
| --- | --- |
| Kale | Pear |
| Spinach | Ginger |
| Romaine | Turmeric |
Boosters: $1 Ea.
Spirulina

Chia

Cayenne

Flax

Wheatgrass

Maca

Charcoal
The idea behind this is that the base will be around 80-90% of the actual portion with everything else making up the rest of the portion. The example is to give you starting point. When adding to your menu, just consider the possible combinations when creating your own – limit it to what will work with everything across the board, as well as using produce items you are currently utilizing. Feeling stuck? Check out my book The Juicing Companion.

Presentation
If you are new to producing product in front-of-house (FOH), it's important to keep in mind that you are now operating a "show kitchen". Almost every move you make is under the watchful eye of the guest. You want to have everything within arm's reach, presentable, clean and fast. Your staff making juice is now part of the customers' experience.
As much as the paragraph above might seem scary or intimidating, it's more of an opportunity to not only engage with the guest when making their order, but to give them a reason why they come to your operation and become a loyal customer. There are very few (only one that I know of) juice bars offering MTO Goodnature cold-pressed juice. That is Virtue Juice Bar in Vacaville, California using two X-1 Minis. The X-1 Mini is larger capacity and takes a bit more cleaning than the M-1, but can still be used for an MTO juice program.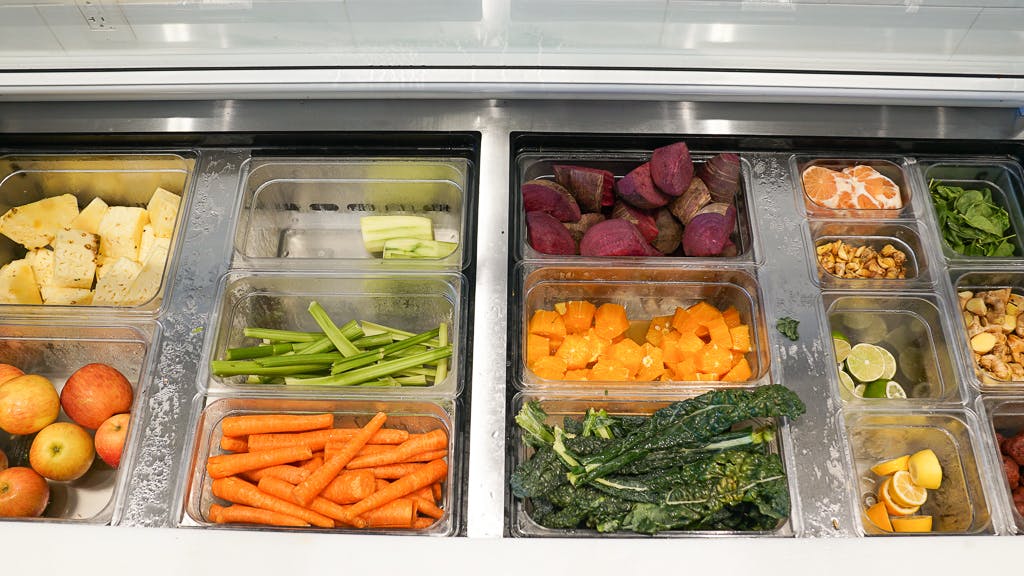 Three tips for running an efficient juice on-demand program:
The most efficient way to offer MTO is to prepare the produce to specific size chunks and have it ready in the cooler. Have this completed as prep work in the back or before you open. Cut your portions into containers so you know exactly how many pieces to grab to make that amount. For example, for a single portion of citrus you are most likely going to need around 0.5-0.75 oz of lemon or lime. Once an order comes in, you know exactly how many pieces of each item to grab.
If #1 isn't giving you the consistency you need, you may cut and weigh everything per order in your prep area. This will be more consistent per recipe, but will take a bit more time per order. For an operation that's not doing high volume, this method may be better since you can just cut the produce when needed and not worry about over-prepping.
For the powdered add-ons and boosters – use scoops of the right size so there's no extra measuring needed.
Use the freshest produce you can find. With your product on display, it gives you another way to earn your customers' trust by always using high quality products. You can ensure this by properly ordering, rotating inventory, and storing produce.
Offer them the option to have it on ice or not. Since it's cold pressed, the juice will come out the same temp as the produce going in, however, slightly colder juice typically tastes better. You might have thought to yourself  before, "drinking out of a glass bottle tastes better than plastic", and that's mostly because the juice is kept slightly colder in glass. This will change the flavor for the better in most juice blends. Some might not prefer ice since it can water down the juice (considering flavor dilution), so always offer a choice.
Here are some of my other favorite suggested uses for the M-1:
Juice shots made right in front of the guest when ordered – one batch on the M-1 can make up to six four-ounce shots.
Upgrading  smoothies by using real Goodnature pressed juice as a base rather than using centrifugal or masticated juice.
Special blend of the day or Juice d' Jour (Mmm sounds good!).
Cafes or non-juice bars just wanting to add a few options to their current menus.
Hope this helps you gear up for implementing your new M-1. Come over to our Goodnature Juicing Facebook Group to engage directly with other juice bar owners about their experiences. Feel free to reach out to me directly through our consulting services where we can work together to create a custom made-to-order menu, including testing, costing, and pricing.

Comments
What are your thoughts about having three options for made to order juices a week and change them each week? And just prepping them in the morning before you open in cups you'd serve them in ready to go? Has anybody done this that you know of!
Sep 29, 2020
Ari Sexner
You can absolutely do that. That works best for actual blends of juices that are not customizable, whereas you can get about a quart container or around that size, weigh out each item ahead of time for prep and have it ready to go when the customer picks that blend, just grab it and juice it. Works great.
Sep 29, 2020
This is awesome info! Thank you
May 6, 2020
Ari Sexner
Of course, I hope it helps. Thanks
May 7, 2020