If you're looking for a juice bar business plan, you've come to the right place.
In this article, I'll go over the four basic business models for a cold-pressed juice bar / business:
*Technically not a juice bar business, but worth considering.
I will give a high level overview of each business type and it's pros and cons as I see them.
1. Delivery Only
Delivery juice businesses have the lowest startup cost, and are an OK place to start. Some of the most successful brands today have started this way.
This business model allows you to start small. I have met several owners of successful cold-pressed juice business that started by either making juice in a rented commissary kitchen (you can usually rent by the hour), or in some cases even making juice at home and delivering your orders from there. It's worth pointing out that it may not be totally legal under FDA regulations to run a raw juice business from home. Many people have done it successfully and continue to do so, but just be aware that the FDA may tell you to stop and make you move to a real commercial kitchen at some point.
If you want to learn more about starting a juice business from home, you can read our article here.
You can allow customers to place orders for juices and cleanses online to be delivered the next day. Or, if you have your production and inventory under control, you can deliver immediately.

You can build an ecommerce website very cheaply these days that can take order for juices and cleanses. If building an ecommerce website on a budget, I recommend starting with wix. The process really isn't very complicated to get an ecommerce site up and running. You can also try to offer your products on local delivery apps like Uber eats.
Other than needing juice bar equipment, staff, and an ecommerce website, you will need to do some marketing. Facebook has amazingly targeted marketing these days, and it's relatively cheap. You can, for example, advertise to people in your area who have "liked" photos and accounts related to health food, nutrition, and fitness. If your Instagram and Facebook game is on fleek you should be able to fill a decent amount of orders, as long as the competition isn't too high in your area.
Once you get some orders rolling you can invest in a larger production space and put some more money into a better website and marketing. Then, you can pivot to one of the more cost intensive juice bar business plans below.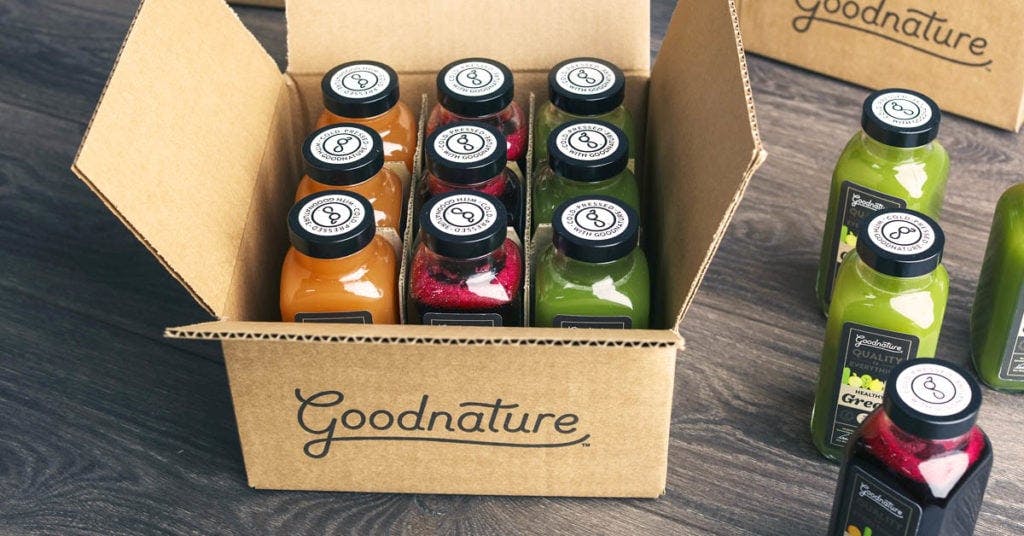 2. Retail Juice Bar
Opening a brick and mortar store takes a much larger investment than a delivery only juice bar business. If you do it right though, having a retail store in a high traffic area can be great marketing for your brand. Customers can come in and "feel" what your brand is about. You can meet you customers, educate them about your products, and provide an experience beyond just selling a product.

These days, you need to do more than sell bottled juice out of a cooler. You will need to offer other beverages like smoothies and coffee, and you should offer some food items as well. The food can be simple grab-and-go items if you want to focus on the juice, but don't take it lightly. Many of the businesses that only sell bottled juice are struggling or even closing their doors as the market has grown and customers have more options. This will continue to happen as more businesses get into fresh juice, like grocery stores and cafes.
When you grow to multiple locations, you will need to decide if you want to make your cold-pressed juice in each location, or produce it centrally in one kitchen then distribute out to your other stores. There are pros and cons with each model.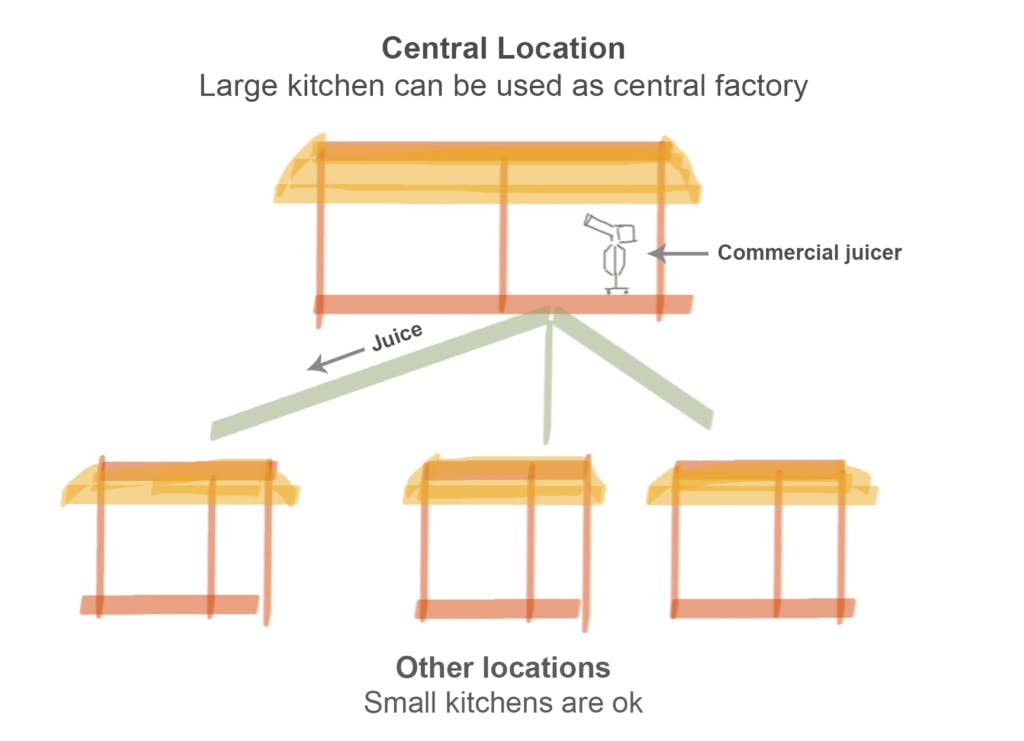 When making juice in a central location and distributing, you can reduce labor and equipment costs. With economies of scale, the more juice you can make in each batch, the cheaper it will be per ounce (there are exceptions).
The major challenge, however, is managing the inventory correctly so your stores are neither wasting juice that doesn't sell, nor under-producing for demand. This is very difficult to do. Customers are unpredictable and something as simple as a rainy day can be devastating to a normal day of sales.
If you decide to juice in each location, you will need more equipment, and the labor costs will be slightly higher since you are making less juice per batch. There two major advantages with this method:
You can make juice as needed throughout the day so you will be left minimal wasted juice.
Customers appreciate the fact that their juice is fresh.
If the customer wonder if the juice has been sitting on a shelf for 3 days, they are less likely to buy. If they see juice being made, there is no doubt in their mind that the product they're buying is fresh. A great example of successful juice business that makes juice fresh daily in each store is Cafe Gratitude.

3. Wholesale
(Note: This is not technically a juice bar business — it's a juice factory business — but it is a plan worth considering.)
It's hard to start small as a wholesale brand, so if you're going to go wholesale, you probably need to go big out of the gate. This requires a big investment in marketing and a factory. There are a couple of major reasons for this:
When you are selling to 3rd parties for resale in the US, you must use HPP or another pasteurization method to achieve a 5 log kill, meaning you are ensuring that most of the potentially harmful pathogens have been killed. This means you either have to buy an HPP machine (expensive) or pay an HPP facility to process your juice for you, but normally they require a minimum order amount of thousands of bottles. Read more about HPP.
Another major challenge is that you must let the re-seller make 30%-40% profit, meaning you have to sell to them at a discount. On the other hand, you don't need to invest in brick and mortar stores so you can keep your overhead relatively low compared to owning a bunch of juice bars.
The ultimate goal here is to get picked up by regional and national grocery stores. There are a lot of grocery stores in every country. In the US alone there are over 40,000 grocery stores. Kroger and Albertsons each own about 2,000 stores. Getting into the national distribution network can be tricky, and you probably have to get in through a distributor like UNFI. If you can accomplish that, then the "juice is loose" as they say.
4. Combination
The most successful cold-pressed juice companies are usually doing all of the above. At least one brick and mortar store in a nice area to help with branding and marketing, a great e-commerce website to order juice, and a large wholesale network.

Where to Start On Your Juice Bar Business Plan
There is no magic formula for a successful juice company, but it almost always starts with a passionate owner. You will run into serious challenges along the way, and if you're not passionate about juice, it will be hard to find the energy to persevere.
Start small, make juice for friends and family, experiment with recipes and see what they like, and try to build a loyal following. From there, you can start talking to them about your juice business and the rest will work itself out.
Want more tips and information about starting a successful juice business? Check out one of these articles: