A juice business or restaurant selling juice direct to consumer can expect about a 50% – 70% gross margin (profit before labor and overhead costs) if careful planning is done when developing the recipes. If you are considering getting into the business of selling juice, you can take these four easy steps to calculating juice profit and profit margin.
This article shows calculations done on a spreadsheet. You can download the spreadsheet here, which will allow you to see the actual formulas used and add your own recipes as needed.
Note: This How to Write a Juice Business Plan PDF is a step-by-step guide to helping you write a business plan for your juice business. Download it for free!

Step 1: Get produce costs from your local purveyor
The best way to start here is to get some real numbers from your local produce distributor on the cost of items you plan on using in your recipes. We contacted a produce purveyor in our area and got the following prices on some common items  (priced per pound). Please note that prices fluctuate based on seasonality, supply, and demand: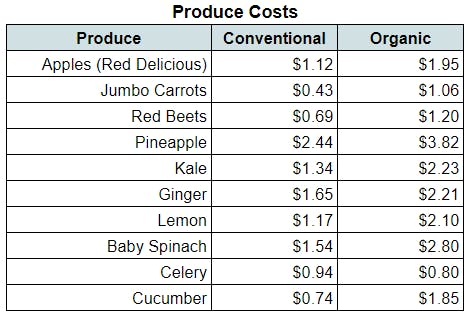 Step 2: Price out some basic recipes
If using a real cold-press like a Goodnature X-1 or X-1 Mini, you will be getting high yield and you can expect that 1 lb of produce will make about 10 fluid ounces of juice on average. So if you're making 12 ounce servings, you can expect to need about 1.2 lbs of produce. Here is an example of a basic sweet green recipe:

Step 3: Set the price
Pricing can be tricky—you want to price the juice reasonably, but you also want to make enough profit on each juice that you can afford your labor and overhead costs. What we've seen in the market is that prices of about $4.99 – $5.99 do well for conventional juice, and $5.99 – $6.99 for organic. For this example, we will use the higher price points of $5.99 and $6.99.
Step 4: Calculate profit and gross margin
This step is pretty straight forward. You calculate the COGS (Cost of Goods Sold) and subtract it from your price to end up with your gross profit. You then divide Gross Profit by Price to get your profit margin as a percentage.
COGS includes food cost and packaging costs, but not overhead costs like labor, rent, and utilities.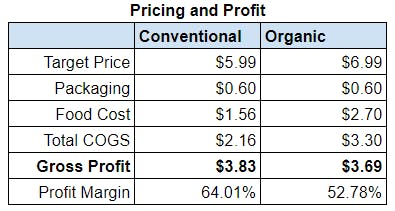 For this example we are assuming $0.52 for the bottle and cap as the packaging cost (you can view real life bottle costs on our Bottle-Up app.) Packaging costs will vary a lot depending on what you're using—glass bottles would be a much higher cost, whereas plastic cups would be a much lower cost.
Here you can see that the conventional recipe at $5.99 is more profitable than the organic recipe at $6.99.
Step 5: Calculate total profit per day
Now is the fun part. We decide how many servings per day we think we can sell, and multiply that by the profit to see how much gross profit we could potentially make per day. Keep in mind gross profit doesn't factor in overhead or costs: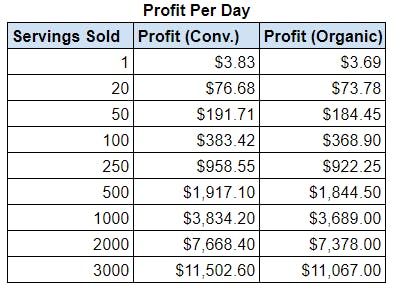 If you are a restaurant owner considering adding juice to your menu, this example makes a fairly good argument towards implementing this into your business. If you are thinking about starting a juice business from scratch, fifty juices a day is probably not enough to run a brick and mortar juice store, but might be enough to sustain a juice delivery business. For more info check out the popular article four basic business models of a cold-pressed juice business.
Any questions? Let me know by commenting below and I will do my best to answer them.
Note: Whether you're starting a juice bar, a juice delivery service, or a wholesale juice business, this How to Write a Juice Business Plan guide explores the key elements of a successful juice business plan, along with industry tips, resources, and downloadable content to help you write it. Get it for free!

Comments
I am interested to start juice business.
Nov 20, 2023
Robin Frey
Great news! Someone from our team will email you soon to help with any questions you have.
Nov 20, 2023
I thank you for this article! It was very informative and helpful 😎
Nov 13, 2023
I just launched a local cold press juice business from my home, and have no idea what I'm doing, and what to charge. I have some local businesses who want to sell my juice in their store, and have some questions!
Nov 9, 2023
Robin Frey
Congrats on your launch! One of our team members will email you soon to see how we can help!
Nov 9, 2023
Hi is there any way to put together an excel spread sheet to help calculate and keep track of Food Cost for all my juice recipes and track profit margin of each.
Oct 10, 2023
Robin Frey
Hi Charles, yes there is! Chef Ari will email you shortly
Oct 10, 2023
I'm opening a juice Lounge i need help with my spread sheet and recipe help? because I use the same amount of fruit to get to 64oz juice and thats how I measure it. I need a better method.
Aug 29, 2023
Robin Frey
Hi Sharon, Chef Ari will email you shortly, thanks!
Aug 29, 2023
Need more information please on juice making
Mar 4, 2023
In step 2, how was the weight of produce calculate and what measurement is used? I will be selling 12 oz juices fresh and 16 oz bottled juices and wanted to somewhat base my calculations on that example. For the 16 oz bottles how could I calculate the weight of produce to use this formula?
Sep 1, 2021
Robin Frey
Hi David, If you are using a Goodnature juice press, you can expect that 1 lb of produce will make about 10 fluid ounces of juice on average. So to figure the average amount of produce for your 16 oz servings, you would just divide your serving size by the 10 fluid ounces that 1 lb makes on average, so 16 / 10 = 1.6 (lbs of produce needed). Keep in mind this is just an average that works for most mixed recipes. Hope this helps! 😄
Sep 2, 2021
Would it be possible to have someone put together a profit margin spreadsheet for the different menu options I have at my juice bar?
Aug 23, 2021
Robin Frey
Hi David, Yes, Ari our chef and juice business consultant can do that for you, he will email you shortly!
Aug 25, 2021
A lot of responses about not including labor! Which is evidently coming from people not experienced in owning a business or accounting. This is simply cost of the good sold. IE. MATERIALS. You include labor costs on a quarterly or annual cashflow statement or profit projection where the businesses sales total $ or total gross profit margin are calculated. You include payroll/labor, and all expenses for the time period. 50%-70% is where you want to be for cogs in the juice business, but if you aren't making enough sales you will flop. Invest in marketing and branding.
Nov 8, 2020
Charlie Wettlaufer
Yeah it's definitely not a straight-forward concept for new entrepreneurs to grasp - fixed costs are not COGS. COGS are only direct costs involved with each individual product. If any costs are the same every month - those should be included in fixed costs and not COGS. However, you say that COGS should be 50% - 70% which is actually far too high for a juice business to survive. Maybe you mean the gross profit should be 50% - 70%?
Nov 8, 2020
Looking for start a new business
Sep 17, 2020
Robin Frey
Hi José, One of our team members will reach out to you via email to help answer any questions you have!
Sep 21, 2020
This is great information - so take it from me people in response to ounce of juice per lb of fruit - this is fairly accurate. I have spent the last 3 weeks juicing every single type of fruit and product possible on centrifugal juicer. So what does that mean? Basically I will get more juice out of the X1 mini that I should have this week. Everything is trial and error - I have so many spreadsheets on excel expressing costs and have taken the time to create my recipes down to the ounce and quantity. This isn't a race - but I know can make 4 quantities (4 x 12 oz) with one quick batch because of the calcs I have done. Spend the time juice - everything you can and do it multiple times to get your exact measurements. This business has become my child and I am trying to teach from the ground up - giving my employees a fighting chance at being successful because of the steps I have done. I hope to write a book one day on this stuff - because it has turned into my passion. Spend the time with your machines & get everything as close as you can. Everything I do has been calculated. I can make 4 juices and then I have a shot leftover to taste. Thats pretty accurate if you ask me! This is a great company and I am so happy to be a part of it.
Apr 28, 2020
Robin Frey
Thanks for sharing Jason! We are happy to hear you are enjoying the X-1 mini 😄 Excited to have you as part of our #goodnaturefamily!
May 1, 2020
Also what should be the ideal net profit margin in running a juice business per bottle
Jul 8, 2019
Charlie Wettlaufer
Net profit depends on overhead, labor costs, etc. and is different for every business. But, if you can profit 5% - 15% bottom line (after overhead, labor, expenses, etc.), that's in the normal range.
Jul 16, 2019
Wow, you are a patient person! Thank you for your article.
Jun 3, 2019
I'm planning on starting a juicing business using indigenous wild fruits and many of them have hard seeds. Can you recommend a suitable machine for this type of fruits
May 24, 2019
Charlie Wettlaufer
This would depend on the size of the seeds. For example, apples and lemons work fine on a real juice press like a Goodnature machine, but fruit with larger seeds like cherries or peaches do not. How large are the seeds?
Jun 4, 2019
Very useful article, thanks for sharing. I'm in Europe and would love to use your spreadsheet as a template before converting to Euro and adjust prices. This would save lots of time. Sadly the link to download the spreadsheet seems not to work. Any suggestions? Again thanks for sharing your experience Nicco
May 23, 2019
Charlie Wettlaufer
Hi Nicco, the link works for most people. Maybe you can try using a different browser?
Jun 4, 2019
These numbers are not real. You did not include the label cost. You only included the bottle and cap cost. Adding another $0.50 to the equation fore the label and printing cost.
Sep 26, 2018
Charlie Wettlaufer
Thanks for pointing that out. The 0.60 in the example is a figure given to me by a real juice company, but that cost could vary depending on your type of packaging.
Oct 2, 2018
I have been living in Australia for the last 5 years but l will be returning to the States next month. I am very much interested in starting my juice business . I would like to know if t there is there anyway to listen to the conference or did you guys do any audio/ visual recording of the conference. Here in Australia today is August the 1st meaing the conference has passed . I would appreciate keeping me on your mailing listen. Thanks Alex
Aug 1, 2018
Charlie Wettlaufer
The event takes place November 10th and 11th 2018. You can still make it!
Aug 1, 2018
Very informative well written as usual Charlie. Love reading your blogs.
May 6, 2018
Thank you for your article. Very good information!
May 4, 2018
Aloha! Thank you for the great article! Any suggestions on where to buy labels for your bottles?
Mar 14, 2018
Charlie Wettlaufer
We have had good feedback from referring customers to tapecon, which is a company located near us in Buffalo: http://www.tapecon.com/contact/
Mar 15, 2018
This was awesome! Thank you thank you! I am in the process of starting my own cafe/juice bar, and I was wondering if you have any advice or information on selling cold press juice that is not going to be bottled first? ( So pour to order.) < Does that make sense ? 😄
Mar 4, 2018
Charlie Wettlaufer
Yes, that makes sense. A company named Jugo Fresh in Miami used to do it this way, not sure if they do any more. Here is an article about it: Mixed-to-Order concept I think a Goodnaturte X-1 Mini would be great for this model, as you can make batched of juice throughout the day as needed.
Mar 5, 2018
good info to get a rough figure and how to calculate. however, it is not accurate to some extend. eg 1 pound of orange for the first batch of cold pressed does not guarantee that the following batch of orange will give the same output liquid yield.
Feb 28, 2018
Charlie Wettlaufer
Yes that's true, produce will always vary a bit depending on how ripe it is and if its in season or not.
Mar 5, 2018
Very great read.... Truly informative... Any recommendations on glass bottle manufacturers that are fairly reasonable in cost??
Feb 28, 2018
Charlie Wettlaufer
Glass bottles are generally pretty expensive. Unfortunately I don't have any recommendations for reasonably priced ones. You can order from China but then you have to deal with the issues that that brings you 😒
Feb 28, 2018
Your gross profit calculation is misleading as you did not include labeling, labor, or overhead. We have been making juices for over four years (three with an X-1) in a commissary kitchen and our margins are much lower, primarily due to labor and overhead.
Feb 27, 2018
Charlie Wettlaufer
I tried to make it clear that this example does not include labor or overhead, as that will vary a lot depending on the business model. Juice bar vs. restaurant vs. wholesale juice company will all have very different labor costs and very different overhead costs. I went back now and edited the first paragraph to make it crystal clear that this is gross margin only. Hopefully your gross margins are within line of this example.
Feb 28, 2018
Gross Margin is the cost of raw material & packaging
Nov 15, 2018
Thanks for this information. I am planning to start a juice business in Nigeria soon. This information is a big help.
Feb 27, 2018
Thank you for sharing this information! I have found your blog and videos to be valuable.
Feb 27, 2018
Excellent info! My business partner and I were just talking yesterday about the best way to approach this. One question we have is about yield for each ingredient. I realize that fruits and veggies can vary in the amount of juice they produce, but do you have any data on yield? For example, 5lbs of carrots produces how many fluid ounces of juice? That would be incredibly helpful for us as we create our business plan and seek financing to make our CT-7 purchase! Thank you!!
Feb 27, 2018
Charlie Wettlaufer
You make a very rough estimate by assuming ten fluid ounces of juice per pound of fruit or vegetable. The amount varies a bit depending on the ingredient, but usually not more than 10%-15%.
Feb 28, 2018
Good article, and you used fair numbers. The input that's missing is the labor cost of creating a batch of juices, and , in most states, if creating a juice delivery business (as you suggest) you'll need to add the cost of preservation (of your choice). I'd love to see a follow up article addressing these additional inputs. Thanks!
Feb 27, 2018
Charlie Wettlaufer
Steve, yes you're right this doesn't include labor costs. Labor costs have a lot of variables. The wages you pay your employees, which equipment is being used, and how many recipes are being made all make a substantial difference. It's hard to suggest a general number because there are so many variables. If one employee is making one recipe for an hour, the production rate will be much higher than if that same person is making 3 or 4 different recipes, as that requires prepping different produce and possibly cleaning the machine in between. As far as preservation is concerned, do you mean refrigeration or something else like HPP?
Feb 28, 2018
Thank you so much about this article. i'm planning to open some juice bars in my country. I believe Goodnature Machine X-1 is my first choice. Dennis le
Feb 27, 2018