Ashwagandha is one of the most important and revered herbs of Ayurveda, the traditional system of medicine in India, due to its amazing health benefits.
If you're wondering what ashwagandha is good for and what it does, you're in the right place! As we continue the World of Adaptogens Series with this article, I will share what I've learned about ashwagandha and why it is now my favorite adaptogen.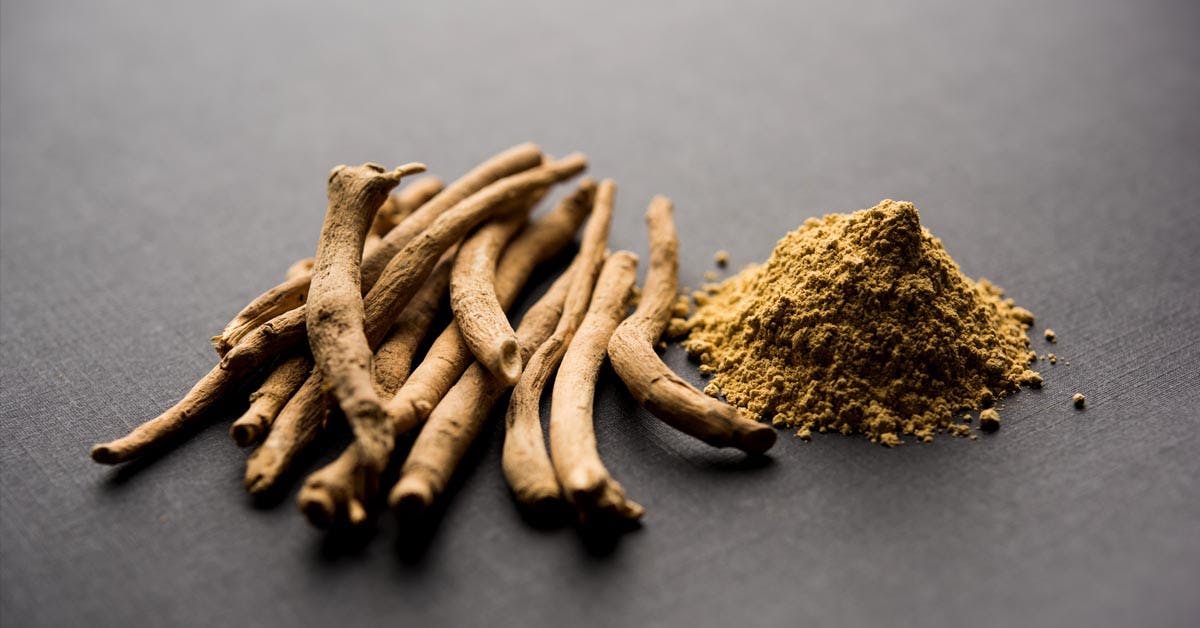 I discovered ashwagandha when trying out different herbal remedies for stress relief. My first experience was with tea and I was blown away by how relaxed it made me feel. As a result, I decided to do more research and find other ways to incorporate this amazing adaptogen into my daily routine.
Use these links to jump to different sections of the article: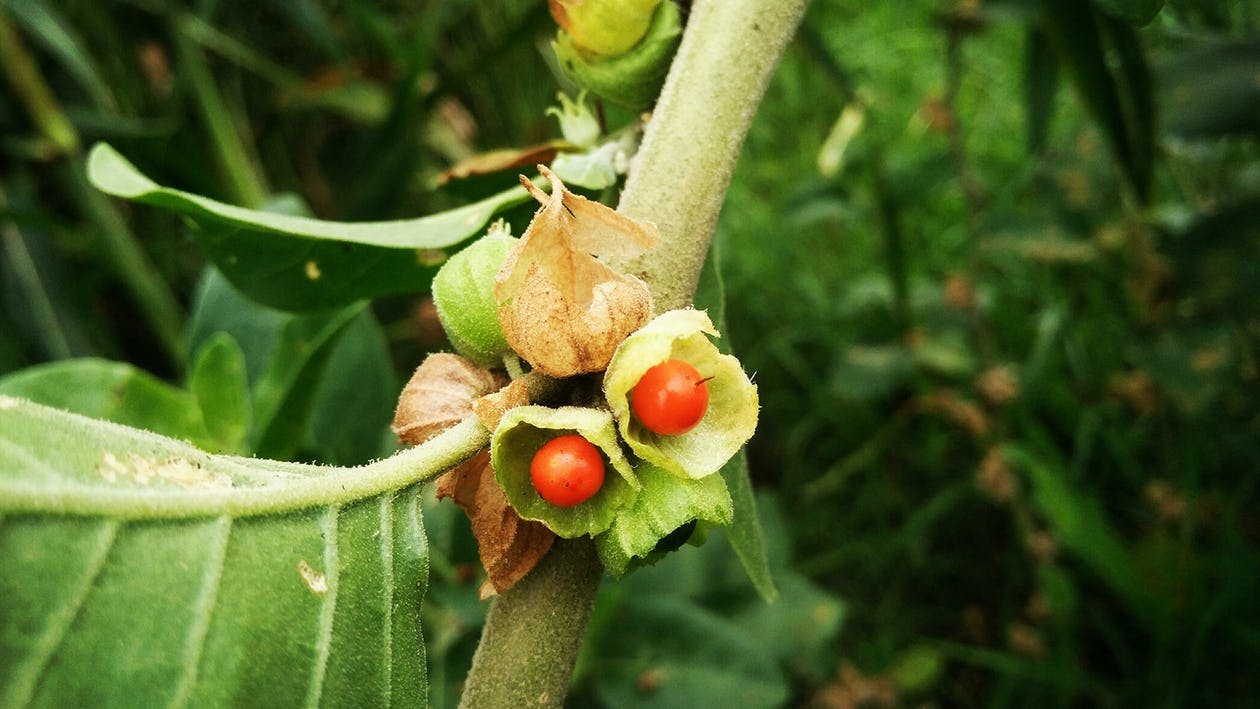 What Is Ashwagandha?
Ashwagandha (Withania somnifera), is a medicinal herb that has been used for centuries in traditional Indian medicine for its wide ranging health benefits. It is also known as Indian ginseng or winter-cherry.1
Ashwagandha is a short evergreen shrub with little red berries, and is mainly used for its roots, which hold the bulk of its medicinal power. Typically, the roots are harvested by hand and left to dry in the sun before being transported to a facility where they are turned into powder, tea, or extracts.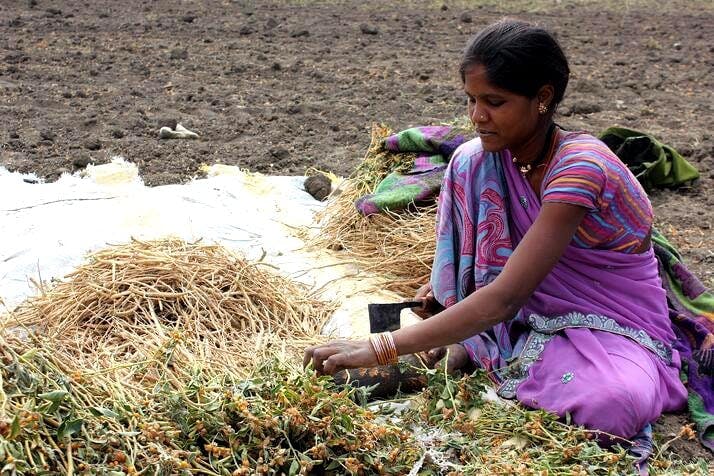 Health Benefits of Ashwagandha
A powerful adaptogen, ashwagandha is good for enhancing the body's resilience to stress. In addition to its adaptogenic qualities, this potent herb also provides many other health benefits, such as reducing inflammation, increasing muscle strength, improving memory and may even fight against cancer.
Reduces Stress & Anxiety
Since I started taking an ashwagandha supplement daily, I noticed my stress and anxiety levels have decreased. As a result, I feel much more relaxed and easy going. Studies also prove this, that ashwagandha helps to reduce stress and anxiety and improve the overall well-being of adults under stress.2  In a study that lasted for two months, people with chronic stress who were given ashwagandha reported a 69% reduction in anxiety and insomnia.3
Reduces Inflammation
Initially I started taking ashwagandha for its stress relieving benefits, but I grew to love it even more for its anti-inflammatory benefits. While I have experienced a decrease in inflammation and joint pain and am a living testament to its efficacy, there are also several animal studies that have shown that ashwagandha reduces inflammation.4,5
Increases Strength
Studies show that ashwagandha increases muscle mass, reduces body fat, and increases strength in healthy men.6,7
Improves Memory
Ashwagandha has been taken for centuries for its support of cognitive functions and recent studies support this method. For instance, an 8-week study found that taking ashwagandha extract twice a day improved memory, task performance, and attention span.8  In addition, another study found that daily supplementation of the root extract helped healthy men with task performance and reaction time.9
Fights Cancer
Studies have shown that one of ashwagandha's compounds helps to kill cancer cells and keeps cancer cells from growing.10  Research suggests that it may help treat several types of cancer.11,12,13,14
Where To Find Ashwagandha
Ashwagandha grows in India, the Middle East, and parts of Africa. It does grow wild, but it is also cultivated to meet the growing demand as a dietary supplement.
Some of my favorite sources for ashwagandha are:
As an Amazon Associate, Goodnature earns from qualifying purchases, at no added cost to you.
How To Use Ashwagandha
Traditionally, ashwagandha was mixed with honey and ghee and either ingested or applied topically for help with inflammation. Today, adding to juice, smoothies, and snacks are some of the best ways to incorporate this adaptogen into your daily life. It is available in whole form, powder, and extract form.
| | |
| --- | --- |
| Form | Works well with... |
| Powders | smoothies, smoothie bowls, plant-based milks, raw snack bars, baked goods, nut butters |
| Extracts | juices, smoothies, plant-based milks, most applications |
| Whole | tea |
Ashwagandha has a bitter-sweet flavor and is sometimes described as "energetically warming". You might not like it the first time you try it, however, give it some time, you might grow to actually like the taste like I have.

When To Take Ashwagandha & How Much
The type of health benefit you are hoping to gain by taking ashwagandha can help determine your dosage. There have been studies performed to find the daily dosage levels that provide the different health benefits.
Ashwagandha is believed to be safe and effective for most people at dosages of 250-500 mg per day for at least a month. However, your dosage may vary depending on your needs.
For the past three months, I have been taking one dropper full of ashwagandha extract (780 mg) every morning and sometimes one or two more times throughout the day, depending on how I feel.
If you are pregnant, nursing, or on medication, you may need to avoid taking this medicinal herb. Before adding supplements to your diet, you should consult with your doctor to make sure it is safe for you to consume.

Ashwagandha Recipes
I find that drinking tea and adding ashwagandha extract to my daily anti-inflammatory juice helps combat my rheumatoid arthritis and keeps me feeling relaxed and stress-free all day long.
Anti-Inflammatory Ashwagandha Juice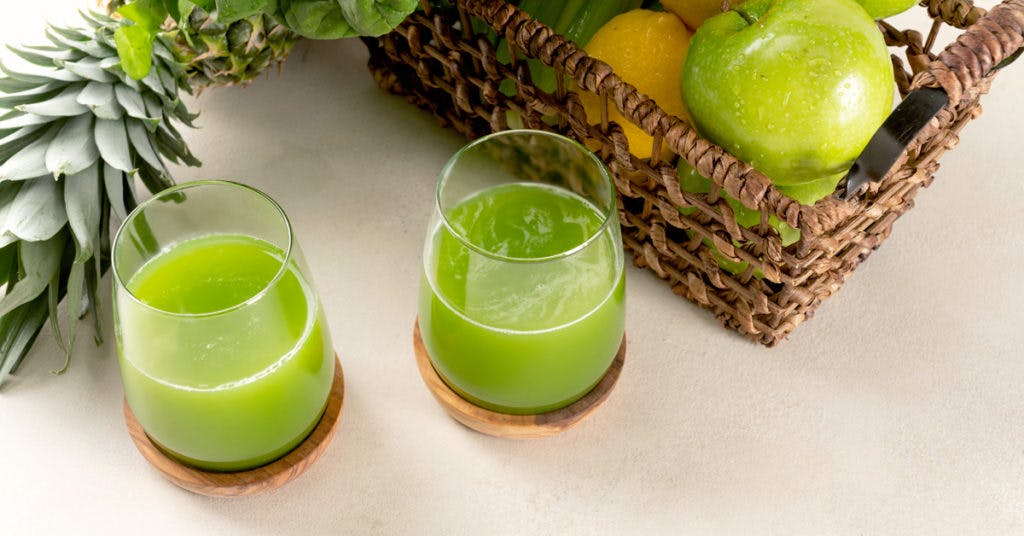 Anti-Inflammatory Juice Recipe
Yield: About one 12 oz serving
Ingredients:
Pineapple – 6.37 oz  (1 cup chunked pineapple)
Green apple – 6.5 oz (1 medium apple)
Spinach – 1.9 oz (2 cups spinach)
Cucumber – 1.8 oz (1/5 cucumber)
Celery – 0.85 oz (2/3 medium stalk)
Lemon – 0.83 oz (1/4 lemon)
Ginger – 0.3 oz (1 inch chunk of ginger root)
Ashwagandha extract – 0.5 ml (one serving)
Directions:
Wash and weigh the produce.
Prep the pineapple by removing the green crown and cut into chunks, leaving the skin on if you have a juice press.
Quarter the lemon (leaving skin on) and place directly into the press. If you don't have a juice press, peel the lemon and juice with the rest of the ingredients.
Grind remaining ingredients together and press.
Add the ashwagandha extract to the juice.
If you want a simpler version that is just as effective, make this ginger shot recipe.  I drink 8 ounces of this juice every morning:
Anti-Inflammatory Juice Shot Recipe
Yield: About seven 8 oz servings
Ingredients:
1 whole pineapple
3 hands of ginger (about 10 oz)
1 bag of lemons (5-6)
2-3 green or red apples
Ashwagandha extract – 0.5 ml (one serving per shot)
Citrus Carrot with Ashwagandha Juice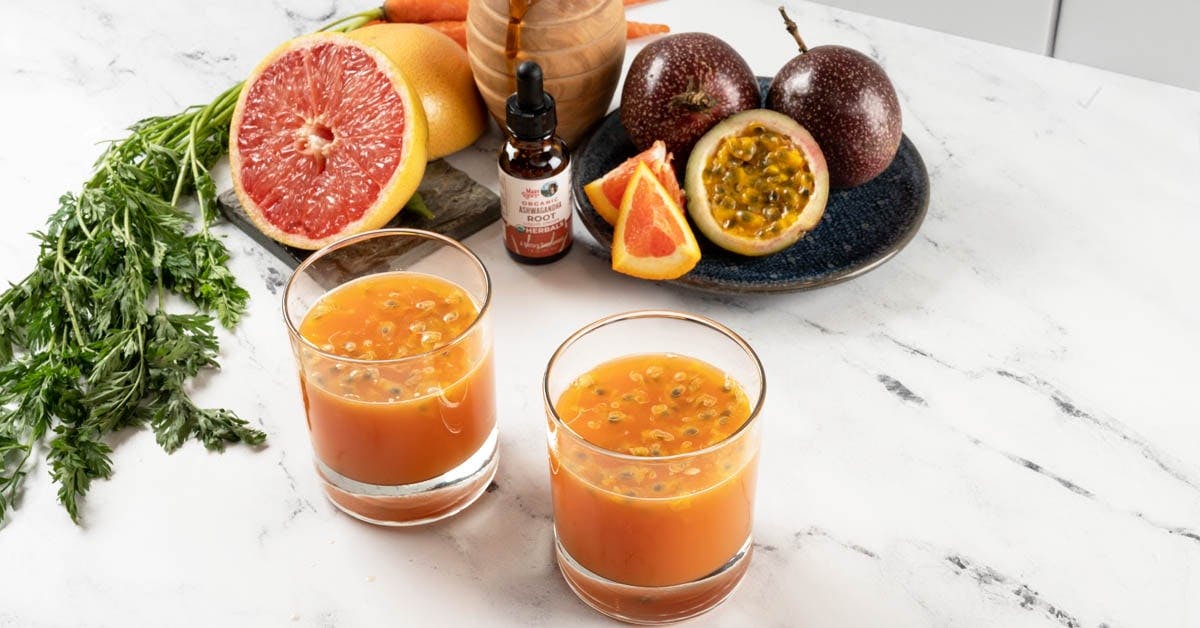 Citrus Carrot Juice with Ashwagandha and Passion Fruit
Yield: About one 12 oz serving
Ingredients:
Ashwagandha root extract – 0.5 ml  (one serving per shot)
Grapefruit (peeled) – 5.5 oz (1 medium grapefruit)
Orange (peeled) – 8.2 oz (2 medium oranges)
Carrot – 3.5 oz (2-3 small carrots)
Passion fruit pulp – 0.5 oz (about 1 passion fruit)
Local honey – 0.75 ox (1 tablespoon honey)
Directions:
Wash the produce and prep by peeling the grapefruit and orange, then weigh the ingredients.
Grind the grapefruit, orange and carrot, then press.
Add the honey and ashwagandha extract to the juice and mix.
Add the passion fruit (with seeds for texture), and mix.
Other Articles in This Series
The World of Adaptogens Blog Series

References
The information shared in this post is a combination of my personal experience, research, and knowledge as a certified holistic health coach, and is intended for educational purposes only. These statements have not been evaluated by the FDA and are not intended to diagnose, treat, cure, or prevent any disease or to be considered a substitute for professional medical advice.
Comments
I had a surgery few days back. For how many days am I supposed to wait to take ashwagandha tablets
Apr 25, 2022
Excellent post! Very informative and easy to follow. Ashwagandha is a very beneficial herbs full of loads of benefits which we can acquire organically from mother nature.
Mar 9, 2022