Looking for a unique seasonal juice for your menu or need something to do with all those ripe tomatoes from your garden? Yep, you guessed it, making tomato juice is the answer and we have the perfect recipe for you!
We asked our expert chef Ari Sexner to come up with a recipe that is light and refreshing, not heavy like your typical V8 tomato juice.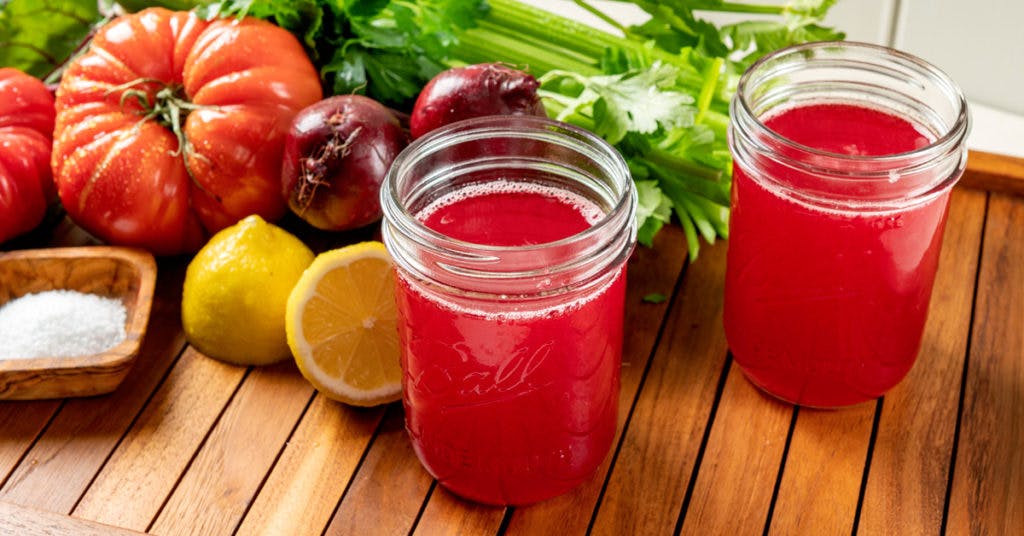 The result is a fresh-tasting juice that is mostly tomato with a small amount of other veggies (plus a pinch of salt) to balance the flavor.

Why We Love This Homemade Tomato Juice Recipe
If you're a tomato juice lover, this might just be your favorite juicing recipe ever. We mean it! Our marketing coordinator Paige took one taste of this and was hooked—this is now her favorite juice.
Tomato is by far the most prevalent flavor in this vegetable juice recipe, but the inclusion of ingredients like lemon juice and celery provide a crucial balance.
Here's what chef Ari had to say about his creation:
"We wanted to create a simple, fresh tomato juice. Here's the challenge with this: tomatoes need to be combined with other flavors in order to bring their natural flavors forward to the level that people are accustomed to. In order to do this, we add celery and salt, then infuse parsley to add a freshness to it. Acidity from the lemon balances these flavors. Beet is there to bring forward the earthy flavors of the tomato, as well as to enhance the final color."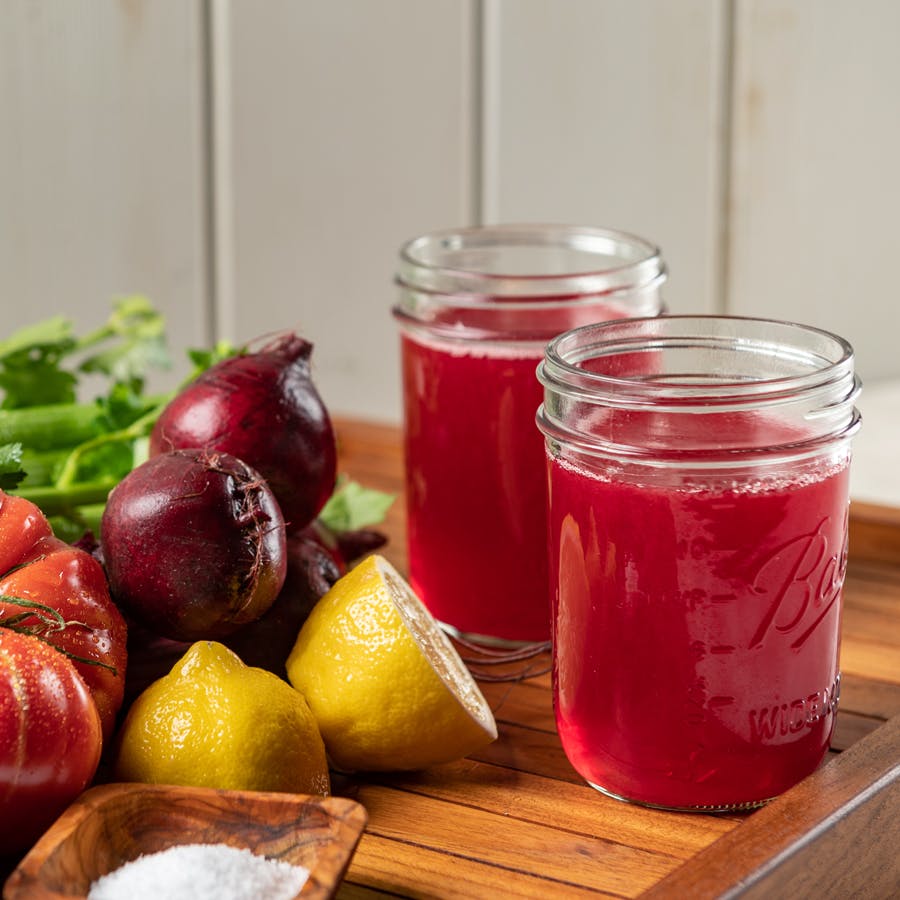 As you would expect from a veggie juice, there are loads of health benefits as well. These include:
Immune system support. Tomato and beet are high in the immune-boosting vitamin C.
Antioxidant-rich. There are loads of antioxidants in this juice, including potassium.
Reduces acidity in the body. This is thanks to that single stalk of celery per serving.
Reduces inflammation. Every ingredient has anti-inflammatory properties.
High in vitamins and minerals. Vitamin A, vitamin C, vitamin K and calcium, just to name a few.
Can help lower blood pressure and cholesterol. Tomato, beet and celery are the heroes here.
Aids in weight loss. This juice is very low in calories and the fat-burning amino acids help to target tummy fat. Drinking tomato juice for weight loss a great choice!
Tomato Juice for Weight Loss
A 2015 study found that drinking a daily glass of tomato juice could help in reducing weight. This makes sense. After all, tomato juice is low in calories, but filling. Tomatoes are also loaded with the antioxidant lycopene, which can boost metabolism naturally.
But that's not all tomato juice has to offer when it comes to weight loss…
Tomatoes encourage the production of an amino acid called Carnitine, which is reported to greatly enhance the body's fat burning ability.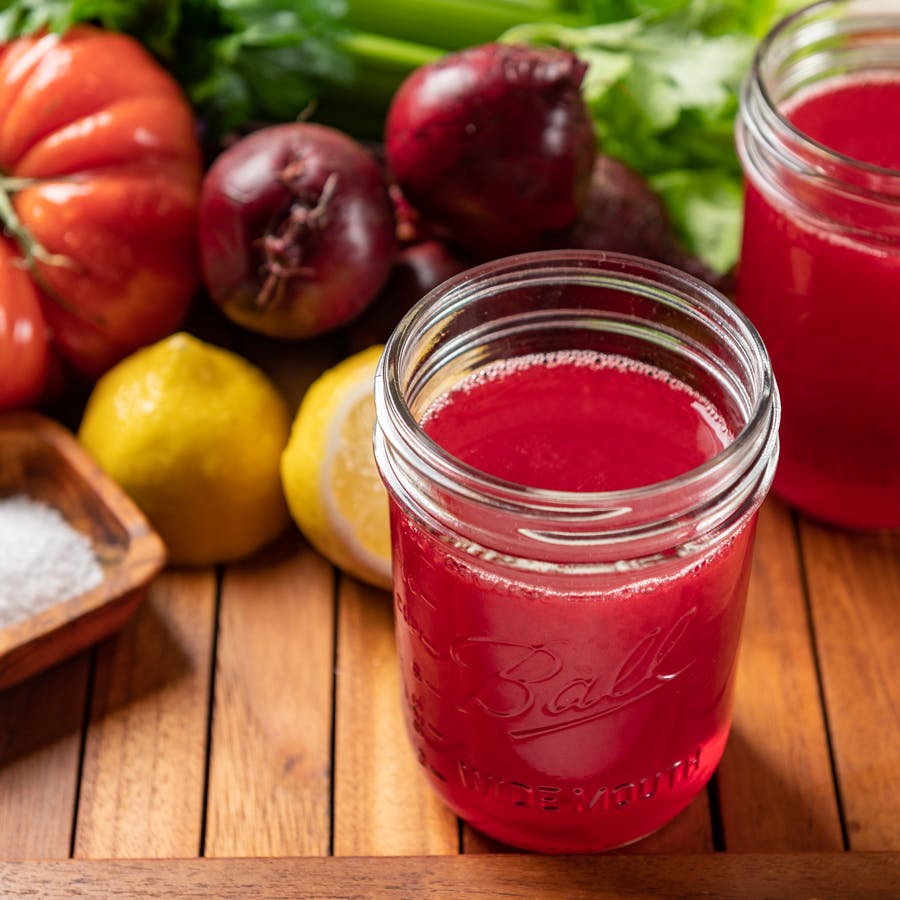 Before diving into the recipe, I feel compelled to share a fun piece of history I discovered while researching this article.

The First Glass of Tomato Juice 
The first recorded instance of tomato juice being served as a beverage was in 1917 in Indiana. 
Louis Perrin was the chef at the French Lick Springs Hotel (which still exists today as the French Lick Resort Casino). Chef Louis was preparing a morning meal for the crowd of guests when he ran out of oranges. 
No longer able to make orange juice, the chef grabbed a handful of tomatoes and prepared a never-before-tried beverage made of ripe tomatoes, a bit of sugar and his secret sauce.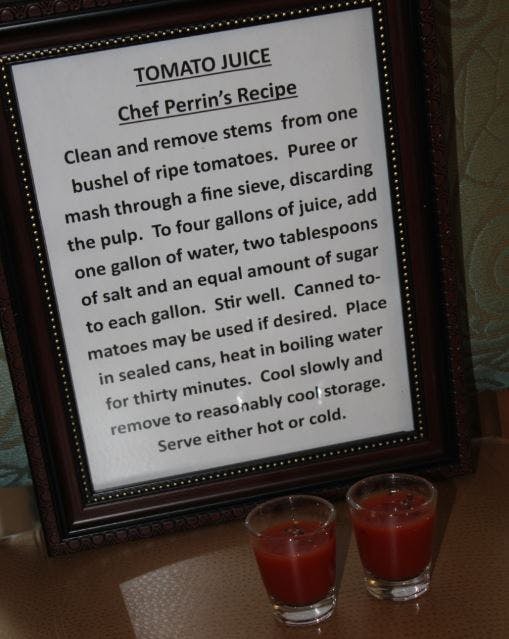 The drink was a huge success and news of its tastiness spread to Chicago and beyond. According to French Lick Resort's blog, "Soon there were too many orders for tomato juice and The Springs kitchen couldn't keep up with the demand."
Alright, the history lesson is over. Let's dive into the recipe.