Looking for an oil-free salad dressing? Then you've come to the right place.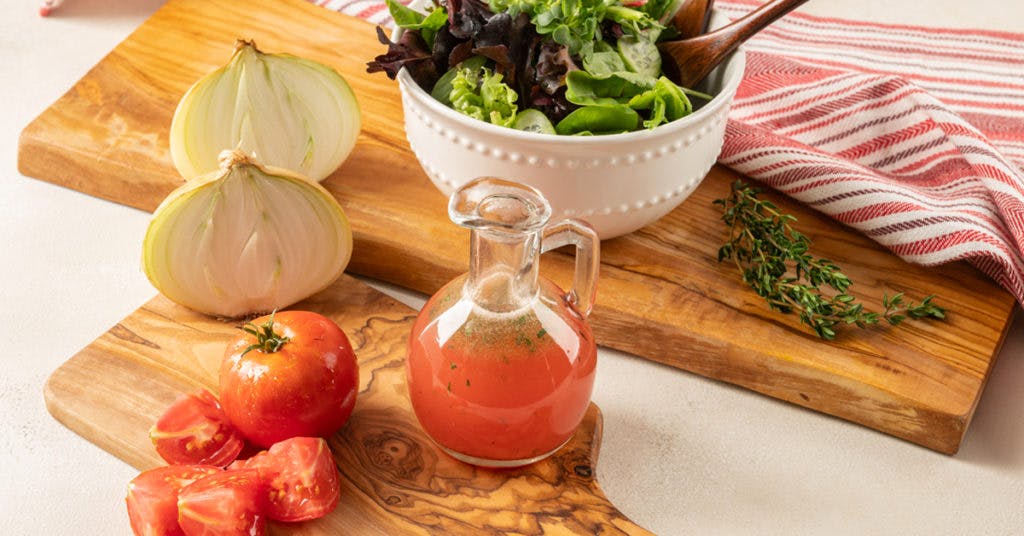 This Italian dressing recipe is vegan, gluten-free, dairy-free, and oil-free. That said, you can add a light, neutral flavor oil if you prefer a vinaigrette (we opted for grapeseed oil, but avocado or olive oil will work too).
Not just for summer salads, this yummy Italian dressing is great on wraps, pasta salad, or even roasted veggies. Heck, you can drizzle it on a piece of avocado toast. No wrong answers!
Oil-Free Italian Dressing Health Benefits
Not only is this an oil-free dressing recipe, it's also free of all sweeteners. Just whole foods, vinegar (or fresh lemon juice), sea salt, and thyme.
Each ingredient is packed with powerful health benefits:
Tomato: Rich in vitamins, minerals, and antioxidants. Promotes bone, heart, and skin health. Promotes weight loss and fights fatigue.
Onions: Packed with nutrients. Helps control blood pressure, may improve bone density and heart health.
Garlic: Contains vitamins B6 and C, plus manganese. Strengthens immune system, lowers blood pressure, and promotes weight loss.
Thyme: Contains vitamins C and A. Also contains iron, copper and manganese. Natural diuretic, boosts immunity, improves blood circulation.
If you do opt to keep this as a no oil recipe, the end result will be fat-free as well. It may end up being one of your favorite condiments!