It's that time of year for strawberry rhubarb pie! 
Don't have a homemade pie stand nearby? No problem. We've recreated the scrumptious combo in a glass with the help of our in-house chef, Ari Sexner.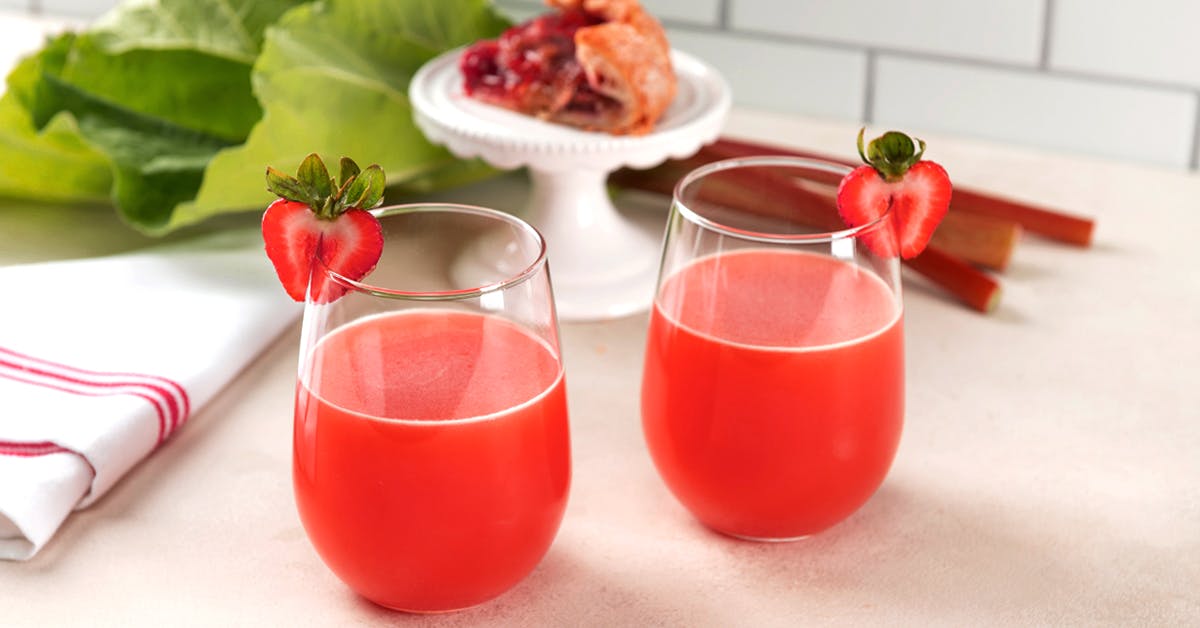 Now, you can enjoy a delicious strawberry rhubarb recipe from the comfort of your home (or juice business).
A little history…
Rhubarb pie originated in the UK, where rhubarb has been grown since the 1600's. The pie is a popular spring tradition in Canada and in New England cuisine, as rhubarb is a plant that can survive cold weather. If you are unable to get fresh, in-season rhubarb, you can usually find it frozen. Just thaw or use slightly frozen and juice with the rest of your ingredients.
Why Do We Love This Strawberry Rhubarb Juice?
Let's start with the out-of-this-world flavor profile.
Rhubarb has a tart and tangy flavor that pairs amazingly with sweet fruit. That's why chef Ari included not only strawberry, but red and green apple as well. A tiny bit of lemon is also included to balance the overall flavor.
The resulting juice is sweet, tart, fragrant and perfectly balanced. You're going to savor every last drop.
Now, let's move on to the nutrition information and health benefits of this tasty DIY beverage.
Most strawberry rhubarb drink recipes you can find online are actually strawberry rhubarb lemonade recipes. Don't get us wrong — we like lemonade. We just aren't a big fan of beverages that include 2 cups water and 1 cup sugar. We prefer to use real, solid ingredients from the local grocery store or farmer's market.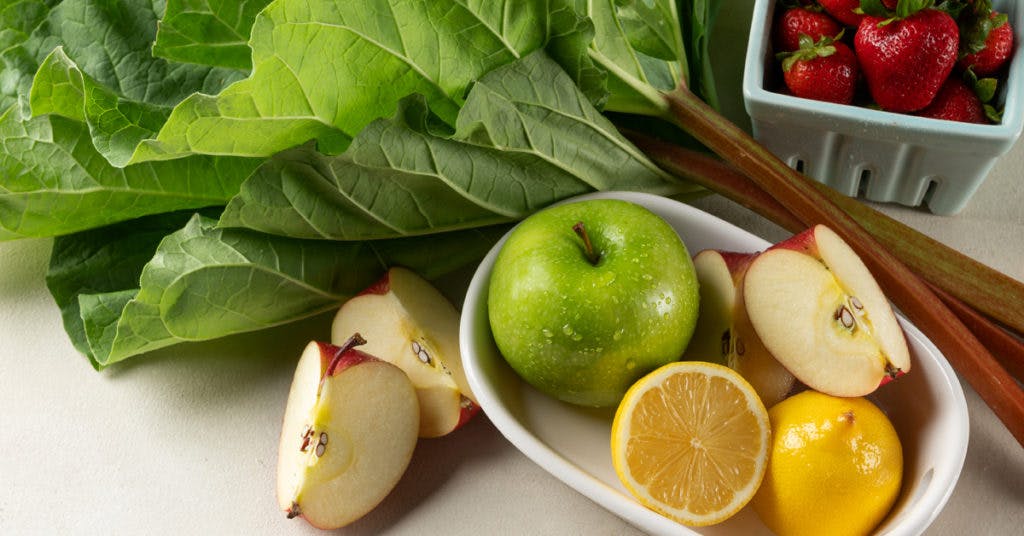 Here are some of the main health benefits of the finished juice:
Supports your immune system. All 5 ingredients are high in vitamin C, which is well-known for its role in supporting a healthy immune system.
Reduces inflammation. 4 of the 5 ingredients have anti-inflammatory properties.
Can help lower blood sugar, blood pressure and cholesterol levels. That's thanks mainly to the apples, strawberries and rhubarb.
Good for digestive health. All 5 ingredients, including rhubarb, have been found to improve digestion and gut health.
Rich in antioxidants. One glass of this juice has a variety of antioxidants that help neutralize harmful free radicals in our bodies.
Increases energy. Apple juice, in particular, can be great for boosting energy.
Aids weight loss. You can't say the same about strawberry rhubarb pie (unfortunately).
Again, this gluten-free recipe includes no added sweeteners like sugar or simple syrup/rhubarb syrup. Just frozen or fresh strawberries, fresh rhubarb, fresh lemon juice and two types of apples.
Related recipe: Crazy Good Apple Cranberry Juice

3 Tips for Making Perfect Strawberry Rhubarb Juice
Here are a few pieces of advice you should read before making this juice.
1. Get More Juice Yield by Using Half-Thawed Frozen Strawberries
You can use fresh strawberries, but frozen strawberries that have been left out at room temperature for 30 minutes or so will allow you to get more juice per berry.
How does that work? When you freeze strawberries the water content expands, then when you thaw them it weakens the cellular structure . This works great with berries in general, giving lots more yield and it doesn't change the flavor.
Note: Strawberry is a mushy fruit, so take care not to overfill the press to avoid overflow. If you are trying to use completely thawed strawberries, they will not press well and you will be better off to use them as a puree, learn more about that here: Adding Pureed Fruit to Juice
2. Only Use the Rhubarb Stalks — No Leaves!
Rhubarb leaves are considered inedible because of their high concentration of oxalic acid (source). Cut them off and juice only the rhubarb stalks!
3. Garnish the Rim with a Creatively Cut Strawberry
(You'll need a fresh strawberry for this.)
We cut a strawberry into slices while keeping the green top intact, then put it on the rim like this: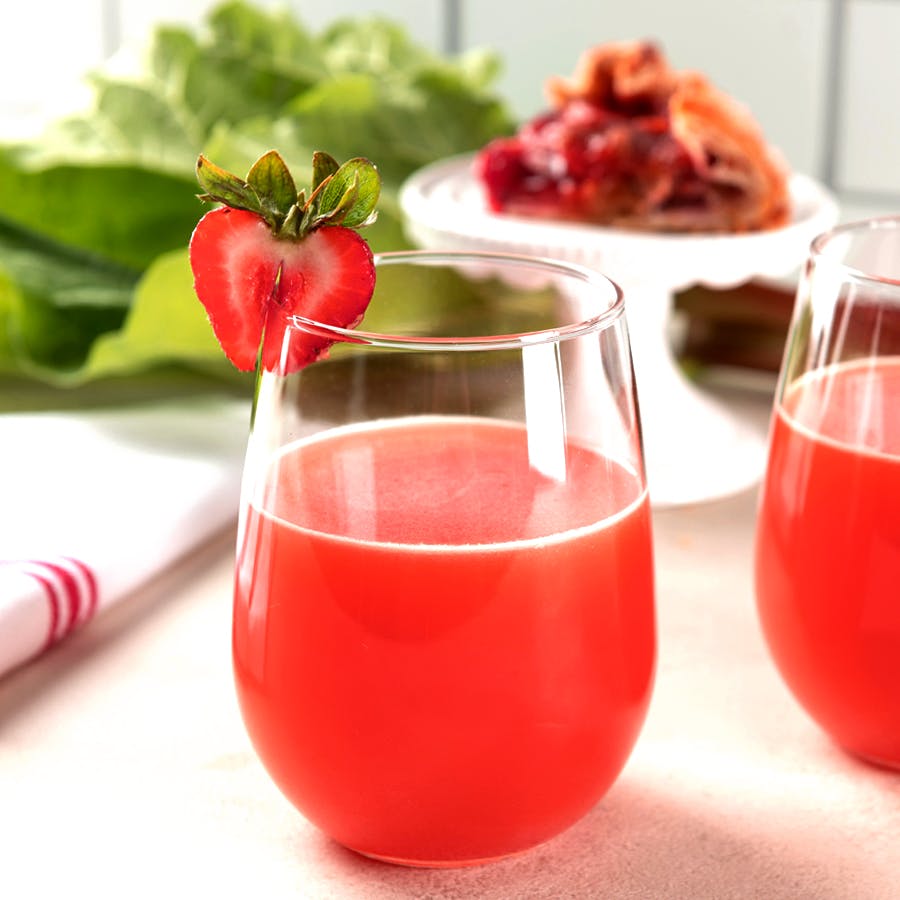 Note: You can also try cutting a strawberry into a spiral to really take the presentation to the next level. This 1-minute video will show you how.