Whether you're looking for a healthy breakfast or a fun frozen ice cream style treat, our chef-created dragon fruit (pitaya) smoothie bowl won't disappoint!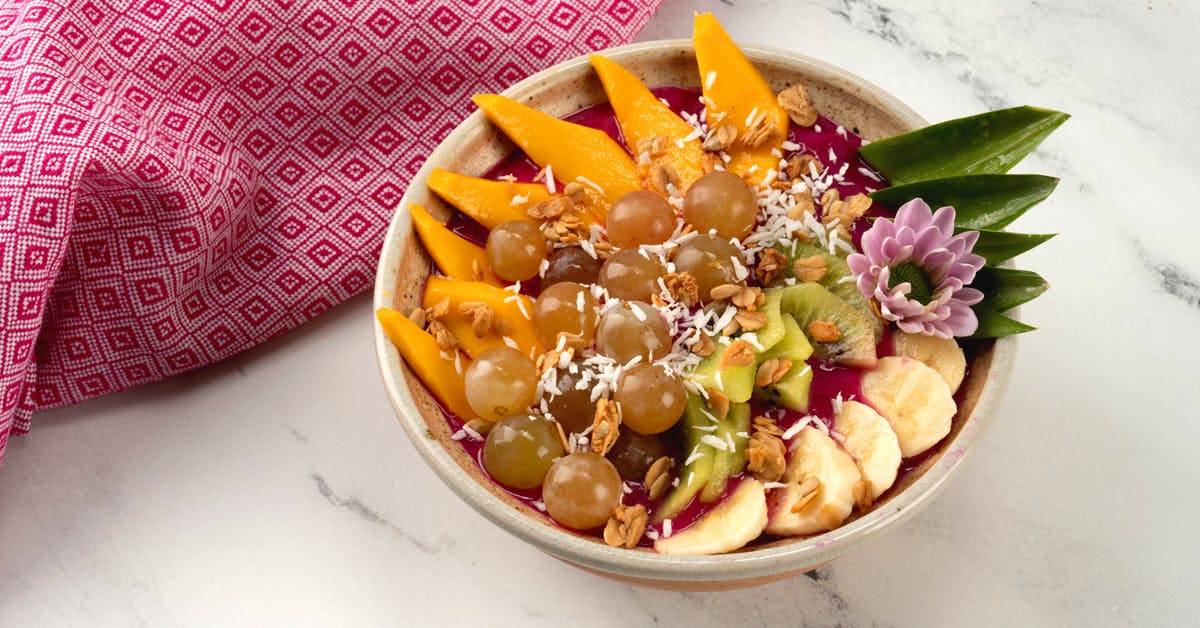 Why We Love This Super Fruit Smoothie Bowl
Not only does this fruit bowl taste great, it is so fun to make and to eat! Beautiful pink dragon fruit topped with mouth watering tropical fruit, granola and honey makes this the perfect summertime meal.
Chef Ari formulated the recipe for this smoothie bowl to taste great, and also for the health benefits it provides. He hand picked the ingredients based on the amazing healing properties they contain.
Full of Antioxidants. Antioxidants are so powerful! They help get rid of free radicals from our bodies, which are known to damage our cells. Antioxidants are also great at helping to prevent disease, reduce inflammation, boost our brain function and support our eye health. They are truly essential and this bowl is chock full of them.
Improves Digestion. Bananas and pineapple are a low-fructose fruits that are rich in fiber and contain properties that helps the growth of good bacteria in the gut.
Supports Immunity. Grapes, kiwi, mango and pineapple are all great sources of vitamin C, which boosts the immune system and helps the body defend against germs to keep you healthy.

How Do I Make This Smoothie Bowl?
So really, it's very easy to make this super fruit smoothie bowl, you're basically just blending ingredients for the base and then adding some amazing toppings! Easy peasy!
Let's talk about the smoothie bowl base for a minute. In this recipe, we are using one smoothie pack of dragon fruit (also known as pitaya). Dragon fruit is low in calories, but high in essential vitamins, minerals, and fiber. You can sub in frozen acai if you don't have frozen pitaya on hand. These super fruits are available in 100g smoothie packs or frozen cubes, and we used the premium frozen fruit from Pitaya Foods. If you are wondering whether you should use the smoothie packs or the frozen cubes, you can read about the pros and cons for each in our article, Frozen Cubes vs Smoothie Packs.
Another question you might be asking yourself is what kind of granola should I use? Should I buy it or make it myself? If you're running a juice bar and you have enough people on staff to make it in-house, that is always nice because you can also package it and sell it as a stand alone product. If you don't have the time or labor to spare, you will want to source a high quality granola. For this recipe, we used the granola from Virtue Foods.