Good things come in small packages, and this green juice shot is no exception. 
Made almost entirely of nutrient dense veggies, this green juice recipe balances leafy greens and cucumber with spicy, fresh ginger and anti-inflammatory turmeric.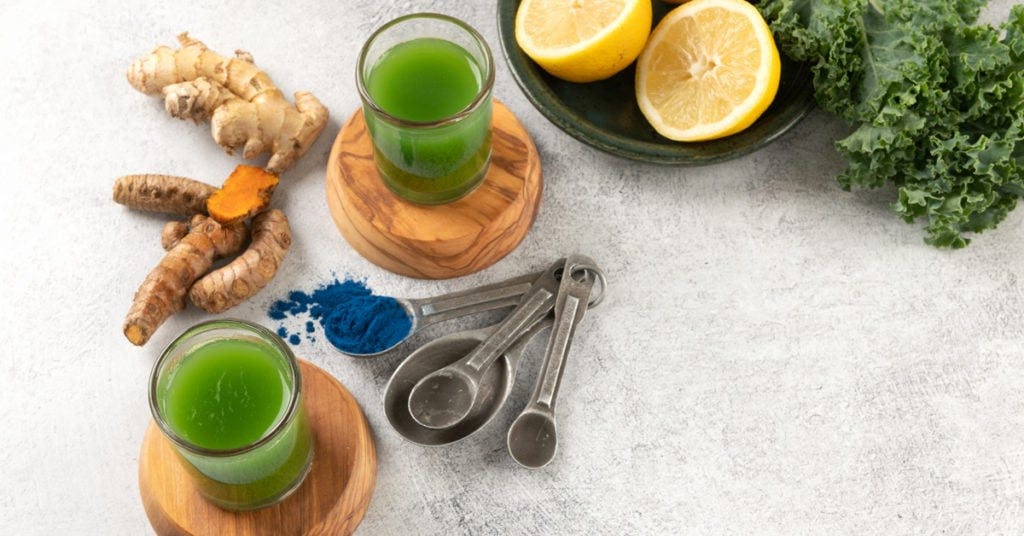 Naturally vegan and gluten-free, this wellness shot is low in sugar and carbohydrates, but full of vitamins and minerals from healthy greens. 

Why We Love This Green Juice Shot Recipe
Green drinks (juice and smoothies) are popular, but can be unbalanced in their vegetable to fruit ratio. Chef Ari developed this zippy green shot for a "one and done" approach, covering a big chunk of your daily recommended vitamins and minerals in an easy, drinkable way.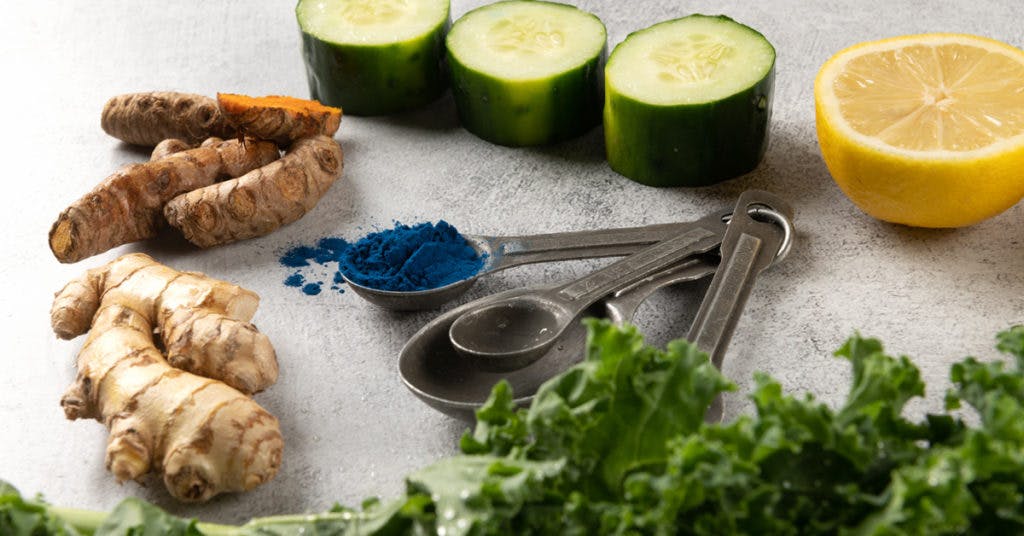 All of these ingredients are easily found at your local grocery store, and can have fantastic effects on your overall health. 
Here's what chef Ari had to say about it:
"One of our favorite shots (besides cold or immunity shots) is a daily shot, something loaded with as much vitamins and minerals as you need for the day. The most nutrient dense products in juicing are, of course, leafy greens, turmeric and spirulina. The cucumber is there to help make it a little more consumable. The lemon and ginger are included to keep the juice vibrant, but also to cut through some of the stronger flavors."

Still not convinced this daily juice shot is for you? Read on to learn about all of its amazing health benefits.                              
The Health Benefits of This Green Juice
Anti-inflammatory. Leafy greens, fresh ginger and turmeric are known for their anti-inflammatory qualities, and can support stress reduction.                            
Full of antioxidants. Kale, cucumber and ginger support your immune system while promoting cell turnover. This can help with detox too!                
High in Vitamin A and Vitamin C. Although this juice shot is full of many vitamins and minerals, these ingredients pack a punch of Vitamin A, Vitamin C, potassium and calcium!  
Supports weight-loss. Full of vegetables, superfoods, and lemon juice, this recipe can be a great tool for weight loss and lowering cholesterol.