Pineapples are one of our favorite tropical fruits of all time, but the pineapple juice you can buy at the store is simply not up to snuff.
So, we had our in-house chef put together a unique recipe your taste buds will love.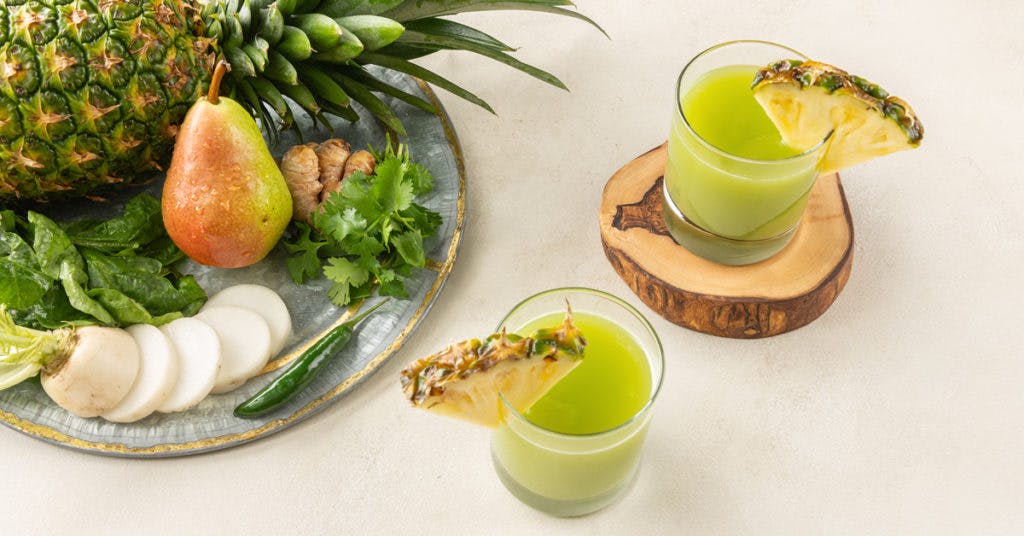 This recipe combines pineapple with pear, daikon radish and ginger to make a delicious Asian inspired, crisp juice.  Cilantro and spinach are also included to balance the flavor and add more nutrition. Finally, Serrano chili is an optional ingredient for those who like a kick in their beverages.
Before diving into the recipe, let's go over the health benefits.
Health Benefits of This Pineapple Juice
Similar to other citrus fruits, pineapples are loaded with impressive health benefits! They contain a significant amount of vitamin A, vitamin C, vitamin K, phosphorus, zinc, and calcium.
Pineapples are also great for digestive health, boosting your immune system, anti-inflammatory purposes (thanks to the bromelain), reducing the risk of serious diseases, lowering cholesterol, and more. 
Benefits from the other ingredients in this Asian-inspired pineapple-pear juice include:
Pear: High in vitamin C and vitamin K. Anti-inflammatory, lowers blood pressure, strengthens immune system and is good for boosting energy.
Daikon radish: High in vitamin C, vitamin B6, folate, potassium, and copper. Anti-inflammatory, improves digestion, strengthens bones and promotes healthy skin.
Ginger: High in vitamin B6, magnesium, and manganese. Reduces pain and aids digestion.
Spinach: High in vitamins K, A, B9, and C, also high in magnesium. Antioxidant, promotes bone, digestive, and eye health.
Cilantro: High in vitamins C, A, and K. Lowers cholesterol, promotes skin health, and strengthens bones.
Serrano chili: Relieves aches and pains. May aid weight loss and help regulate blood pressure.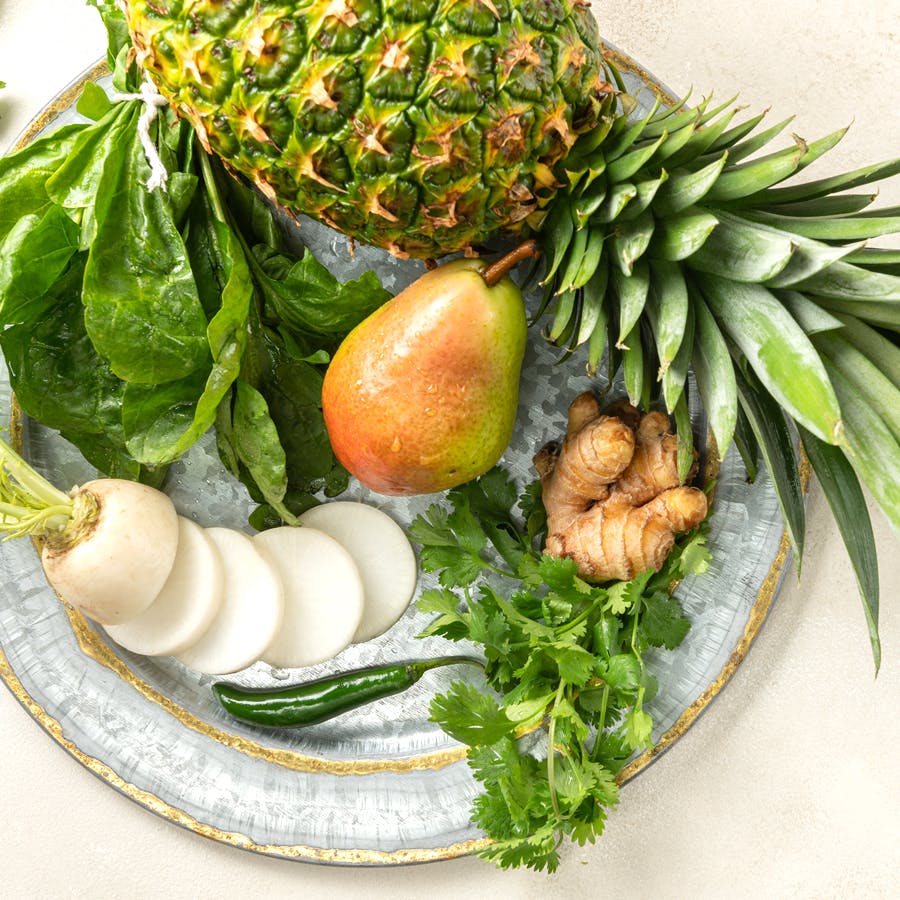 Homemade Juice = Lower Sugar & More Control
Sugar is one of the first ingredients listed on the back of most store-bought fruit juices. But when making your own pineapple juice, you have full control over the ingredients and the amount of sugar that you include (which is one of the many health benefits of juicing).

(Note: In a comparison of sugar between Coca-Cola and Apple Juice, the juice had more grams of sugar — though it also had more nutrition. This underscores the importance of always being aware of the ingredients!) Fresh pressed juice also contains soluble fiber which slows the absorption of the natural sugar and actually can help to improve blood sugar levels. Much different than drinking a soda pop beverage loaded with processed sugar!
For a healthier alternative to store bought pineapple juice, try this homemade pineapple-pear juice recipe!
How to Pick a Ripe Pineapple
How do you find a perfectly ripe pineapple? It's actually pretty simple. Use these 5 tips to pick a ripe pineapple next time you go to the market: How to Pick a Ripe Pineapple