This guide will walk you through the reasons why your Goodnature X-6 press is not turning on.
There are a few reasons that your X-6 press will not turn on. For the purpose of this article, it is assumed that the X-6 press is plugged into an operational receptacle that has been verified by qualified personnel.
To prevent juice from being wasted, Goodnature has a limit switch installed that prevents the press from turning on without  the juice tray installed. This limit switch is located on the back of the press underneath the juice tray guide rails. If the tray is not fully inserted or if the limit switch has been moved the X-6 press will not turn on. The arm on the limit switch must be engaged for the press to operate.
Another reason that the X-6 press will not turn on is the overload that is part of the On/Off switch assembly. This overload prevents the motor from drawing more amps than it is rated for. Only qualified personnel should remove the enclosure to inspect the overload. If the overload is in a "tripped" state, press the reset button and confirm that the overload is set to 8 amps. The setting for the overload is located on the adjustable dial seen below.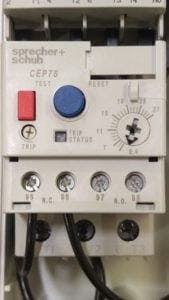 For additional technical support needs, contact our technical support team.