Preventative Standard Maintenance for the Goodnature X-6 Cold-Press Juicer.
BEFORE YOU START: Disconnect all power before performing maintenance to avoid risk of serious electric shock.
WARNING: If the supply cord is damaged, it must be replaced by the manufacturer, its service agent, or similarly qualified persons in order to avoid a hazard.
Daily:
Keep machine clean and free of any foreign objects.
Wash all used bags thoroughly.
Apply food-grade grease to the top and bottom of the rail on both sides of the press. This allows the shims to slide with minimal resistance.
Weekly:
Tighten all fasteners and inspect all components for wear, cracks, or other damage.
Inspect press racks for cracks or sharp edges.
Inspect hydraulic lines for damage or leaks.
Check hydraulic fluid level. With the cylinders retracted (press in closed position), remove the breather cap from the hydraulic reservoir (see image below). Use a dipstick to check level of fluid, it should be about 1" below the opening. If it is low, add food grade hydraulic fluid. For information on proper hydraulic fluid please contact Goodnature Customer Service at 1-800-875-3381. Download the Owner's Manual here.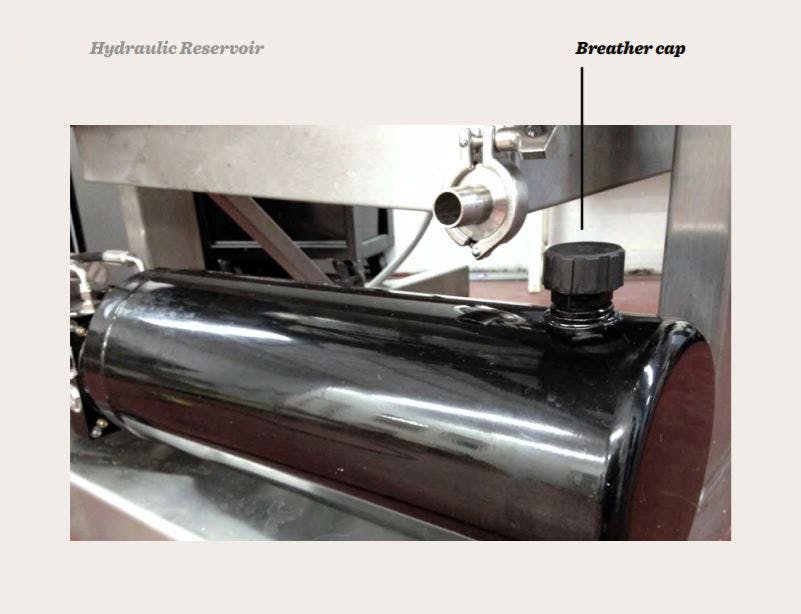 For more detailed information on your X-6, refer to the X-6 Owner's Manual. For product and ordering information, visit the X-6 product page. To order new parts and press bags, visit the X-6 parts page.