We have recently rolled out a new press component system for the X-1 Mini that makes cleaning easier, and reduces the amount of parts needed for operation.
Here are the details:
Dishwasher Safe: The new press chamber included in the kit is dishwasher safe. We also eliminated the need for a juice catch tray, which is a non-dishwasher safe part.
Eliminated the catch tray: By altering the design of the press chamber and comb system, we were able to eliminate the need for a juice catch tray. This effectively reduces the amount of parts required for operation, and makes assembly and cleaning easier.
Lowered Cost: We made the necessary investment in molds and automation to bring down the overall cost of the parts. We are able to pass the cost savings on to our customers, so the new parts can be replaced at a much lower price point. You may even decide to have extra sets on hand to improve your workflow in the kitchen. The biggest cost saving is on the press chamber itself. We were able to bring the price down from $659 to $149 –  more than $500 in savings for our customers who need to replace this part or buy extra to have on hand.
How to Know if You Have the Original System or the New One
If your machine was manufactured prior to January 2022, you likely have the original components. If you're not sure – look for the juice catch tray (the clear plastic juice funnel that is placed underneath the press). If this part was included, you have the original system.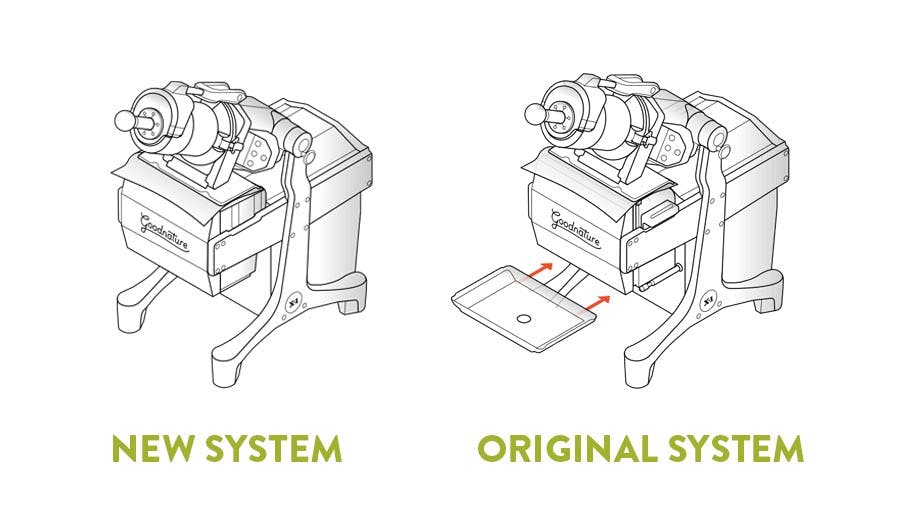 Upgrading to the New Press Kit
If you have the original press kit you can choose to upgrade to the new one by purchasing the Upgrade Kit, available on our website. This kit includes all of the components needed to upgrade to the new press components. The upgrade kit is priced at a discount compared to buying the parts individually.
By the way, the original system still works great! Upgrading is definitely not required if you would prefer not to make the investment.
Buying Replacement Parts
When you are shopping for replacement parts in the future – make sure to purchase the right version. The original press parts are labeled as "Original". The new parts are labeled as "R1" (Revision 1).