First article in a series titled "Spread the Juice," where I visit my favorite customers in growing cold pressed juice markets and tell their story.
Overview:
The first time I went to Tokyo, it was for a short 3 day trip en-route to China. I didn't do much exploring, and the juice market hadn't gained any traction yet. Tokyo is a beautiful, clean, magical place, and now that we have some customers there, I was able to go back and really dig in and learn about what's going on in the juice industry. I met with two companies – Sunshine Juice, and Why Juice?. Each company is unique, and they happen to be located very close to each other.
Sunshine Juice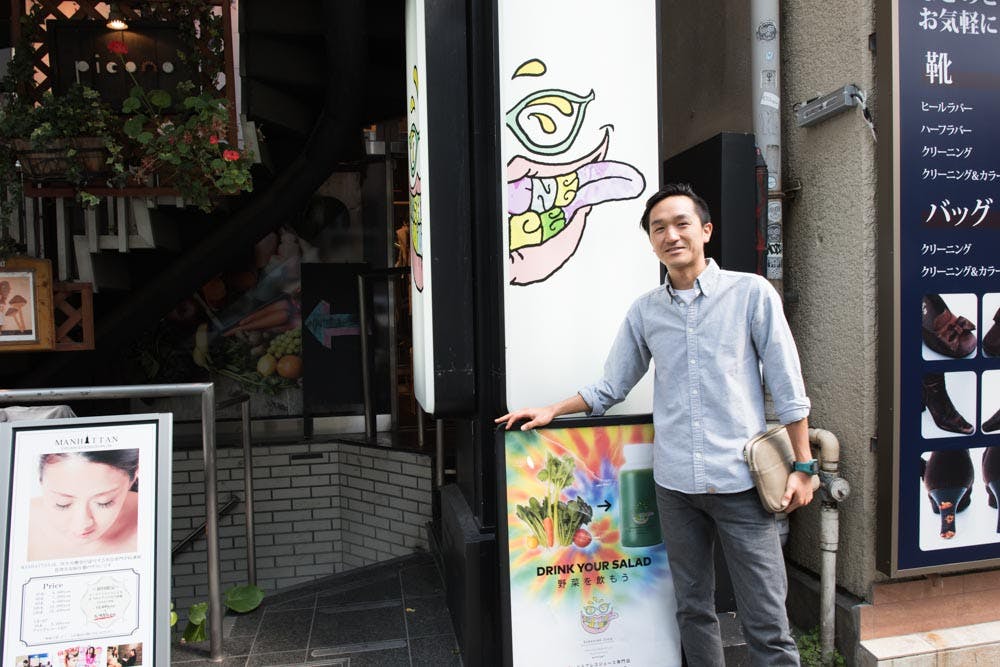 The first customer I met with was Nori Ko at Sunshine Juice near Ebisu station in Tokyo. Nori is very passionate about his work, and has been getting a lot of publicity lately about his efforts to help support local farming in Japan. Although there is a lot of land in Japan, good, organic produce is actually hard to find. The organic produce market is so small that farmers have a hard time justifying growing organic crops. Why would you grow organic produce if nobody wanted to buy it?
Nori took it upon himself to travel down to Nagano and meet with individual farmers directly, and convince them to grow more organic crops. He offered to buy the crops from them to make his juice. The farmers are now able to justify growing more organic crops, and because of this, now thousands of people a week enjoy real, organic cold pressed juice in Tokyo.
The store is small by American standards, but they make good use of space. Nice wooden counters, a sliding glass door, and a tight kitchen make it feel well designed and efficient. One aspect that really touched me was the extra ingredients you can add to the juice, such as chia seeds and milk thistle. I think this is good from both a health and a business sense, and I'm surprised more companies aren't doing it.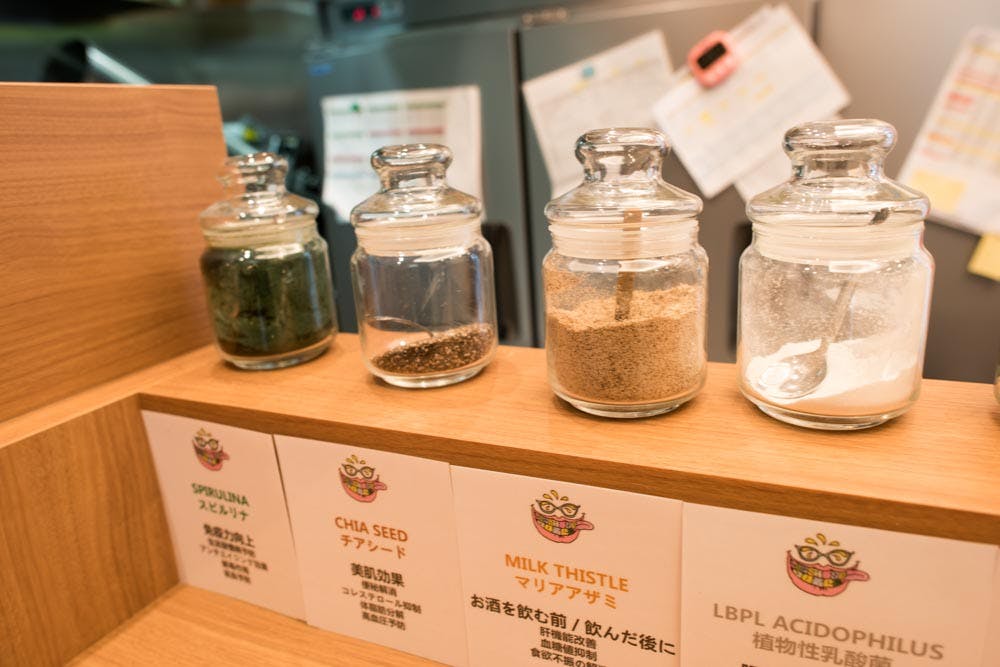 To make their juice, they were using two Norwalk juicers, but Nori decided to purchase a Goodnature X-1 to keep up with demand. Nori said, "We went from two people juicing all day on two Norwalks, to one person using the X-1 periodically throughout the day. It has made our lives a lot easier."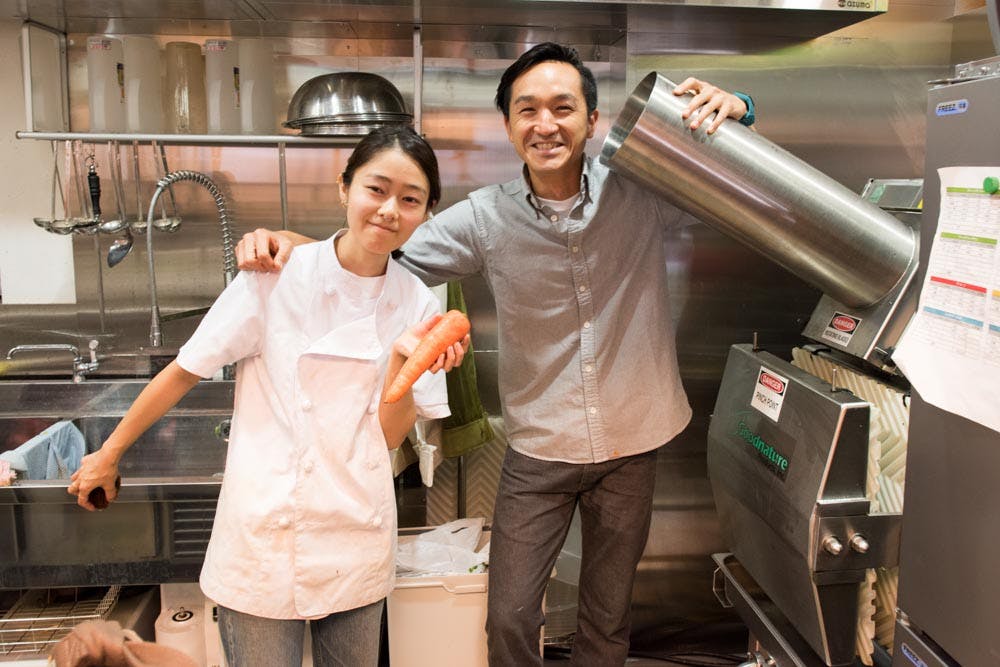 I tried two recipes – "Doctor Green," which was a green veggie juice, and "The Roots," which was a beet and carrot based juice. Both were delicious and I would most certainly recommend them. Especially "The Roots."
I went from there to visit the next shop, only a few minute walk from Sunshine.
Why Juice?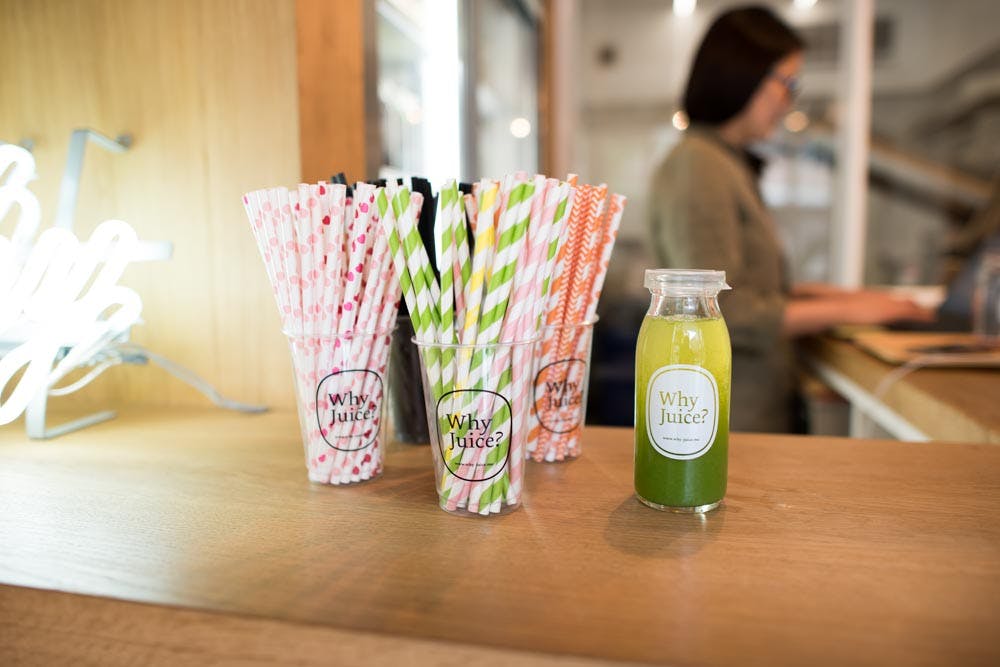 The second place I stopped by is a beautiful little shop named Why Juice?, located near the same area as Sunshine. Why Juice? was started by my friend Mia Uchida, who works for a company called Non Grid, which is a well established design and fashion studio in Japan. As you can imagine, Why Juice? as a brand is very well designed, starting with their logo and website, all the way down to the layout of their store. Everything in the store seems to fall in place and fit naturally together. One of my favorite design aspects was the word "factory" printed on the sliding glass door leading into the kitchen.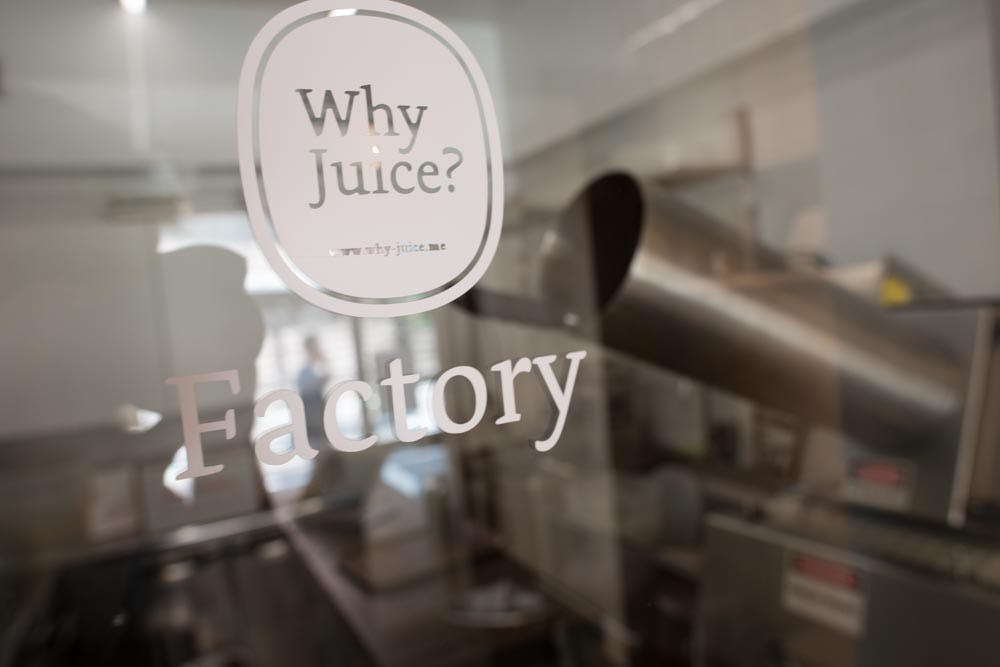 Mia lived for several years in Los Angeles, which is how she got to know the juicing world. "I came back to Japan, and happened to meet Hiroshi, the owner of Non Grid. We started talking, and I told him about my juice bar concept. He loved the idea, and within 6 months we we were opening our first cold pressed juice bar."
Why Juice? was featured on the cover of a popular magazine in Japan called Metro, which gave them a lot of exposure in the Tokyo area. They have a good delivery system with a cute little cart on a bicycle, and the recipes are very good. Today they are doing very well, and to be honest, I hope they end up expanding to the states. I think the brand would do very well here.
Why Juice? also uses a Goodnature X1 to make their juice which gives them the freedom to make all their juice in a short amount of time before business hours. That way, they can focus on sales and delivery without the added stress of juice production.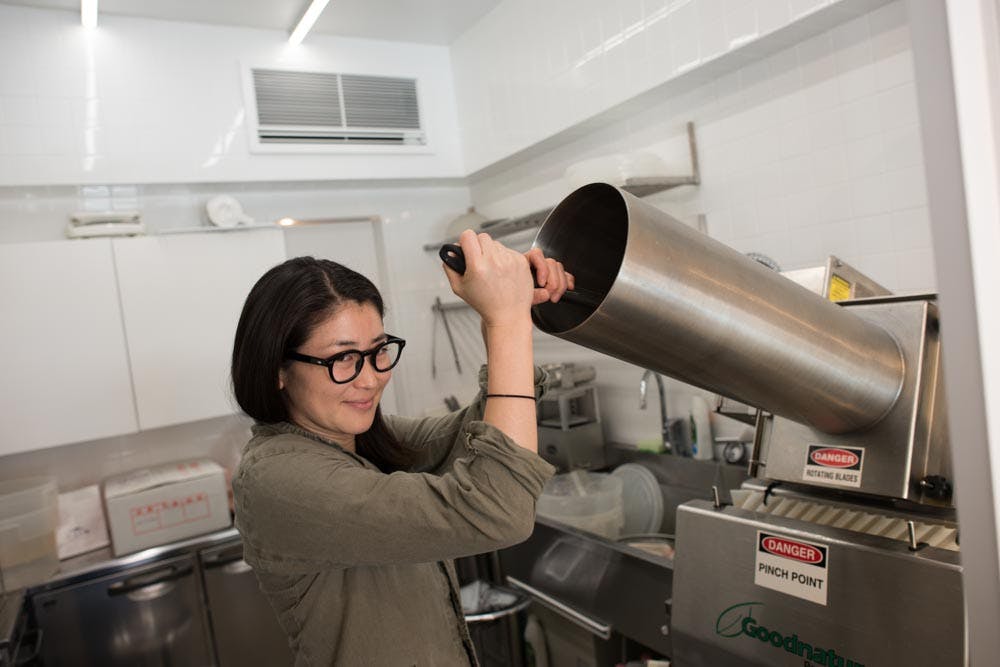 Challenges and Opportunities of Cold Pressed Juice in Tokyo
I also went around and visited some other juice bars in Tokyo, and was shocked to find that there are many claiming to be "cold pressed juice" that are not at all cold pressed, some are not even juice. One store I saw in a subway station even adds green powder to the juice instead of actually adding vegetables. Because of this, it is a challenge to sell real, organic, cold pressed juice because of the much higher price point. Customers don't even realize that what other companies are claiming to be cold pressed juice is not at all cold pressed. Juice must be made in a juice press to be pressed!
The other major challenge that I see in Tokyo is, as mentioned above, it is still difficult to source organic produce, and much of it has to be imported, sometimes all the way from Canada or the United States. This is especially true in winter time, which does not lend itself to growing crops in Japan. This all adds significant cost to the juice.
Despite these challenges, I think the cold pressed juice market has huge potential in Japan. In general, the Japanese population is very concerned about their health, and lately the interest in organic and healthy food has been gaining huge popularity. Even if you look at the average japanese meal, it often contains very healthy food, at a considerably high price point compared to the United States. The population is accustomed to paying good money for good food.
To look at what the total potential of the juice market could be in Tokyo, let's compare to Los Angeles:
Los Angeles has a population of about 4 Million people (Wikipedia), and well over 100 stores that sell cold pressed juice.
Compare this to Tokyo, which has over 13 Million people (Wikipedia), and less than 20 stores that sell cold pressed juice.
Also, LA has an average per capita income of about $40,000 compared to Tokyo, which is at about $50,000.
This mean Tokyo has more than three times the population, and they have more money to spend. Combine this with their love of healthy living, and you have the perfect storm for a new superstar juice market.
Final Thoughts
On my last night in Japan, the owners of both companies took me out for a wonderful Sushi dinner that I will never forget. We spoke about how we can all work together and grow the cold pressed juice market in Japan. It's so refreshing to see companies willing to work together instead of trying to be secretive and competitive. The juice market is too small to put up a competitive wall, there is room for everyone to grow. That's what "Spread the Juice" is all about, growing the market world wide and improving people's lives with juice.
Comments
Hi, my name is Stefano Bisanti and I am writing from Fukuoka, Japan. I have so many questions to ask but let's go by order... First I'd like to ask you if the Goodnature products are present here in Japan yet become i have been looking for info about Goodnature cold press juicer for a while but couldn't fine any. I am about to start a new business here, and I am looking for a cold press juicer that can offer the performance of a commercial grade machine but without the need of a production of 150 liter per hour. Im am interested in your countertop model, can you tell me if this could be a good choice and where i can order eventually such a machine? If there are not japanese retailers is it possible for me to order from america or australia? Hope to get back from you as soon as possible.. Thanks for your time Stefano
Sep 21, 2016
Hi Stefano! Thank you for your interest in our Goodnature Countertop CT7 cold press juicer. One of our account executives will send you an email to answer your questions.
Sep 21, 2016
I need information about what is needed to do for X1 to be used in Bali. With reference to the electricity and power, do you have a convertor that can be used there, we want to ship our X1 to Bali, Indonesia Thanks for your help.
Jan 8, 2015
Charlie Wettlaufer
Lilly, I will have someone send you all that info ASAP. Thanks for the comment!
Jan 8, 2015