Finally, something fresh
If you walk into any Jugofresh or Whole Foods Market in Miami you are likely to see something new. There's a bar – like the kind that serves alcohol – and the mixologist is doing her thing shaking up colorful drinks and serving them, but instead of using alcohol she's mixing up cold-pressed juice. Jugofresh unleashed it's MXTO (Mixed to Order) juicing concept in February and it has been generating quite a bit of excitement.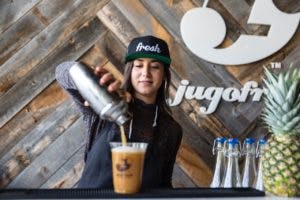 The concept is simple. You can either order from the menu of preset recipes, or make up your own. If doing a custom juice, you first pick a base juice combination (I chose carrot / orange), and choose from a list of add-ons and boosters (I chose turmeric, ginger, and lemon).
The mixologist measures the recipe by the ounce, shakes it up, and pours.
Jugofresh has expanded the concept into Whole Foods Market by managing the juice program at 8 of their South Florida locations, and adding more locations monthly. Jugofresh handles the staffing, training, recipes, and everything involved in providing a killer juice program to Whole Food's customers. The model works and, in my opinion, is the right way for a business like WFM to handle their juice bars, since it allows them to focus on what they do best – provide healthy, high quality products to its customers. Let's face it, cold-pressed juice isn't an easy business.
A vital part of the MXTO program is the Goodnature CT7 cold press juicer. The compact design of the commercial juicer allows Jugofresh to make juice fresh at each location throughout the day, instead of making it in a central production kitchen that supplies juice to each store.
Matthew Sherman, Jugofresh founder and CEO says "the Goodnature Countertop machines have been great for us. We are now making almost all of our juice in the shops which has allowed us to provide an even fresher product to our customers."
Jugofresh staff refer to themselves as the "get fresh crew," so it's not surprising that they have invented the freshest juicing concept in the nation. #drinkmadjuice