Finally, something fresh
If you walk into any Jugofresh or Whole Foods Market in Miami you are likely to see something new. There's a bar – like the kind that serves alcohol – and the mixologist is doing her thing shaking up colorful drinks and serving them, but instead of using alcohol she's mixing up cold-pressed juice. Jugofresh unleashed it's MXTO (Mixed to Order) juicing concept in February and it has been generating quite a bit of excitement.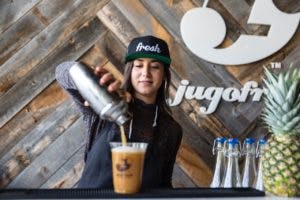 The concept is simple. You can either order from the menu of preset recipes, or make up your own. If doing a custom juice, you first pick a base juice combination (I chose carrot / orange), and choose from a list of add-ons and boosters (I chose turmeric, ginger, and lemon).
The mixologist measures the recipe by the ounce, shakes it up, and pours.
Jugofresh has expanded the concept into Whole Foods Market by managing the juice program at 8 of their South Florida locations, and adding more locations monthly. Jugofresh handles the staffing, training, recipes, and everything involved in providing a killer juice program to Whole Food's customers. The model works and, in my opinion, is the right way for a business like WFM to handle their juice bars, since it allows them to focus on what they do best – provide healthy, high quality products to its customers. Let's face it, cold-pressed juice isn't an easy business.
A vital part of the MXTO program is the Goodnature CT7 cold press juicer. The compact design of the commercial juicer allows Jugofresh to make juice fresh at each location throughout the day, instead of making it in a central production kitchen that supplies juice to each store.
Matthew Sherman, Jugofresh founder and CEO says "the Goodnature Countertop machines have been great for us. We are now making almost all of our juice in the shops which has allowed us to provide an even fresher product to our customers."
Jugofresh staff refer to themselves as the "get fresh crew," so it's not surprising that they have invented the freshest juicing concept in the nation. #drinkmadjuice
Comments
This is not new. I am doing this in my store and pretty soon going online. I have a floor model small cold press juicer, make my juices everyday and blend them per customers desire. I guess we all small business people do not have marketing dollars to spin things and make it look cool. I have personal health recovery story and learned so much over last 6 years and have so many ideas that I can make a rich investor even richer. 😄
Sep 9, 2016
Charlie Wettlaufer
Uday, we look forward to seeing the website! Please share link when it's ready.
Sep 10, 2016
This is not new. But I guess Miami and Toronto are world's apart. We at RJG have been doing this from 2011. Since then we have refined the process and have a few innovations to this concept that have been developed over the last 5 years. If you are interested and you are in the greater Toronto are you can order your custom mixed juices from our website. http://rawjuiceguru.com/product/custom-juice or in store
Apr 21, 2016
Charlie Wettlaufer
Vahid, that's great that you are doing this. I'm in Toronto quite often. I'll stop by some time. Thanks for the comment.
Apr 21, 2016
Very cool, didn't know there was one in Toronto and it's where I live. Need to check it out
Apr 23, 2016
I love this whole concept. In trying to develop a juice bar concept, I think about actually having a "Bar", which also serves alkaline water. Would like to know if you have a video on how the CT7 counter top machine works? I know it's a two-step process. This is the machine I have been thinking about. Thank you! Peace,Tara
Apr 21, 2016
Charlie Wettlaufer
Hi Tara, we have the basic promotional video on the product page, and will have more videos being released in june!
Apr 21, 2016