Finding a perfect, juicy, and sweet mango at your local grocery store or farmers market may seem like a challenge.
If you're unsure of what to look for to find a perfectly ripe mango, read on.
How to Pick a Ripe Mango 
Pay Less Attention to the Color (It Doesn't Indicate Ripeness)
When shopping for fruits such as cantaloupe, watermelon, or pineapple, their color is an accurate indicator of their ripeness. But it's important to remember that this does not apply to mangoes!
Although you may stumble upon mangoes with different colors, these colors indicate the mango variety instead of their ripeness. Try your best to pay less attention to the color and more attention to the feel and smell of the fruit instead! 
Popular Mango Varieties
There are several different types of mangoes on the market that influence the different colors you may see. View the quick list below to understand the most common varieties you may find in your local store!
| | | |
| --- | --- | --- |
| Mango Variety | Flavor | Color |
| Tommy Atkins | Mildly Sweet | Dark red with orange-yellow accents |
| Palmer | Mildly Sweet | Deep red with light green background |
| Honey (Ataulfo) | Sweet & Creamy | Vibrant yellow and gold |
For additional information on the different varieties of mangoes, read the National Mango Board chart here!
Feel the Outside 
When choosing a mango, give it a gentle squeeze around the outside to feel for a bit of softness (similar to a peach or avocado). If your mango is still hard to the touch, that's fine – you can always leave it on your counter at room temperature to accelerate the ripening process.
Pro Tip: If you're looking to quickly ripen your mango, place it in a paper bag on your counter – this will also help with the ripening process.
Is your mango is overly mushy? This may indicate that it is overripe!
Smell the Stem-End 
Checking the stem of your mango is very important! To do this, pick up the stem-end of the fruit and smell – it should have a sweet, fruity aroma similar to other tropical fruits.
If your mango smells fermented, acidic, or sour, this may indicate that your mango is overripe.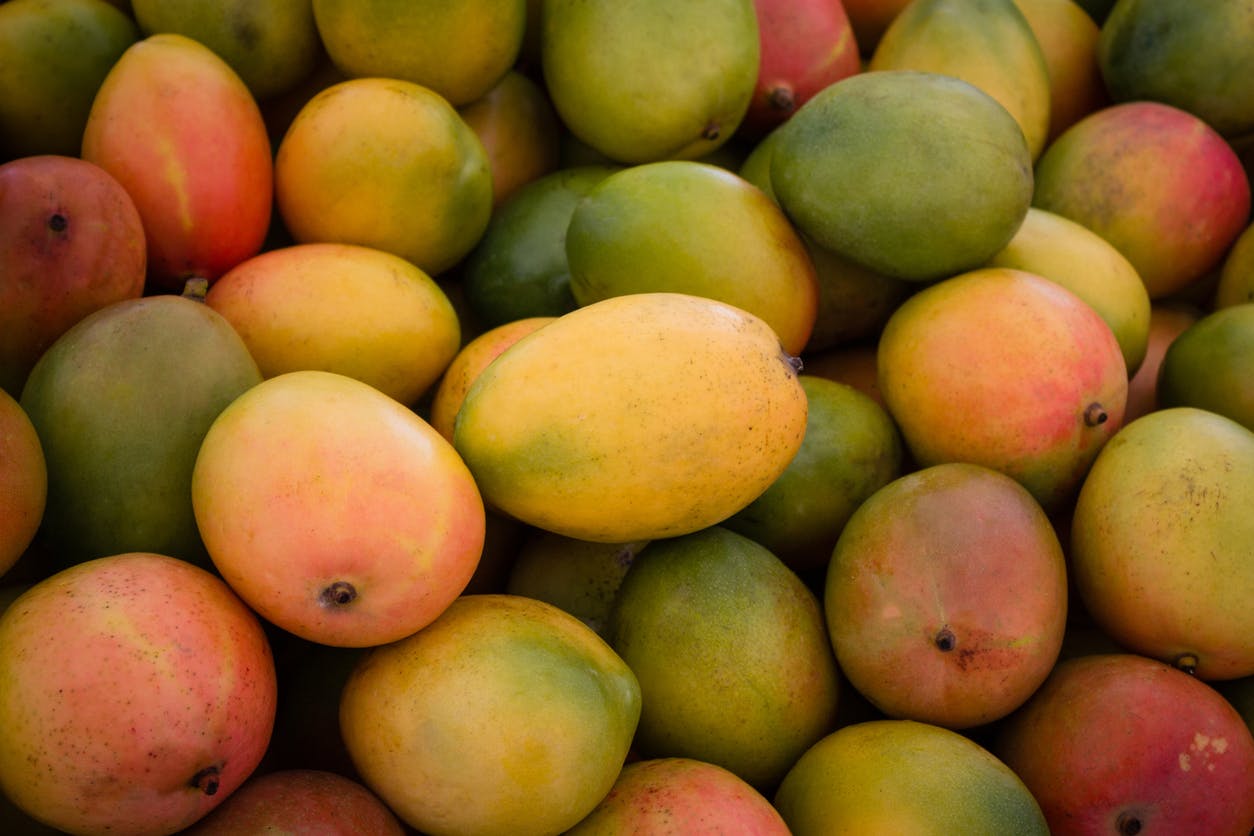 History & Health Benefits of Mangoes
Mangoes have been around for over 4,000 years and are particularly common in Southeast Asia. They contain traces of phosphorus, pantothenic acid, calcium, and iron – making them low in calories but high in nutrients.
Mangoes also contain high levels of antioxidants, which help protect the body against free radicals which may lead to cancers, illness, and diabetes. Not only are mangoes considered to be a superfood, but they're packed with necessary vitamins including Vitamin C, Vitamin A, and more!
We hope these tips helped you find the perfect mango! If you need help picking other fruits, view our other guides for picking a ripe cantaloupe, watermelon, and pineapple.
Want to browse delicious, chef-made juices you can make at home? Check out our juicing recipes here!