Written by Robin Frey and Charlie Wettlaufer
First, it's important to understand why you want to add CBD to juice. Keep in mind that you cannot make any medical claims about CBD.
Jump to Step by Step Instructions
What Is CBD?
Cannabidiol (CBD) is a cannabinoid present in cannabis plants. There are several cannabinoids found in cannabis, including the other popular one, THC, which is the psychoactive cannabinoid that gets people high. CBD is extracted from Hemp, which is simply a variety of  the cannabis plant that grows with high CBD and low THC levels (less than 0.3% THC). There are also other cannabinoids found in cannabis that don't get as much attention as the other two. When CBD is extracted from cannabis plants, it is first extracted as full spectrum hemp oil, then if  desired, purified into broad spectrum or isolate.
Full Spectrum vs Broad Spectrum vs Isolate
CBD can be purchased commercially as either a full spectrum, broad spectrum, or as an isolate. Isolated CBD means it has been isolated from all of the other cannabinoids and molecules found in cannabis. In other words, pure CBD.  Some people believe that it's better to consume full spectrum hemp oil since it is closer to its natural plant state and contains the other cannabinoids, which are also believed to support general well being.
In 2015, a study was conducted and the results found that a small amount of  full spectrum CBD was needed to support general well being compared to a much larger amount of pure CBD (isolate) that was required to achieve the same effect. It is thought by some that the compounds found in full spectrum CBD work together in synergy to magnify the effects of the individual components, making the medicinal impact greater than when the compounds are isolated. This is referred to by scientists as the "entourage effect". There are quite a few studies and review papers on the topic should you wish to research further and draw your own conclusions.
Broad spectrum usually means full spectrum minus THC. Removing the THC (even if it's a small amount) helps to reduce the risk of psychoactive inducing properties, and/or the consumer testing positive for a THC drug test.
Words of Caution
Intended Use
Determine your intended use and make sure you are not making any medical claims that will classify your CBD infused juice (or any products) as a drug. By definition of the FDA, "A drug is any product that is intended for use in the diagnosis, cure, mitigation, treatment, or prevention of disease; and that is intended to affect the structure or any function of the body."  A drug must be approved by the FDA before it can be marketed in the United States, and as you can imagine, it is a very long and expensive (about $19 M) process.
What you say (label content, promotional text with or on the juice, testimonials, ingredient descriptions, social media and website content), about your juice is the deciding factor on its intended use. The FDA will look at all the above mentioned places to determine a product's intended use. Bottom line is this, if you claim your product will have any effect on the function of the body, other than supporting general well-being, you run the risk of being noncompliant.
The FDA has sent warning letters in the past to companies illegally selling CBD products that claimed to prevent, diagnose, treat, or cure serious diseases, such as cancer. Some of these products were in further violation of the FD&C Act because they were marketed as dietary supplements or because they involved the addition of CBD to food. – FDA.gov
That leads us to our next question…
Can I Legally Add CBD to Juice?
The short answer is no, at least not per federal law. However, there are lots of juice bars and juice companies incorporating hemp oil and CBD into their products. Here's the current legal status of CBD in the US:
The Hemp Farming Act of 2018 was a proposed law to remove hemp (defined as cannabis with less than 0.3% THC) from Schedule I controlled substances and making it an ordinary agricultural commodity. Its provisions were incorporated in the 2018 United States farm bill which became law on December 20, 2018. – Wikipedia
So what this means is that hemp-derived CBD is no longer considered a controlled substance. However, under U.S. federal law, it is still illegal to sell CBD as a food or as a dietary supplement. On December 20, 2018, FDA Commissioner, Scott Gottlieb, M.D., issued a press release to reiterate their position. In the release he said, "it's unlawful under the FD&C Act to introduce food containing added CBD or THC into interstate commerce, or to market CBD or THC products as, or in, dietary supplements, regardless of whether the substances are hemp-derived."
From fda.gov:
When a substance is excluded from the dietary supplement definition under section 201(ff)(3)(B) of the FD&C Act, the exclusion applies unless FDA, in the agency's discretion, has issued a regulation, after notice and comment, finding that the article would be lawful under the FD&C Act. To date, no such regulation has been issued for any substance.
When a product is in violation, the FDA considers many factors in deciding whether or not to initiate an enforcement action. Those factors include, but are not limited to, violations on multiple levels (see intended use), agency resources and the threat to the public health.
State laws vary considerably, and in some jurisdictions, cannabis and hemp and hemp-derived (CBD) products have been legalized at the state level. Some juice companies have found they have been able to sell CBD and CBD infused products with little or no issues. You should do your own research regarding legalization at the local level.
Will CBD be approved by the FDA soon?
Those in the industry are hopeful that in the near future, we will see the federal laws move to be more in line with the laws on the state level. We met with Stephen Mueller, the CEO and founder of Mile High Labs, a large CBD producer who is setting the standards for cannabidiol (CBD) ingredient manufacturing. He has testified himself at FDA hearings regarding CBD and cannabis. "They are likely to change their stance on it and allow CBD as a dietary ingredient, and maybe a food, at some point here…probably in the next 3-6 months." (Granted that was about 6 months ago and things still haven't changed. No surprise that the government moves fairly slow.)
If you want to be extra cautious but still give your customers the benefits of incorporating CBD into your cold pressed juices, we recommend letting your customers do the mixing. There is no law that restricts you from educating your customers on how to effectively mix CBD into juice!
Adding CBD to Juice
So, with all that said, how do you actually do it? Well, that will depend on what type of CBD is being used. There are two types, water soluble and oil soluble.  The most common and least processed is oil soluble, but it is harder to incorporate into your juices than a water soluble product.
Sourcing Safe CBD and Hemp Oil
There have been a lot of issues in the industry with CBD not holding up to the advertised amounts. The FDA sent many warning letters last year to companies not providing the correct amount of CBD in their products. If purchasing hemp oil or CBD isolate in bulk for your juice bar we recommend Mile High Labs based in Colorado. They take a scientific approach to producing and testing CBD in their 400,000 sq. ft. facility in Broomfield, Colorado.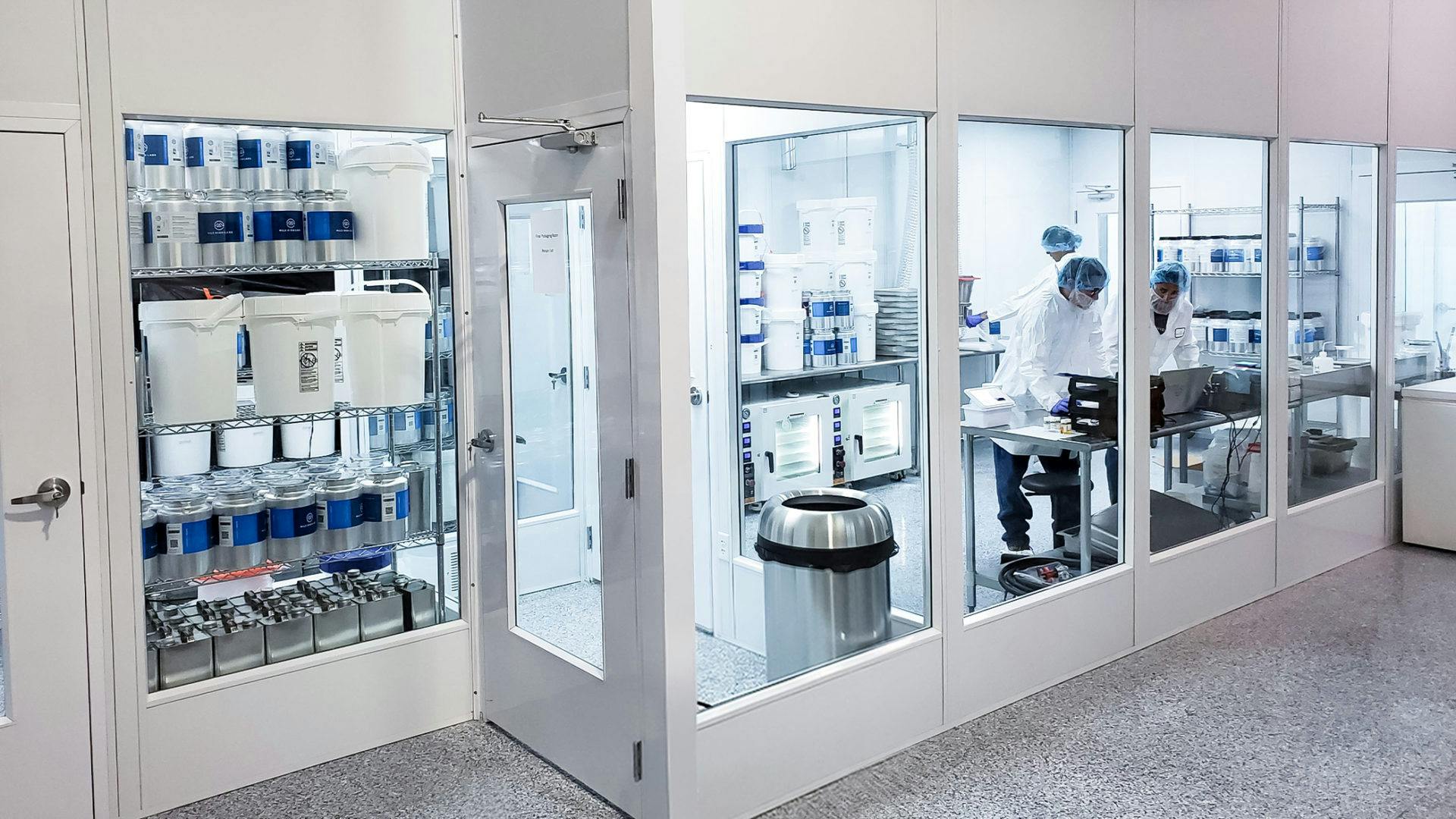 Water Soluble CBD
Mile High Labs produces a nano-emulsified liquid concentrate in bulk that is dispersible in almost any beverage or liquid food and is available as a broad-spectrum (with 10% CBD concentration) or isolate (with 20% CBD concentration). This or any water soluble product is easy to incorporate, just add it in and mix or shake!
Oil Soluble CBD
Typically found in the form of tinctures, oil soluble CBD requires an emulsification step if you want to get it suspended in your beverage and help keep the oil from floating on top or sticking to the sides of  your container. There are many ways to perform emulsification. Here is the method used by our friends at Maine Juice Co.:
Choose a juice recipe where you can incorporate lemon or lime. The citric acid in the juice acts as a natural emulsifying agent.
Make your juice recipe (minus the citrus) and set aside.
Next make the citrus juice.
Combine the citrus juice with your CBD oil.
Using a blender, whip together on medium until frothy, about 20-30 seconds.
Pour your juice OVER the CBD and citrus juice mixture.
Whisk for about one minute.
To achieve consistency in dosing, bottle immediately.
CBD Stability
The MHL water soluble product has a pH level of around 3, which falls right around where most cold-pressed juice does. Very acidic juices like lemon juice are usually around a PH of 2-3, and carrot juice can be up to a PH of 6. The CBD will be stable in juices with a PH up until about 7. The only time you need to be concerned is if you are mixing CBD directly into raw nut milks, which can have a pH of about 7.
Pro Tips
Over blending is better than under blending when emulsifying.
If bottling takes longer than ten minutes, whisk finished juice every ten minutes to ensure consistency across each bottle of juice.
Adding to smoothies is a great way to incorporate CBD, as the blending action does a great job of emulsifying.
"When using CBD full spectrum make sure its under 0.3% THC (anything over that is classified as psychoactive cannabis) . You'll want to get test results from your provider for EACH batch you purchase. This is most important while using full spectrum CBD." – Timothy Nickerson, Maine Juice Co.
Join the Discussion!
What do you think? Come over to our Goodnature Juicing Facebook Group to join the discussion! We invite you to ask the group your questions, share your experiences and voice your thoughts!
Comments
I usually combine the citrus juice with CBD oil https://getcbdinfusion.com/. Using a blender, whip together on medium until frothy, about 20-30 seconds. Pour your juice over the CBD and citrus juice mixture. Whisk for about one minute.
Jan 28, 2022
Can I purchase water soluble CBD and add it to my juice. I'm not a vendor, just a person looking for natural pain relief.
Dec 9, 2021
Robin Frey
yes, most definitely!
Dec 10, 2021
Would like more information on the CBD juice.
Oct 24, 2021
Robin Frey
Hi Christina, CBD juice is a topic that our Goodnature Juicing Group on FaceBook has discussed...if you have a specific question about it, this is a great platform to ask questions and get the answers from people who are making and selling juice every day! Check it out here: https://www.facebook.com/groups/407299067217191
Oct 25, 2021
Good on you for sharing.
Aug 28, 2020
Exceedingly interesting.
Aug 18, 2020
Awesome post.
Apr 20, 2020
Excellent article. I definitely love this site. Stick with it!
Feb 29, 2020
Great Blog! I've gained a good amount of knowledge reading this article. I am excited for what the future holds for CBD and cold-pressed juicing!
Feb 8, 2020
Infact I really love natural remedies more than any other treatment in the world.....so I wish I could get more tips from these site....
Feb 7, 2020
This was a very interesting article If CBD still illegal why there is so many companies selling so may CBD product ?
Feb 7, 2020
Robin Frey
Hi Ronen, Great question! The simple answer is MONEY. If you want to dive in deeper on the question, this article does a great job of exploring it: https://www.washingtonpost.com/business/2019/06/24/cbd-infused-food-beverages-are-still-illegal-under-us-law-so-why-are-they-everywhere/
Feb 7, 2020