On the Goodnature Radio Podcast last week, our guest Kaitlin Soto (founder of Flourish Juice Co) detailed for us how her small raw juice bar has been using a smart fridge (Byte Technology) as a high-tech juice vending machine.
Basically, the way the fridge works is that it automatically knows what's inside, using RFID-tagged juice bottles (it works on any products, not just juice). A customer that's interested in purchasing swipes their credit card, then they can open the door and take what they want. The fridge then charges the card for the items that have been removed.
Based on the discussion on the Goodnature Juicing Facebook group, there are other juice companies using these new devices as well, like Fully Rooted, whose custom smart fridge is pictured below.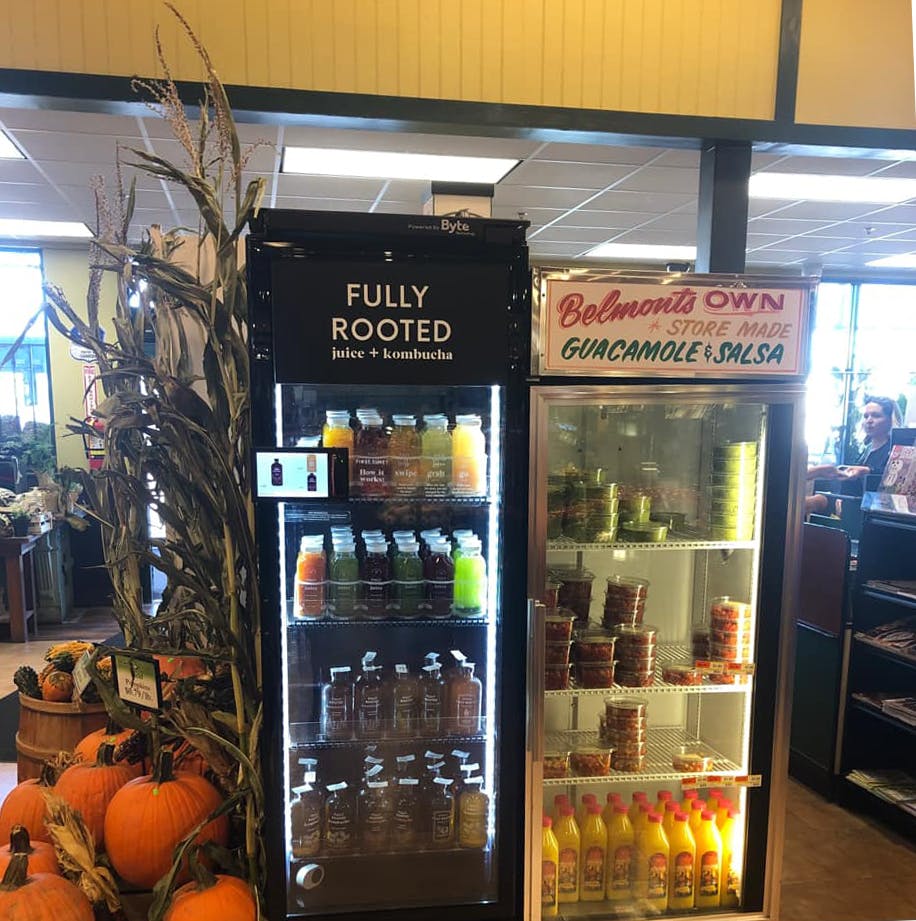 The best part about this system is that the sales are still going direct to consumer from the juice maker, meaning there is no wholesale aspect, and therefore, no pasteurization laws to worry about (this is my own opinion, make sure to consult your local health department). Many customers have tried things like this in the past, but technology (up until now) has made it hard to manage inventory, temperature, and sales remotely. I feel very optimistic about these new devices and how it can help our Goodnature Family sell juice to more people in their local communities.

The price listed on their website for the fridge is $4,500 for each fridge plus extra fees for mobile connectivity, credit card processing, etc. I've heard there's a new version for $5,500 that includes tap-to-pay.
This is something new we just learned about last week, so as we learn more we will keep the community updated. The best way to stay updated is to join our Facebook group and subscribe to our YouTube channel.
Comments
I would like to make the juice. May you please give support and ingrediencies
Nov 2, 2022
Robin Frey
Hi Stella, One of our team members will reach out via email, thanks!
Nov 3, 2022
Interesting thought to drop down to a 12oz. prices do seem high in my opinion. perhaps consider a conversation / podcast about choosing volume over higher prices. we sell a 12oz in Redding, Ca. for $7.25 and a 16oz for $9.00 40% COGS 25% payroll. our focus as a team is increasing volume and customer base rather than just increasing prices.
Nov 1, 2022