We sent out a survey regarding the pandemic to our email list last week and it was completed by over 400 juice businesses. I've learned a lot form this data, conversations with entrepreneurs, and the discussion going on at the Goodnature Juicing Facebook Group.
I hope that sharing this with you—along with some useful tips—may help your business survive this crazy time and make it out the other side. If you have any other advice for the industry, please comment on this post below or better yet, on the Goodnature Juicing Facebook Group.
How the Pandemic Has Affected Juice Businesses
It shouldn't be surprising that most juice bars, restaurants, and other juice companies are reporting a decrease in sales. About 62% report a decrease in sales. 21% report things are about the same. Some juice bars are being forced to shut down by government demand in their local region.
The encouraging statistic is that about 17% of juice companies that completed the survey actually report an increase in sales during the pandemic.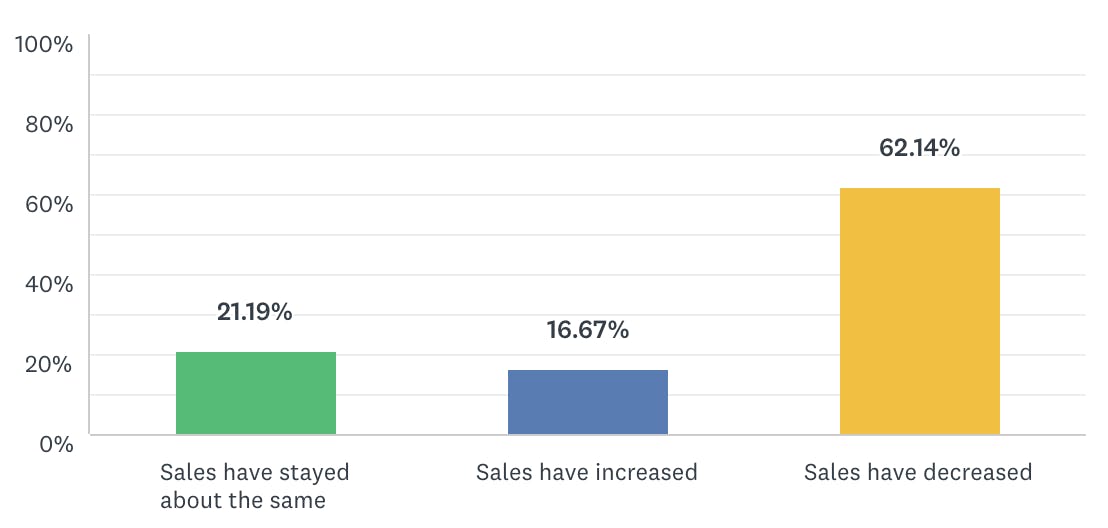 Out of the business types reporting decreases, restaurants have been hit the worst (80% reporting a decrease in sales) and juice trucks have been hit the least (only 33% reporting a decrease in sales).
The business type with greatest number reporting an increase in sales is juice bars – with over 20% reporting an increase in sales.
What's Working
Wellness shots / immunity boosters are selling well. Both wholesale brands and retail have reported a spike in shot sales. People are looking to increase their intake of immunity strengthening nutrients.
Juice bars are adapting by offering pick up and delivery and finding other creative ways to keep their business going. Uber Eats is waiving their delivery fees for independent restaurants. Some juice bars are offering drive-through orders.
Some juice bars have begun shifting to become more like organic markets, offering organic produce, snacks, and other essential items to their customers, which can fill a need when the local grocery stores are out of stock or don't offer high quality health and wellness products.
How to Keep Your Customers Safe
It's important now more than ever to practice good sanitation, and go above and beyond normal operating procedures.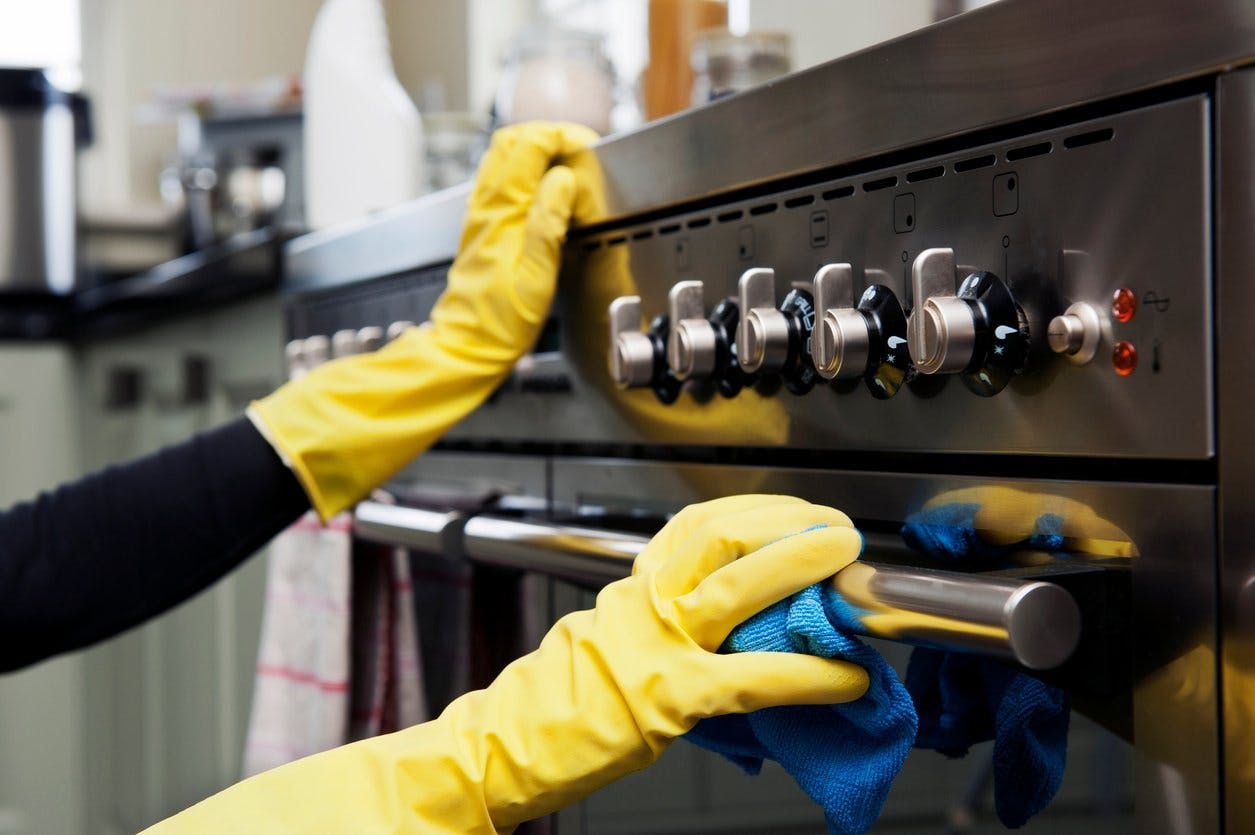 Here are some tips:
Follow the ServSafe best practices for COVID-19.
Use antimicrobial produce wash to clean your fruit and vegetables. This is a very important first step. If you don't start with clean produce, nothing else matters.
Once you've cleaned your produce, make sure you're treating it as if it's ready-to-eat: handle it with gloves, keep it clean, don't let it become contaminated. Treat it as if you are serving it right now as food to your customers.
When juicing, take extra care not to contaminate the juice.
If any staff member is showing symptoms—or has been in contact with anyone with symptoms—keep them away from your business , customers, and other staff members.
Make sure you are breaking down and cleaning equipment frequently. The FDA normally recommends every four hours, but do it more frequently to be extra cautious.
If you normally do super-deep cleanings of your facilities every week or every month, increase it to every day if you can.
Always wear gloves. Wash your hands before putting gloves on. Change gloves often. Now is not the time to cut back on glove costs.
How to Communicate With Your Customers
Post on social media often.
Assure your customers you are still open, taking orders, taking every extra step to ensure their product is safe.
It's important to communicate about the extra precautions you are taking so they feel comfortable buying from your business. These are scary times, and it's completely understandable that they may be a bit fearful of raw juice and food products.
Post pictures of your clean, safe kitchen. Show your staff wearing gloves and masks handing juice to customers or delivery people. Show them how sparkling clean your operation is.
Most importantly, remind them of the importance of staying healthy and consuming raw fruit and vegetables! Especially immunity boosting nutrients.
We Are Essential
Don't forget—juice businesses are part of the food and beverage ecosystem and we are essential. It is essential you do everything possible to continue to give people the nutrients they need to get through this tough time, and to offer them the comfort of being able to purchase healthy, nourishing products.
Jessica, owner of Healthy Being Cafe in Jackson Hole, Wyoming said it nicely:
"…on the brighter side, I see this as an opportunity for our world to begin to value health on a mainstream level and start to change things for the better. We can emerge as leaders, guiding people to make what they eat and drink a priority. The earth is yelling at us to fix things and stop poisoning ourselves and nature. I hope we will all listen. We will continue to do our part, providing nutrient dense, vibrant food and drinks into our community, as long as we can."
Stay positive, keep each other safe, and don't give up!
How are you surviving this crazy time? Let us know in the comments below!
Comments
I gained insight in the world of juice bars. I intend on opening up a juice bar as well as a fitness center. I have been training since 2000 and I believe complete wellness is the key to the world being a better place
Jan 11, 2022
I am new to the industry and I am located in Ghana. I would love to learn more .
Feb 2, 2021
Robin Frey
Hi Frederick, Welcome to the community! As you have found, our blog is a great resource for educational articles on the juice industry. You can also communicate with other juice businesses owners on our community forums here: https://community.goodnature.com/ Also, we host JuiceCon, which is a juicing conference here in the states: https://juicecon.co/ Check out our Instagram pages as well! https://www.instagram.com/goodnaturepro https://www.instagram.com/juicecon.official
Feb 2, 2021
Thank you very much for writing this post. I shall share it with my juicing friends in the business.
Jun 3, 2020
We are grateful to Goodnature for always staying on top of current events. Thanks for always being there assisting your customers (us juice bar owners) and ensuring we are successful in bringing nourishing Cold-pressed juices to the masses. Mrs. Hoos Rawfully Yours juice bar & café
Mar 25, 2020
Super helpful info, thanks for putting it all together. Excited for more people to join the juice revolution!
Mar 25, 2020